The best logo designer (and even some the best free logo designer options) can be an essential tool when it comes to building a bold and compelling brand identity. Whether you're a designer looking to craft professional logos or a business owner who doesn't (yet) have any design knowledge (yet), the best logo creator can offer you the help you need to create a logo, with different options available for different budgets.
If you're a professional logo designer, we would recommend choosing from the top three paid-for best logo maker options on our list since these will give you the creative flexibility and wealth of features that you need to create truly original bespoke logo designs. Numbers four to eight on the list below are cheaper options aimed at non-designers who want the software to do at least a lot of the work for the. They will do the job when it comes to needing a logo that looks "good enough" for, say, a local event a hobby group or a personal project or presentation, but let's be honest, they're not going to compare to a professionally designed identity.
For the best free options, skip to the dedicated section on the best free logo designer software, but note that most free software has major limitations (we also have a dedicated guide to the best free logo makers). You might also want to read our expert guide to how to design a logo for some pointers.
The best logo designer software (paid-for)
Why you can trust Creative Bloq Our expert reviewers spend hours testing and comparing products and services so you can choose the best for you. Find out more about how we test.
If you're running a fully fledged business, you need a professional logo, and even the best free logo designer software really isn't able to deliver that. Making a great logo requires proper design software (not to mention design skills and experience too), so before we turn to the best free logo designer software, we'll start with the best paid-for logo designer software.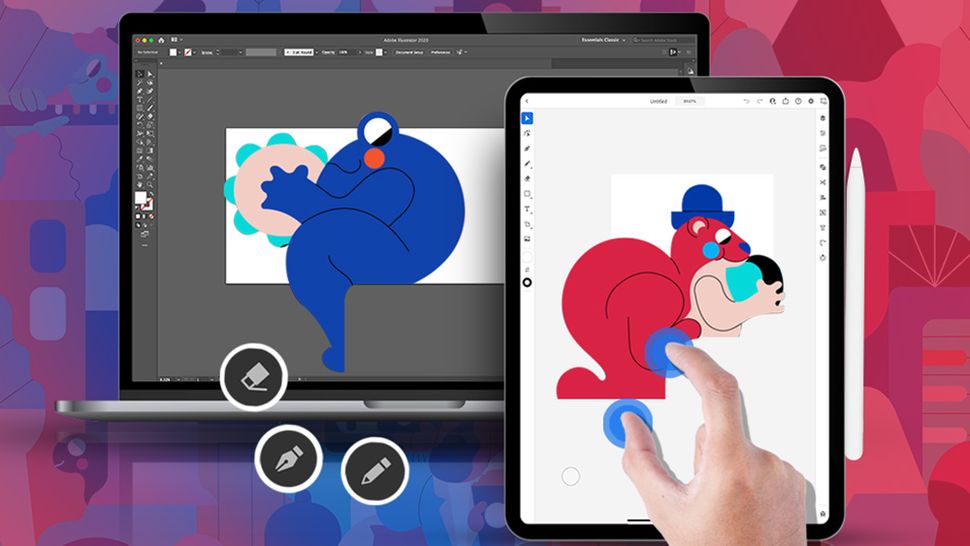 Adobe Illustrator remains the industry standard tool for vector editing. It's the most used software among freelancers and design agencies for everything from illustration to poster design, icons, and, of course, designing logos. It's a powerful, feature-rich piece software package that works smoothly and efficiently with other Adobe apps, such as Photoshop and InDesign. You can access assets such as Adobe fonts and Adobe Stock within its interface too.
If you're completely new to design software, Illustrator does involve quite a steep learning curve, although our selection of the best Adobe Illustrator tutorials and our guide to designing a killer logo in Illustrator can help there. Also, note that you can't buy Illustrator as a one-off purchase, but only as a subscription, which can be quite expensive (although an Adobe Creative Cloud discount can help keep the price down).
The upside of the subscription model is that Adobe is constantly updating the software, and as a subscriber, you always have access to the newest features. The latest version, launched in late 2021, makes it easy to work with linked Photoshop Creative Cloud files in Illustrator and adds a new dedicated 3D and materials panel. The fact that Illustrator's now available for iPad also sweetens the deal, and Illustrator for iPad is one of the best tools there are for logo design on an iPad.
As we mentioned, Adobe Illustrator involves an often rather costly monthly subscription. If your budget is tight, then Illustrator's main rival, Affinity Designer, is a good alternative for a surprisingly affordable one-off price. This vector editor boasts advanced features that are comparable with Illustrator, and it's increasingly used in the design industry.
Admittedly, it still lacks some of Illustrator's features and tools, but it also offers some improvements, such as million-plus Zoom, and the fact that the iPad version is exactly the same as the desktop one. Affinity Designer runs super-fast on the latest hardware, and the most recent update (V1.10) in August, has made it faster still. Take advantage of the 30-day free trial to give it a try with the help of our Affinity Designer logo tutorial.
If you're new to design, professional software packages like Adobe Illustrator or Affinity Designer can be a little daunting. In contrast, Canva Logo Maker makes it very easy to create a logo using professionally designed templates and a simple drag-and-drop interface right in your browser. It's easy to use, and handy pop-up instructions help you along the way.
Add your brand name to the template, and start tweaking the elements until you've crafted a design you're happy with. Once you're done, you can download and share your finished logo as a PNG file. It's all free if you use your own images and graphics, while the graphic elements in the library start at $1 each.
If you have no design skills at all, your best option is Tailor Brands Logo Maker. It's the best logo designer software for non-designers, and that's because it basically does all of the designing for you. You type in the wording you want in your logo, then you're presented with a series of binary font options, and asked which you like better (you can say if you dislike both). It only takes a minute or two and once you're done, the tool uses some clever AI to conjure up a selection of potential logo designs based on your choices.
The designs proffered can be icon-based, initial-based or name-based. If you like one of them as it is, you can download it straight away as an SVG or EPS file. If you "sort of" like it, you can start to customise details such as the text, typeface and colours etc, with the simple in-browser tools, making all the tweaks you want until you're happy.
Tailor Brands Logo Maker is free to try, but you'll have to subscribe for access to the high-resolution logo files. Subscribing will also give you access to a logo resize tool, your logo in different social media sizes, plus a graphic design tool, stock photos and icons, and an AI-driven website builder, which is quite a package. All in all, we found the platform very easy to use when we reviewed it, but we found that logos could be generic, with few options for customisation. See our hands-on Tailor Brands review for more details.
Looka is another logo designer tool that does all the designing for you. Just input your preferences and Looka will use its AI to mock up a corresponding design, which you can adjust later – in fact, you even modify it after you pay to download it.
You get a range of customisation options (though more would certainly be welcome. You also have the ability to change colours, fonts, layouts, and symbols. There are over 300 templates to choose from and it's all very easy to use. Designing a logo is free; the sting is that you'll need to pay to download. There's a range of pricing options, including a 'logo-only' fee plus subscription options, and you can download your logo as a PNG image or vector file. If you need more design options, you can also use Looka's Brand Kit tools to make social media assets, business cards, websites, posters and flyers.
Designhill Logo Maker is another option that's powered by AI. Working in a very similar way to Tailor Brands Logo Maker (number 4 on our list), it invites you to enter your details and pick the colours and designs that you like the look of. You're then shown a number of bespoke designs to choose from and customise if desired.
Generating a logo is quick, easy and free, so if you're a non-designer it's definitely worth a look. Again, you pay when it comes to downloading your completed designs, and that can be expensive. That said, you may find it's worth it if the software comes up with a logo design that you truly love, and it will certainly be cheaper than hiring a designer for a professional job.
ICONA Logo Maker is a paid-for app for iPhone and iPad that makes a very poor first impression due to its misspelled tagline "Porfessional Logo Studio" on the App Store, which inexplicably in over 4 years ICONA still hasn't corrected. Apart from that, though, this logo designer is actually quite good. With more than a million customisable designs, 350K+ image backgrounds and custom hues ranging from solid colours to gradients, there's a lot of flexibility, so you're less likely to create a generic logo that looks the same as everyone else's.
Despite the 'Pro' in the title (yes, so many products throw in a 'pro' that it's started to become meaningless), Logo Design Studio Pro isn't really for professionals at all. It's closer to the Canva Logo Maker (number 3 on our list), with a simple interface that makes it easy for novice designers to make a basic logo. This option uses a subscription model for payment, but that allows you to design as many logos as you like. There are plenty of assets to help you, including thousands of templates and graphics, and hundreds of commercially licensed fonts.
If you're only looking to create one logo, using this app doesn't make much sense, and you might be better off with one of the best free logo designers below. But if you want to create several, or you want to start to explore logo design with the idea of entering the industry, it might be of interest.
The best free logo designer software
Looking for the best free logo designer software? Well here goes. Note that many apps will provide you with logo tools that appear to be free but then demand you cough up to if you want to download the logo you've generated. To save you wasted time, we've included that type of software above in the paid-for section. Below you'll find three tools that let you create a logo for free AND actually download it without having to pay (albeit with some restrictions).
And just another word of warning. We can't stress enough that even the best free logo designer software is no match for paid software. We really only recommended using the free logo designers below for experimenting, trying out ideas or for designing a logo for a hobby or personal project. When it comes to designing a real logo for a business that you expect to last, it's really worth paying to get it right!
Shopify is a paid-for platform that allows you to build your own ecommerce website, and is one of the best website builders available if you want to sell online. But you don't need to subscribe to Shopify to use the free logo designer Shopify Hatchful, which is a separate app that's absolutely free. You can use it within the browser, or download the free iOS or Android app.
You start by answering a series of questions about your type of business and the kind of style you're looking for, and then Shopify Hatchful generates a series of logos for you to choose from. Click on the one you like to modify colours, fonts and layout. It's fairly basic, but the logos look decent enough and, refreshingly, there are no hidden charges.
Squarespace is another website building platform that offers free logo designer software – in fact, it was one of the first web builders to do so. The Squarespace Logo Creator remains pretty basic, but then it is free. You tell the browser-based app your company name and it generates you a logo. You can choose a symbol from the Noun Project, and that's about it in terms of customisation.
The upside of so little in the way of customisation is that the process is extremely quick, just don't expect anything visually amazing. You don't need to be a Squarespace customer to use the service or to download a free low-res version of your logo, but you do need to be a customer to download a high-res version of your logo (you could always take out a 14-day free trial of Squarespace, and if you cancel before the end of the two weeks if the logo design is really all you need.)
Want to craft something original of your own rather than depend on an auto-generated logo? The website building platform Ucraft is one of the few to offer a Free Logo Maker that lets you do that. Click on the 'Text' button, type your text and tweak the size, font, etc. Then add shapes, icons and/or backgrounds to complete your design. Of course, this is no Adobe Illustrator. Your options are limited, but it is very easy to use, and you can download a hi-res PNG version of your logo without paying a penny. (Note, that an SVG file costs $7.)
What's the best logo design software?
If you're a designer, the absolute best software for logo design is Adobe Illustrator. This professional vector editing software is the industry standard for designing logos, offering you all the tools and AI-powered features you need. It operates smoothly with other Adobe apps, and services like Adobe Fonts and Adobe Stock. That said, Adobe Illustrator is quite expensive, and it's available only with a subscription. If you're looking for a cheaper alternative, Affinity Designer is available as a one-off purchase.
However, if you have no design skills or experience, you really won't know where to start with either of these tools. In that case, we'd recommend Canva Logo Maker, which makes it very easy to create a logo using templates and a drag-and-drop interface.
What's the best free logo design software?
Free logo designers are very limited, and we'd generally avoid using them if at all possible. Getting the logo right is so important for any brand, company or organisation, that trying to save by using a free logo designer is a false economy in the long term.
That said, free logo designers do have their place and can at least be useful for coming up with logo ideas or for designing quick logos for personal, non-professional projects. For that, we'd recommend Shopify Hatchful. You don't need to be a Shopify subscriber to use it, and you have the flexibility of being able to use it in your browser or by downloading the free iOS or Android app.
How can I design my own logo?
There are many different ways to design your own logo if you don't want to pay a professional designer (of course, if you have the budget for it, that's always the ideal solution to go for).
You can design a logo from scratch using software such as Illustrator, Affinity Designer or Canva, the first three tools on our list. This will give you the maximum flexibility in finessing your design and getting it just how you want it. If you're a non-designer, and don't know how to get started, read our guide to the fundamentals of logo design first.
If you find that too steep a learning curve, you may prefer AI-driven logo design software that does most of the work for you. These tools, from number 4 onwards on our list above tend to work in a similar way, asking you some quick questions about your brand and then presenting you with a selection of logo designs that you can modify to various degrees. You have a lot less control over the final result, but you do get a sometimes passable logo very, very quickly.
Do I own my logo design?
If you use logo design software to create your own logo, who owns your design: you, or the software company? It's always worth checking the terms and conditions of your software provider (you know, the ones you usually skip past when downloading the tool). In most cases, you will own the design you create using the software. That's certainly the case with general graphic design software such as Illustrator or Affinity Designer, but it's always worth checking with the auto-generating logo design tools.
Read more: