Adobe Illustrator has been regarded as a vital tool in the graphic design industry since it was first released in 1987. Vector format is key in graphic design, allowing users to create graphics that can be expanded infinitely, rather than raster-based graphics which can only be blown up as far as their pixels will allow.
Despite .AI, the Adobe Illustrator file format, being the default format used within printing and design, over the past few years Illustrator has struggled to keep up with its peer apps, who have in recent years overtaken it in both form and functionality.
However, recent Illustrator updates demonstrate that Adobe is keeping an eye on the competition and making sure it matches or exceeds them at almost every point. In addition to adding the ability to customise the toolbar, a near-essential function for a program with so many bells and whistles that the basic functions are sometimes buried, it also gained an ability previously only had by Photoshop; Rotate View.
In addition, Adobe has kept its hand in on the vector editing front, with elements such as the Width Tool making it simple to add variation to vector lines, which can easily look flat and undynamic. In short, it's still one of the best vector editing software tools and best graphic design software offerings available.
As Adobe moved to the subscription program in 2012, it ensured two things; first, that it would have a constant source of income from existing users, and second, that it would be able to roll out updates to its existing user base as they released. This means that Illustrator's users have found themselves with access to new functionalities near-constantly over the past few years, ranging from increased Adobe font modification to entirely new 3D abilities.
The biggest developments in Illustrator over the past few years have been in the entirely new features. Read on to find out more…
Illustrator: 3D Shading and Mapping
Illustrator has introduced many 3D elements into its newest iterations, offering a host of new features for users looking to add depth to their designs. With Illustrator's 3D window it's relatively simple to apply 3D effects, including extruding, rotating and application of dynamic light sources, to simple 2D vectors without in-depth 3D knowledge.
Another 3D element that Illustrator added in its March 2022 iteration is artwork mapping, which allows users to map a vector artwork over the surface of a 3D object. While the interface is tricky at first, it's simpler than it initially appears and will prove a winner for creatives looking to visualise their illustrations on 3D products.
Illustrator: Cloud Documents
Given the massive changes to the graphic design industry that happened in 2020, the use of cloud-based software for team working has become more and more important.
Much like many other subscription based softwares, Illustrator now has improved cloud sharing capabilities, improving its usefulness for larger teams, especially those who are remote working. Illustrator now works seamlessly across desktop and iPad when projects are saved to the creative cloud (see our Illustrator for iPad review for more about using the app on a tablet).
Illustrator: Repeating Patterns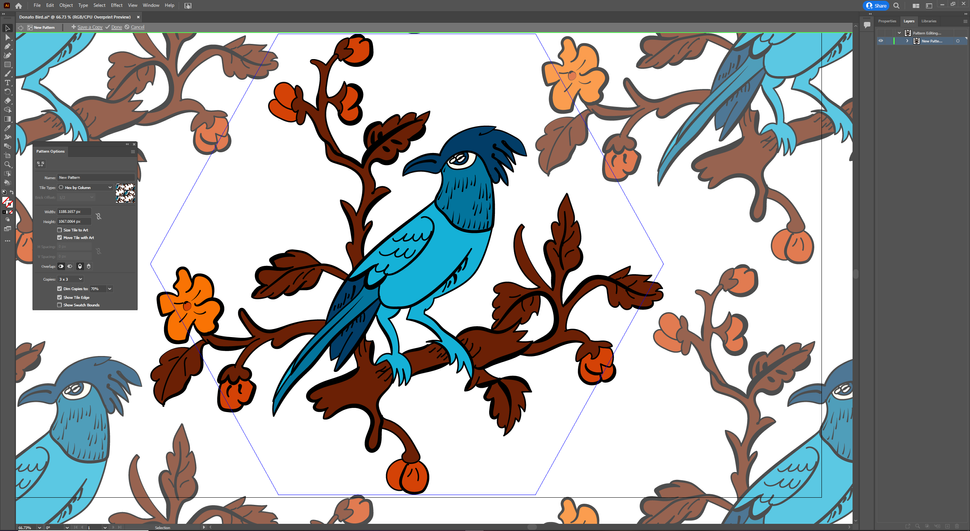 Vector art is often used for clothing and wallpaper design, and whether they're simple or complex, repeating or reflecting patterns can be tricky to work on and visualise. Illustrator has several options for repeating patterns, ranging from hexagonal grids to mirrored images and radial rotation functions.
Illustrator: Intelligent Artwork Recolouring and Colour Theme Picking
Intelligent Artwork Recolouring is another new feature of Adobe Illustrator, making use of the Adobe Sensei machine learning software, and using points on a colour wheel, it allows users to quickly and easily explore colour variations in their artwork. Another recolouring feature is the Colour Theme Picker, which makes it possible to pick a colour palette from other artwork or images and apply them directly to designs. Users can also use predefined palettes from the colour library or create their own with Illustrator's colour wheel.
Illustrator price
Illustrator is only available as a monthly subscription, either individually (for $20.99 / £19.97 per month) or as part of the Adobe Cloud subscription ($52.99 / £49.94 per month, available to students for $19.99 / £16.24 per month). Illustrator's iPad software is included within both subscriptions.
Should I buy Illustrator?
There's lots to be excited about with the new Illustrator release, and the value for money keeps increasing, as almost every update brings new features. But is Illustrator the right software for you?
If you're working as part of a design team, the answer is most likely yes. Illustrator's new team working tools make it a stronger contender than ever commercially, making it easy to collaborate on graphics within the office and working from home, and as the monopoly that the .AI format has on graphic design has no sign of decreasing, for pros with a budget it's a strong choice. Added to that is its inclusion in Adobe Creative Suite, meaning that Illustrator files are designed to be compatible with a whole swathe of Adobe programs.
The addition of 3D elements adds more bang for your buck, meaning that while users may have had to learn additional 3D software previously to add 3D elements to their design, the process is greatly simplified.
But can other Adobe programs do what Illustrator does? If users are choosing between Photoshop and Illustrator, it's worth considering which is more important workwise — vector editing or working with rasterised graphics. While there are elements of both vector editing and raster editing within Photoshop, Illustrator comes out on top when it comes to vectors. In addition, some simple filters from Photoshop are available within Illustrator itself, adding an extra layer of artistic flexibility.
For those with a lower budget, or lower-powered desktops, Illustrator may be a harder sell. While it does have all the bells and whistles, in some ways that overcomplicates and distracts from what is, essentially, a simple process; vector design. Other, more affordable programs such as Affinity Designer may be a better investment for users looking to work solely in vector design. You can check out our guide to the best graphic design software for more options.
Specifications: Windows
OS: Windows 10 (64-bit) or later
Display: 1024x768 minimum, 1920x1080 recommended
RAM: 8GB minimum, 16GB recommended
Storage: up to 2GB hard drive space (more during installation), SSD recommended
Mac
OS: 10.15 (Catalina) or later
Processor: Multicore Intel processor (64-bit) with SSE 4.2 or later, or ARM-based Apple Silicon processor
Display: 1024x768 minimum, 1920x1080 recommended
RAM: 8GB (16GB recommended)
Storage: 3GB hard drive space (more during installation), SSD recommended
iPad
OS: iPadOS 14 or later. Compatible with iPad Pro (all models), iPad Air (3 & 4), iPad (2018 onwards) and iPad Mini (5 & 6)
Read more: Adobe Creative Cloud discount