The best typewriter fonts can be a great option for adding character and texture to various design pieces. Typewriter typefaces can create a vintage look evoking feelings of nostalgia. They can look old and distressed, and they can create mystery and suspense. But there are also typewriter fonts that are sleeks, clean and modern, making them an option for a wide range of uses.
Courier may be the most famous typewriter font, but there are plenty of others out there. Below, we listed some of the best typewriter fonts, we've seen. These are generally paid-for fonts, but we've aimed to include options that are very reasonably priced. Some of the prices vary depending on if you want the whole family or just an individual font.
If you're on a tighter budget, we've also made a our pick of the best free typewriter fonts, plus we have a roundup of the best free handwriting fonts and a mammoth selection of the best free fonts overall. You might also want to check our picks of the best Google fonts and best Adobe fonts.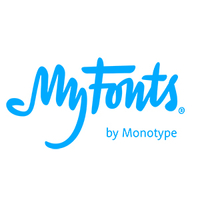 Buy fonts from myfonts.com
Several of the fonts in our selection of the best typewriter fonts below can be purchased at Myfonts.com by Monotype. The site boasts over 130,000 fonts, including more than 900 free options.
The best typewriter fonts
01. Thesis Typewriter
Right at the top of our list sits the Thesis Typewriter font. This typeface comes in three different styles (Weary, Regular and Bold) meaning it'll suit a multitude of projects. The cost of the Thesis Typewriter is $15/£9.99 for one of the three, but if you buy all three in a family package it's just $18/£12.99.
02. Detective
The Detective typewriter font is a moody and nostalgic typeface perfect for projects that require an element of mystery. What we like about this font is the fact that not all the letters are uniformly straight, meaning it gives an authentic and playful feel to your project. The font has been reduced from $17 to $13.60, so make sure you move quickly to bag yourself a great font at a great price.
03. FF Trixie
Now if you're looking for a versatile typewriter font, then Trixie is the typeface for you. There are 12 different variations of fonts in the Trixie family, meaning that whatever the project, there's a Trixie font suitable for it. This is a font suited to a higher budget as individual fonts costs either £39 or £59. You can of course splash out on the whole family for £588.
While this grungy font may seem a little pricey, it is definitely worth every penny; Trixie has apparently had quite the history, what with it being created in Nuremberg in the 1930s and its 'mother font' being Triumph Durabel.
04. Letter Gothic
Typewriter fonts aren't all about creating the distressed uneven ink look. Roger Roberson designed the sleek Letter Gothic for IBM in the early '60s. It has flat monospaced sans serif lettering, which is clean and beautiful. This cleaner typewriter typeface is available in a variety of different weights.
05. Scripter Serif
Here's another nice and clean typewriter font, but this one's a serif. It's highly legible, making it more suitable for logo and branding work but still has a clear typewriter feel. The clean lines make it feel more modern, so it's not necessarily one for creating a vintage look, but more the timeless elegance offered by a typewriter typeface.
06. Olivetti Typewriter
Created by designer Iza W, this classic typewriter font is great for mimicking the sloppy ink effect of older typewriter machines. Available in five different weights, Olivetti is a great option for a traditional typewriter style.
07. Courier M
A version of the classic Courier font, Courier M is a typewriter typeface that was designed by Howard Kettler in 1956. Released by font foundry URW, it's a clean, classic lightweight typewriter font.
08. Colón Mono
A monospaced slab serif type family, Colón Mono was created by architect and graphic designer Ramiz Guseynov. It comes in two weights of roman and alternative styles and matching italics respectably.
09. Erased Typewriter 2
Erased Typewriter 2 is a distressed font from type designer Paulo W. It's great for creating an authentic type feel. You can customise your designs with a choice of four weights: regular, bold, italic and underscore.
10. LTC Remington Typewriter Pro Set
LTC Remington Typewriter Pro is a beautiful classic lightweight typewriter font with a hint of class and unconventional characteristics in the letterforms. Far removed from the traditional bulky ink spilt typewriter style, this clean alternative is a great way to combine a hint of classic design with more technological visuals.
11. IHOF Typewriter
The P22 typewriter font was based on a typeface originally used in a document for a German type conference. Striking a balance between distress and clean legibility, it offers myriad uses. There's also now an underlined variant.
12. Intimo
Intimo is quite a unique alternative typewriter font, that blend the simplicity of dots with typewriting stains. It offers something a bit different while retaining effortless readability and a nice visual effect in various sizes.
13. Aminta
Typography designer Gareth Hague's Aminta Regular is a beautiful cross between the originality and depth of the typewriter courier classic and a sophisticated Helvetica touch added to create a modern balance. Designed and inspired by a series of drawing and handwriting experiments, it offers creatives an alternative lightweight serif font. Aminta Black is also a nice option as a more dominating version closer to the classic typeface of a traditional typewriter but still with a cleaner and more modern finish. The close proximity of the letters can make it look like someone has repeatedly pressed a key when the carriage is stuck!
14. Grandpa's Typewriter
If you want a really worn, smudgy old typewriter look for grainy or superimposed type, then Grandpa's Typewriter is a creative option. Designer Eduardo Recife based this five-font family on an antique Olivetti, and he includes all the effects you get from an old typewriter machine. There's a regular version, a strong hit version, a light distressed version, a double-hit version and intriguingly an X version, which is a compilation of typewriter mistakes, tests and stains. It's great for designs that require a distressed grungy look.
15. EF Mono
Designed by Ilko Höppin for the Elsner + Flake design studio, this is another playful alternative to the classic Courier typewriter font. The cutout effect and distorted lettering offer an interesting visual dynamic.
16. EF Techno Script
Another example brought to us by the Elsner + Flake design studio, Techno Script combines clean-cut digital elements with the typewriter aesthetic for a style that wouldn't look out of place in more modern applications.
17. Firenza
Based on a design used at the turn of the 19th century, the Firenza font family has character shapes that resemble those which became common on typewriters throughout the second half of the 20th century. Each weight has a full character set of 232+ letterforms, with all characters designed in the style of the font.
18. Chapter 11
Chapter 11 is the perfect font if you're looking for an authentic typewriter feel redolent of official classified government papers and the like. Designed by Canadian typographer Rebecca Alaccari, it's a great typeface to use when you want to get creative with a more organic typewriter style.