Nintendo Direct live blog: all the latest Switch news as it happens
Will Nintendo finally reveal the Switch Pro?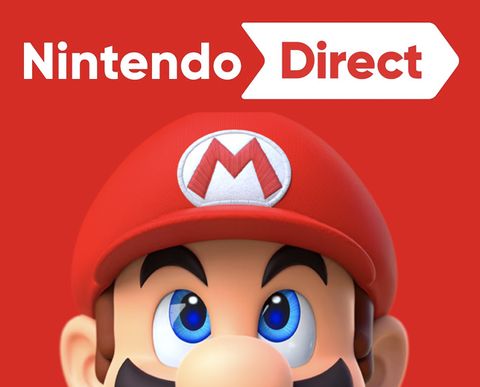 (Image: © Nintendo)
The Nintendo hype is upon us. Tonight's latest Nintendo Direct livestream is the place to see what the video game giant has in store for its Switch console in the coming year. This Nintendo Direct will take place, February 9th, at 2pm PT / 5pm ET / 10pm GMT / 11pm CET.
We'll be live blogging to bring you the news as it happens. You can watch the livestream as it happens below and we'll comment on the news as it happens, and what this means for gamers and game developers. We'll have it all right here.
Refresh
Welcome to what could be a hectic night of announcements. We're hoping for something on Switch Pro, even a logo, and perhaps news of Breath of the Wild 2's official name and tease.
What do we think will be announced at the Nintendo Direct? Everything from a new Mario game, to the title of the Breath of the Wild sequel, and even a new Star Fox is being touted.
Kirby and the Forgotten Land, Advance Wars 1+2 Re-Boot Camp, and Splatoon 3 all seem likely for reveals at tonight's Nintendo Direct. We'd love to see what Nintendo could do with a new Splatoon's UX.
Talking of great UX, the casual party game 1-2-Switch really impressed when it was released at the launch of Switch – it sold 3 million copies. It would be good to see where Nintendo can take this game, particularly in Switch OLED. Nintendo doesn't need to use this to convince us of Switch's strengths, and could concentrate on gameplay.
Nintendo blogger Zippo is suggesting Persona 4 Golden is coming to Switch and could be announced later. Visually one of the most original games around, all artists need to take a look at this game. It's old, but good. Will it be announced?
Already have a Switch but want to get more from it? Take a look at the Nintendo Switch accessories you can buy right now. Buy a bargain while you wait for the Nintendo Direct to begin.
Kirby and the Forgotten Land, Advance Wars 1+2 Re-Boot Camp, and Splatoon 3 all seem more likely revealed tonight. Do you have a favourite? We'd love to see what Nintendo could do with a new Splatoon's UX.
There are some wild rumours flying around, including Nintendo announcing a deal with Google to bring streaming to the Switch using Stadia tech. That would be something interesting – streaming demos, perhaps? Though Destiny 2 on Switch is also being touted.
According to Business Insider, Google is planning to salvage its Stadia technology and is currently shopping it around under the name Google StreamInsiders claim that the actual consumer platform Stadia has been deprioritizedhttps://t.co/3yVDAAbTSL pic.twitter.com/s1LyVyW08nFebruary 4, 2022
Goldeneye 007 HD almost released on Xbox 360 some time ago but it was cancelled at the last minute. This N64 game set the template for a generation of shooters and is a game design classic. Could it be resurrected as a Switch exclusive? We'll find out in a few hours.
Another HD remaster burbling around is Metroid Prime. Off the back of the success of Metroid Dread, Samus is more popular than ever. It feels like the right time to revisit the series on Switch.
A Metroid Prime HD remaster could be a great stop-gap while we wait for Nintendo to get Metroid Prime 4 ready for release – which could be two years away, and may be a Switch Pro launch game. Perhaps.
Shigesato Itoi, the creator of the Mother series, just tweeted about Nintendo Direct. Could be nothing. Or it could mean an English translation of Mother 3 or an Earthbound port to Switch. The Mother series is a clever parody of Japanese RPGs while also being fantastic Japanese RPGs. Indie devs really need to check out this series.
Looking forward to Nintendo Direct and itching to get playing? Why not take a look at our February Nintendo Switch deals? There are some great offers floating around and we have them all in one place.
There are rumours of more SNES games being added to Nintendo Switch Online, as the service is down for maintenance shortly after the Nintendo Direct ends. (A tweet appears to confirm this, with new, erm old, games added post-Nintendo Direct.) There is a lot to learn from these golden oldies if you're designing your own game.
[Maintenance Scheduled]Maintenance has been scheduled for "Super Nintendo Entertainment System™ - Nintendo Switch Online" on 09 Feb from 22:55 UTC to 00:00 UTC.#Maintenance #NintendoSwitch pic.twitter.com/fHTj7DPv8yFebruary 9, 2022
Batman Arkham Collection for Switch? The rumour has been swirling around all week ever since it appeared on a French website's release list, with a proposed August on sale. This would be a Switch re-release of Rocksteady's three hit games that redesigned the Batman universe. Great art direction matched with clever game design, it would be good to play these again.
Mario Kart 9 on Switch has been one of the strongest rumours circulating all week. Only 20 minutes until we find out if there will be a new entry in this iconic series…
While we wait for the Nintendo Direct to begin (10 mins!), why not browse through our tracker for the best Switch OLED restock news. It's a fantastically designed games console and after tonight you will want one.
Fire Emblem returns! Looks like a Dynasty Warriors style action game. And No Man's Sky on Switch, that's huge – this one has a unique '70s sci-fi design aesthetic.
Mario Strikers is back! Wow, we've missed this art style. No one does cute, chaotic and bold character designs quite like Nintendo. Eight-player matches, and online clubs? G-O-A-L!
Splatoon 3 looked… odd. We're not sure what we're watching but this could be a summer splash for Nintendo. It's just weird. And mixing up so many different art styles – and a giant salmon!
Front Mission 1 and 2 remastered on Switch, wow. The classic art style holds up well.
We wanted Mario Kart 9 and get… Disney Speed Storm, free to play karting that makes us want Mario Kart even more.

Who asked for a Jedi Force Unleashed remake?

Oh hello, three Assassin's Creed games remasters on Switch? We'll take those.
Chrono Cross? More classics being remastered for Switch, is Nintendo's handheld the home of classic games now?
Kirby's animation and imaginative design is second-to-none; mouthful mode (ahem) is classic. Is there anything Kirby won't eat? There really is some excellent creature design in Kirby and the Forgotten Land!
Can't wait to rediscover Klonoa all over again, this one's bringing back memories. And now Portal, fantastic. We're still gutted Fire Emblem is now a Dynasty Warriors clone, we'll get over it… oh, Live A Live? That looks classy.

Nintendo Switch Sports? It's all coming back! If we're talking about groundbreaking UX design then this is it – on Switch Nintendo Switch Sports could be another seminal moment for Nintendo.
While they play around, why not pick-up a Nintendo Switch Lite deal. We have all the best offers tracked in our buyer's guide.
Is Yukiko Yoko still designing Taiko no Tatsujin? We hope so, the art direction on these drum games is beautiful.
The rumours were true – Earthbound is coming to US/UK Switch. The art direction holds up, feels like a modern indie.
This new Xenoblade has some impressive world design (and it's better than a Mario movie trailer). You've got to enjoy how much scale and detail these games manage to put on screen.

And that's it… not Breath of the Wild 2 or Mario Kart 9. But a Wii Sports sequel feels like it could really showcase how to design for full motion. Let the (summer) games begin.
Thank you for reading 5 articles this month* Join now for unlimited access
Enjoy your first month for just £1 / $1 / €1
*Read 5 free articles per month without a subscription
Join now for unlimited access
Try first month for just £1 / $1 / €1