The Nintendo Switch is as popular as ever, but finding the best Nintendo Switch deals can be tricky when there's so many retailers out there. In the last year, we've seen some pretty impressive savings on the original Nintendo Switch console during retail events like Black Friday and Prime Early Access but it's rare Nintendo themselves discount their own products. It's pretty rare the Nintendo Switch has a considerable sale that lasts long, so snapping one up as soon as you see it is always a good idea.
The original Nintendo Switch was released back in 2017, but Nintendo later released a "V2" of the console (with the model number HAC-001(-01)) in 2019. This later iteration features better battery life than the original, so it's definitely worth keeping an eye out for. A way to tell the difference between the two models is the box: the later HAC-001(-01) model comes packaged in an all-red box. The current retail price of the Nintendo Switch is $299/£259, so anything above or below that price is a good starting point to work out whether you're getting a good deal or not. Our live widgets will pull in the best prices around wherever you're based, and we'll be sure to update this page regularly with any standout deals!
Looking for a smaller console? We also have a guide to the best Switch Lite prices. And if you want to know more about the varying Switch consoles, we break down the differences between the Nintendo Switch vs Switch OLED right here.
The best Nintendo Switch Deals
The best Nintendo Switch deals
Above you'll see the current best prices on the console by itself, and below we've picked the best Nintendo Switch bundle deals.
Remember, the Nintendo Switch has retained the same retail price of $299/£259 incredibly well, especially seeing that it was first released in 2017. That's mainly because early stock issues meant that there's still a massive demand for the portable games device, and as the asking price is fair, people are happy to pay for inflated prices on the console. But the good news is the best Nintendo Switch price we've ever seen was $259 over at Amazon US, so discounts are out there!
Nintendo Switch bundle deals
The best Nintendo Switch bundle deal: US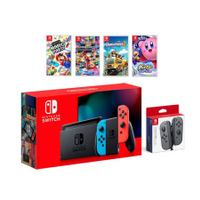 (opens in new tab)
Nintendo Switch + 4 games + Joy-Con Set: $609.99 at Walmart (opens in new tab)
If this is your first Nintendo Switch console and you want to share it with friends and family, then this bundle is a great choice. You get four multiplayer games, including Mario Kart 8 Deluxe and a second controller.
The best Nintendo Switch bundle deal: UK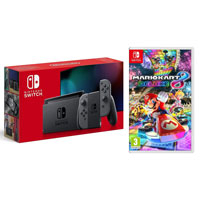 (opens in new tab)
Nintendo Switch + Mario Kart 8 Deluxe Bundle and 3 months Switch Online: £259.99 at Nintendo (opens in new tab)
The best Nintendo Switch deal in the UK right now is this bundle package direct from Nintendo, which gives you Mario Kart 8 Deluxe and three months' individual online membership for the standard price of the console alone.
Read more: