Finding the best office chair for you doesn't have to be a slog. Once you've figured out what you need to be comfortable, it's not so tricky to find a decent chair, and this list is here to guide you through the process.
What makes a good chair great? The best office chairs are designed with ergonomics and healthy posture in mind. Chairs are one of those areas where it really is worth investing some time and money, as you want a chair that will last. Office chairs with a guarantee and strong build may cost more, but are always worth the extra investment.
Another thing to consider is how the chair will fit in with your existing setup: will it fit with the style of your office (even if your 'office' is just a corner of your bedroom)? As well as aesthetics, your chair needs to fit your desk (see our best desks if you need help in that department). This is where having an office chair you can adjust to different heights and tilts makes a difference.
Throughout this guide, you'll find our favourite ergonomic office chairs, at a range of different price points. These include options from IKEA, Herman Miller, Amazon, Walmart, Staples (US) and John Lewis. We've also added a couple of gaming chairs to our list, for those who like the supreme comfort gaming chairs provide.
And as Black Friday and Cyber Monday sales are now in full swing, we've also provided a few bargain options below.
Best Black Friday office chair deals
Secretlab Omega gaming chair: £349 £289 at Secretlab
Save £60: The Secretlab Omega offers maxed out ergonomics for hours of sitting or gaming. With full backrest recline and extreme cushioning, you'll be able to sit at it for hours.
View Deal
Corsair T3 Rush: £249.99 £187.49 at Amazon
Save £62.50: This highly-rated chair has never been so cheap. With a padded neck cushion and lumbar support, 4D armrests and full 180-degree reclining seat, this chair is packed full of features.View Deal
Secretlab Omega gaming chair: $419 $349 at Secretlab
Save $70: Hailed as the gold standard of gaming chairs – but great for office workers, too – the Secretlab Omega is supremely comfortable. It features full metal armrests, built-in adjustable lumbar support and much more.
View Deal
The Herman Miller Mirra 2 chair is a more affordable alternative to Herman Miller's wildly successful Aeron chair. With 10 different adjustment systems, the Mirra 2 is a refined, comfortable and fantastically supportive office desk chair that looks brilliant. It definitely isn't the cheapest office chair out there (see below for some more budget office chair alternatives), but the posture support is excellent, making this one of the most ergonomic office chairs you can buy. It's also designed to regulate temperature, meaning that you can easily sit at it for hours without getting all hot and sweaty.
This comfortable chair from Staples, the Union & Scale FlexFit Dexley Mesh Task Chair, is easy to adjust to your perfect seated position. It has adjustable lumbar support that you can slide up and down the chair, and the breathable mesh material will stop you getting too sweaty on hot days sitting at your chair. We like the blue colour and think this office chair would be a fitting addition to plenty of workspaces. It also comes with a seven-year limited manufacturer's guarantee.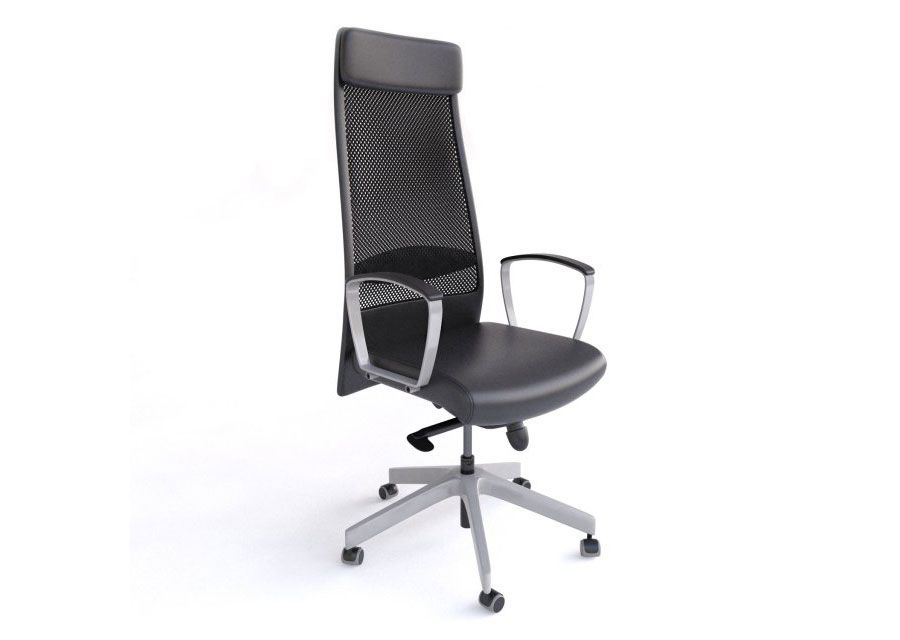 It might not look particularly exciting, but IKEA's Markus office chair ticks a lot of boxes – and at this price it's not just one of the best office chairs at IKEA, it's one of the best full stop. You can adjust its height, there's built-in lumbar support and the mesh material means the air can get to your back, which is great when you're sitting down for long periods. There's also a brake that engages when you stand up, to help avoid that awkward moment when your chair slides out from beneath you.
Many office chairs feature a back support that moulds into your back over time, but not everyone gets on with this system. The Markus chair's back support combats this by re-puffing when you get up. Happily, it also comes with a 10-year guarantee.
The only real downside is that the armrests aren't adjustable, which might be a problem depending on your height and the height of your desk. However, they are removable so you can get rid of them if they start to annoy.
GT Omega Pro Racing Office Chair was designed for gamers, but that doesn't mean that designers, illustrators or anyone who sits in an office chair for significant periods of time won't enjoy it too. This office chair provides maximum support, with cushions for both your head and your back. There are four reclining positions, so you can choose to work practically horizontally if you want (we don't recommend this, but it could be handy for a quick nap between clients). There's also a '4D' adjustable armrest and a tilt lock mechanism.
The overall design might not be everyone's cup of tea, and the leather might put some off, but those who do opt for this chair should be warned: you may not want to leave it ever again.
Wayfair has plenty of office chair options, but we like this Newhall office chair in blue. It might lack some of the more sophisticated features on this list, but it's ideal if you just want something comfortable with no-fuss. Some people may find the lack of armrests an annoyance, but if you don't think you'll use them then they do make the chair's design a lot neater. This chair is also very easy to put together, and costs under £100. What's not to like?
If you suffer from back pain, then the HAG Capisco Puls 8010 is worth considering. It might look a bit odd at first glance, but trust us, that's a good thing: this is one of the best ergonomic office chairs you can get.
This Scandinavian chair is made of a mixture of steel and plastic, and unlike most others, is suitable for sit-standing desks. It has a moulded seat based on a horse rider's saddle – the foam infill places your legs quite wide apart, encouraging you to place your feet flat on the floor. Meanwhile, the adjustable seat is angled to fit with the natural curve of your lower back.
HAG is all about encouraging movement, so you can also sit on this ergonomic office chair back-to-front, and use those extruding parts as elbow rests. It's available in various colours – we like petroleum – and comes with a 10-year guarantee.
If you're looking for a smart and simple office chair and are in the UK, then John Lewis' House office chair could be the choice for you. The contemporary design will coordinate with most rooms, and the chair fits neatly under most desks, making this a great option for a studio or study that doubles as a spare room, say.
This chair doesn't have any armrests and isn't advertised to be used for several hours at a time, but for "light" office use, it's ideal. It comes in both grey and mustard. Overall, this office chair is excellent value for money.
With no arms and a low back, the AmazonBasics Upholstered Office Chair is a great chair if you are looking for office furniture that isn't going to take up unnecessary space. It is, however, still built for comfort as well as convenience. There is an easy-to-access lever for adjusting the height of the butterfly seat – and giving you the choice as to whether of not you want the back to rock when you lean back (with a separate control to adjust the tilt tension). There is no lumbar support adjustment here – but the padded back cushion is contoured to provide your back a decent amount of support.
The OFM Essentials Collection Plush High-Back Office Chair has a high-back, making it super-comfy to lean back in. It also looks good, and comes in a variety of colours – brown, grey or tan. We think the brown has a certain Mad Men feel about it. It doesn't have all the bells and whistles and style features as more expensive options, but it does the job well and is perfect for larger desks or spaces.
If you want something cheap and cheerful, then Mainstays Vinyl and Mesh Task Office Chair could be just the thing for you. It's easy to put together and is height-adjustable with a generously padded back and seat. There are no armrests, but you may not find you need them when you're sitting at a desk. You may need to purchase a lumbar cushion if you're going to be doing long stints sitting at this office chair. Overall, though, in terms of ease of assembly, use and value for money, this chair is a winner.
Made.com aims to create "affordable, high-end design", and while not everything on the site is exactly what we'd call "affordable", most of it is absolutely beautiful to look at, and pretty practical too. This Saul Office Chair is no exception. It has elements of a comfy but sleek classic desk chair, but the wooden back and armrests (made from plywood with a walnut veneer) give it a unique twist.
This stylish office chair also swivels and has wheels, so you can whizz around your office and studio to your heart's content. We love the idea of being cocooned within the armrests, and while there isn't specific lumbar support, the padded seat and back could well be enough for you. If not, you could always add a cushion. In terms of assembly, you'll need to fit the legs, which may be slightly fiddly, but at least you don't have to worry about the top part, which comes assembled for you.
While Herman Miller's Aeron chair is the best office chair money can buy, we think its more affordable cousin, the Sayl, comes close for style. It comes in at roughly half the price, and the British School of Osteopathy uses it at its training centre, so you know it has top ergonomic credentials.
This chair was inspired by San Francisco's Golden Gate Bridge. And although the idea of a suspension bridge-inspired chair might seem odd at first, it makes sense once you sit in it – it's all about getting more from the least materials possible. The 'suspension finish' back moves with you as you shift around, providing more support in some areas of your back and allowing the back to maintain its natural curve. It's supremely comfortable, and comes with a 12-year guarantee – though we doubt you'll need it. These chairs are built to last a lifetime.
If you are looking for a gaming chair that will double as a suitable office chair, then the Noblechairs Icon Gaming Chair is it. The all-black luxury look is just what you need to make yourself look the part in those power Zoom pitches – but it has all the features to keep you comfortable for long hours of after-hours gameplay. Faux leather options keep the price at a sensible level – but for utter decadence you can get the Icon in plush napa leather too. With a German design inspired by sports car interiors, this has all the adjustments you'd hope for to ensure correct posture and comfort.
Related articles: