Investing in the best budget office chair for your needs will keep you comfortable without hitting your bank account. We've picked the best affordable office chair for a variety of budgets, including the best office chair under $500, and the best office chair under $200.
At Creative Bloq, we've been testing products to help you with your projects for years, including a variety of ergonomic office chairs (which usually have a higher price tag attached to the chair in this list). We know what makes the best cheap office chair, and have years of experience in testing the ergonomic properties of chairs from various manufacturers.
Below, you'll find our pick of the best budget office chairs that combine affordability with dependability, build quality and comfort. If you want to dig a little deeper into ergonomic options, out guide to the best standing desks is worth looking at. And for on top of you new desk, be sure to check out our pick of the best desk accessories, best desk lamps and best computer speakers.
The best budget office chairs of 2023
Why you can trust Creative Bloq Our expert reviewers spend hours testing and comparing products and services so you can choose the best for you. Find out more about how we test.
The Union & Scale FlexFit Dexley is our pick as the best overall budget office chair you can buy in 2023. It's comfortable and well built, and offers an adjustable lumbar support that you can slide up and down, tilt tension and tilt lock options, and even an angle-adjustable headrest.
The breathable mesh material will stop you getting too sweaty on hot days (plus can be cleaned easily). The Union & Scale FlexFit Dexley feels solidly built, proving that cheap office chairs don't need to feel cheap, and there's a seven-year limited manufacturer's guarantee to give you further peace of mind. The only downside is that it's not the most attractive of office chairs, and only comes in two colors - black and blue.
If you're looking for the best cheap office chair with a rock-bottom price, then the Mainstays Vinyl and Mesh Task Office Chair is a great choice, costing only $50. Despite its super-low price, this office chair is easy to put together, height-adjustable, and comes in a range of colors.
There's a generously padded back and seat, although no armrests (but you may not find you need them when you're sitting at a desk). You may need to purchase a lumbar cushion if you're going to be doing long stints sitting on this. Overall, though, in terms of ease of assembly, use and value for money, it's a winner.
While slightly more expensive than some of the other budget office chairs in this list, the Vari Task Chair is our pick as the best office chair for under $500. For many people, this is still an affordable price (especially when compared to premium brands such as Herman Miller.
What sets this budget office chair apart from many others is its focus on ergonomics. Its back rest is made of a mesh, which allows for breathability to stop you getting hot and sweaty, whilst also providing excellent support. You can adjust this chair to suit your personal preferences, and with a concaved cushion, it's one of the most comfortable office chairs you're going to get for under $500.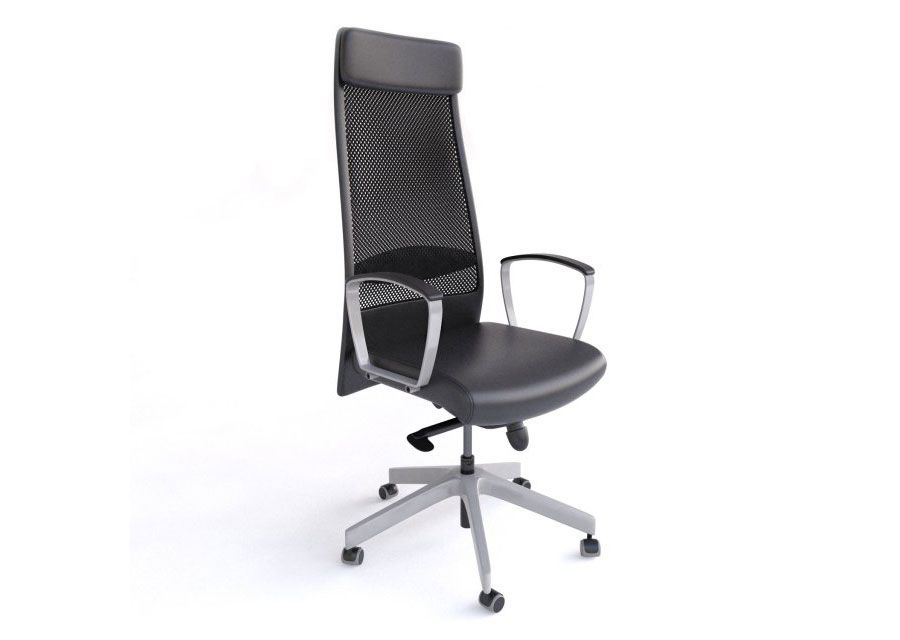 IKEA's iconic Markus swivel chair might not be the most thrilling chair design-wise, but it's a solid if utilitarian office chair that does its job well, and for a low price. It's got some decent ergonomic features to make it comfortable and reduce the risk of RSI, including casters and swivel to help you avoid straining to reach things, in-built lumbar support for your back and adjustable height and back tilt. The breathable mesh back keeps you cool and is easy to clean.
Unfortunately, the armrests aren't adjustable, although they can be removed completely. The automatic brakes on the wheels are a neat addition and like all IKEA products, it's been tested for durability.
The Flexispot Light Mesh Office Chair OC2 (also called the Flexispot Oka BS9 in the UK) is the best budget office chair you can buy under $300. Its design is simple, yet elegant, so it'll fit into almost any home, office or studio, and while it may lack some of the features found in pricier rivals, it offers comfort and support for people putting in long hours at a desk.
You can adjust the height, and can easily move the chair around thanks to the well-built castors. The fabric cover feels great, offering a soft, yet solid, experience, which seems to mold to your back. It can also recline, offering a level of comfort that many cheap office chairs lack. One thing to note about the fabric cover, however, is that it can stain easily if you spill liquid on it. A leather or plastic chair would be easier to clean.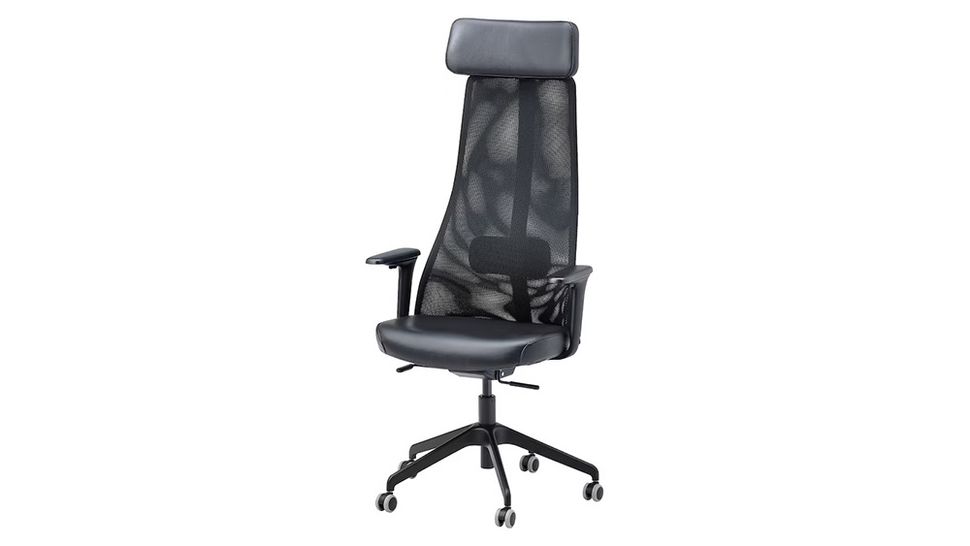 IKEA's Järvfjället isn't as cheap as the brand's Markus swivel chair (above), but this revamped version makes several improvements that might be worth the higher price for some, drastically improving the adjustability of the chair thanks to an adjustable seat pan and adjustable lumbar support for improved ergonomics
The former can be easily adjusted using the bottom lever, then you just slide the seat pan back to create the right amount of space behind your legs (the edge of your seat should never push into the backs of your knees). For lumbar support, there's a movable pad to support your lumbar back. The headrest is also adjustable, and you can order it with or without armrests. With a modern look and ergonomic features, the Järvfjället chair may not be the cheapest office chair from IKEA, but it's worth the extra expense - and it's still a lot more affordable than many other office chairs.
When looking for a budget office chair, you may not have thought to consider a gaming chair. After all, they have a bit of a reputation as being big, visually striking, and expensive.
However, the Noblechairs Icon Gaming Chair disproves all of that with an understated design that means it won't look out of place in an office or studio, and comes with a choice of different fabrics; real leather, faux leather or PU hybrid leather and a range of colors. It's a lot less expensive than many other gaming chairs, yet still offers plenty of comfort, with adjustable armrests and the ability to recline it as well.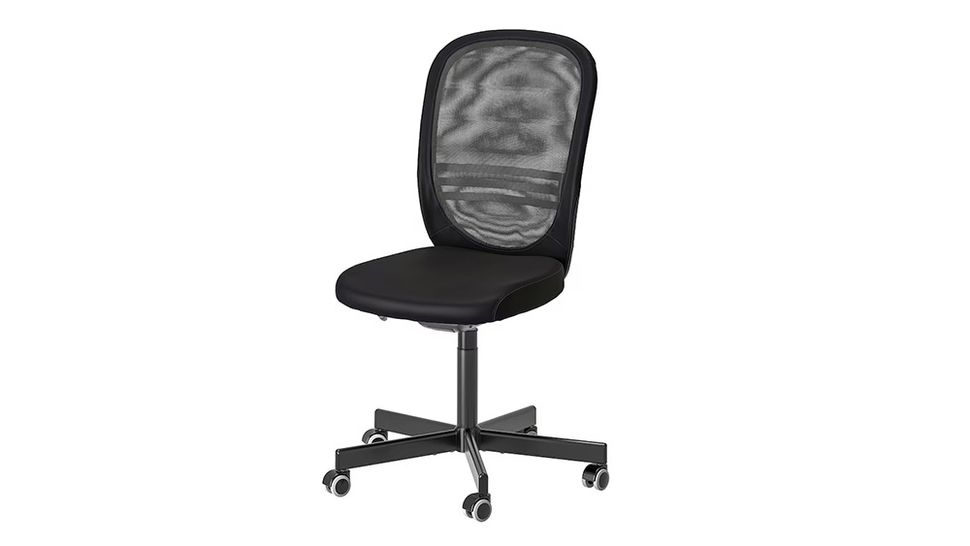 As you can see from the list above, IKEA is a brand that makes some great budget office chairs. If you want the absolute cheapest chair the brand offers, then we recommend the IKEA Flintan, which is a very reasonably priced chair that still offers back support for comfortable sessions at your desk.
The height and tilt are adjustable – the tilt can locked and unlocked, and overall the chair feels like a quality solid build, especially for this price. It has the downside of fixed armrests (an optional extra) like the Markus above, but as long as you don't mind that, it's hard to pick a better IKEA office chair at this price point.
How we chose
Many of the budget office chairs in this guide have been personally tested by our writers here at CreativeBloq. When testing office chairs, we look not just at the price, but how easy it is to assemble - as office chairs often come disassembled.
We then use the chairs during our day-to-day work and make note of how comfortable they are, as well as how adjustable each part of the chair is - an important consideration when it comes comfort and safety.
FAQs
Are budget chairs ergonomic?
When buying a budget office chair, you may worry that you need to sacrifice comfort to get a low price. However, while some very cheap chairs may lack the ergonomic features you'd find in pricier models, there are still plenty of budget ergonomic chairs for your home or office, offering adjustable backs, lumbar support and tilt controls.
What's the best budget chair?
In our opinion, the Union & Scale FlexFit Dexley Mesh Task Chair is the best budget chair you can buy right now. It offers an excellent balance of value for money and features, and feels comfortable and well built, despite its low price. Its design is minimalist, which means it'll fit into most homes, offices and studios without any problems, and there's some nice ergonomic features as well to keep you comfortable.