We first reported on this Samsung Galaxy Ultra deal a few days ago, and with a saving as good as this one we're shocked to see it is still live! US customers can currently head on over to Best Buy to pick up the Samsung Galaxy S22 Ultra discounted from $1,199.99 down to just $799.99. That's a whopping saving of $400!
If you're a photo fan, you're probably already familiar with the Samsung Ultra range. These fantastic phones offer incredible software that, doubled with the powerful camera, make them a real contender in the modern smart phone world. In fact, the Samsung S23 Ultra and S22 Ultra take both the 1st and 4th spot in our guide to the best camera phones. It also comes with the S-Pen inbuilt, meaning you have a stylus tucked safely into the phone to use as you wish. The S22 Ultra is last year's model, but it's still up to date and a great addition to a creative set up. And I should know – I use this as my everyday phone!
Looking for the most recent model in the Ultra line up? Then check out our guide to the best Samsung S23 Ultra prices available now. We also have a detailed hands-on S22 Ultra review if you want to know exactly why we love this phone so much.
Samsung Galaxy S22 Ultra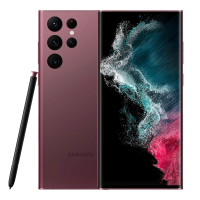 Samsing Galaxy S22 Ultra (128GB, burgundy)
Was: $1,199.99
Now: $799.99 at Best Buy
Save: $400
Overview: This gorgeous phone is packed full of powerful software and a camera that any creative will love. It also comes with the in-built S-Pen for easy note taking and scrolling.
Key features: The Samsung S22 Ultra features a stunning 8K camera, in-built S-Pen and beautiful display that measures 6 x 3-inches. It's a real powerhouse of a device.
Price history: The 128GB offering of the S22 Ultra usually retails for $1,199.99 as a starting price. We've seen that price drop before, but now sitting at $799.99, this is the lowest price we've seen on this phone.
Price comparison: Best Buy: $799.99 | Samsung: $1,199.99
Reviews: Ever since its first release last year, reviewers have been raving about this excellent device. In our personal Samsung S22 Ultra review, we named it a premium powerhouse.