The Samsung Frame TV is a work of art, literally. And though this art TV comes in many sizes, my favourite is the 55-inch. Not too enormous, but a very decent size indeed, it will usually set you back $1,499. But right now you can get it with $426 off – just $1,074 at Walmart. It's very, very close to the lowest price I've seen it go for (that was $997.99 on Cyber Monday) – an incredible deal far below the usual discounts (the most common is a $1,199 offer), and the lowest on the net right now by some way.
An art TV is perfect if you want your TV to display beautiful works of art when you're not using it to watch films or shows. It has a stunning 4K display and ultra-thin bezels so it doesn't need to look like a standard TV when you've got it wall-mounted. There are only a few real art TVs on the market, and this is arguably the best-known.
Want to know more about the Samsung Frame TV? Carry on reading. If you'd like to check out the competition, head to the best LG G1 prices out there (that's LG's Gallery TV range).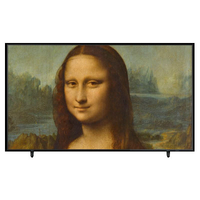 Samsung Frame TV (55-inch, 2022)
Was: $1,499
Now: $1,074 at Walmart
Save: $426
Overview: The 55-inch, 2022 model of the Frame is our favourite TV right now. It's at a brilliant price at Walmart, and is the perfect size if you don't want anything as enormous as the 65-inch, 75-inch or 85-inch versions (it also comes in a 43-inch and 32-inch, FYI).
Key features: This is arguably the most popular of the 'art TV'. A 4K TV that, when not acting as a TV, displays your favourite art in incredible high definition. You can get a subscription of all the world's finest art for $7 a month, or display your own collection (or both). The ultra thin bezels and changeable frames make it look like a high-end framed piece of art.
Price history: The 55-inch model retails at $1,499.99, though we've seen it dip lower than that since it was released in April 2022. This current price of $1,074 is close to the lowest price we've ever reported on (which was $997.99 on Cyber Monday).
Price comparison: Amazon: $1,397.99 | Best Buy: $1,399.99
Reviews: All the reviews that we've read have said that the 2022 model of the original 2021 Samsung Frame TV builds on the original in all the right ways. It's true that the sound won't be comparable to most sound bars out there, but this is very much more about the visuals.

Don't want the 55-inch model? Here are a range of the best prices on various sizes of the Samsung Frame TV...