November 22: Deal checked still live
I have been tracking this deal and can't believe how low it's dipped. Right now, one of the best camera phones, the Samsung Galaxy S22 Ultra has crashed to just $349 at Best Buy. That's an $850 discount on the phone's usual retail price of $1,199.99, which is about as Black Friday as Black Friday can get.
The catch is that the phone must be locked to AT&T (make sure you click through) and activated at the date of purchase. If you prefer to have the phone unlocked or wish to activate it later, it'll cost you $1,079.99 instead from Best Buy. You can also choose to pay monthly at a price of just $13.88 instead of $33.33, which is a steal.
The Samsung Galaxy S22 Ultra is a great choice for photographers, especially those on a tighter budget. While the newer Samsung Galaxy S23 Ultra has replaced it, and rumour has it that the S24 Ultra is only months away, it's still a very capable device, and now at a great price.
Prefer a different kind of Samsung handset? Then take a look at our Samsung Galaxy Z Flip4 review, or maybe consider the Samsung Galaxy Z Fold 4 instead.
The best Samsung Galaxy S22 Ultra deal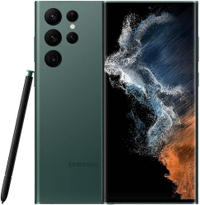 Samsung Galaxy S22 Ultra
Was: $1,199.99
Now: $349 at Best Buy
Save: $850
Overview: This handset may not be the latest, but it still shines on its own as a fantastic camera phone option and is worthy of the premium powerhouse title we gave it in our review. It's a little on the large side, but the AMOLED display is beautiful with a very worthy Snapdragon chip.
Key features: Network: Verizon|Dimensions: 163.3 x 77.9 x 8.9mm | Processor: Qualcomm SM8450 Snapdragon 8 Gen 1 (4 nm) | Cameras: 108 MP, f/1.8, 23mm (wide), 1/1.33" (main camera), 40 MP, f/2.2, 26mm (wide), 1/2.82" (selfie camera) | RAM: 8GB - 12GB | Storage: 128GB-1TB
Release date: February 2022
Price history: This discount on the RRP is unprecedented. It's going up and down during this Black Friday period, and this is the absolute lowest (it's rebounding from this to $399/$499 - it's still $499 on Verizon FYI – make sure you click through). Before this week, we've seen deals that cut the price to around the $699 mark for sale outright (rather than on contract), but rarely much lower than this.
Price check: Samsung: $1,199
Review consensus: We gave the S22 Ultra 4.5 stars when we reviewed it, naming it the best camera phone of 2022. We loved the camera, plus the sharp and colourful display, and the included S-pen which is a great feature for creatives. TechRadar also loved it so much that it won their Phone of the Year Award in 2022.
Below you'll find the best deals and lowest prices on the Samsung Galaxy S22 Ultra in your region and worldwide using our clever deals widget.