HP Elitebook 840 G9 review: Key specs
Processors available: 12th-gen Intel Core i5-1235U, i5-1240P, i7-1255U, i7-1260P, i5-1245U, i5-1250P, i7-1265U, i7-1270P, i7-1280P
RAM: 8-64GB
Storage: 256GB-2TB SSD
Display: 14-inch, 250-1000 nits depending on power options
Graphics: Intel Iris Xe graphics
Ports and connectors: 1 HDMI 2.0; 2 Thunderbolt 4 with USB4 Type-C 40Gbps signaling rate (USB Power Delivery, DisplayPort™ 1.4); 2 SuperSpeed USB Type-A 5Gbps signaling rate (1 charging) ; (HDMI cable sold separately.); Optional Ports: 1 Smartcard reader (optional); 1 External Nano SIM slot for WWAN
Camera: 5MP Windows Hello-compatible
Dimensions: 31.56 x 22.4 x 1.92cm
Weight: 1.36kg
The HP Elitebook 840 G9 supersedes the well-liked and very capable Elitebook 840 G8, and comes with a few upgrades over its predecessor too.
With more powerful processors for both Intel Core i5 and i7 options, and following the current industry trend for taller notebook screens, the G9 moves from the widescreen 16:9 ratio to a 16:10 option, while keeping the screen resolution crisp enough for all general work and most creative tasks at 162 PPI.
I got a review unit in for testing and living with for a couple of months. The sample I had sported the Intel Core i7-1255U, 10-core, 12-thread 2.62GHz processor, 16GB of RAM and the 512GB SSD, so was keen to see how it performed not just with reaching its advertised benchmarks, but also how it felt living and working with it. I used it for general office work, video conferencing, and creative work, along with watching films and TV and testing out how it performed when gaming, and how it stacks up against the best laptops for writers. Also, would it claim a place among the best laptops for battery life?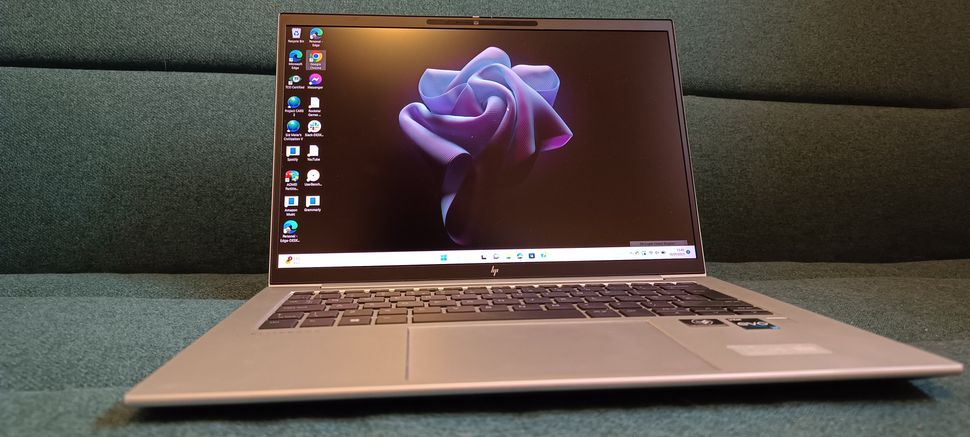 HP Elitebook 840 G9 review: design and build
The HP Elitebook 840 G9, like most recent HP laptops, looks both incredibly sleek and sturdy. Clad in matte silver with the stylish lowercase 'hp' logo emblazoned on the lid, the corners are rounded for a sleeker appearance.
The 14-inch screen has a 16:10 aspect ratio, which has the added effect, so the keyboard area and the screen sizes match up, of giving you a larger trackpad than usual, along with a keyboard that doesn't feel too compact for prolonged use.
The keyboard is backlit, but the backlight will helpfully turn itself off when not in active use, which is especially convenient when watching video, as well as for a marginal power saving.
The screen bezels aren't ultra-thin, but are still unintrusive. The bottom bezels features a simple silver 'hp' logo, while the top has more action going on, featuring a 5MP webcam with a physical privacy slider to block the lens when it's not in use.
HP Elitebook 840 G9 review: features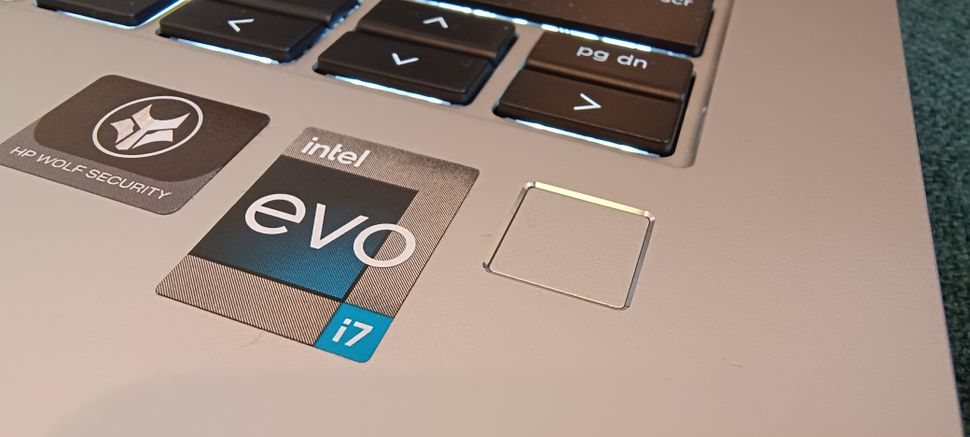 The headline features stack this laptop up well against other pro-level notebooks in the £1,000-1,500/$1,600-2,500 range. With the test model, we had 16GB of RAM, and a 512 GB SSD running on the Intel Core i7-1255U processor. The 14-inch screen has a max resolution of 1920 x 1200 pixels which, while lagging behind the resolution of similarly priced laptops such as the Microsoft Surface Laptop 4 and 5, is still enough to offer a pixel density of 162 PPI, which is more than enough for regular photo-editing and digital artworking.
On the right-hand side of the trackpad is a small non-descript square, which turns out is a fingerprint sensor, and forms part of HP's host of security features. Aiming at professionals who need to keep their work safe and secure, the Elitebook 840 G9 is protected by HP's own Wolf Security business-spec security software, which claims to "reduce the addressable attack surface and enables remote recovery from firmware attacks". For me, it was unintrusive in use, didn't bog down the performance to any noticeable degree and was updated regularly throughout my use of the notebook.
The fingerprint sensor and the Windows Hello-enabled webcam add extra layers of protection when either logging into the computer or performing specific commands, and having it included with the laptop is extra convenient.
The webcam is a 5MP proposition, and while it offers decent resolution, it lags behind many external webcams you can get, and isn't quite sharp enough for anything much above regular video-conferencing.
Finally, I'm happy to report that the Elitebook 840 G9 comes with ports, lots of ports.
HP Elitebook 840 G9 review: performance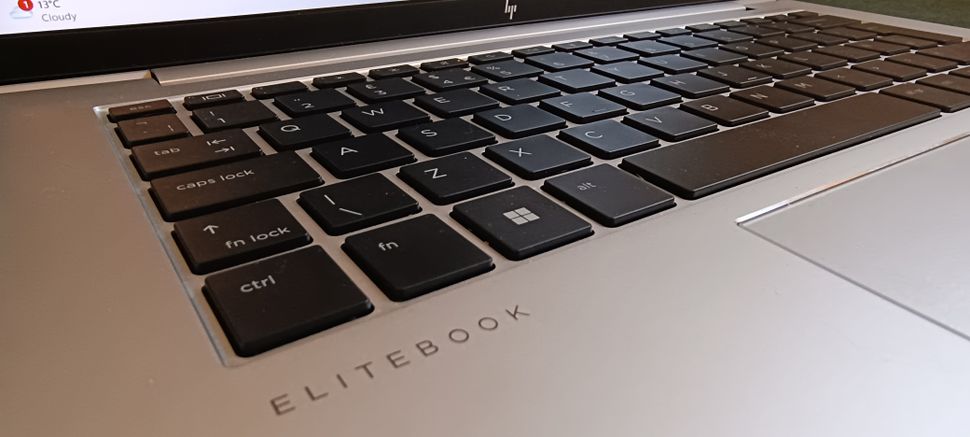 Some outlets have reported that the Intel Core i5 processor option on the HP Elitebook 840 G9 feels decidedly underpowered amid the laptop maker's often-reported downtuning of its processors (reportedly to increase battery life).
But I didn't notice any particular throttling of the 10-core, 12-thread i7 processor in my review sample. It performed to expectation in all our benchmarking tests, ranking above some other Intel Core i7 processors like the 2.81Ghz 11th-gen i7-1165 processor scores and slightly below Xeon processors like the CPU X5650 in our Cinebench R23 test. The Multi-Core test score was only slightly below the recently reviewed Huawei MateBook X Pro, which is a more expensive machine, so we'd say it's acquitted itself well here.
HP Elitebook 840 G9 review: Benchmark scores
Cinebench R23:
Multi-core: 5649
Single-core: 1574
MP ratio: 3.58x
Geekbench 5:
Multi-core: 7291
Single-core: 1396
The Geekbench 5 scores were even more impressive, with a multi-core score of 7291, which puts it in the vicinity of processors like the AMD Ryzen 5 5600G and only slightly below the 8-core Intel Core i7-10700, which is used in many gaming laptops.
I'm usually not a fan of native keyboards, but the one here was pleasant to use, if not quite at the level of the Microsoft Surface Laptop 4, which is a dream for writers. There is a little bit of travel in the keyboard, but obviously won't match a fully mechanical one for a fully involved typing experience. The large trackpad tended to get in the way a little for me at times, but seemed to not be too reactive towards accidental contact, which was a relief.
I was able to use Photoshop with ease when performing photo-editing tasks, and watching video was very pleasant, where the screen's brightness and good contrast felt like a real strength. The sound experience couldn't quite match up to the rest, though, even with HP collaborating with Bang & Olufsen for the speaker tech on their current lineup of laptops.
Sound carries well enough, but with the speakers placed underneath the laptop, it needs to be sat on a hard, sound-reflecting surface if you don't want it to sound hollow and a little tinny. Bass is pedestrian at best and while the depth is fine for TV or video-conferencing, you feel the lack of it when listening to music and watching action films.
Thankfully, there's an audio-out jack on the laptop so you can easily plug in your favourite headphones or external speakers to make the most of the capable software inside with a better audio experience.
This is not marketed as a gaming laptop, so we didn't run gaming benchmarks on it, but I could play some of my go-to winding-down games with ease, such as Civilization and a couple of racing and sports games. It won't run AAA games at max settings, but that won't be why you buy this laptop anyway. Casual gaming fun can be had, and that's all you should need out of it.
The HDR screen lights up to 1000 nits, which is brilliant in both emotive and literal ways. The contrast alongside the brightness elevates video-viewing experience far above what you'd expect from such a compact screen, meaning it's a great laptop for streaming, even without 4K.
HP Elitebook 840 G9 review: Battery life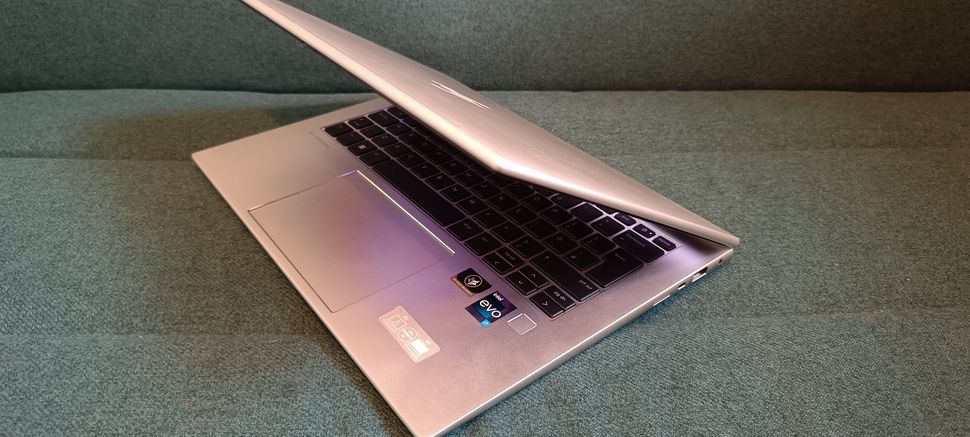 One of HP's go-to selling points is their laptops' renowned battery life. Running our streaming video test on it, we got a hair over 12 hours of life, which gets you through about a season of The Simpsons before needing to find an outlet. That's not bad at all, and in line with HP's claims. Full marks there.
HP Elitebook 840 G9 review: Price
The HP Elitebook 840 G9 comes with a host of processor options, but the main two are an Intel Core i5-1235U option that retails on HP's own store for just over £1,100/$1,600 at the time of writing, and the one we tested, the Intel Core i7-1255U processor, which will set you back almost £1,500/$1,800 at full price.
These are certainly not cheap laptops, and you will be able to get more focused creator machines with bigger 16-inch screens for a similar price, but if what you need is an all-rounder that remains very portable due to the light construction and 14-inch screen, this Elitebook will do a very good job indeed and by all indications last you for a long time too.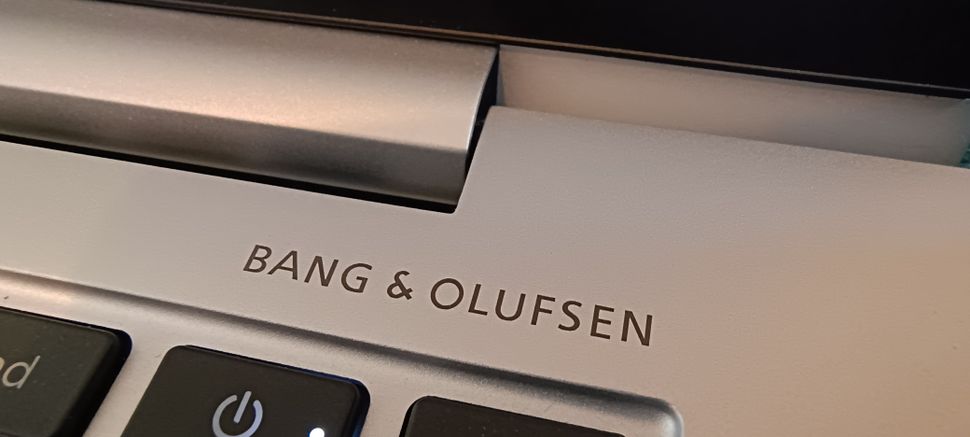 Should you buy the HP Elitebook 840 G9?
The HP Elitebook 840 G9 is certainly very capable. As it should be, for the amount of money you have to cough up for it. Even with the considerable extra outlet, the more powerful option is definitely the one to aim for if you are going for one, as the more powerful processor, bigger RAM (which is extendable to 64GB) and much brighter screen justifies its price tag and then some. Some might not immediately take to HP's unique Windows interface, but I find it intuitive and clear to navigate, and it's supported by regular automatic updates.
The security features are also a great boon for any professional user, as you can add several different layers of security and privacy to your work on this laptop. HP claims its Wolf Security makes its laptops the 'world's most secure', and although we can't verify that claim conclusively, the suite of security features here is really impressive.
Plus, it just looks so darn good.
Read more: