Finding one of the best laptops for writers isn't as simple as just turning up and choosing the biggest or most powerful. Word-processing software isn't too taxing on laptops, so you won't need a gaming-spec powerhouse – but there are still plenty of other factors to consider.
The most obvious requirement is a good keyboard. While you're at home, you might be happier using an external keyboard, but when you're away from your desk, it's essential to have a laptop that is comfortable to write on for long periods with well-spaced keys that are easy to use.
Likewise, the screen needs to be suitable for long writing sessions to minimise the strain on your eyes and give you enough space to work with. Some writers might prefer height to width, opting for a 3:2 aspect-ratio screen over the standard 16:9 widescreen to reduce the amount of scrolling needed when reading back through lengthy documents.
Gone are the days of clunky, bulky bricks being your only option; easily portable laptops are everywhere now, which is great if you're a writer who likes to be out and about when working on your next masterpiece. But long stays out of the house also mean that battery life becomes vital when choosing the best laptop for writers, so you don't need to worry about lugging a heavy charger around everywhere you go, or hunting down a power outlet at every stop.
Using our expert reviews and testing experiences, we've highlighted the pros and cons of each laptop based on the specs, battery life, value for money, as well as how comfortable and practical the keyboard and screen are. You can read about how we test laptops, PCs and workstations for more details on our testing and review process.
Sometimes, nothing beats a good desktop setup, for which you may want one of the best keyboards and best monitors for working from home to complement your new laptop. If you have other creative interests beyond writing, we'd recommend looking at our pick of the best laptops for graphic design or the best laptops for video editing. Otherwise, here are the best laptops for writers available now.
Josephine Watson is TechRadar's Managing Editor for Lifestyle (Cameras, Fitness and Homes) and writes for Creative Bloq as a freelance specialist. Considering she works for a leading sister tech site, Josephine is perfectly placed to pick the best laptops for writers. She's an expert in this field.
The best laptops for writers available now
Why you can trust Creative Bloq Our expert reviewers spend hours testing and comparing products and services so you can choose the best for you. Find out more about how we test.
The 2020 MacBook Air remains our top pick as the best laptop for writing overall. It's wonderfully thin and light and offers brilliant battery life, making it perfect for taking it out and about with you. It also comes with a great keyboard – one that's thankfully been significantly improved from the keyboards in older Macs – so don't be put off if you've found them uncomfortable in the past. The 2020 MacBook Air's keyboard is much more tactile and feels nice to write on now.
The M1 MacBook Air is Apple's most accessible MacBook, but still offers much more power than what you'll need for writing alone, making it ideal for writers who might also need to use their laptop for other things. It also comes with a great-looking screen that's easy on the eye, making it a great choice for writers who will be working for long periods of time. Best of all, the 2020 model has been coming in for more regular discounts now that the new 2022 M2 MacBook Air has been released.
See our full MacBook Air (M1, 2020) review for more details.
If you're looking for a cheap laptop for writing, a Chromebook is probably the way to go. They cost less than Windows laptops, and much less than the MacBook Air above, but offer great battery life since they require little power. Just bear in mind that Chromebooks take their name from the fact that they run Chrome OS, not Windows, so you can't use every Windows app you might be used to.
That isn't a problem for writing since there are word processors available for Chrome OS, including both Microsoft Word and Google Docs. This Chromebook also has very little internal storage, so you'll be saving work to the cloud. Unlike in the past, you no longer need to be connected to the internet to use a Chromebook though, so you can work pretty much wherever you want.
Some Chromebooks feel a little too small to be comfortable as laptops for writers but when we reviewed it, we found the 14-inch Chromebook 314 to be a nice size, and the keyboard is well laid out and comfortable to use. We found the screen to be good for writing too, with an anti-glare, matte finish. All in all, this is a solid alternative to a Windows laptop for writers on a budget.
See our hands-on Acer Chromebook 314 review for more details.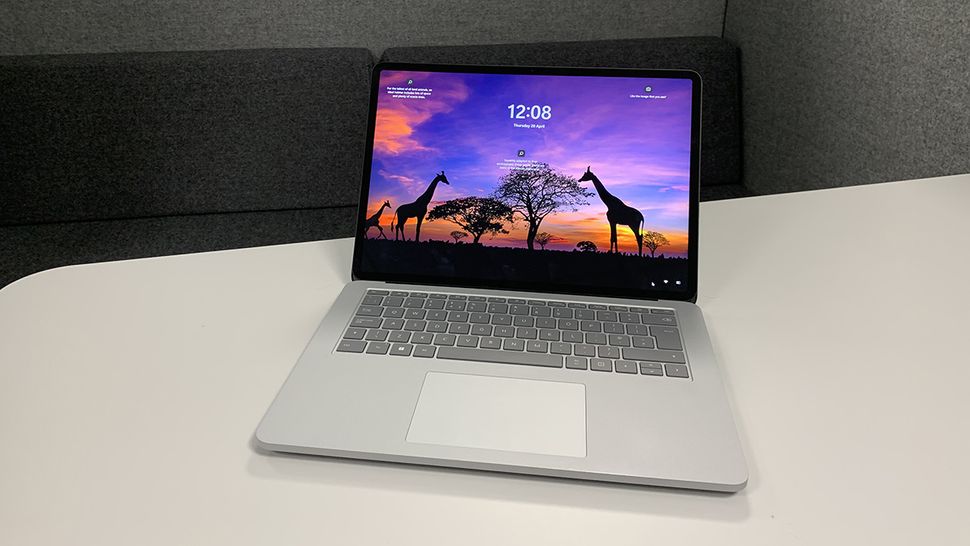 If you want to treat yourself to a truly premium Windows laptop for writing, then the Surface Laptop Studio fits the bill. It offers a lot more power than you need for word processing – and costs a lot more than you really need to pay for a laptop for writing – but the keyboard is a pleasure to write on, the screen is gorgeous, and the touch screen has stylus support, which could come in handy for note-taking.
This is a 2-in-1 device, which means it also converts into a tablet format, which can be useful for reading over your work when you're on the move, even on the train. It's not the most portable 2-in-1 but you get great battery life and when we reviewed it we found it runs Windows 11 incredibly well.
See more details in our full Surface Laptop Studio review.
The Surface Laptop Studio is a laptop for writers who are feeling flush – if you want to wait until you get that deal for your first novel before splashing that much money on a computer, there are plenty of much more affordable Windows laptops for writers. The Acer Aspire 5 is a good laptop for writers who want a solid and dependable device without spending a fortune. With a plastic body, it doesn't exactly have a premium feel but it's solid enough to carry around.
It also performs well considering the price, especially if you're going to be sticking to word processing tools. The keys don't have the most travel, but the keyboard is well laid out for writing on. Overall, the Acer Swift 3 is a great affordable laptop for writers on a budget but feel that a Chromebook like number 2 on our list would be too restrictive.
See our full Acer Aspire 5 review for more details.
Most laptops have a traditional widescreen aspect ratio of 16:9. That's great for watching movies, but not necessarily the most convenient format for writing, which often requires scrolling up and down vertically oriented documents. An aspect ratio of 3:2 gives you more vertical space, allowing you to see more text on the screen at once. And it also works better for graphic-design work, so is the perfect ratio if you're a writer who also likes to or needs to work on more demanding visual software.
Huawei delivers all of that with the MateBook X Pro, and a very nice touchscreen it has too. This latest MateBook is a great performer – more than powerful enough for writers who also need to use design software regularly – and the keyboard is comfortable to work on. The downside is that if you're in a country like the US, which has blocked access to many Huawei devices and services, you don't get the benefits of the wider Huawei ecosystem. However, if you don't care for ecosystems and just want a premium laptop for writing and doing visual work on, the Huawei MateBook X Pro is a decent option.
See our in-depth Huawei MateBook X Pro review (opens in new tab) for all the details.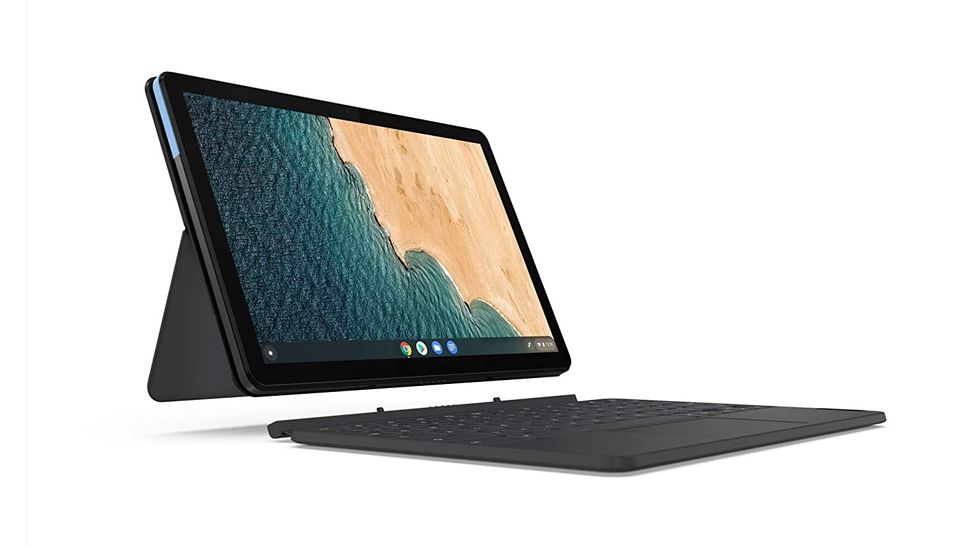 If you want a really cheap laptop for jotting down notes on, no matter where you are, then the Lenovo IdeaPad Duet is a great choice for those looking for the best laptop for writers on a budget. It comes with a detachable keyboard, so it's incredibly easy to carry around, and as it's a Chromebook, it's also very cheap.
It also boasts almost 22 hours of battery life, so you could comfortably take this away with you and write somewhere remote for a few days, and still have battery life left.
There are some downsides though. The keyboard is small and not as comfortable as other laptops in this list. This is why we'd suggest using the Lenovo IdeaPad Duet for quickly jotting down notes, rather than typing up pages and pages of text in one go. But, with the portability and long battery life, the Lenovo IdeaPad Duet lets you note down your thoughts whenever inspiration strikes.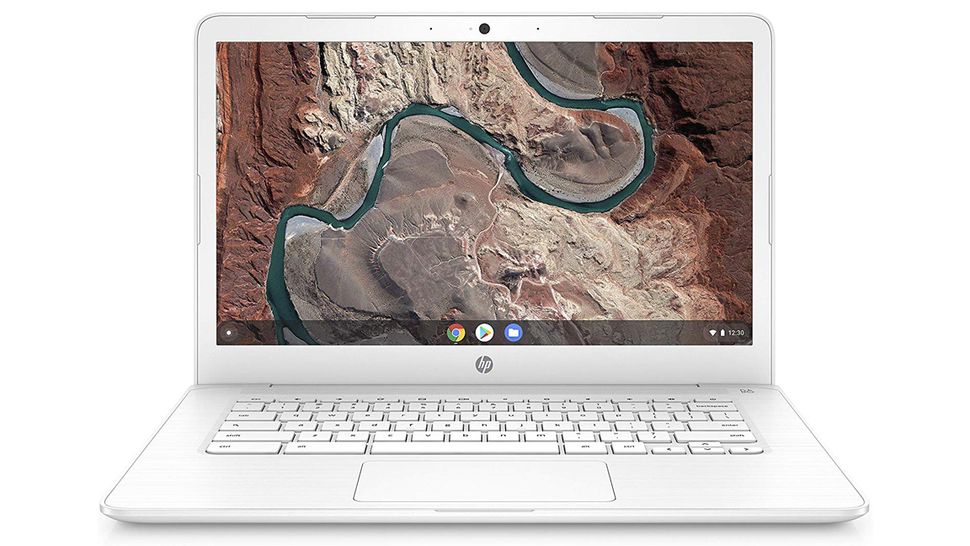 If you want a dependable laptop for writing on while keeping your costs as low as possible, the HP Chromebook 14 is a great choice. It's extremely affordable, but offers good performance when using word processing apps. As it's a Chromebook, that means Google Docs and Microsoft's online Word app are particularly well served.
Its keyboard is excellent for a cheap laptop, so you can tap away for hours on end, and the screen is bright and vibrant, so you won't get eye strain or fatigue when using the Chromebook 14 to write on. While it's not the most powerful laptop, and doesn't come with any glamorous bells and whistles, for a straightforward no-nonsense budget laptop for writing on, you won't go wrong with this.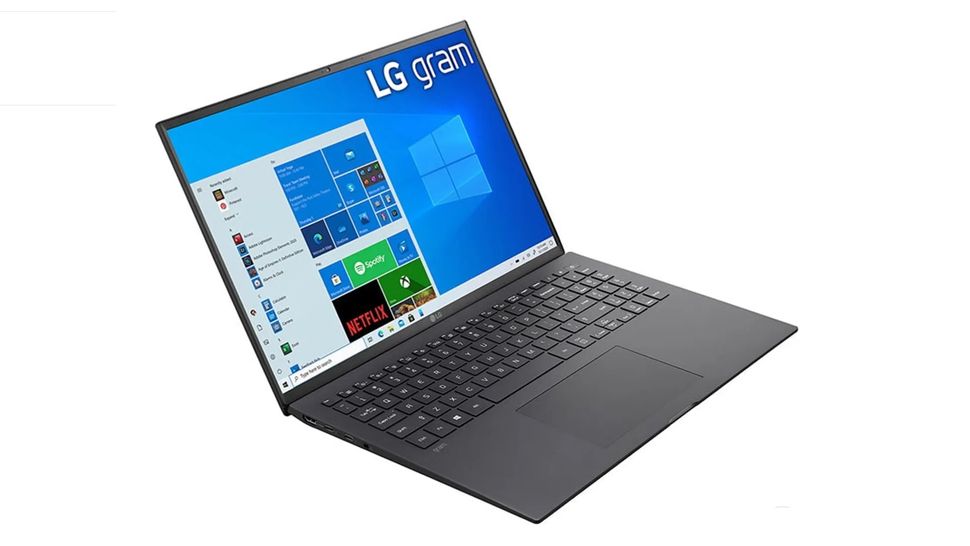 LG Gram 17 (2021) is a large but light laptop, which makes it an unusual one for my list. The great thing about writing is that you can do it almost anywhere, but in the past, if you wanted something extremely lightweight to carry around with you, you had to make do with a small screen. Larger laptops didn't tend to be light and portable enough to make them good companions for travel writers.
However, the LG Gram 17 isn't just one of the lightest laptops in the world (so light, you can hardly notice it when you carry it in a bag), but it also offers a large 17-inch screen, which is ideal for writers.
Inside, it's also packed with some great tech, including 11th generation Intel processors, and a long battery life. The keyboard is also comfortable to use. If you do a lot of travelling while you write, then this is a great investment. Sure, there are cheaper laptops out there, but none offer such a large screen while keeping the overall weight of the laptop down.
The Microsoft Surface Laptop 4 is older than the Microsoft Surface Laptop Studio above, but it's a great option for a cheaper alternative to the Studio or an all-around laptop that's truly great for writing.
The screen comes in two size options, 13.5 or 15 inches. The 13.5-inch model is cheaper, and still large enough for any writing endeavour so we can heartily recommend the base spec as one of the best laptops for writers anywhere. The tall 3:2 aspect ratio screen makes it very comfortable to write on, and it's a touchscreen too, perfect if you like to make tactile-feeling notes on your work.
The battery life is excellent too, so you can travel about all day without worrying about finding a seat next to a power outlet on a train or in a café. And as it's been superseded by the newer Studio model and the Surface Laptop 5, expect to see discounts for this laptop popping up more regularly.
Check out our full Microsoft Surface Laptop 4 review for more details.
The best laptops for writers: frequent questions
What makes a good laptop for writing?
As we mentioned in our introduction, some of the key factors in choosing the best laptop for writers include comfortable screens and keyboards, battery life and portability. If you can find a laptop that delivers in these areas, you're on to a winner.
There are some other nice to have features to look out for, too - for example, anti-glare screens if you work outside often. You might also value having a touch screen or writing pad if you're an avid note-taker.
Historically, storage has also been a consideration, but with the rise of cloud storage, many writers only worry about this if they don't have regular WiFi access - plus, USB storage is a perfectly viable option.
How do I choose the best laptop for writing?
We think the laptops above are some of the best around for writing, but you'll want to think about your own budget and needs as well as our recommendations. Setting a budget and sticking to it is important, especially in light of the increased cost of living, so we've included laptops at a variety of price points to cover all bases to help you choose the right model for you.
An Apple MacBook Air (M1, 2020) might be stylish and sophisticated, but a more reasonably-priced Acer model like the Aspire 5 or Chromebook 315 might give you everything you need.
Thinking about which value-adding features you'll actually use is key, too - for example, a touch screen is nice to have, but if you're unlikely to make use of it, it's not worth the extra investment.
Should I get a MacBook or a Windows laptop?
Ultimately, this is a question of preference, but there are a few differences between MacBooks and Windows laptops for writers. While many writers have more experience with Microsoft Word, the software will set you back financially whereas the slightly less sophisticated Pages on Mac comes free. Of course, you could also just use Google Docs if you're regularly connected to WiFi and confident in its Offline Mode.
MacBooks are generally more pricey, as are Mac-compatible peripherals, but can last longer than more budget-friendly Windows laptops.
We can't definitively say Mac or Windows is better for your personal writing preferences, but we will say that the MacBook Air (M1, 2020) is at the top of our list for a reason.
Read more: