Looking for the best laptop for watching movies? We're not surprised. It's one of the main uses people have for their laptops these days. In fact, some don't even have a TV, because they can watch all the video content they need on their laptops via streaming services.
However, while there are specific business laptops, as well as dedicated laptops for gaming, no manufacturer we know of markets their laptops as optimised for movie watching. So if you're a keen film fan, how do you make sure the device you buy will give you a top-quality viewing experience?
Well, there are a few things to look for. The most important thing is a premium display that can display movies in high resolution. You'll want a minimum of Full HD and if budget allows, you'll ideally be looking at 4K. Additionally, you'll want strong audio capabilities, which isn't always a given. (Unfortunately, we've tested laptops with excellent high-res screens that are let down by dismal, tiny speakers, so the two things don't necessarily go together.)
You'll also want a fast processor, because you don't want to spend all day downloading a movie, or find your viewing experience is marred by stuttering and crashes. Battery life is important too, for when you're watching movies on a long journey, or in a hotel room that's short on power points. You'll want a high level of screen brightness, for when you're watching outside in the sun. And preferably there'll be a lot of onboard storage, for storing lots of large video files.
With all these factors in mind, we present the best laptops for watching movies available today, covering a range of budgets. And don't worry: we know that very few people want a laptop just for watching movies. So we've thoroughly tested these devices to make sure they perform day-to-day functions like web surfing, social media, productivity tasks and more to the highest standards, too.
The best laptops for streaming available now
Why you can trust Creative Bloq Our expert reviewers spend hours testing and comparing products and services so you can choose the best for you. Find out more about how we test.
Running Windows 11, this Asus laptop comes with a 16:10 OLED display that's simply fantastic. At 16 inches in diameter, it's a great size for watching movies, allowing you to really get sucked into the action. And its 4K (3840 x 2400) resolution provides you with the ultimate in picture detail.
Our reviewer found it delivered dark blacks, vivid brights and strikingly accurate colours in practice. With 550 nits of peak brightness, you'll have no problem enjoying movies outdoors, or in other bright environments. And the twin speakers by Harman Kardon produce very decent, rich sound to match.
This is a great laptop in general too, especially for artists, designers and photo editors, who'll love its special dial, which makes it easier to make fine edits in creative software.
Not everything is perfect: the battery life is pretty average, delivering just over six hours of mixed use in our tests. The webcam is just 720p. And overall, it's pretty expensive. However, if you're looking for great picture quality for streaming on a Windows laptop, you'll struggle to find finer. See our Asus ProArt Studiobook 16 OLED review for more details.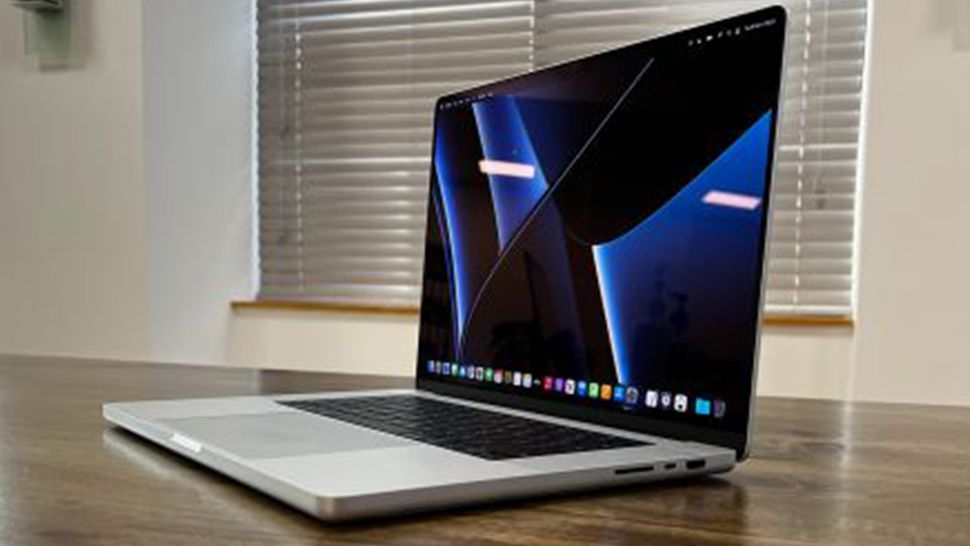 Apple knows its audience, and MacBooks are generally great for watching movies. But the MacBook Pro 16-inch (2021) is our top pick from the current line-up. For starters, it has a lovely big 16.2-inch screen, allowing you to fully immerse yourself in your movies. And this is not just any screen, but a market-leading Liquid Retina XDR MiniLED that supports HDR and a 120Hz refresh rate, and can achieve deep blacks and bright whites.
Resolution is 3456 x 2234 which is just a few pixels away from 4K (3840 × 2160). And most notably, its clever backlight technology can generate an astonishing 1,600 nits of peak HDR brightness: nothing on the market comes close to that right now. So whatever lighting conditions you're in, you won't get distracted from your movie by glare and reflections.
The speakers are very impressive too, providing stereo spatial positioning and a great sense of balance. And battery life is superb: Apple promises around 14 hours of web browsing from one charge, but our reviewer achieved close to 17. Plus, of course, this isn't just one of the best laptops for watching movies, but also one of the most powerful laptops on the market as a whole. For more details, read our full MacBook Pro 16-inch review.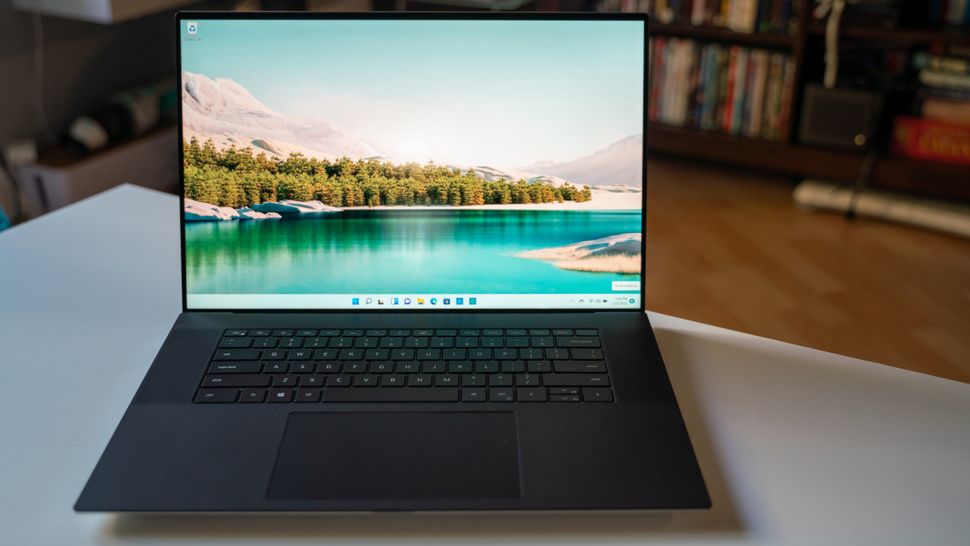 Sixteen inches is fine for most people, but if you want an even larger screen, the 17-inch display of the Dell XPS 17 is a great laptop for watching movies. It scores highly on picture quality, thanks to an InfinityEdge touch display that supports HDR, and Dolby Vision and at the highest configuration, 4K+ resolution of 3,840 x 2,400. The 0.65% anti-reflective coating and 500 nits' brightness helps to minimise reflections in bright environments. And overall, this display offers excellent picture quality, sharp details and vibrant colours.
The two 2.5W stereo speakers deliver decent quality sound too, which is certainly loud enough to watch films. On the downside, battery life is decidedly average: our reviewer managed five hours and 45 minutes of mixed use on a single charge. For more details, see our Dell XPS 17 9710 review.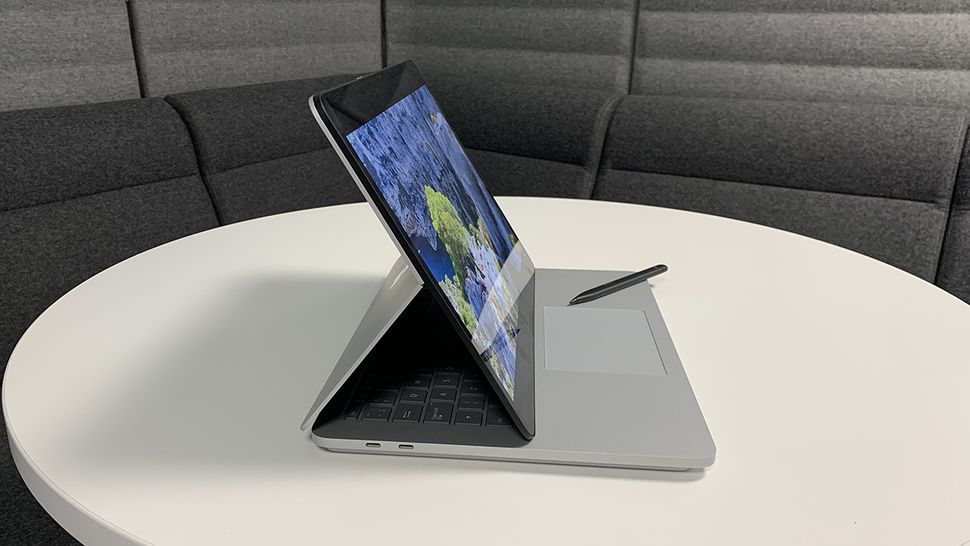 If you spend all day working hard at a laptop, using the same device to stream movies may not feel like the best way to switch off. That's why some people prefer a more neutral screen like a tablet, which is easier to position on a sideboard or bedside table, and won't tempt you to minimise your movie window and start replying to emails during the film.
If that sounds like you, then bear in mind that you don't need to buy a separate tablet. You could just go for a 2-in-1 laptop, which consists of a tablet and detachable keyboard, giving you the best of both worlds. And our favourite right now is the Surface Laptop Studio.
It comes with an 14.4-inch PixelSense touchscreen with a high refresh rate of up to 120Hz and a QHD resolution of 2400 x 1600. Our reviewer was particularly impressed with the in-built speakers (two mini subwoofers and two tweeters) which produce a rich, full-bodied sound. He achieved brightness of 505 nits, and battery life was strong too, consistently providing 12 hours of viewing on a single charge, even with the refresh rate turned up to the max.
Note though, that cinephiles may have an issue with the 3:2 aspect ratio, which is taller than the normal 16:9 ratio, making widescreen movies a little more letterboxed than on standard screens. For more details, see our Surface Laptop Studio review.
You don't need Windows or macOS to watch movies or stream on your laptop. So if you really want to save some money, you may be better off getting a Chromebook instead. If that idea appeals to you, the HP Chromebook x2 11 is our top recommendation right now. Not only is it a 2-in-1 device, but it comes with a fantastic IPS touchscreen, with 2K (2160 x 1440) resolution. Surprisingly for a device this affordable, it even comes with Bang & Olufsen speakers, although our reviewer felt these lacked depth.
Battery life is strong, though: our reviewer watched Netflix for 11 hours 10 minutes on a single charge. And while 400 nits of brightness is the lowest in our group, it's still not bad at all. So all in all, the x2 11 delivers a pretty solid movie-viewing experience. Note though that, like Microsoft Surface Laptop Studio, the aspect ratio is 3:2, which isn't the best for watching widescreen movies.
More generally, a Chromebook comes with many limitations compared with a Windows or Apple device. So if you're not sure if this type of computer is right for you, first read our guide to laptop vs Chromebook. Meanwhile, for more details on this specific Chromebook, see our HP Chromebook x2 11 review.
Big screens are great for movie watching, but they do mean the laptop has too be big too. So if you want to watch movies on a MacBook, but prefer one that's small, light and portable, the MacBook Air (M2, 2022) is an excellent choice.
It's Liquid Retina IPS display may be smaller than most, at 13.6 inches in diameter, but it's still a good enough size to enjoy movies on. And with a UHD+ resolution of 2,560 x 1,664 and 500 nits of brightness, the picture quality is tremendous.
The four-speaker sound system, featuring two tweeters and two woofers, provides a solid slab of immersive audio, with support for Spatial Audio and Dolby Atmos. Battery life is fantastic – our reviewer looped a 1080p video for 16 hours. And you can get up to 2TB of storage, which should be plenty enough for your downloaded movie collection.
Our only niggle is that the 1080p webcam dips down in a visible notch that obscures some of the menu bar at the top of the screen. But in practice, we found that didn't really interfere with our enjoyment of films on this device. For more details, see our MacBook Air (M2, 2022) review.
If you want a laptop for gaming, but want to have a great movie watching experience too, then the Razer Blade 17 is our top recommendation.
Whether you're playing a game or enjoying a film, the huge 17.3-inch touchscreen display delivers excellent results. The 4K resolution means you get incredible picture detail, and while the top-end 240Hz refresh rate is mainly aimed at gamers, it makes movies look amazing too. The four tweeters and four subwoofers power excellent stereo sound and support THX spatial audio too.
On the downside, this laptop is very expensive, especially at its highest configurations. Plus, it's so powerful that battery life is pretty limited: our reviewer managed around three hours and 12 minutes of general web browsing. But if you want both top-class gaming and high-quality movie watching then those are compromises you may be willing to make. For more details, read our Razer Blade 17 review.
Read more: