The concept of making movies covers an incredibly wide spectrum. It doesn't matter if you're just doing holiday films with the family or working behind the scenes on a multi-million dollar mega-hit - your iOS device can be a major help.
Though you're unlikely to see Christopher Nolan's next film shot on an iPhone, there's a real chance you might see something at a film festival taken on a 4S, or a local documentary uploaded to sites like YouTube. If you're just filming something that's happening around you, the Camera app and iMovie might be all you need to turn it into a great little video. But we've set our sights bigger in this feature, offering the best apps to help you improve not just the filming of cool stuff, but planning shoots and coming up with ideas.
Take control
From the scriptwriting stage to storyboarding, you can make sure than any film idea you have goes off without a hitch. When it comes to the filming, we can show you how to take total control of your iPhone's camera to get the best footage possible, no matter whether you're creating an artistic masterpiece or you're just recording the school play to look back on years from now.
Once you've finished filming, you'll be able to change the look of your footage, edit it into a masterpiece and even add Hollywood-style special effects. The apps available for iOS might not quite replace a professional studio yet, but if you've got the ambition and the will, there's almost no limit to what you can do with just an iPhone, iPad and some choice apps.
Also read: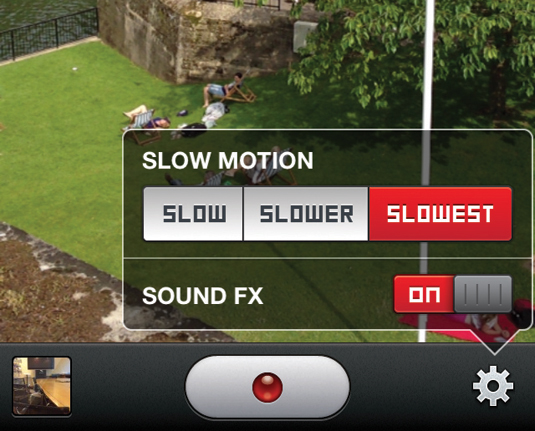 Price: Free
Works with: iPad, iPhone, iPod touch
SloPro's concept seems simple - to let you create slow-motion video - but in practice it's a little more complicated than that, as all good cinematographers will tell you.
Let's start with the easy part: if you have an iPhone 4S, it lets you record video at 60 frames per second, instead of the usual 30. This means you can slow the video down to half-speed, and it'll still look as smooth and fluid as normal. It works really well, and is superb for mid-speed motion (think people playing football rather than swinging a golf club).
But using various clever techniques, it can also slow down video from other devices to that speed - just not as crisply - or slow the video from any device to other slower speeds, including to a ridiculous 500 or even 1000 frames per second, making every move appear to run at positively glacial speeds.
Impressive results
The results will never look as good as the true high-speed recording that you see in sports coverage on TV, but it can be impressive.
Getting to grips with what the app means by settings such as 'Slow', 'Slower' and 'Slowest' can takes some fiddling, but it's generally quite easy to use. There's a mini editing suite in the app too, so you can trim your footage and decide what speed it should be, then export it to your Camera Roll to use elsewhere if you want.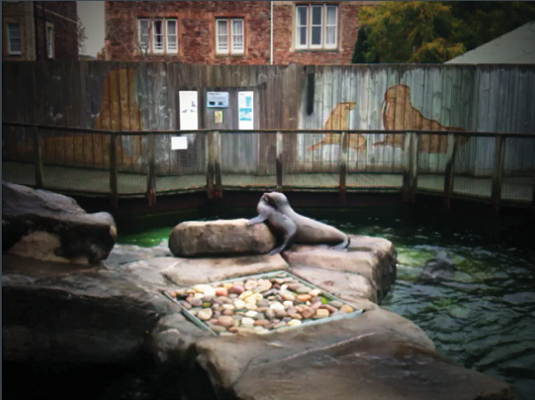 Price: £1.49/$1.99
Works with: iPhone, iPod touch
Though the iPhone's camera can capture great-quality video, it's all a bit… samey-samey. If you want your video to look a little different to the norm, this app lets you add filters (of the kind so popular in photos these days, particularly on Facebook).
It's not a simple 'Stick on some sepia and have done with it' app, though. The filters are adjustable, so you can make the effect extremely subtle if you want, and can be stacked on top of each other, to create unique looks for your film, such as creating your own dream sequence effect.
It goes well beyond just being able to use black and white to make something look old, or adding film grain for authenticity, but both of these are in there as well, handily.
Export options
You can export your finished creations to your Camera Roll to use the video elsewhere, such as in iMovie, though only up to 720p - you can't take full advantage of the 1080p footage of the iPhone 4S.
The rendering of videos is a little slow, but the results can be superb, and can really give your video an added dose of personality, and a more professional look.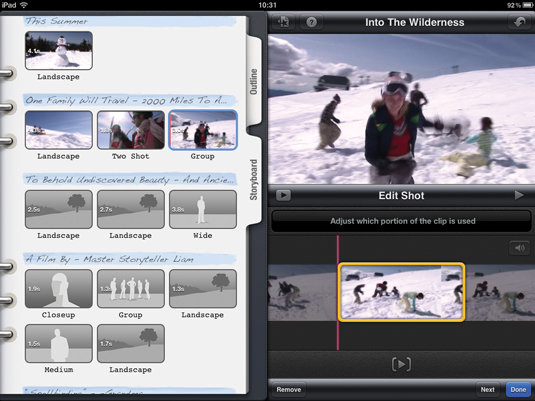 Price: £2.99/$4.99
Works with: iPhone, iPod touch, iPad
You're unlikely (to put it mildly) to see iMovie being used to make the next Hollywood blockbuster, but Apple's video-editing app is ideal for home movies, or short films to go online.
It's a little picky about video formats, but if it's something you've filmed on your iPhone, it should have no problems letting you import the movies files, choosing the bits you want and creating a quick cut of your movie.
Fine-tuning
From there, you can use the Precision Editor tool, and the Themes and Transitions, to craft and fine-tune your movie. You can add titles, choose from a range of sound effects to add some texture to your film, and add background music from your own library - or compose your own in GarageBand.
Though iMovie doesn't do everything, it's capable of some truly impressive results in a very short amount of time. The interface is intuitive, it's reliable, and it's got a great range of export options, including uploading your finished film straight to the net, or sending it to iTunes, so you can continue editing on a Mac.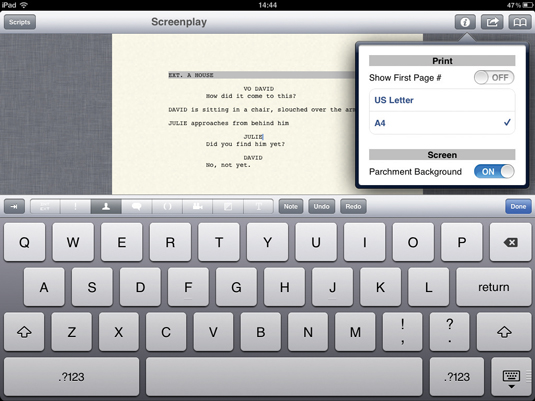 Price: £5.49/$7.99
Works with: iPad, iPhone, iPod touch
There are a few contenders for the scriptwriting crown on iOS, including the excellent Screenplay for iPad. Celtx Script's combination of Universal support, cloud support to link to the desktop version of Celtx and useful context-sensitive buttons to quickly build your script means it gets our pick.
You can create screenplays, theatre scripts, comic scripts and more, with the on-screen options and layout tailored for each different kind of dramatic work.
Useful buttons
The various buttons make sure that you're always working in the right way, with different elements of the script laid out in the right place, without you having to worry about alignment or anything like that.
You can add notes to areas of your script, which are preserved across the desktop and iOS versions of the app, and if you want to send the script to someone else, it can easily be emailed as text or a PDF, or printed with AirPrint.
The scripts themselves are easy to read, and can be resized quickly with just a pinch. The only downside is a lack of support for Final Draft format, but this is more than capable of letting you create an Oscar-winning script on your iPad.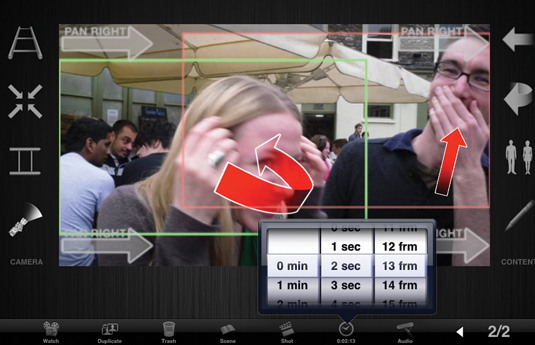 Price: £20.99/$29.99
Works with: iPhone, iPod touch, iPad
The best films come from meticulous planning and preparation, and one of the most important stages in that is storyboarding. Getting the composition of your shots right before you start filming makes a massive difference to their eventual quality, but it's a lot of work.
Storyboard Composer HD makes it slightly easier by enabling you to take photos or import them into the app, and then add arrows and notes to indicate what should be happening on screen.
Camera moves
You can also indicate what camera moves will be made, such as a zoom or pan, and it will actually animate those on your photo.
You can specify how long each shot should last, eventually building a complete skeleton for your film - you can actually play back what you produce in Storyboard Composer as a video, and then export the file to use elsewhere.
It's a great way of not just planning your movie, but of getting an idea of the scope involved in making it. It's not cheap, but for amateur filmmakers it's very useful.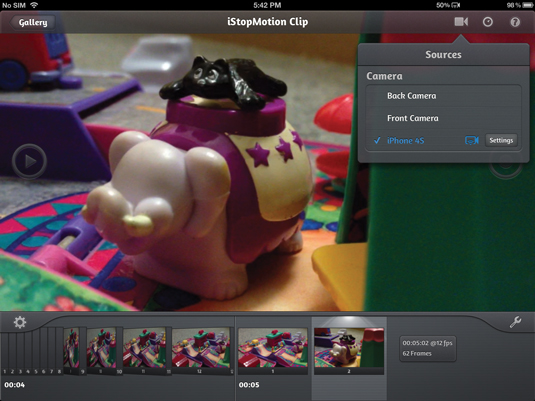 Price: £6.99/$9.99
Works with: iPad
Stop-motion is a great way of making animations without having to learn to draw, and a good way to make films if you don't have any actors. In the case of stop-motion, you normally have some models (or toys - stop-motion LEGO films are particularly popular) and move them a little on each frame before snapping a picture.
Time-lapse is a similar idea, but slightly different - you'd normally set up a camera and take a series of photos a set time apart, which you build into a video to show how things change over time.
This app offers everything you need to get cracking with these kinds of filmmaking, offering crucial features such as a camera overlay, so that when you're lining up the next frame in your stop-motion video, you can see exactly where everything was in the last frame.
Remote control
It's packed with other features, but perhaps the best part is that you can use an iPhone as a remote-controlled camera for the main iPad app, which means you can use the iPad's far superior sensor to get better shots (although obviously not with the original version). It can also export at up to 1080p, so the results look great.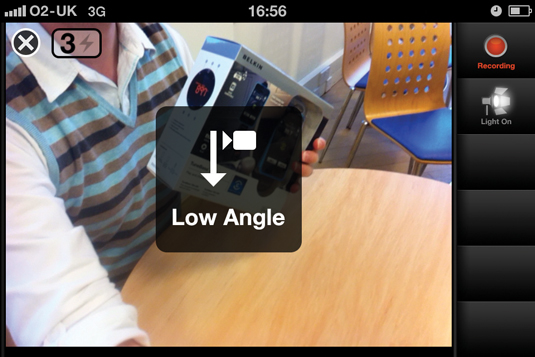 Price: £3.99/$5.99
Works with: iPhone, iPod touch , iPad
If you're trying to film something live, whether it's as large as a rock concert or as small and personal as a school play, the best way to ensure you always get a great shot is to have several cameras filming the action all at once.
CollabraCam creates a professional, multi-camera studio-style setup between iOS devices over a Wi-Fi network. You have one Director, with up to four cameras filming the action and streaming their video to the Director. The Director then chooses which camera should be active, switching between them to ensure that what's recorded is always from the best angle.
Clever cues
Cleverly, the Director can send cues to the cameras with a tap of a button, such as letting a camera know that it will become the live one imminently, or to tell the camera to move or get a different angle.
The ideal setup would be to have the Director on an iPad and an iPhone 4S as each camera, but you can mix and match devices as needed. The downside is that final saved video can only be up to 640×480 in size, so you can't create HD videos. It's still an extremely clever app, and a potentially powerful one.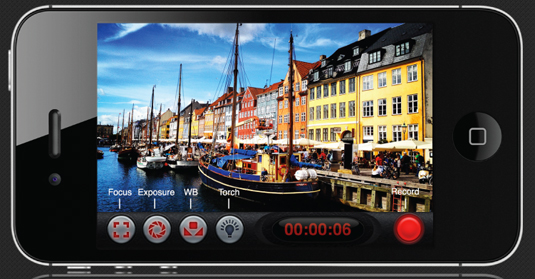 Price: £2.49/$3.99
Works with: iPhone, iPod touch
FiLMiC Pro is, quite simply, the answer to the frustrations filmmakers have with Apple's default camera app. The most obvious and immediately useful features are the ability to set the focus and exposure separately, to lock them individually, and to lock the white balance. They're all vital for getting the tone and mood of what you're filming right, and FiLMiC knows that.
Resolution and framerate
Video nuts will find wide-eyed glee in the ability to specify not only what resolution it films at, but also the framerate and, best of all, the bitrate, so you can record at quality far beyond the Apple defaults – great if you're filming lots of motion.
There are plenty of other options too, such as framing guides, an on-screen audio meter, showing colour bars or a slate at the start of each clip, and even uploading your videos to an FTP server or Dropbox, so they're immediately available.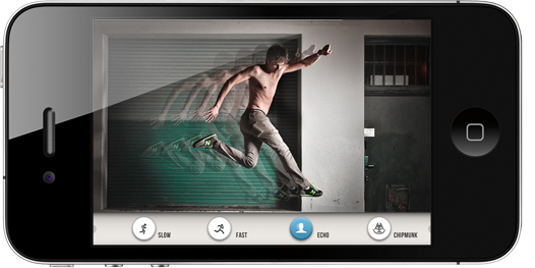 Price: £1.49/$1.99
Works with: iPhone, iPod touch
Game Your Video is a clever ploy to make video editing less daunting, letting you play clips and use a simple series of buttons and options to apply effects on the fly.
Play back a snowboarding video and you can make a section slow-motion just by tapping a button when you get to that part of the video; or add other video filters such as Echo, or sound effects.
Precision tool
It comes across as light and toy-like, but there's a surprising amount of precision on offer. Every change you make is displayed in a little timeline, so you can go back and change if you wanted to do it slightly differently, or just delete it if it's not working. You can even do some light editing in the app, splitting clips, and adding new ones in.
It's got a bunch of features that iMovie's missing, though it's hardly a replacement when it comes to editing video. It does work with live video though.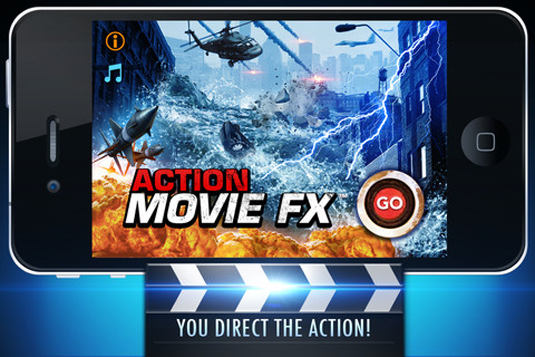 Price: Free
Works with: iPhone, iPod touch
It should come as no surprise that this app is from the production studio of JJ Abrams, director of Mission: Impossible III, Star Trek and Super 8. It's basically a ridiculously easy way to shoot video with some added special effects - the free app comes with a few effects in it, but there are more available with an In-App Purchase.
The free ones include a missile strike (and subsequent explosion) and a car crashing to the ground, among others.
Terrifying situations
The extra packs include things like flash floods, tornadoes and electrical strikes, so you can put yourself in all sorts of exciting/terrifying situations.
Sadly, you can't add the effect into videos you've already shot - you actually have to record from within the app - but you can export the video to use elsewhere and combine it with other footage, although the output is limited to 720p.
This feature originally featured in Tap! Magazine issue Sept/Oct.
Have you used your iPhone to make movies? Share your experiences in the comments!