25. Monster Hands
You can't get much more eye-catching than this brilliant flyer design, aimed at educating people about the importance of cleanliness in stopping the spread of bacteria. We just love how the hands have been transformed into this menacing yet cool looking character. Genius.
26. Room for rent
When a friend of art student Jimena Gamio was on the hunt for a flatmate a couple of years ago, Gamio created this cool typography flyer for her to distribute around town. A cool design and a refreshingly original alternative to the many generic, dull ads online.
27. Mikro
This beautiful, abstract flyer design was created by motion, screen and print designer Mellow for a club night called Mikro. The design is so detailed, it takes a few minutes to notice the lizard that forms the base of the illustration. An extremely talented creative, Mellow has developed numerous flyer designs for various events, all of which feature in an awe-inspiring online portfolio.
28. Craft fair flyer
This craft fair flyer by designer Suji Allen is a brilliant example of how to advertise an exposition of all things homemade. Featuring classic colours and retro type, this design is sure to catch the eyes of people interested in arts and crafts.
29. Mokka Cuka
Plugged in and turned on, this cool flyer was designed by Hungarian graphic designer Karoly Kiralyfalvi for the Mokka Cuka – a leading outdoor underground venue in Hungary. The retro design features a custom-made font and eye-catching colour choices, finished off with graphics of microphone, earphone jacks and USB cables, giving a clear indication of the type of event the flyer promotes.
30. Kyary Pamyu Pamyu
This standout flyer promotes Tokyo-based singer Kyary Pamyu Pamyu's debut album. She started out as a blogger and model, and then proceeded into a music career. The flyer is as striking as her personal style and music videos.
The prominent visual, a freaky-looking hairstyle on a floating head, immediately commands the viewer's attention because people are attracted to faces. The illustrations and hand-rendered typography are playful and visually striking in high contrasting colours. This layout has an energetic vibe, suggesting that's what we can expect from her music.
31. Shop Spotlight
Shop Spotlight are proud owners of a shop that designs colourful typographic table decorations for weddings, and this flyer was designed to promote a bunch of new products; popping with colour, the layout boasts the use of type as image in overlays that give them a tactile letterpress aesthetic.
32. Baby Jupiter
This nostalgic psychedelic flyer is for the In the Basement event held at Baby Jupiter, Leeds, UK. For some people this venue is reminiscent of a weird little bar you might stumble across in Amsterdam, for others the atmosphere reminds them of classic telly programme. All we know is this mesmerising flyer seems to come from a groovy place. The layout incorporates warping typography within a illustrative frame. A real product of craftsmanship; A real trip.
33. Morph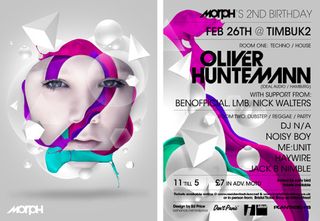 It was hard to choose from the many flyer designs that art director and graphic designer Ed Price has created for Morph, a popular techno night in Bristol, UK, but this one just pipped it for us. We love the splash of colour in amongst the clean black type and the neutral woman's face.
34. United Students
Italian freelance graphic designer and illustrator Marco Oggian created this simple but brilliant flyer design for a party hosted by United Students, the largest student association in Switzerland. A series of parties took students on a journey through the major capital cities of Europe, including London, Berlin and Barcelona.
35. Penguin Rider
We couldn't not include this cool skiing penguin flyer design in our list. Creative agency Zim & Zou were the brains behind this concept for a snowboard and skiing contest in France. The team used models to create an Antarctic environment and then added Georgia and their own custom font to create the cool design.
36. Kolor
Silkscreen art on rough cardboard works beautifully for these gorgeous flyers for Kolor bar in Budapest. The design was by Budapest-based graphic designer, illustrator and typographer Eszter Laki.
37. Forevergreen Festival
We're loving the simplistic design, clever use of type and cool graphics on this Forevergreen Festival flyer design, created by Giovanni Montuori. The quality and bright colours of the illustration immediately draw your eye and the simple, clean type presents all of the information visitors will need, nice and clearly.
38. HQ Drum & Bass
This club night flyer is unlike most others. No glossy paper, bright colours or big typography, just a simple but appealing design. The cool central graphic is reminiscent of an optical illusion, and the whole thing is printed on 100% recycled pulp board. Awesome work by graphic designer Ross Gunter.
39. Riscopriamo Il Borgo
Riscopriamo Il Borgo is a traditional festival held in Airola, Italy, created to celebrate the country's history, roots, popular culture and traditional cuisine. These stylish flyers by graphic designer Giuseppe Fierro are a great example of how well a simple, clean design and superb typography can work together.
40. Stampede
Stampede is a rock night that takes place in Soho, London, every Monday. To promote it, creative project assistant Michael Higginson created this cool, grungy flyer design featuring an elegant yet powerful horse composed of a series of different sized circles.
41. Lovejoy
We love everything about this flyer design, from the original design to the colour palette used. But it's the clever use of shadows to give the impression of depth that we find most impressive. Developed by German graphic design studio isoarts (formerly named Andersdenkend), the team has nailed the art of flyer design with this creation.
42. Beat Up
This flyer for an outdoor party, by graphic designer Jacopo Severitano, proves that if you get the right image, minimal text is all you need to complete the design. With an Instagram feel to it, this retro flyer design makes us want to head out into the sunshine and join in the summer fun depicted here.
43. ADCN
Dutch illustration duo LouLou & Tummie make it into our list again for this flyer. Here they applied their distinctive illustration and graphic design skills to this flyer for the ADCN advertising gala back in 2010. The bright colours against the black background makes the brilliant graphics really pop, creating a totally eye-catching flyer design.
44. Ochsenfest
Nicole Jacek is an award-winning graphic designer from Germany, now based in New York, and the brains behind this lenticular flyer design for the biennial Ochsenfest in Ludwigsburg, a four-day music festival. The design itself is fairly simple, featuring a black cow on a simple white background. The impressive part is the guitar that forms on the animal's head as the flyer is moved.
Related articles: