"Your advertising campaigns are consistently the most grating and pathetic faux-cool b*llsh*t. I am actively hostile toward your brand." So reads the top-rated comment on Oatly's latest Reddit ad, in which the oat milk brand, in its signature 'corporate irreverence' tone of voice (think Brewdog), extols the virtues of the marketing campaign promoting its newsletter. Indeed it seems the company's 'edgy' ads are rubbing a large proportion of Twitter and Reddit up the wrong way.
Chances are you know an Oatly ad when you see one. The company favours bold, type-heavy print ads with messages like, 'Waiting for someone? Just look cool and pretend to be reading this,' or 'Posters don't have feelings so you don't have to pretend that you're interested.' But in trying to transpose its tone into the unforgiving world of Reddit, Oatly seems to have ended up with milk on its face.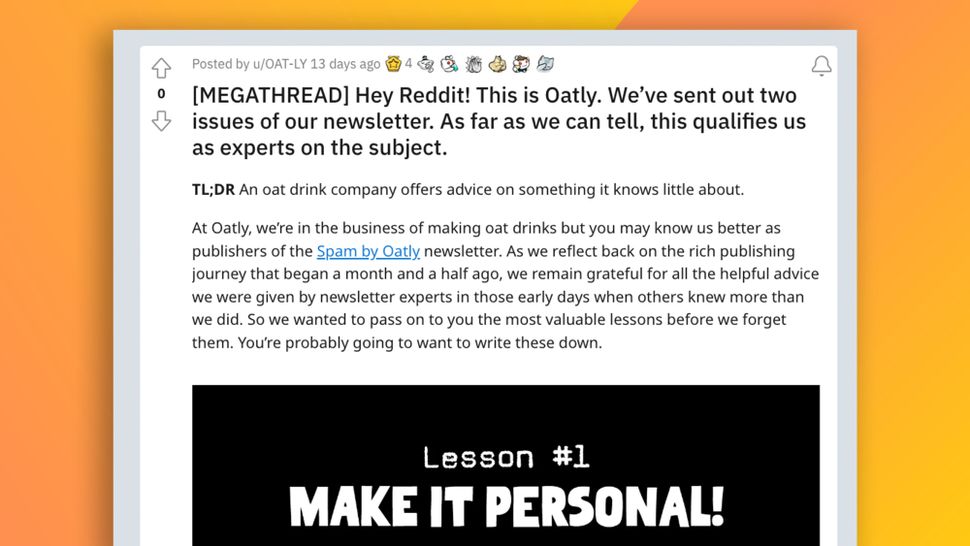 The actual out-of-home campaign for the newsletter features some pretty inventive stunts. Oatly has leaned into the 'Spam' theme, using a browser popup as the key visual. And Advertising Twitter was even cautiously impressed by its humorous billboard placements (below).
But in taking the campaign to Reddit, Oatly appears to have strayed deep into 'How do you do, fellow kids' territory. This is not least because of its decision to take out a front page ad promoting a 'Megathread' which, for all the comedy stylings, essentially pats itself on the back for said OOH campaign. In the long post, Oatly shares photos of its posters, mocks Reddit's requirements to include captions ("CAPTION: We don't mean to keep complaining about the Reddit people but like what's the obsession with captions? Is there not enough to read already?") and included multiple links to its newsletter. Oh, and it left the comments open. Yikes.
Oatly's Reddit campaign inadvertently becomes a case study in how not to do it. Proof that the platform is vehemently anti-advertising, even (especially?) if you write self-aware, ironic, copy and pretend to be oblivious to how captions and ads work:https://t.co/N1PZyLFdRg pic.twitter.com/krdx5mcLzbFebruary 17, 2023
So@oatly thought it was smart to do a reddit ad runand leave the comments open.It isn't every day you get a chance to watch advert spam get ~*directly*~ and Deservedly shit on for their business associations, bad products, meme-worthy acts of reporting users for criticism.February 20, 2023
@oatly liked your product better before all the dumbass reddit ads, like come on just repost the fellow kids meme daily on here and save the ad moneyFebruary 21, 2023
Indeed, while adland might appreciate Oatly's attempts at irreverence, the company might do well to take stock of the general response on Reddit. As multiple recent backlashes against Brewdog have demonstrated, there's arguably only so long a brand can rely on a sarcastic tone of voice, especially as it grows in size and profit, before it begins to look gratingly insincere.
Read more: