Patent filings often offer a tantalising glimpse at what weird and wonderful inventions tech brands have up their sleeves. Whether or not they'll ever come to fruition hardly matters – it's just fun to know that Apple is working on teeth-powered AirPods or Sony wants to make controllers with collapsible joy joysticks. But it turns out the latter brand has also filed one of the most dystopian patents we've seen.
The 2009 patent, which has recently resurfaced on social media, describes a form of advertising that we hope never, ever becomes the norm. In it, TV viewers are only able to skip an advert by shouting the name of the brand. Yep, crying 'McDonald's!' is the only way to make the Big Mac disappear. (Check out the best Apple patents for some slightly less terrifying ideas.)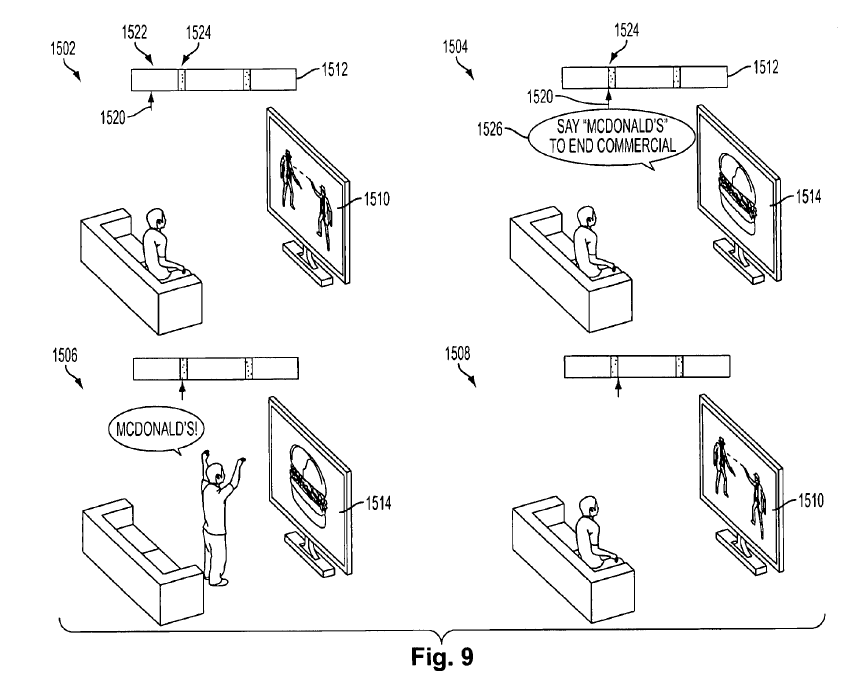 A darkly hilarious illustration from the patent filing shows a cartoon figure watching what appears to be a Western movie before a burger appears, causing them to yell the name of the aforementioned brand. And lo and behold, the two men shooting at each other return to the screen. Seamless.
It turns out the illustration comes from a pretty detailed patent filing, which our sister site TechRadar dug out through some impressive sleuthing. They explain, "Based on the description and images, this patent is about interactive and actionable commercials. You could play games within them or even order products. In one illustration, the system shows a TV connected to both a "Media Streaming Computer" and PlayStation (it looked like a PS3). The gaming console connects to an Interactive Commercial Service, which then talks on the back end to an Advertiser or one of almost a dozen networks, including NBC, CBS, Hulu, and, yes, MySpace."
Thankfully, this one has thus fair remained on the pile of patents that haven't made it. But that hasn't stopped Twitter responding with horror when the image reappeared this week (with over 20M views). "This is very Black Mirror of them," one user comments, while another adds, "I'm at a loss for words."
And this isn't even the first time Sony has creeped us out with it's advertising ideas this week. A few days ago, its dystopian new car design gave a glimpse of a terrifyingly Orwellian future. And the less said about the Meta Quest Pro, the better.
Read more: