Horror and gothic art will never lose it's appeal as long as humanity maintains it's fascination with death. For some artists the macabre provides a release from internalised fear and for others, it's a playful way to seek a reaction from their viewers.
However, managing to capture a truly frightening scene, and present the viewer with a disturbing yet beautiful image is a real skill.
In honor of Halloween we have compiled 13 great contemporary artists who focus on dark fantasy themes, and asked them to reveal why they paint such deadly themes.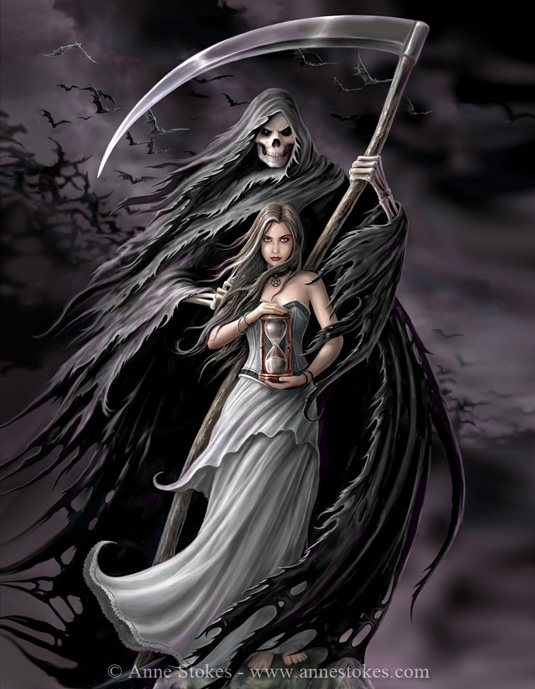 "I am a fan of all things fantasy and much of horror falls into this. It's the dark side of fantasy with many monsters, characters and fantasy situations," reveals the illustrator.
"I love the style of the gothic architecture with its soaring sweeping shapes and detailed carvings. Dark and deathly imagery offer great scope for artists and the possibility of suggesting a sinister story in the picture. I like the possibilities for contrasting softer and darker subjects.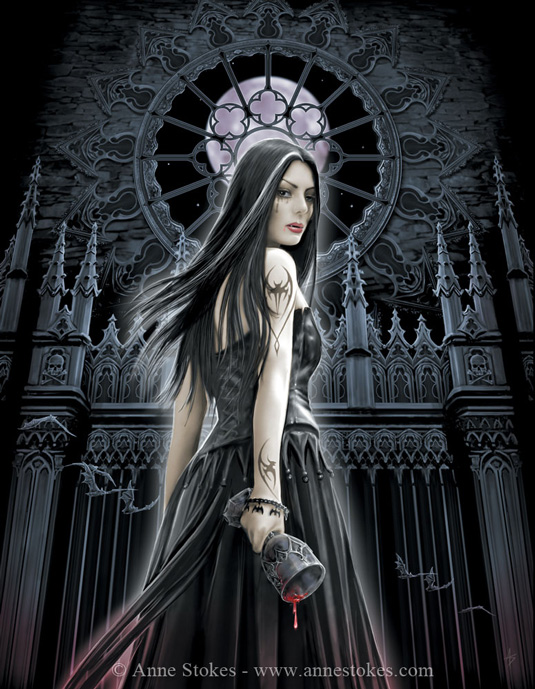 "I have always enjoyed the creativity and look of gothic clothing and enjoyed visiting the Whitby Goth weekends. Many people who attend make a great effort to dress up for the occasion which provides an interesting spectacle as the picturesque old town gets taken over by Goths."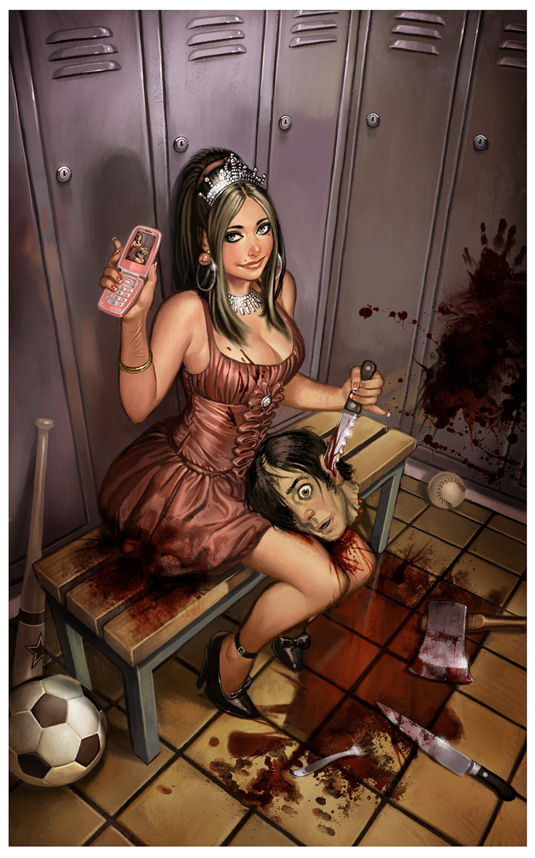 "I'm not really a 'horror' artist as such, but the 'Gothic' is a aesthetic that has always resonated with me, from music, fashion, literature and of course visual art. Confronting the shadows is the best way to come to terms with them," says Aly.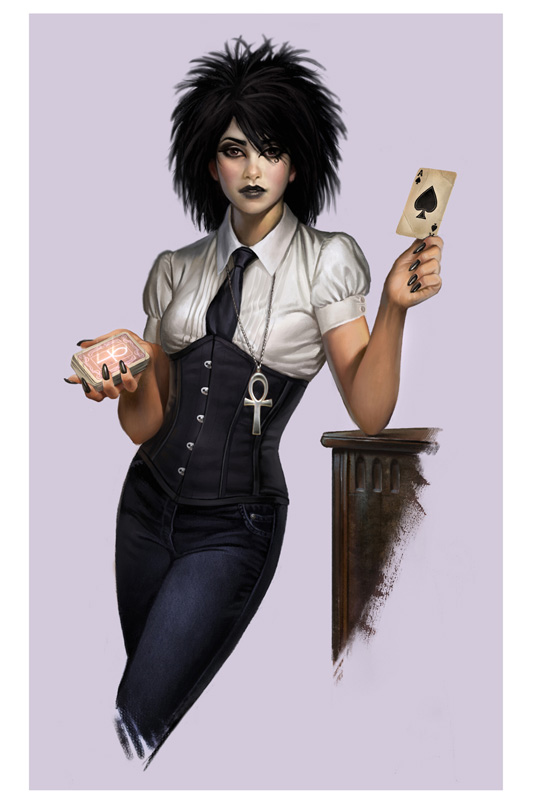 "That 'long night' is waiting for us all, pretending it doesn't exist is to kid yourself. My fluffy bunnies have teeth, but 'Death' looks good in a tutu."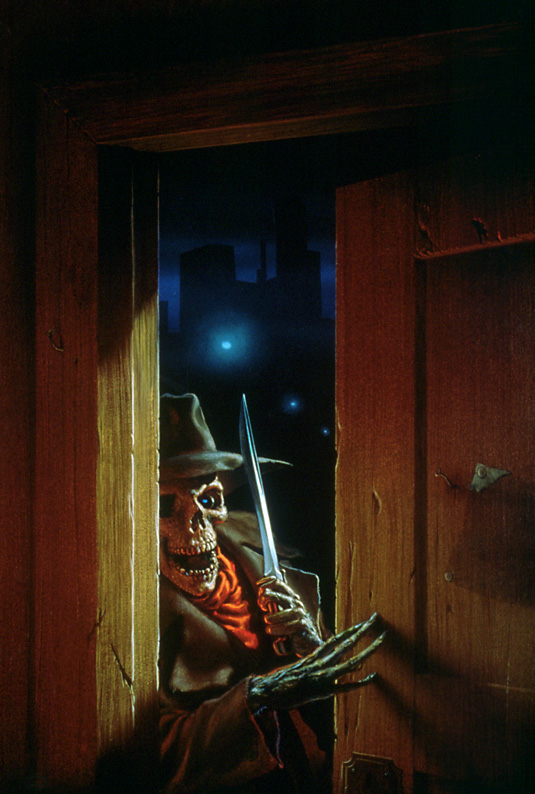 "I just think about things that seem eerie, or recall frightening situations from my own experiences then adapt them to the exigencies of illustration," admits the illustrator.
"I don't go for blood and gore; that's about creating revulsion, not fear. I'm inclined towards establishing a situation that provokes more of a feeling of unease than anything else. It's really very hard to actually create a sense of fear in an image alone.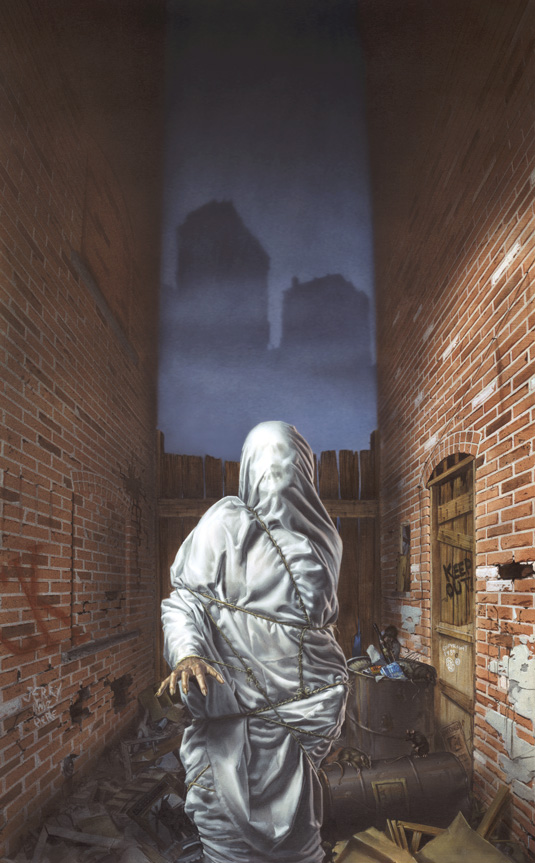 "We, as viewers, are so accustomed to hearing sound tracks with scary noises and music to trigger a 'fear' mood than to do it with an image alone seems almost impossible in these jaded times."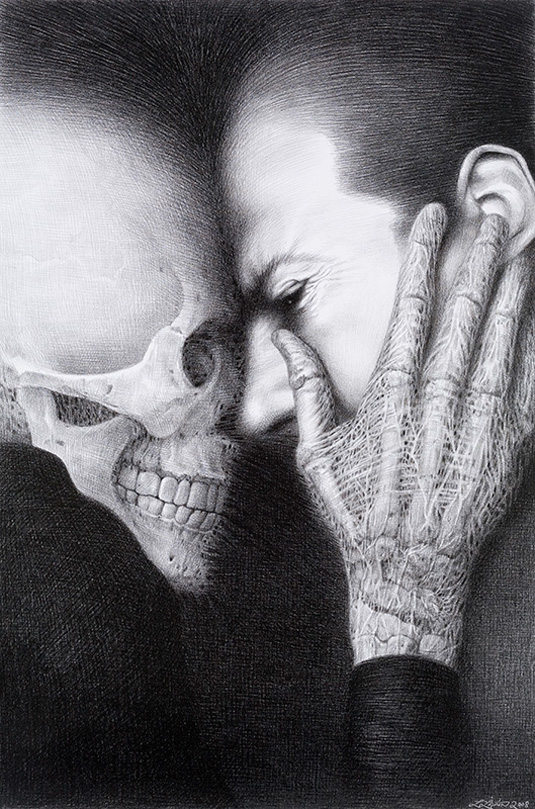 "I do not love horror. I draw about the things that annoy or frighten me," explains Laurie.
"When I visited Mexico after my mother died, I realised that I could grab onto my fear of death and feel an illusion of control by drawing about it."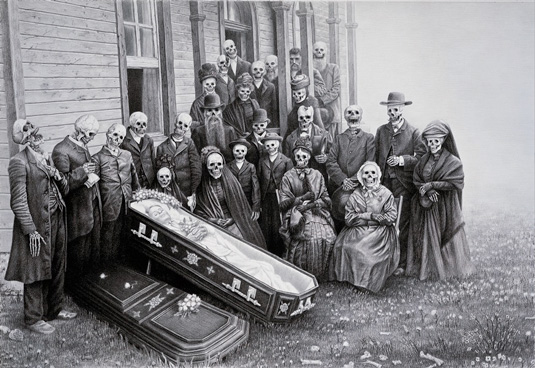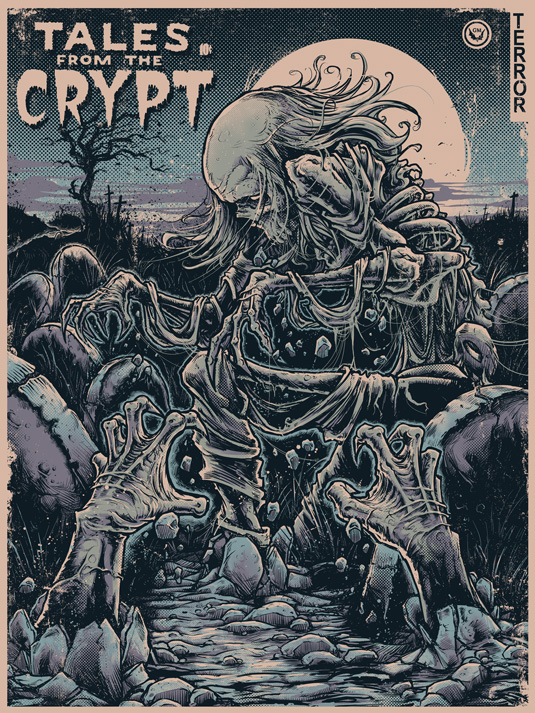 Godmachine is inspired by pop culture visions. "There was this video shop in my village when I was a kid, the only video shop for miles around.
"It was run by one of my older brothers friends and it was wall to wall awesome video cases of drawn, bad photo manipulations and terrible moustaches (a la Tom Selek)."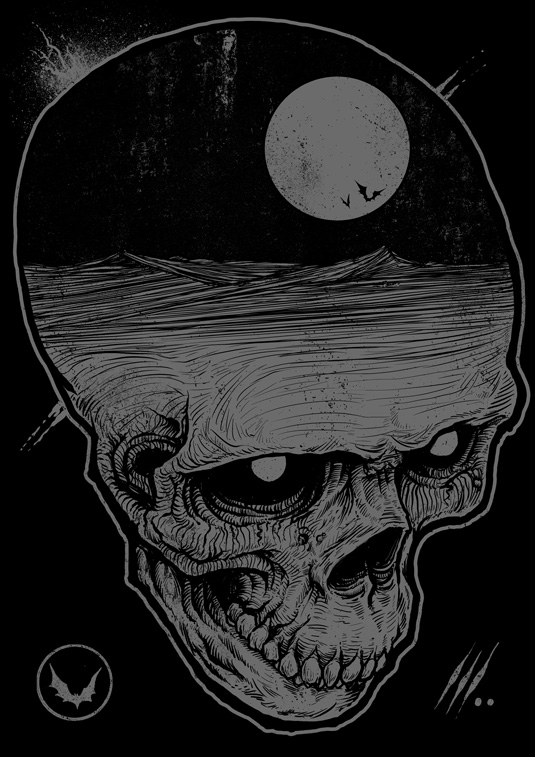 "I think without fail that shop defined my outlook on the art I am creating at the moment. I am working towards refining my shit but as a starting point;
"My inspiration came from a video shop in a small village (think Werewolf in London) crossed with the little curiosity shop in Gremlins where he buys the Mogwai and Royston Vasey... these fictional places created a great launching pad for me."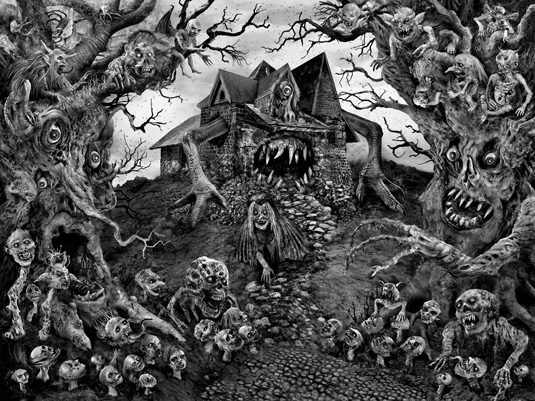 "I enjoy the mystery that a disturbing or frightening image can evoke. I also like the power that a frightening artwork can hold over a viewer," explains Aeron.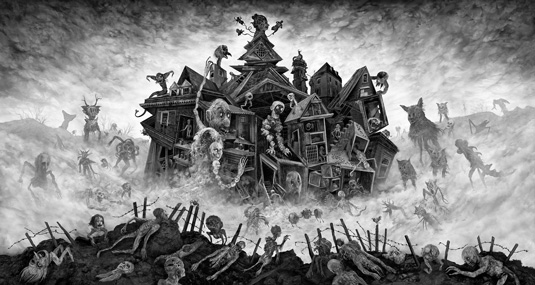 "But I'm also fascinated with the world of monsters that is often found in horrific imagery. Scenes of hell from the likes of Hieronymus Bosch, Cornelis Saftleven, Bruegel to Jacques Callot. I enjoy losing myself in landscapes of fantastical beasts."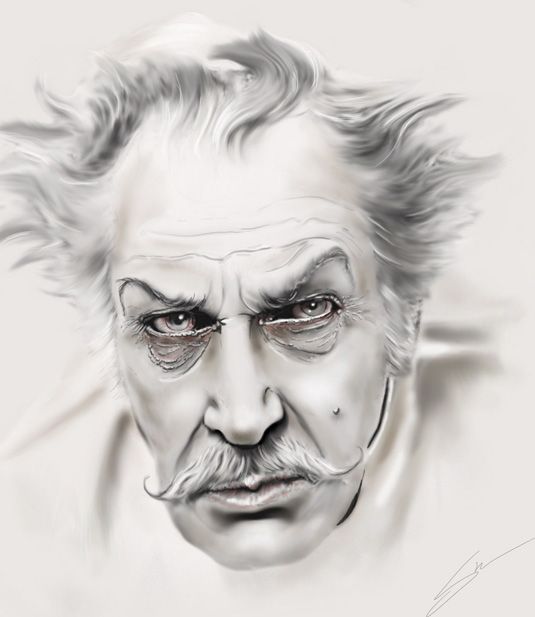 Steve draw from an early age, "My Aunt who's a huge horror fan used to baby sit me and we'd watch all the 70's Hammer films, Jaws, The Universal Monsters, and pretty much anything that would keep me up all night," he reveals.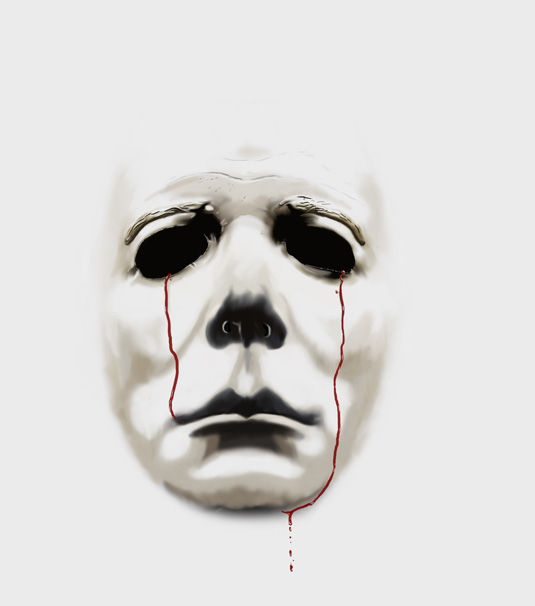 "It started reflecting in my art at a young age. I have some art I did at 6 featuring Grover vs Jaws. From then on, I was a horror fan. I grew up in the prefect time for horror, I was a kid in the 70's watching Hammer films and in the 80's watching slashers and so on.
"I draw just about everything but when I get to sit down and draw a horror character I really put everything I have into it. I guess you'd say it's my passion."
Next page: 6 more artists creating truly terrific horror art...