External storage buying guide: jump straight to...
Choosing the best external hard drive or SSD for your Mac or PC is essential. As any designer or artist knows, it doesn't take long for files to start filling up the internal hard drive of your machine – but there are a number of considerations to make before pulling out your wallet.
First, the basics. An external hard drive or SSD (which stands for Solid State Drive) is a device that can be easily plugged into your machine, giving you almost-instant storage space, without having to open up your computer and make complicated upgrades.
Not only does an HDD or SSD give you more capacity for large files, but because they're portable, they can be taken on the move and plugged into different machines – handy if you swap between PCs and Macs regularly. Also, if something happens to your machine, your files will still be safe and accessible.
Storage considerations
There are a number of things to consider when looking for an external hard drive or SSD for your Mac or PC. First, is storage. You'll want to make sure you buy an external storage device that has enough capacity for your needs – without paying for high capacities you'll never use.
Around 500GB is a good sweet-spot for external storage, though you can buy smaller capacities, as well as larger ones at 1TB or greater.
Hard drive vs SSD: which is best?
Another consideration is whether to get an external storage device that uses a traditional hard drive, or one with an SSD. Usually, external hard drives with traditional drives are more affordable and come in larger capacities. There are external SSDs that come with large capacities – but these can be expensive.
SSDs are much faster than traditional hard drives, and because they don't have any mechanical or moving parts, they're generally more robust and smaller in physical size as well.
So, if you want to store huge amounts of data while keeping prices low, an external hard drive is the way to go. But if speed is your top priority – for example, if you move a lot of large files, or want to run programs off the drive – then choose an SSD.
The right connections
The connection between the external hard drive and your Mac is also important. At a minimum, you want USB 3.0, which provides decent speeds. You'll need to make sure your Mac has a USB 3.0 port – many will, but some will need an adaptor. USB 3.0 is backwards compatible, so if you have older USB ports, it will still work, but you won't get quite as fast data transfer speeds.
Newer devices, such as the new iMac and MacBook Pro, come with Thunderbolt 3 ports. This is an excellent connection that provides very fast data transfer speeds, though these may cost a little more.
You may also want to consider the default file format of the drive. If it comes formatted as HFS+, you might want to reformat it as Apple File System (APFS), which offers better security, and has been built to be optimised for flash and solid state drive storage.
If you're using the drive with a Mac and a Windows PC, then consider one with the exFAT file system, which can be read by both operating systems. However, these are just considerations for an easier life: you'll be able to reformat the drives to your desired file system anyway.
So what are the best external hard drive and SSDs for Mac and PC in 2018? Read on for our pick of the fastest, most portable, safest options out there.
Best external hard drives and SSDs for Mac and PC
01. Western Digital My Passport 4TB
Best overall external hard drive for Mac or PC
Capacity: 4TB | Interface: USB 3.0
Large capacity
Good data transfer speeds
WD backup software is basic
This is the latest generation of the Western Digital My Passport range of external hard drives to have landed, coming in sizes from 1TB to 4TB. It features cloud storage and 256-AES encryption, along with WD's own backup software.
It also offers very good data transfer speeds. And while it doesn't quite offer a similar speed to solid state drive devices, the Western Digital My Passport range finds a great balance between high storage capacities and quick file transfers.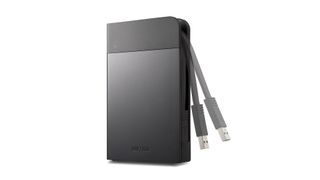 02. Buffalo MiniStation Extreme NFC
Best portable external drive for Mac and PC
Capacity: 2TB | Interface: USB 3.0
NFC security
Rugged design
Not the fastest drive
With compatibility for both Mac and Windows machines, the Buffalo MiniStation Extreme NFC is our choice for the best portable hard drive. It comes with a rugged case that's dust and water resistant, along with a built-in USB 3.0 cable. This means you can safely carry this drive around with you, and it will keep your data protected from knocks and drops with the rugged shell.
It's also got 256-bit AES security features and NFC (Near Field Communication) features as well, which ensures that your data will remain safe, even if the drive itself falls into the wrong hands. The NFC feature, which unlocks your data by just tapping the supplied NFC card onto the body of the drive, is a fantastic addition that makes securing your data quick and convenient.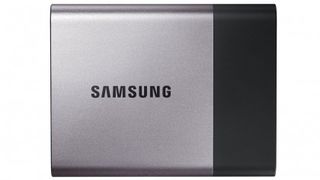 03. Samsung T3 SSD
Best high-speed external hard drive
Capacity: 1TB | Interface: USB 3.1
Very good performance
Very high capacity
Expensive
If you're looking for an incredibly fast external SSD for Mac, PC or Android, then the Samsung T3 SSD is a brilliant choice. It offers impressively high read speeds of up to 450Mbps thanks to Samsung's own 3D V-NAND technology, plus it also comes with a three-year warranty and has a USB Type C connector.
You are paying a price premium for this, but if you value data transfer speeds above all else, this is the best external SSD on the market right now.
04. Buffalo MiniStation Thunderbolt
Best Thunderbolt external hard drive
Capacity: 1TB, 2TB | Interface: Thunderbolt, USB 3.0
Low price compared to other Thunderbolt drives
Mac-formatted
Not SSD
If you want to make use of your Mac's Thunderbolt port, then this is a great option, as it provides twice the speeds of standard USB 3.0 drives. It's also not especially expensive compared to other Thunderbolt drives. This is mainly down to the fact that it's a traditional hard drive, not an SSD, which means it's not quite as fast as it could be – though it will still give you an upgrade to your transfer speeds.
Helpfully, the Buffalo MiniStation Thunderbolt also comes with a USB 3.0 port for connecting to computers that don't have a Thunderbolt port.
05. iStorage diskAshur 2TB
Most secure external hard drive
Capacity: 2TB | Interface: USB 3.0
Physical security
Rugged design
Expensive
Want to keep your data as safe and secure as possible? Then the iStorage diskAshur 2TB is a great choice. It comes encrypted by the 256-bit AES protocol, with multiple forms of protection. It also features a physical number pad for you to luck and unlock your data with – and it's basically uncrackable.
If your drive is stolen or lost, you can also cause the drive to wipe the data, for extra peace of mind. All this security does come at a price, however.
06. Adata SD700 External SSD
Capacity: 256GB, 512GB or 1TB | Interface: USB 3.0
Great performance
IP68 rating
No USB Type-C
The Adata SD700 will suit those looking for a rugged storage device that can provide ample capacity without costing too much. It performs superbly well and remains the only SSD we've seen that's IP68 rated.
Thanks to the solid state drive that resides in this external hard drive, it's a lot faster than external drives that use traditional spinning hard drives – so you're getting great transfer speeds as well as rugged protection.
It also comes in capacities up to 1TB, so you don't have to worry about missing out on storage space just because it uses an SSD. This Adata drive really does hit all the right notes.
07. WD My Book Duo 16TB
Best high capacity external drive for your Mac or PC
Capacity: 16TB | Interface: USB 3.0 x 2
Huge amounts of space
RAID support
Expensive
Need two USB 3.0 ports free
If you're looking for the absolute largest capacity external hard drive, then the WD My Book Duo 16TB is the one to get, offering a huge 16TB of storage space over two hard drives.
If you don't mind sacrificing some of the ample storage space you can set the drives up in a RAID array, so you have file backups of your files should one of the drives die. This is an excellent feature if you're going to use this device to back up irreplaceable data, such as your creative work, as it adds a level of protection in case things go wrong.
This USB 3.0 drive has many of the features of a fully-fledged NAS device (including a high price), and if you have a router with a USB 3.0 port you could use this as a network attached storage device in its own right.
The device, which comes with two-year warranty, has 256-bit AES hardware encryption, and automatic backup software (WD SmartWare Pro).
Worth noting that the enclosure used is fully serviceable and that WD ships the drive already pre-formatted for Windows users (NTFS), so you'll want to reformat it to work with your Mac.
08. OWC ThunderBay 4 Mini
The best empty enclosure external hard drive
Capacity: 1TB/2TB/4TB/8TB or empty enclosure | Interface: Thunderbolt 2 x 2
Great build quality
Very good speeds
No use to non-Thunderbolt devices
If you work with a lot of large files, such as videos, then the OWC ThunderBay 4 Mini is an excellent external storage solution. It supports up to four 2.5-inch drives, and can be bought with SSDs already installed, or as an empty enclosure.
It comes with two Thunderbolt 2 ports for extremely quick read and write speeds, so you can edit files on the OWC ThunderBay 4 Mini's hard drives as quickly and smoothly as if they were located on your internal hard drives. You can also daisy chain a number of OWC ThunderBay 4 Minis together using Thunderbolt 2 cables for even more storage.
The price we show above is for the empty enclosure. By buying it as an empty enclosure, you save money and can choose your own hard drives or SSDs to insert into the product, giving you more options. If that seems too complicated, then we recommend looking into buying one with the hard drives already installed.
Also read: The best video editing laptops 2018
Related articles: