The best Illustrator brushes can expand your creative options in Adobe's industry-standard vector graphics editor. They can be a quick, convenient way to create more textures and more varied depth and character without having to create your own brushes from scratch.
There are lots of Illustrator brushes available out there online, both free Illustrator brushes and premium options. To help you find the gems, we've made a pick of the best Illustrator brushes for different uses, starting with the best free Illustrator brushes and moving on to the best premium Illustrator brushes. You can click on the quick links to jump to the section you want, or you can scroll down to browse them all. For each option, we've linked to the site where you can download the brush or brush pack.
Make sure you check the licence conditions on every brush because some of the best free Illustrator brushes are free for personal work only. If you use other Adobe software, make sure you also have a look at our roundup of the best Photoshop brushes. And if you haven't got Adobe Illustrator yet, make sure you check out our guide to how to download Adobe Illustrator, or sign up for a free trial below.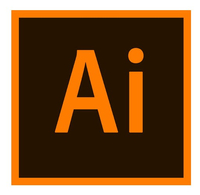 Download a free trial of Illustrator for PC or Mac now
You can try the latest release of Illustrator for free and get access to all the newest features and updates with a free seven-day trial from Adobe. There's no obligation to buy the software afterwards – you can cancel before the end of the trial at no charge or convert to a paid plan.
The best premium Illustrator brushes
01. Artista Illustrator Brushes
Why you can trust Creative Bloq Our expert reviewers spend hours testing and comparing products and services so you can choose the best for you. Find out more about how we test.
First up on our pick of the best Illustrator brushes is this bumper pack of 60. Create volume, shadowing and highlight elements of your compositions with this versatile selection, which includes 10 spray brushes, 10 hatch brushes for shading and hatching, 9 sketch brushes with different kinds of intensities and 31 texture brushes including 10 grunge textures.
02. Stitching
Add a craft feel to your design with these 19 detailed brush patterns. The set includes Christmas and Valentines Day themed brushes, as well as general and traditional stitches. These are totally charming so be sure to take a look.
03. Inky Goodness
This bundle 'started with loud music, a garage, paper and india ink'. With every ink texture you could imagine, this pack contains both Photoshop and Illustrator brushes – a massive 61 altogether. In terms of Illustrator-specific brushes, you get five scatter and five art brushes so this bundle is mostly worth it if you want to create inky goodness across both programs.
04. Lighthouse Liner
Comprising ink brushes, dot brushes and pat brushes, these doodle-style pattern sets will have you creating drawing lines, waves, dashes, hatches, asterisks, dots, squares, zigzags, crosses, and more. These are clean, detailed lines that will add intricacy to your designs.
05. Frosted & Frozen PS and AI combo
We all know that the ice-y aesthetic has skyrocketed in popular culture since the advent of a certain Disney film. If you want to make your own homage (or you've got a less specific frozen project in mind), this brush set is perfect. This bundle has 65 seamless raster pattern swatches and a colour swatch set, too. You won't want to let this one go.
06. The Retro Comic Book Tool Kit
While we take a look at other retro themed brushes later in this list, we thought we'd kick things off with this mega bundle of comic book-themed brushes. If you've always wanted to recreate that graphic novel look, this is the brush bundle for you.
In the Retro Comic Book Tool Kit, you'll find 84 vector cartoonist brushes based on real ink strokes. With less distortion than real life ink brushes, this pack is the ideal way to capture the look and feel of a comic book without sacrificing your legibility in the process. What's more, when you pick it up for the bargain price of $20, you'll also get lots of overlays and layer styles.
07. The Hand-Drawn Illustrator bundle
If you're looking to beef up your selection of the best Illustrator brushes for a wide range of products, you might save money going for a big bundle with lots of brushes. This bundle of premium Illustrator brushes squeezes in a massive 830 of Retro Supply Co's most popular brushes, saving you a packet on what it would cost to buy them all individually.
You get Gouache Shader brushes, DupliTone Halftone Swatches, The Dead Pen Inking Brushes, Deep Cuts engraving brushes, Cross-Country Cross Hatchers, Gouache Shader Brushes, VectorHero ink brushes, The Woodcut Brush Kit, DryGoods Chalk Brushes, InkWash and VectorSketch. Of course, if just one or a couple of those takes your fancy, you can also buy them individually.
08. Finest Vintage - Illustrator Brushes
Create vintage artwork with this set of cross-hatch pen and ink Illustrator brushes from The Artifex Forge, aka designer Jeremy Child. They're anti-stretch pattern brushes, so they seamlessly repeat a tile along the stroke – rather than stretching one image along the line – and you can draw multiple lines with just one stroke to save time. (Although you'll find some single-line outline brushes in the pack, too.) Happily, tablet users are catered for as well – a version of the brushes with pressure sensitivity enabled is included.
09. Vector brush toolbox
This mega-bundle of Illustrator brushes will set you up for almost any kind of digital painting. It includes six of RetroSupply's best-selling brush packs, and includes sponge and ink scatter brushes, halftone brushes, pencil and charcoal brushes. There are also Ai reference sheets to help you get the most from your vector brushes, all for a bargain $49.
10. Grain Shader Brushes For Illustrator
This pack of 25 Illustrator brushes from True Grit Texture Supply enables you to add depth, grain, shadow and form to your artwork. Perfect for adding grainy drop shadows, blended gradients, gritty accents and subtle grain overlay effects, the brushes have been handmade from a diverse selection of authentic source-materials – including vintage paper samples, concrete, toner, ink spray and sponged paint. The pack also comes with some bonus grainy overlay textures – and if you don't like it, you'll get your money back.
11. 150 Essential Vector Brushes
This collection of 150 hand-drawn Illustrator brushes is suitable for use with Illustrator CS3 and later. The bundle focuses on traditional art effects, and includes brushes that mimic watercolour, paintbrushes, pencil, charcoal and markers. High-res and low-res versions are included – use the high-res versions for separate design elements, or go low-res for complex designs to keep the file size down.
12. Liquid Style Brushes
Another great pack of Illustrator brushes from Artifex Forge, these Liquid Style vector brushes let you quickly and easily create a retro liquid style in your artwork. There are over 80 brushes in the pack, covering a wide range of shapes, sizes and varieties. And thanks to a handy reference guide, instructions and example files, it's easy to learn how to achieve the liquid style look.
13. Multicolour mixed paint
Mix multiple colours in one digital stoke with this collection of Illustrator brushes. The painting system is the result of two years of planning and experimentation, and the results are impressive.
This pack works differently to your typical brushes – it includes 21 brush styles and 24 colour swatches (you can also pick your own colours, if you prefer), and you can see how to use them in the video here.
14. Artistic Illustrator brushes
This brush pack aims to help you create natural-looking artistic textures in Illustrator. It includes 28 brushes, which work with CC or in legacy format from CS2. Envato offers a big collection of Illustrator brushes for you to download for free if you're a paying subscriber.
15. Garage grime
Give your artwork a distressed look with this great bundle of grunge Illustrator brushes. It comprises four best-selling vector brush packs, each containing approximately 20 brushes, and is compatible with Illustrator CS6 and CC. Each vector brush was made from authentic source material – like wax oil crayons and motor oil – and is ideal for adding a grubby, textured look to your designs.
16. Light effect vector brushes
Light up your digital designs with this pack of 36 vector light effect brushes, which create a realistic glowing effect using transparency and blend effects. There are three different brush styles to choose from – one comet-shaped, one with a pointed end, and a circular scatter brush for extra sparkle – and they work best on a dark background. These vector brushes are suitable for use with CS5 and up.
17. The Dead Pen Illustrator brushes
This "wicked-cool" bundle of Illustrator brushes will give your digital artwork a hand-drawn ink illustration look. It includes no-stretch line brushes, pattern brushes (including stippling brushes and zig-zags), and scatter brushes (such as dots, stars and crosses). The brushes are based on the work of illustrator Jordan Kabalka.
18. Grave Etcher engraving vector brushes
And another of the best Illustrator brushes from Retro Supply Co. Like the pack above, this one is available as part of the big Essential bundle that we mentioned further up on our list, but it's also available individually if you specifically want engraving brushes. These 118 brushes can create authentic-looking vintage illustrations. You get updates for life and the brushes work well with a mouse or a graphics tablet, making them flexible for creating designs on the go.
19. Scribble and scrawl vector brushes
This versatile Illustrator brush pack is ideal for occasions where you need to represent children's drawings or scribbly text. It includes 44 scribble vector brushes in varying levels of messiness. This pack is compatible with CS1 and up, but if you're using CS5 or newer you can use the pressure-sensitive versions for an extra-realistic effect.
20. Dry Paint brush strokes brushes
Add a dry brush stroke effect to your designs with this free pack from Duesseldorf-based designer Scorp1. According to Scorp1, the paint streak vector brushes were created using a dry brush with acrylic colour, with the marks scanned in, vectorised with Streamline and corrected manually where needed.
The best free Illustrator brushes
21. Epic Free Illustrator brushes
Available direct from Adobe, these free Illustrator brushes are the work of Alejandro Chavetta Editor-in-Chief for Adobe Discover. He says he began making his own brushes when he decided it was necessary to call a piece of art his own, and found making his own tools added an extra level of satisfaction to the process.
He made the brushes in Photoshop after using his phone camera to collect textures and ink stains on walks around the city or in his studio. He aimed to reflect not only his stylistic preferences but also his way of working. Some of the brushes move slowly while others are choppy, and some have a different use when maxed out in size. He encourages people to use them to experiment.
22. Japan ProBrush
Moving on now to our pick of the best free Illustrator brushes. Many of the best free brushes are demo versions of larger collections, and that's the case with this pack. The penmanship of Japanese calligraphers is known the world over thanks to their deft command of line, and this batch of nine free brushes aims to capture some of that craftsmanship.
Japan ProBrush is a slimmed down version of a larger package, and contains high-quality brushes that emulate ink and watercolour tools. Created by Leonard Posavec, the full package of 36 brushes can be purchased from the same site for $12.
23. 57 free multi-coloured paint brushes
This batch of free Illustrator brushes boasts 57 alternatives that replicate the look and feel of a brush loaded with multiple colours. Created by Grant Friedman for Vectips, this exclusive set of brushes contain a variety of textures that can be used for drawing shapes or applying them to objects. All brushes can be saved for easy access under the User Defined menu. Download them for free today!
24. 8 free Illustrator brushes
Quality digital art resource-maker RetroSupply doesn't normally give away its premium Illustrator brushes. But we've found a sample pack containing eight free vector brushes from some of the company's best-selling Illustrator brush sets – including Von Glitschka's paintbrush pack Dragstrip, watercolour brush set InkWash, charcoal pencil set VectorSketch, pen and ink pack VectorHero, wax oil crayon pack Wax & Oil, and halftone brush pack Black Magic Halftones.
To get them, just click the link above, scroll down to number one, and sign-up for the newsletter. (You'll get nine other free font and texture resources as well, with the free Illustrator brushes arriving in your inbox shortly after signing up.)
25. Wax crayon free Illustrator brushes
Chris Spooner borrowed some of his daughter's wax crayons to put together this authentic set of crayon brushes for Adobe Illustrator. The pack includes 12 brushes, including solid shades and mixtures of two different crayons. Rather than stretching to fit, these brushes repeat to give a more realistic effect. Use them to add a hand-drawn aesthetic to your projects.
26. Free linocut vector brushes
Get the effect of traditional wood or linocuts, but without the danger of gouging a bit of your hand off, with these free linocut vector brushes. The pack of 25 brushes includes a range of different brush shapes, including tapered strokes, texture fills, split brushes and edge shading. These brushes are especially well suited to drawing on an iPad, as the pressure and tapering effects are built into each brush.
27. Free Victorian vector brushes
Russian artist Segey Poluse is the man behind this pack of free Illustrator brushes. Available to download though his DeviantArt profile, the brushes are ideal for adding some antique flourishes to your digital artwork. There are 11 vector brushes in total, all inspired by the Victorian aesthetic.
28. Teardrop foliage free Illustrator brushes
These versatile teardrop foliage free Illustrator brushes can be used in a range of situations, including the stylised foliage the name suggests. The pack includes a number of variations, with different head shapes and stem arrangements, to bring variety to your designs. These brushes are completely free to use, and there are SVG and EPS files available as well as Illustrator ones.
29. Stipple shading free Illustrator brushes
This is another generous freebie from the designer Chris Spooner – aka Spoongraphics. This free pack of eight stipple shading brushes can help you paint grungy details onto your artwork with Illustrator's brush tool. Stippling is a traditional technique that uses lots of dots at different densities to build up tones and shade, and it's particularly effective for creating a retro effect in your illustrations.
30. Free halftone vector brushes
This sample selection of free halftone Illustrator brushes are part of a larger pack of halftone vector brushes. Created by UI/UX designer Rob Brink, they're perfect for adding old-school texture to your illustrations, without spending a penny.
31. Rodeo: free Illustrator brushes
Yee-hah! Rope can be really fiddly to draw, so if you need some in your imagery the go for this easy option instead. Rodeo is a free hand-drawn rope brush for Adobe Illustrator CC. You can apply it to any path, as well as change the rope width and colour.
32. Smoke style brushes
This set of smoke-like vector brushes is perfect for adding a bit of atmosphere to any illustration, whether it's for backgrounds or things that smoke, steam or mist. Play around with the opacity and blend modes in Illustrator to get some really nice effects. The author also appreciates comments, emoticons or a link back to your work as a thank you.
33. Free Swoosh Illustrator Brushes
This pack of free swoosh Illustrator brushes is ideal for making your own custom curls and swirls. Play around with them to see how they could work in your designs – the above image shows the brushes as applied to a simple spiral path.
34. Floral vector and brush pack
This handy set of floral plate-inspired free Illustrator brushes is also available as a set of EPS assets for those times when you simply want to drop in stock art into your project. The quality of the art itself is comparable to the free florals that ship with Illustrator, but there's a wider selection available here, and the fact that they're not part of Illustrator's default arsenal means you're less likely to get instant recognition of the source.
35. Free abstract brushes
DeviantArt is always a good place to find free-to-use resources and assets, as this example from alethiologie demonstrates. This handy set of free abstract Illustrator brushes lets you create shapes and patterns, including some pretty crazy-looking ornaments.
How to choose the best Illustrator brushes for you
The best Illustrator brushes for you will depend on what you're looking to create. There are five different types of brush in Illustrator and each of them has a different purpose.
Art brushes: stretch a brush or object shape evenly along a path.
Bristle brushes: create brush strokes that look as though they were made using a natural brush with bristles.
Scatter brushes: disperse copies of an object (such as a butterfly or leaf) along a path. Rather than stretching art – like Art brushes – they scatter it.
Pattern brushes: create seamlessly repeating patterns along a path. They can be used to create the same effect as Scatter brushes, but Pattern brushes follow the path exactly, whereas Scatter brushes don't.
Calligraphic brushes: create strokes that look as though they were drawn with the angled point of a calligraphic pen.
How do I create my own Illustrator brushes?
You can create your own Illustrator brushes directly in the software. Open the brushes panel and click the New Brush ("+") button, select which type of brush you want to make (see above).
Creating a calligraphic brush is easiest because the other types require you to first create a pattern. However you can do this using an iPad or iPhone with Adobe Brush CC, and you can even create Illustrator brushes from photos. Also see our tutorial on how to create your own Calligraphic brush in Illustrator).
Remember to save all your brushes to your Creative Cloud library so that you have easy access to your entire collection no matter what device you're using.
How much do Illustrator brushes cost?
The price of the best premium Illustrator brushes can vary, from around $10 to upwards of $50. This can depend on the type of licence needed – sometimes the price will vary depending on where you plan to use the brushes. In our list above, we've noted the starting prices at the time of writing.