We think we've found the best MacBook deal ever. If you're after a high-end MacBook Pro with a powerful M1Max chip, then prepare to save $1,600 on the retail price. This means you can get the 2021 Apple MacBook Pro 14.2-inch M1 Max for just $2,499 at B&H, down from $4,099, with 64GB of RAM and 2TB of SSD storage.
This isn't a scam, we promise. To coincide with B&H Photo Video's 50th Anniversary, as well as the BILD Expo, the company is being extremely generous with its price cuts until 13 September. It's worth mentioning that you can also save BIG on other Apple products right now, and the MacBook Pro 16.2-inch model with the same specs as above is just $2,999 at B&H right now – that's a $1,300 saving.
Today's best MacBook Pro 14-inch M1 Max deals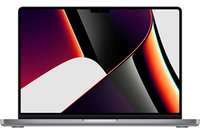 MacBook Pro 14.2-inch with M1 Max Chip (Late 2021)
Was: $4,099
Now: $2,499 at B&H
Save: $1,600
Overview: The Macbook Pro M1 Max is a powerful high-end laptop that is really only intended for those with heavier workloads and the need to run advanced software. 2TB of storage is also way more than the typical person would need, but a great asset for photo/video editors.
Key features: Display: 14.2" (3024 x 1964)| Processor: Apple M1 Max Chip (32-core)| RAM: 64GB|SSD: 2TB |Weight: 3.5 lb / 1.6 kg| Ports: 3 x Thunderbolt 4, 1 x HDMI.
Release date: Late 2021.
Price history: The MacBook Pro 14.2-inch model with the M1 Max chip usually retails for around $4,099, so this $1,600 price cut is really something special.
Current price: Amazon: $3,247 | B&H: $2,499
Review consensus: We haven't tested this exact model with the M1 Max chip, but we have reviewed the Apple MacBook Pro 14-inch with the M1 Pro chip and we thought it was Apple's best-ever creative laptop, giving it a 5-star review, so the M1 Max edition is of course even better.
Not only are these some of the best MacBooks you can buy right now, but they're also two of the best MacBooks for students and the best laptops for working from home. If you're not really a fan of Apple laptops, take a look at our guide to the best MacBook Pro alternatives for some different options.
Below you'll find the best deals and lowest prices on the Apple MacBook Pro 14.2-inch M1 Max (2021) in your region and worldwide using our clever deals widget.