Looking for a discount on one of the very best TVs money can buy? Then look no further than this deal that we've found on the LG C2 OLED TV. We love this tube for many reasons (as you'll see below), and right now you can pick up the 48-inch model for $949.99 from Amazon, down from the original price of $1,299.99. That's an impressive saving of $350! It's not the absolute lowest price we've ever seen on this smart TV, but it's pretty darn close.
The LG C2 is in the top spot in our guide to the best TV for PS5. The 4K OLED screen will make your visuals pop with vibrant colours and deep blacks, and it also supports up to 4K/120fps for ultra-smooth gameplay. It also features a fantastic Game Optimiser menu to fully customise your settings to best suit your gaming needs. And, with the sale price of the 48-inch set at just $949.99, it's actually currently cheaper than the smaller 42-inch model.

Check out our dedicated LG C2 review for more information and detailed specs. If you want to know what the best Lg C2 prices are for all the TV sizes, we've got you covered there too.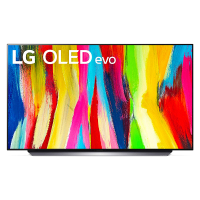 LG C2 OLED (48-inch, 2022)
Was: $1,299.99
Now: $949.99 at Amazon
Save: $350
Overview: This gorgeous TV has some excellent gaming features, a beautiful 4K display and supports up to 120fps for ultra smooth gameplay.
Key features: The LG C2 TV features a stunning AI-powered 4K display, built-in Alexa and virtual surround sound to fully immerse you in whatever you're watching on screen.
Price history: The 48-inch model usually retails at $1,499.99, though we've seen it dip lower than that since it was released in 2022. This current price of $949.99 is not the lowest price we've ever seen it, but it's close!
Price comparison: Amazon: $949.99 | LG: $1,049.98
Reviews: Nearly all of the reviews we've seen online have stated how much they love this TV with its stunning visuals and great preset modes. In our personal LG C2 review, we also claim it to be one of the best OLED tvs on the market today.