The 55-inch model of the 2022 Samsung The Frame TV has just fallen to a new record low price. Amazon has a Prime Day deal on the stunning 'art TV' which slashes the price from $1,645.98 to $987.99 for a saving of $657.99.
The same deal applies across several colours and finishes, and there are massive savings on other sizes too, including $1,200 off the massive 85 incher. There's no shortage of choice, and several of the prices are record lows.
But – and it's a fairly big but – you need to be an Amazon Prime member to get these prices. You can always sign up for a free trial, but Best Buy has joined the sale action and is looking to appeal to people not wanting to go to the effort of joining Prime.
It's reduced its own Samsung The Frame prices by almost as much as Amazon, also breaking previous record-low prices. It has the 2022 55-inch Samsung The Frame for $989.99 – just $2 more than Amazon but with no need to sign up to a subscription. The same applies to almost every size and style of the TV, with Best Buy beaten by Amazon by just $2.
The Samsung Frame is a perennial favourite for our readers here at Creative Bloq, and for good reason. Designed to double up as a framed canvas displaying the world's great pieces of art, when it isn't being used as a 4K TV, The Frame is rightfully popular with creatives and techies alike. It's meant to be wall-mounted, so get your drills at the ready, and remember – the lovely clip-on frames are bought separately (annoying, I know).
For more Prime Day deal highlights, I recommend you head over to our Apple Prime deals hub. Unless you hate Apple. In that case, I wouldn't.
Our favourite Prime Day Art TV deal on the Samsung Frame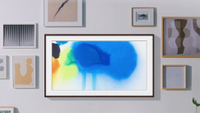 Samsung Frame TV (55-inch)
Was: $1,645.98
Now: $987.99 at Amazon
Save: $657.99
Overview: The Samsung Frame TV is for lovers of TV and lovers of art. You mount it on your wall, and when it's not on as a TV it shows HD art work on its matt display.
Key features: | Size: 55-inches | Resolution: 4K (2,160p) | LED panel type: QLED |Backlight type: Edge lit |Refresh rate: 60
Release date: August 2022
Price history: This Amazon Prime Day deal is the best price we've ever seen for the 2022 55-inch model of The Frame, beating the previous low of $997, which we saw in December last year... but Best Buy is also beating that previous record with a price of $989.99, just $2 more than Amazon so if you're not an Amazon Prime member it probably makes sense to go to Best Buy instead. The same applies to almost every size and style.
Price check: Best Buy: $989.99
Review consensus: Although there are OLED TVs that offer better contrast, colour and brightness, none of them do what the Frame TV does, and with its matt finish display, it's great to see the world's finest art on your wall. 60hz won't be great for gamers, but then, this TV is not aimed at gamers.
If you're not in the US, here are the best Samsung Frame TV deals wherever you are in the world...