The best ecommerce website builders help you create your own online store, so you can sell stuff to people online. You don't need any experience of web design: they make it easy using simple drag and drop. So for almost anyone running a business in 2023, using one a no-brainer.
The best website builders in general are good for building a basic website, but they won't all have decent ecommerce capabilities. We've got years of experience reviewing web-based platforms and have personally road-tested all the services in the article below. So you can be sure that they're all user-friendly, are able to serve your customers efficiently (even if there's a spike in demand), and offer good value for money overall.
So read on to discover the best ecommerce website builders to help you build your online store in 2023, and what distinct features each service has to offer.
The best ecommerce website builders in 2023
Why you can trust Creative Bloq Our expert reviewers spend hours testing and comparing products and services so you can choose the best for you. Find out more about how we test.
The best ecommerce website builder for most people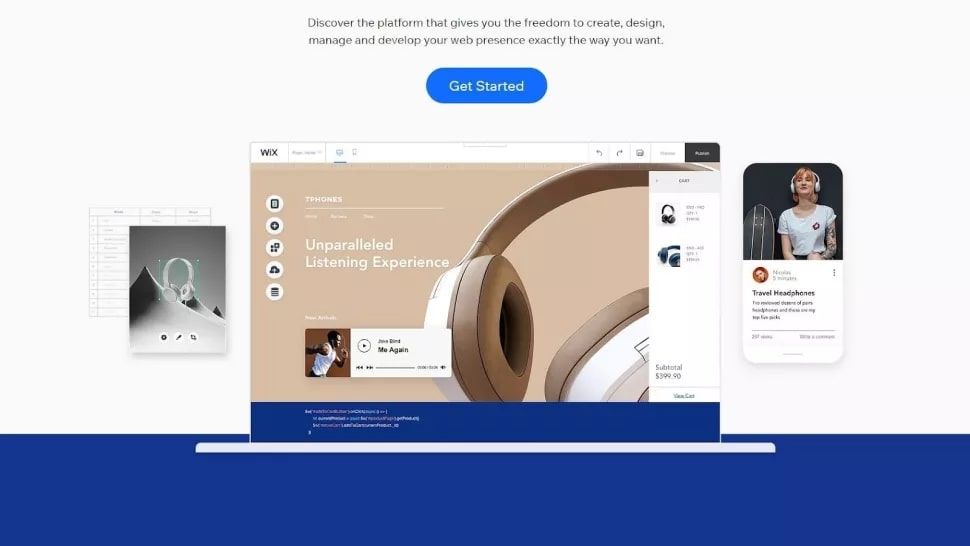 Wix is a flexible and intuitive platform for building websites of all stripes. It features a highly versatile drag-and-drop website editor and enough themes and layouts to fit any industry. But despite not specialising in ecommerce specifically, we think it's the best ecommerce website builder for most people.
That's partly because it's so easy to use, and partly because it has so features, including subscription management, abandoned cart recovery, fully-automated sales tax calculation, and a built-in event-booking platform. We also like how there are no limits imposed on the number of products you can sell, or transactions you can process. There are no commission fees per transaction, either, while dedicated analytics tools help you take control of your marketing campaigns. All business subscribers have access to 24/7 support via phone and live chat.
Wix has four specific plans for ecommerce websites. Business Basic, with its 20GB of storage space, is sufficient for most . Business Unlimited and Business VIP offer 30GB and 50GB of storage space. There's also an Enterprise plan for large-scale businesses, with the pricing varying significantly based on your needs. For more details, see our full Wix review.
The best specialised ecommerce website builder.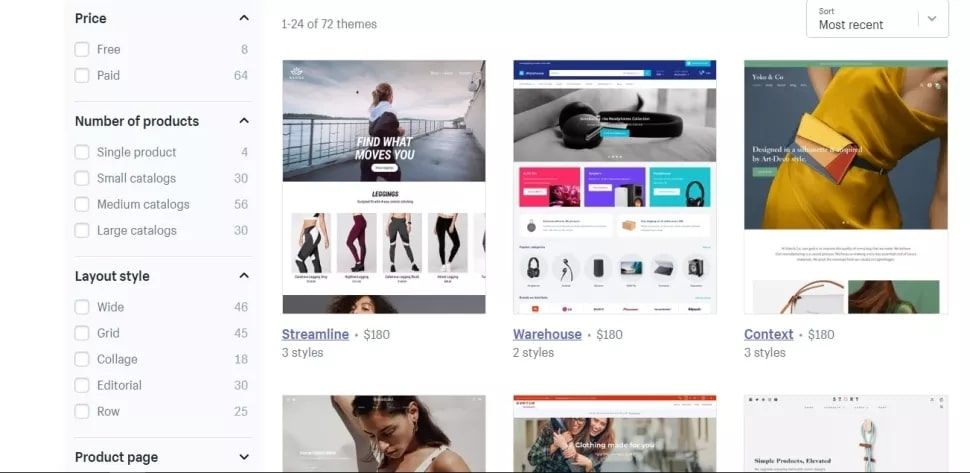 If you're looking for a website builder that specialises in ecommerce, Shopify is the obvious choice. Operating with a user base of over one million online stores, it's best suited for medium- to large-scale online businesses. And every plan comes packaged with excellent quality web hosting, including unlimited storage and bandwidth to get your website online.
You get 24/7 customer support, 70+ themes and templates, as well as a premium content delivery network (CDN). A few other notable features include abandoned cart recovery, shipping rate management, and customer account management. Plus, there are hundreds of third-party integrations to choose from within its built-in app store. You can add an unlimited number of products to your online store.
Our reviewer especially liked how well customer support worked in practice. When he asked a straightforward question to the support team via live chat, "it took around two to three minutes in total for the advisor to provide us with all the information requested," he writes. "Which isn't bad at all considering some other platforms have response times of an hour or more."
Shopify handles all ecommerce transactions made using its built-in payment gateway for free, whereas third-party payment gateways come with a fee per transaction. There are three plans available: Basic Shopify, Shopify and Advanced Shopify. The latter two include additional features like gift cards, professional reports, advanced report building, and career shipping. Payments are calculated annually and can be made in advance for up to three years. For more details, see our full Shopify review.
The best ecommerce website builder for beauty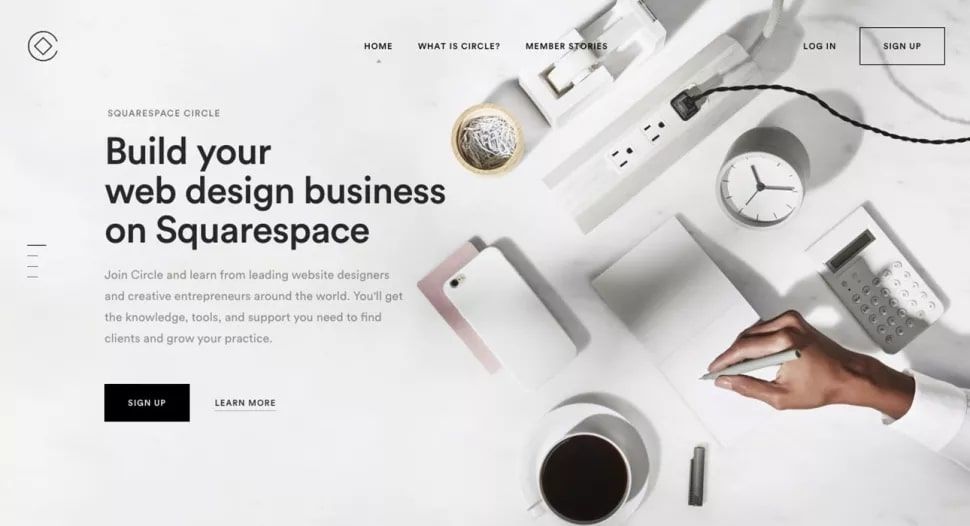 Want your ecommerce site to be stylish and good looking? Then we recommend Squarespace. Because of its award-winning collection of themes and templates, it's favored by creative professionals and businesses all over the world. And these designs aren't just beautiful to look at, but highly polished in their functionality too. If you're a developer, you can inject your own code too; but if you're not, you'll find the interface pretty easy to use (although not quite as easy as Wix's).
You get excellent tools for blogging and SEO, and there is a considerable collection of apps and extensions to choose from. Admittedly, there's no centralized app marketplace, and there aren't many ecommerce-specific features, but the inventory system is exceptional.
You're making a slight compromise here, though, is on usability. As our reviewer wrote: "While simple at a glance, the minimalist editor tool takes time to understand, and the overall usability feels unnecessarily awkward. The same applies to the mobile app; editing requires a great deal of patience as the interface echoes that of the desktop."
Squarespace Personal is the starting plan, but doesn't currently support ecommerce. For that, you'll need Squarespace Business if you're a small business, or Basic Commerce and Advanced Commerce if you're on the larger side; both come with 0% transaction fees. You also get a slew of advanced shipping and discounting options. For more details, see our full Squarespace review.
The best ecommerce website builder for driving sales
Keen on maximising your profit? Then check out BigCommerce, which enables you to increase your sales through a variety of social and ecommerce platforms, including Facebook, Instagram, Google Shopping, Amazon and eBay.
The site editor is fully drag and drop, allowing you to create complex layouts without any coding knowledge. There's a plethora of advanced features and functionalities to take advantage of, including bulk pricing and customer management.
Since most of these features are built directly into the platform, BigCommerce doesn't employ or need a third-party app marketplace. Because of the advanced nature of the website builder, users creating their first ecommerce website may be at a loss for what to do. There are a large number of features, and you can end up overpaying if you don't prioritize the ones you really need.
The basic plan, BigCommerce Standard, includes a 15-day free trial and comes with 24/7 premium support. Since all plans feature unlimited bandwidth and storage, the pricing scheme is based only on the features you will need. If you want functions like abandoned cart recovery, price lists, and product filtering, you can consider paying more for BigCommerce Plus or BigCommerce Pro.
The best free ecommerce website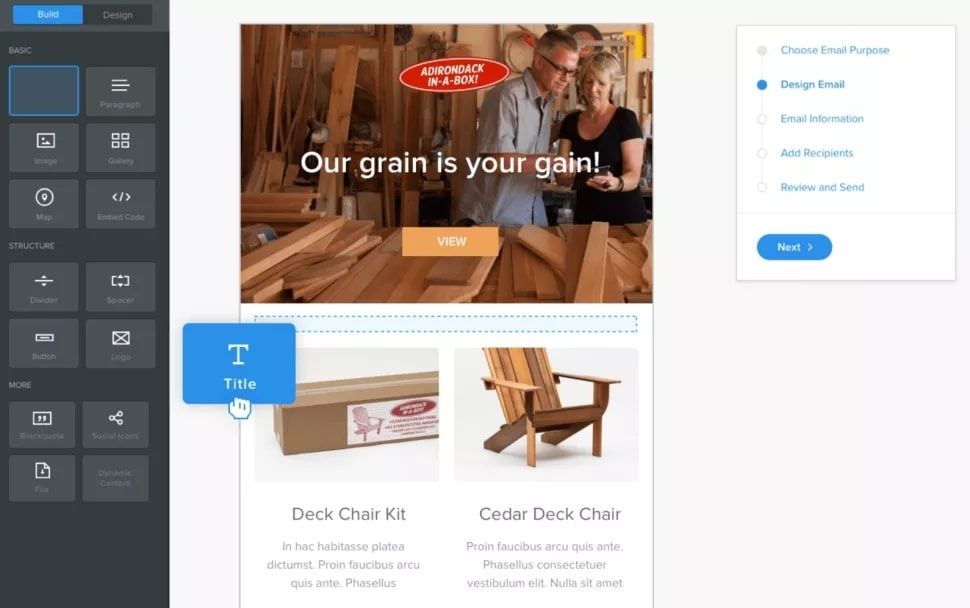 Working on minimal budget? Weebly is an excellent website builder with a negligible learning curve and generous free plan for ecommerce websites. You can build, launch, and maintain a limited ecommerce website completely free of cost on this platform. It may not be the most robust platform out there, but it definitely has enough to suit the needs of most small- to medium-sized businesses.
Weebly is owned by card payment providers Square. Accordingly, it integrates flawlessly with the company's point of sale system and allows you to manage all your customers from a unified dashboard.
The website editor is fully drag and drop and requires zero coding knowledge. However, HTML and CSS can be used to further customize the look and feel of your website if you so desire. Weebly also provides shipping and inventory management tools for ecommerce websites, and out-of-stock tags can be used to mark products that are currently unavailable.
Weebly is the only website builder to offer ecommerce facilities with a free plan, although this will be pretty basic. There are three professional plans for businesses: Pro, Business and Business Plus. All come with unlimited storage and the ability to connect a custom domain. Business and Business Plus also feature a shipping calculator, a tax management system, and an inventory system. For more details, see our full Weebly review.
Best ecommerce website builder for advanced tools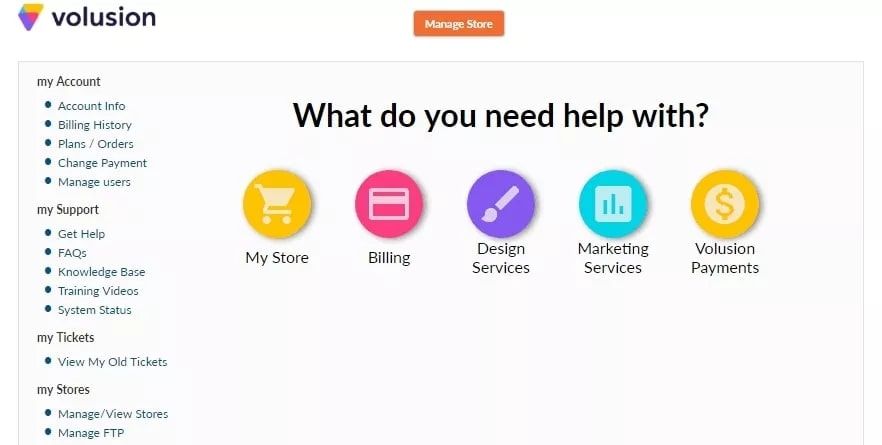 Seeking a website builder that's been around a while, and developed a trustworthy reputation? Well, Volusion, founded in 1999, is the oldest ecommerce website builder, and has hosted over 30,000 online stores, so they clearly know what they're doing. This platform falls squarely in the group of ecommerce-specific website builders that offer advanced functionality in exchange for a steep learning curve.
Volusion's systems aren't easy to figure out by yourself, but luckily, you don't have to. The company has published extensive online tutorials to help you get started. There's a small choice of free templates to pick from, whereas paid templates are quite expensive.
This means that you should expect a sizable investment going in, beyond the monthly subscription that you have to pay for. In return, you will gain access to features like abandoned cart recovery and customer data migration. There's also a variety of payment gateways to choose from, including the native Volusion Merchant Program, Paypal, and Stripe.
Volusion's Personal plan limits you to no more than 100 products and $50K in sales per year, making it a good choice for small businesses. Then there's the Professional Plan, which allows $100k in sales and 5000 product placements. Beyond that, you have the Business Plan, which gives you unlimited product placements and priority support. There's also the Enterprise Plan, which comes with custom pricing.
The best ecommerce website builder for beginners
Previously branded as Zyro, Hostinger Website builder is a beginner-friendly website builder with an easy interface and a really small starting price. It's perfect if you are just getting started in the ecommerce industry and don't feel ready to make a huge investment just yet.
Hostinger Website builder offers a substantial collection of themes and plugins, separated into various categories depending on your industry. You get excellent social media and ecommerce platform integration for Facebook, Instagram, and Amazon. You get a slew of powerful tools and add-ons, such as a business name generator, a logo maker, a slogan generator, and a heatmap. In fact, Hostinger Website builder goes so far as to offer an AI-based content creation platform that will generate text content for your website. This is particularly useful if you aren't a writer and don't have the budget to hire one.
If you're trying to launch an online store, you'll want either the eCommerce or eCommerce Plus plan, both of which offer additional shipping and inventory management features.
How to choose the best ecommerce website builder
When selecting the ideal ecommerce website builder for the first time, look at ease of use. Most platforms offer a free trial option, so give it a go and see how simple or otherwise it is before committing. A simple, intuitive interface can save you time and frustration during the setup and management of your online store.
If the look of your website is important to you, then also assess the available design templates, and consider how customisable they are. Ensure the platform supports a wide range of payment gateways to accommodate your customers' preferences and geographic locations. And also conside scalability: your business may grow in future, so choose a builder that can easily scale with you, accommodating more products, traffic, and features as your needs change.
Also things to look for include robust SEO tools to help your store rank well in search engine results, built-in security features and SSL certificates to protect customer data, reliable customer support (check to see, for example, if this is provided by phone or just live chat) and finally cost. Note that most web builders have varying pricing structures, including monthly subscriptions, transaction fees, and additional costs for advanced features, and the cheapest plan may not be sufficient for your needs.
FAQs
What is an ecommerce website builder?
An ecommerce website builder is a platform that makes it easy for you to create and manage an online store or stores without the need for coding or web development skills. Typically, they provide tools and templates to help you design, build, and operate your online business.
What is the difference between hosted and self-hosted ecommerce platforms?
Hosted platforms handle hosting and server maintenance for you. All the services we've included above fall into this category. In contrast, self-hosted platforms, like WooCommerce, require you to find and manage your own hosting. Most people will go for the latter, because it's simply easier, but if you have a lot of technical knowledge or just want a greater level of control you may prefer the latter. In which case, check out our guide to The best web hosting for creatives in 2023.

What happens if I outgrow my ecommerce website builder?
If your business expands and you outgrow your current ecommerce website builder, you may need to migrate to a more robust platform or a custom solution. Most platforms offer export options to ease this transition.
Related articles: