What are the best monitors for programming? It's a good question, because programmers don't necessarily need all the bells and whistles that other creative professionals need.
Most of the time, you're just looking at a string of text, so you don't necessarily need anything that sophisticated. You just want a screen with enough space to view multiple windows at once, and that will allow you to work for long hours without eyestrain.
That said, most programmers will also need to deal with images and video at least once in a while. And you'll probably need to visit websites and forums, watch YouTube tutorials, make Zoom calls and more.
You'll probably want to enjoy TV, movies and games on your monitor outside work, too. So while your monitor doesn't need to have the absolute best specs, it should be a decent all-rounder.
With all that in mind, we've brought together the best monitors for programming, at a range of shapes and sizes to suit your particular workflow, and at a range of prices too. Need some more advice before you buy? Jump to What to consider when buying a monitor for programming.
Meanwhile, you prefer a more lightweight solution, don't miss our guide to the best laptops for programming. Plus if you're after a monitor for non-coding use, see our best 4K monitors and best ultrawide monitors for more general options.
Now read on to discover the best monitors for programming available today...
The best monitors for programming
4K monitors are great for programming, but only if they're large enough that you're not left squinting at tiny text. There are no such worries with the LG 32UL950, with its fantastic 32-inch panel, which is great for viewing multiple windows side-to-side.
It's nicely designed, with minimal bezels making it look super-stylish. The IPS panel also boasts HDR support and superb colour reproduction, covering 98% of the DCI-P3 color space. Brightness at 600 nits is impressive, too. And if you're working with high-res images and video, you'll appreciate the Thunderbolt 3 connectivity, enabling data transfer speeds of 40GB per second.
This not the cheapest model on our list. But given the high specs and superior build quality we think it's great value, making it top pick in our list of the best monitors for programming.
Looking for something a little cheaper, yet still high quality? Then check out the ViewSonic VP2458. It's especially good for programmers who spend long hours writing code, as its blue-light filter helps protect your eyes and stops you getting tired too quickly.
This 24-inch IPS panel delivers lifelike colours, with screen wide 100% sRGB coverage and quick and easy colour calibration. You can swivel, pivot and tilt the monitor, as well as adjust the height, to help optimise your posture while you work. Plus the near-frameless design creates a seamless visual experience when using multi-monitor setups.
It's HD rather than 4K, but for the relatively affordable price, that's a compromise many programmers will be willing to make.
Want lots and lots of screen space, so you can view multiple coding windows side-by-side? Then you won't find wider than this 49 inch monitor from Philips.
With a curved LCD display and an aspect ratio of 32:9, this monitor gives new meaning to the phrase 'ultrawide', and offers a more streamlined alternative to working with multiple monitors.
It also boasts a built-in USB-C docking station, a built-in KVM switch to easily switch between sources, and power delivery up to 65 W, allowing you to power and charge your notebook via USB-C.
Image 1 of 3
Image 2 of 3
Image 3 of 3
The nature of coding means that sometimes it's more useful to work on vertical display than a horizontal one. If that happens to you a lot, then consider the BenQ PD3200U, whose display can be rotated 90 degrees.
The lovely 4K monitor is nicely sized, at 32 inches in diameter, and features BenQ's Eye-Care technology, which filters blue light and eliminates flicker so you can work in comfort. It was originally created with designers in mind, but we reckon the BenQ PD3200U is also a programmer's perfect companion.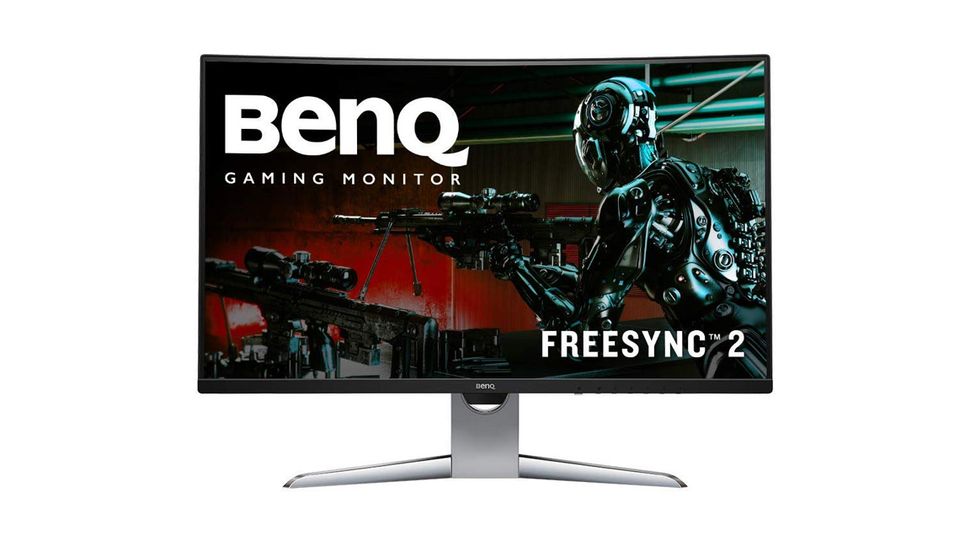 The BenQ EX203R is primarily aimed at gamers, but we also think it's a brilliant monitor for programming thanks to its high resolution and large screen size. So if you're both a coder and a keen gamer, it's an option well worth investigating.
1440p is an ideal resolution for coding, as it gives you more pixels to work with than a 1080p monitor, but doesn't go overboard like a 4K monitor does. The 32-inch size may seem a bit big for some people, but it has an 1800R curvature, which means it's actually very comfortable to use.
The only issue we have with it is sub-par HDR implementation, but given the affordable price, that's a compromise worth making.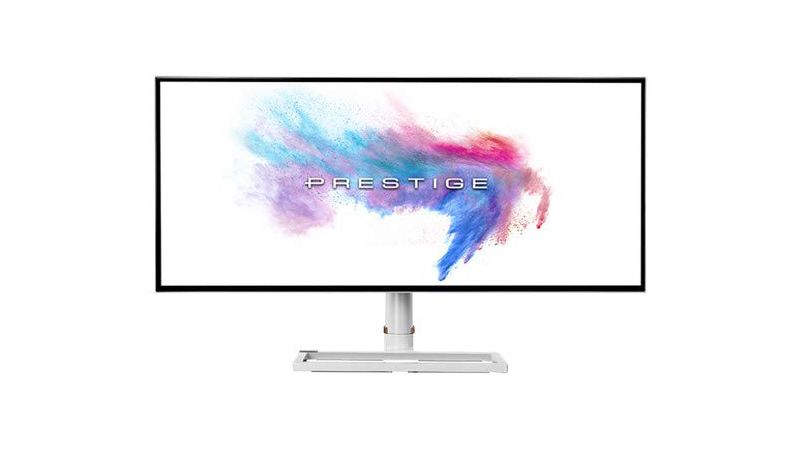 Looking for an ultrawide monitor for programming, but feel the 49-inch diameter and 32:9 ratio of the Philips Brilliance 499P9H goes a little too far in that direction? Then take a look at The MSI Prestige PS341WU.
With a 21:9 aspect ratio and 34-inch IPS screen, this fits the definition of ultrawide without going over the top. You'll have plenty of space to fit multiple windows side-by-side. And the 5,120 x 2,160 resolution and DCI-P3 colour gamut support will ensure everything's in pixel-perfect clarity.
Yes, it's expensive. But for image quality, size and comfort, this is an ultrawide monitor that's hard to beat for programming purposes.
Image 1 of 3
Image 2 of 3
Image 3 of 3
The BenQ EX3501R is a stunning monitor that will serve you equally well for programming and gaming. Its high resolution makes the short and wide aspect ratio easier to work with, and if there's still not enough space, the USB-C connection makes multi-monitor setups easy.
The EX3501R features blue light filtering, plus a sensor on its bottom bezel that detects ambient light levels and adjusts the panel's brightness accordingly. It's a smart looking monitor too; it's just a shame it's not more adjustable, offering 25 degrees of tilt, but just 60mm height adjustment. Otherwise, it's hard to fault.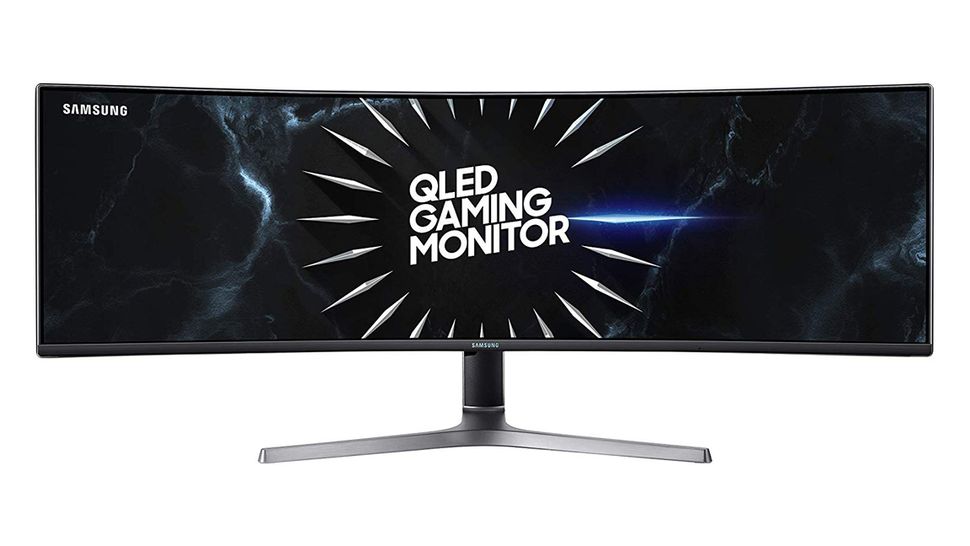 The Samsung CRG9 is another huge 49-inch monitor, with a 32:9 ratio, that's worth considering for programming.
This huge amount of workspace lets you have all your apps, websites and more open at once. And thanks to its multiple inputs and picture-in-picture mode, you can hook up two devices and use them together on the same monitor; again making it a much more space-efficient alternative to having multiple monitors.
It also offers superb image quality thanks to some of Samsung's best tech, making it an ideal choice if you're involved in photo or video editing as well as coding. It's expensive, then, but well worth the money for what you're getting.
The best monitors for programming: What to consider
There are a few important considerations you need to bear in mind when buying a monitor to code on. First of all is size. You'll want something that is large enough so that you're not straining to see, but not so big that you feel uneasy working on. A huge monitor that looms over you can be quite uncomfortable – but that can be remedied with curved monitors, which means you're not having to strain your neck to see all parts of a screen.
Another important thing to consider is resolution. The higher the resolution, the more room you have to work, and text can look sharper as well. However, ultra-high resolutions can leave text looking tiny, which again is uncomfortable. However, in both macOS and Windows 10, you are able to tweak the scaling of text so that it's more comfortable to read on high resolution monitors.
Ergonomics are important too; the best monitors for programming features are easily adjustable, with a good range of movement. You might also like a monitor that can be rotated to portrait orientation. It's also a good idea to look out for monitors with blue light filtering, which will be kinder to your eyes, and flicker reduction. Some monitors also offer automatic brightness adjustment, which fine-tunes the display to suit the ambient light to help you avoid eyestrain. It might also be worth looking at the best monitor stands too, to get your set-up just right.
Read more: