Having the best monitor for programming in your coding arsenal is just as vital as having a powerful PC and a comfortable, reliable keyboard. After all, coding entails staring at the screen for eight or more hours, and you need the ideal screen that makes that experience more comfortable. That requires a few things.
A great programming monitor doesn't require a very particular set of features like the right colour spaces or high colour accuracy. However, if you were to complete that software or app you've just been commissioned to build, there are still a few things that your monitor must be able to offer. And, at the top of that list is screen real estate.
Codes can be especially long, and after a few hours of staring at yours, all those variables and statements will eventually start to all look the same, even when you're vigilant about putting in comments. Having enough screen real estate, therefore, to minimize scrolling up and down what you're working on is useful. Having the ability to flip to portrait mode is even better.
Of course, you need one that's kinder to your eyes. Displays equipped with features like flicker-free technology and blue light filters should alleviate the eye fatigue and strain that often come with long sessions in front of the computer. If you often deal with videos and images, great colour coverage and accuracy can be important as well, as seeing an accurate representation of the final product is crucial. Finally, a good selection of ports will come in handy so you can connect all your necessary peripherals with ease.
A great programming monitor can help you with your workflow, even if all you do is look through code, fix bugs, and run tests. To help you find the right one for you, we collected the best monitors for programming. Whatever your programming needs are and however much you can afford, you'll find something here that's a great fit.
If you prefer a more mobile option for all your programming needs, we've put together a guide for the best laptops for programming as well. Finally, for those with other requirements when it comes to displays, take a look at our picks of the best 4K monitors and the best ultrawide monitors for more general choices or the best monitors for Mac mini if you have Apple's powerful little computer.
The best monitors for programming available now
The LG UltraFine Display 32UL950's steep price tag might be tough to swallow, especially if you're only starting out as a programmer, but it's a superb screen that features 600 nits of brightness, HDR600 support, and 98% DCI-P3 colour coverage. It's a pleasure to not just code on, but also for playing a PC game or for viewing films.
At 32 inches, this display is large enough that you won't be squinting at your text code and you have enough room for viewing multiple windows side-by-side. An elegant design with minimal bezels adds to the sense of an immersive workflow, while Thunderbolt 3 connectivity allows for data transfer speeds of 40GB per second.
This certainly isn't the cheapest monitor for programming on our list, but given the top-rate specs, superior build quality, and excellent colour coverage, it is good value and well worth the outlay if you have the budget.
If you're new to programming or still studying, then you'll probably want a monitor for programming that's kinder on your bank account, but ideally without sacrificing quality. Fortunately, there are a few good affordable options out there, including the VP2458 Professional from ViewSonic. At under $300/£300, it falls within everyone's budget, but it still offers some attractive features for programmers.
It comes with the kind of blue light filter offered by pricier monitors so you can reduce eyestrain even if you're on an all-nighter to make a deadline. It also delivers lifelike colours with its 100% sRGB coverage and quick and easy colour calibration. The 24in panel makes it a good size to fit in a dorm or small apartment setup while an adjustable setup allows you to work in the best posture even if you're in a tight space. On top of that, the near-frameless design offers a seamless visual experience when using multi-monitor setups if you want to go down that avenue.
To keep the price down, the ViewSonic VP2458 Professional keeps things to a humble HD resolution, but that's a fair compromise for this price.
The nature of coding means that sometimes it's more useful to work on a vertical display than a horizontal one. If that happens to you a lot, then consider the BenQ PD3200U. Thanks to its ergonomic stand, it can be rotated 90 degrees so you can maximize that screen space when your code starts to get eye-crossingly long.
The lovely 4K monitor is nicely sized as well – at 32 inches, it's just the perfect size for that UHD resolution it's sporting, allowing you to see the text without needing to squint. Of course, features like BenQ's Eye-Care technology, which filters blue light and eliminates flicker so you can work in comfort, are on hand as well. It was originally created with designers in mind, which is also good if you do a bit of web design as well. But, while we're still finishing up our testing of the monitor, we already know that the BenQ PD3200U is also a programmer's perfect companion.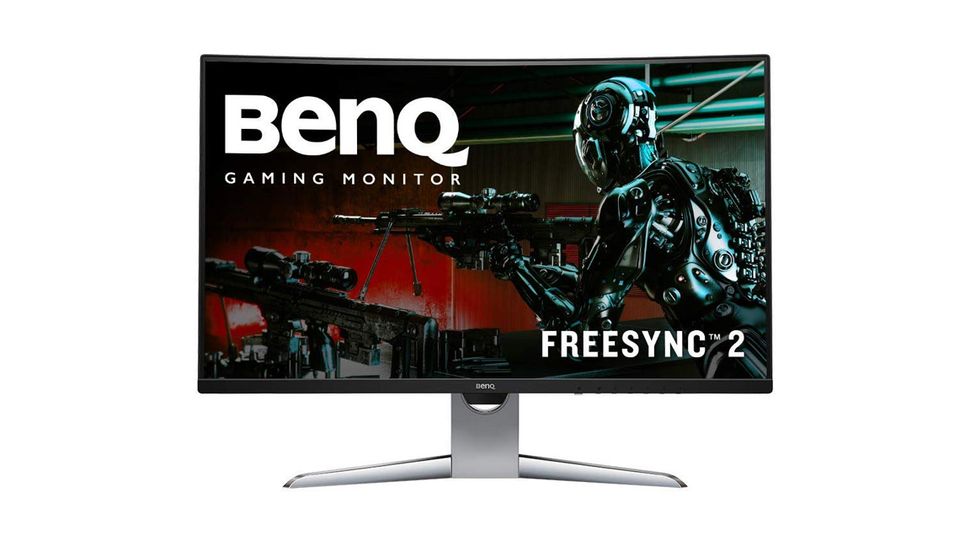 The BenQ EX203R is primarily aimed at gamers, but we think it's a brilliant monitor for programming too thanks to its high resolution and large screen size. So if you're both a coder and a keen gamer, this is an option that's well worth considering. It boasts 1440p resolution, which is ideal for coding as it gives you more pixels to work with than a 1080p monitor, but doesn't go overboard like a 4K monitor
Some people may think the 32-inch screen size is a bit large, but it has a 1800R curvature, which makes it very comfortable to use. The only issue with this monitor is the sub-par HDR implementation, but given the very reasonable price, we think that's a fair compromise.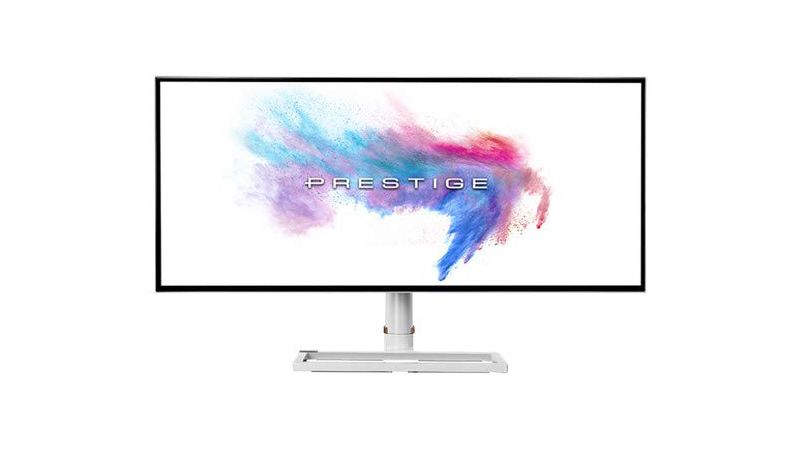 You're likely to find the MSI Prestige PS341WU on every best monitor list on the internet, whatever the purpose, which speaks for the versatility of this 34in screen. It's an ultrawide display, but not so wide that it takes up space unnecessarily. Rather its 21:9 aspect ratio and 34-inch IPS screen allows it to fit the definition of ultrawide without going overboard.
The benefit of this form factor is that you can spread out, with plenty of space to view multiple windows side-by-side, which can improve your workflow without sacrificing most of your desk space or hurting your neck. The 5,120 x 2,160 resolution and DCI-P3 colour gamut support ensure pixel-perfect clarity, and DisplayHDR 600 is a nice treat for when you're consuming media after work.
Yes, it's expensive, but for image quality, size and comfort, this is an ultrawide monitor for programming that's hard to beat.
The BenQ EX3501R is a stunning monitor that serves equally well for programming and gaming. Its high resolution makes the short and wide aspect ratio easier to work with, and if there's still not enough space, the USB-C connection makes it easy to go for a multi-monitor setup.
The EX3501R features blue light filtering, and a sensor on its bottom bezel detects ambient light levels and adjusts the panel's brightness accordingly. It's a smart looking monitor too. It's just a shame that it's not more adjustable: it offers 25 degrees of tilt but only 60mm height adjustment. Otherwise, it's hard to fault.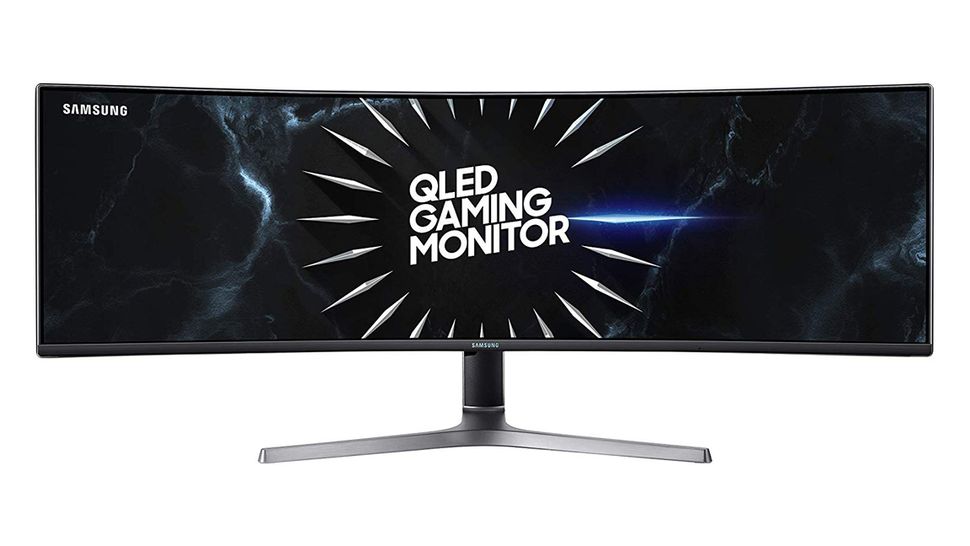 We've already included an ultrawide monitor in the list, but one that sits at the lower end of the definition and is suitable for more desk types. The Samsung CRG9 sits at the other end, offering a huge 49-inch screen, with a 32:9 ratio. It's a huge amount of workspace, which means you can have all your apps, websites and more open at once. And thanks to multiple inputs and picture-in-picture mode, you can hook up two devices and use them together on the same monitor, making for a more space-efficient option than using multiple monitors.
The monitor offers superb image quality thanks to some of Samsung's best tech, making it an ideal choice if you do photo or video editing as well as coding. It's another expensive option, but it's well worth the money for what you get.
The BenQ EW3280U may be from the manufacturer's entertainment series designed specifically for multimedia consumption. But, it makes for an excellent productivity monitor, which makes it a good mid-range option for programmers. The price is great for budget-conscious coders, and features like its light sensors that detect ambient light and optimizes brightness and colour temperature accordingly are brilliant for your eyes.
Meanwhile, its USB-C with DisplayPort Alt mode lets you not just connect your necessary peripherals but also charge your laptop and drive the display. The 32-inch panel size is just the ticket for 4K resolution viewing, allowing you to see your codes effortlessly. And, when you're done with work, you can simply sit back and enjoy a movie, thanks to its DisplayHDR 400, great set of speakers, and an included remote. We're still in the process of testing this monitor, but it already has our seal of approval.
Huawei's spiffy offering, the Huawei MateView, is undeniably sleek and brilliantly designed. For example, it keeps its super neat, incredibly thin design while still offering an impressive selection of ports by utilising its stand. Just as impressive are its specs that include 100% sRGB and 98% DCI-P3 colour coverage, up to DeltaE<1 colour accuracy, 500 nits of brightness, and HDR 400. Of course, being a USB-C monitor, it also boasts a USB-C port that supports data and video transfer as well as up to 65W Power Delivery.
The one thing that makes it an ideal monitor for programming, however, is its 3:2 aspect ratio – something that isn't common with PC monitors. When we did our Huawei MateView review, we found the 3:2 aspect ratio to be excellent for productivity as that extra vertical space allows a panel to display more lines of text, which means you won't have to scroll as much when dealing with extremely long documents. That makes this one a boon to programmers, coders and web designers.
Another huge 49in ultrawide option is the Philips Brilliance 499P9H. Like the Samsung monitor above, this also offers a more streamlined alternative to working with multiple monitors. With all that screen real estate you're getting, you can spread out as much as you can, which in turn saves you time and allows you to focus on your work.
True to its multi-tasking nature, it also boasts a built-in USB-C docking station, a built-in KVM switch to easily switch between sources, and power delivery up to 65W, allowing you to power and charge your notebook via USB-C. Stock is low in the US at the moment. This award-winning monitor for programming isn't cheap, however, so only invest if the whole package is worth it to you.
The best monitors for programming: What to consider
There are some important considerations to bear in mind when buying a monitor for coding. Firstly, there's the matter of size. You'll want a screen that is large enough that you're not forced to strain to see, but not so big that you feel uneasy working on it. A huge monitor that looms over you can be uncomfortable, although that can be remedied with curved screens, which avoid you having to strain your neck to see all parts of the screen.
Another important factor is resolution. The higher the resolution, the more room you have to work, and text can look sharper too. However, ultra-high resolutions can leave text looking very small, which again is uncomfortable, although on both macOS and Windows 10, you can tweak the scaling of text so that it's more comfortable to read on high-resolution monitors.
Ergonomics are important too. The best monitors for programming are easily adjustable, offering a good range of movement. You might also like a monitor that can be rotated to portrait orientation. Other features to look out for include blue light filtering and flicker reduction, which help take the strain off your eyes. Some monitors also offer automatic brightness adjustment, which fine-tunes the display to suit the ambient light of your setting, again helping to avoid eyestrain. It might also be worth looking at the best monitor stands to ensure you get your setup just right.
Are 4K monitors suitable for programming?
When you're coding, a monitor's resolution will not factor in quite the way it would with other content creators. Having access to stunning graphics, at least for work, doesn't hold the same priority as being able to work in comfort. However, that doesn't mean you should ignore UHD monitors when looking for that next display.
UHD displays do offer one particular benefit to coders over their lower-res counterparts. That higher resolution provides more screen real estate and allows you to fit more windows on your screen while working. If anything, that higher resolution allows a more streamlined workflow.
How big should my monitor be for programming?
A display's size depends largely on how you work and what your setup is like. If you plan on sitting further back, you'll want to use a larger monitor so you can see everything clearly. But, if you work in more cramped quarters, you'll want to have the entire display within your field of vision. And, that means downsizing. Otherwise, you'll end up moving your eyes and neck to the point of discomfort.
Is a curved screen good for programming?
Choosing between a flat or curved panel is mostly a matter of preference. Flat panels lend themselves much better to multi-display setups, with some of them can rotate 90 degrees to use in portrait mode.
If you're planning on sitting a little closer to your monitor, a curved monitor might be better, especially if you don't plan on adding a second panel. The curvature gives you a more immersive viewing experience, letting you see the corners of the screen without having to refocus on different parts of the screen. That curved design will also alleviate eye fatigue and strain.
Why do coders use vertical monitors?
When you use a vertical monitor, you're able to read and skim through much larger portions of your work at once. Since lines of code don't get very long, the width of a monitor doesn't come into play when writing or reading through your code the way it does for photo or video editing work. So, turning a monitor into portrait mode makes the best use of your screen space. Of course, you'll want to pair that with a monitor in landscape mode to see the results.
Read more: