Quick menu
Jump to the quick list↴
1. Best overall: MacBook Pro 16 M3
2. Best for games: Razer Blade 18
3. Best compact: Dell Precision
4. Best speed: Zenbook Pro 14 Duo
5. Best Microsoft: Surface Laptop 5
6. Best portable: MacBook Air
7. Best tablet: Asus ROG Flow Z13
8. Best value: MacBook Pro 14 M3
FAQs
This roundup of the best laptops for programming is ideal if you do a lot of coding. All the laptops on this guide combine portability, flexibility and power in a thin and light package. Since modern machines are becoming more powerful every year, they're all capable of managing every complex task you could throw at it.
We've personally tested every single laptop on this page, running tests on speed, performance, power, display and battery life and ensuring every machine meets the standards needed for heavy coding work (see how we test laptops for more). Our vast experience with laptops mean we are perfectly placed to advise you on which laptop is perfect for you – and we've taken price and portability into account where appropriate.
Not sure what you're looking for? We've summed up key information about the specs that make the best laptop for coding and programming at the bottom of the page. After this, check out our guides to the best monitors for programming, and the best keyboard and best mouse.
Quick list
We've lined up our top 3 picks ready for your perusal, with a quick insight into why they made the cut. Simply click on 'read more below' to get even more information, including links to our reviews.
Best overall
01. MacBook Pro 16-inch (M3, 2023)
This incredibly powerful M3 16-inch MacBook Pro has a brilliantly large and bright screen but also comes in two smaller sizes if you don't need so much space. It's got great battery life, and plenty of ports too.
Read more below
Best for games
02. Razer Blade 18 (2023)
As a big name in PC Gaming, Razer naturally makes a great laptop for game development. The powerful Razer Blade 18 comes with Nvidia's latest Nvidia GeForce RTX 4090 laptop GPU, and can also handle heavy-duty programming projects.
Read more below
Best compact
The Dell Precision 5480 is small but mighty, offering comparable performance to a 14-inch M3 MacBook Pro. It's got great battery life, a comfortable keyboard and a superbly well-made and well-built chassis
Read more below
Best laptop for programming overall
The release of the new M3 MacBook Pro 16-inch was a blessing for programmers as it combines the incredible power of the new Apple chip with a brilliantly large and bright screen (1,600 nits, if you're asking). This means no squinting at a small screen with zero compromise on power and speed, hurrah. However, if you do want a smaller screen, the M2 MacBook Pro also comes in 13-inch and 14-inch versions, both of which we love.
The MacBook Pro's super-tight pixel density combined with MacOS also makes for the best font rendering of any laptop, which is perfect for long coding sessions.
You'll have more than enough battery to get you through the most intense coding session – this delivers an impressive 22 hours. In our review, we appreciated that there are a bunch of ports including HDMI and a memory card slot, so you can plug a second screen in directly and up your memory, too. There's also ProMotion and HDR (High Dynamic range).
And, of course, all MacBooks have the advantage of being able to compil iOS apps and have a Unix-style terminal, though it's also true that for some coding workflows, Windows is essential. Read our MacBook Pro 16-inch (M2, 2023) review to find out more about why we rate the previous version of this laptop – and check out the MacBook Pro 14-inch (M2, 2023) review if you'd rather have a smaller machine to carry around.
Best laptop for game development
The Razer Blade 18 is the latest version of Razer's top-spec laptop and it's better than ever with a larger screen, smaller bezels and the latest Intel and Nvidia chips. It's just a fantastic laptop for coding if you're working on games.
That's in no small part down to the hot new Nvidia GeForce RTX 4090, the fastest laptop GPU on the planet. This allows you to work with complex 3D games that use cutting-edge tech, like ray tracing, and you'll be able to play your game afterwards to test how it runs.
It's not just a gaming laptop, however, as it's built for creative professionals, and this means if you're a programmer working on heavy-duty projects, this is a laptop well worth considering. It's very expensive, but for your money you're getting some of the best mobile tech available right now. Combined with a great build quality, that stunning 18-inch screen and the latest Intel 13th Gen CPUs, this is a brilliant creative workstation for people who need a lot of power.
Best compact laptop for programming
The Dell Precision 5480 laptop may be smaller than some others on the list, but it comes loaded with a huge amount of power for its compact frame. In fact, our testing of the previous Dell Precision 5470 put its performance close to that of a 14-inch MacBook Pro with Apple's M2 Pro chip, which is a superb laptop chip for graphic design work, and this new 5480 model is physically the same but runs an even faster 13th Gen Intel chip.
Our reviewer loved it, and she is an official Apple obsessive – so that's saying something! We got over 12 hours of battery life from Dell's Precision 5470 in our review, and the comfortable keyboard serves up an enjoyable typing experience. It's all wrapped up in a superbly well-made chassis that feels well-built and exudes quality. So if you want portable power and are put off by some of the larger laptops on the market, Dell's offering could be right up your street.
Best powerful laptop for programming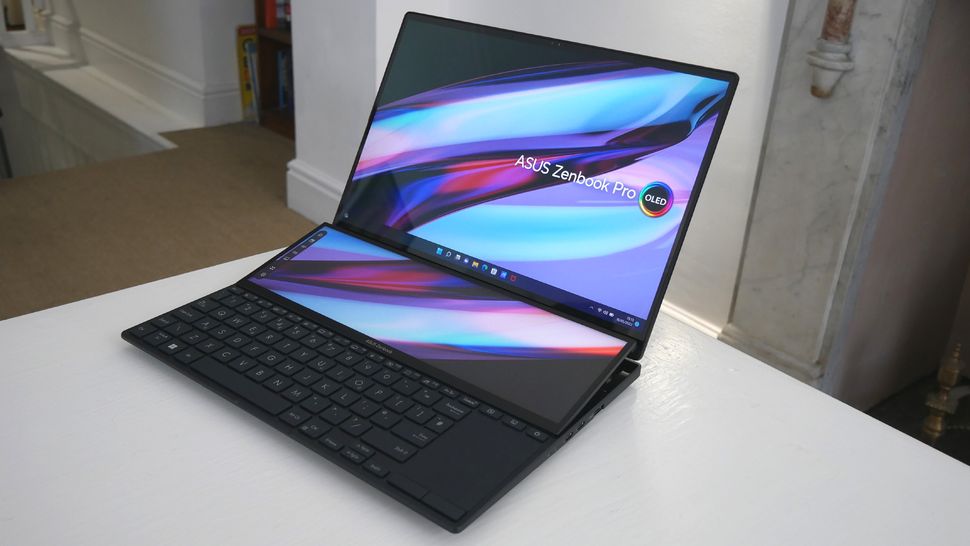 The Asus Zenbook Pro 14 Duo OLED (2022) offers cutting-edge components, including a recent update to a 13th generation Intel processor and up to Nvidia RTX 4060 graphics, which means it'll manage even the heaviest of your programming projects.
The 14-core processor and 32GB of RAM also means this is an absolute beast when it comes to multitasking, which can seriously speed up your workflow. However, the most eye-catching feature of the Asus Zenbook Pro 14 Duo OLED (2022) is its dual-screen setup – there's a 14.5-inch 120Hz OLED mains screen, which looks fantastic, and a 12.7-inch IPS display above the keyboard.
The second screen is a huge positive for programmers as it frees up vital screen space. Think of it as a super-charged Touch Bar, allowing you to move apps and tools to the bottom screen, giving you more space to work with on the main one. You can also use a stylus on the second screen, turning it into a great drawing tablet. It's expensive, and the battery life isn't the best, but it's an incredible machine for working on.
Read more in our Asus Zenbook Pro 14 Duo OLED review.
Best Microsoft laptop for programming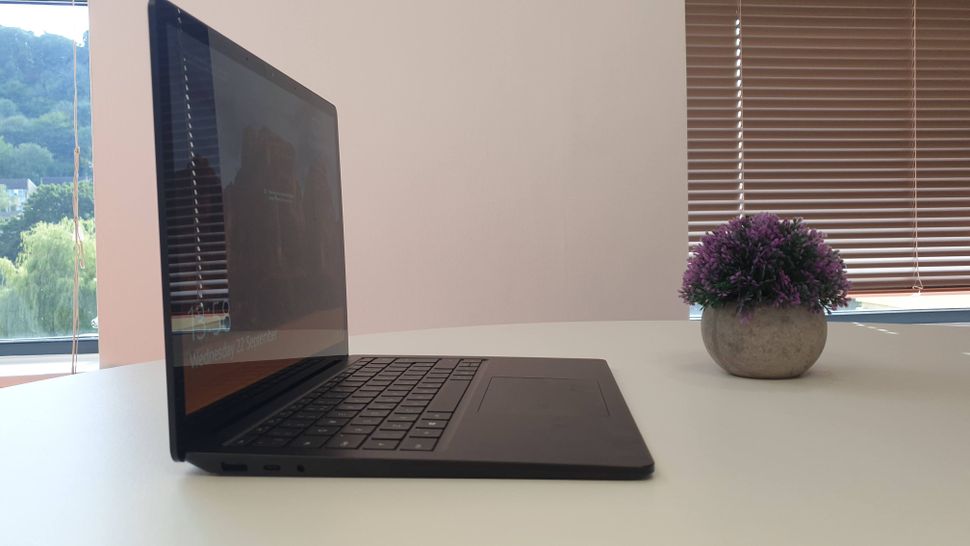 If you're a programmer working on Windows 10 apps in particular, then the Surface Laptop 5 could be good choice for you. As it's made by Microsoft, this is a brilliant showcase for Windows 11, so you can be sure your Windows apps run perfectly on the operating system.
This latest Surface Laptop comes with 12th generation Intel Core processors. They're not the absolute latest technology, but the newer 13th Gen chips are only slightly faster. The 13.5-inch model is limited to 16GB, but if you need 32GB, the 15-inch version gives you that option.
You also get a speedy SSD, which makes this an excellent laptop for even the most intense of programming tasks. The PixelSense touchscreens also offer excellent pixel density of 201DPI, matching Apple's Retina displays and ensuring gorgeous text rendering for long coding sessions, but adding touch input into the mix.
Best of all, our testing of the previous gen model found that it has one of the longest battery lives we've seen in a laptop, which allows you to work out and about without worrying about being plugged into a wall socket.
Best portable laptop for programming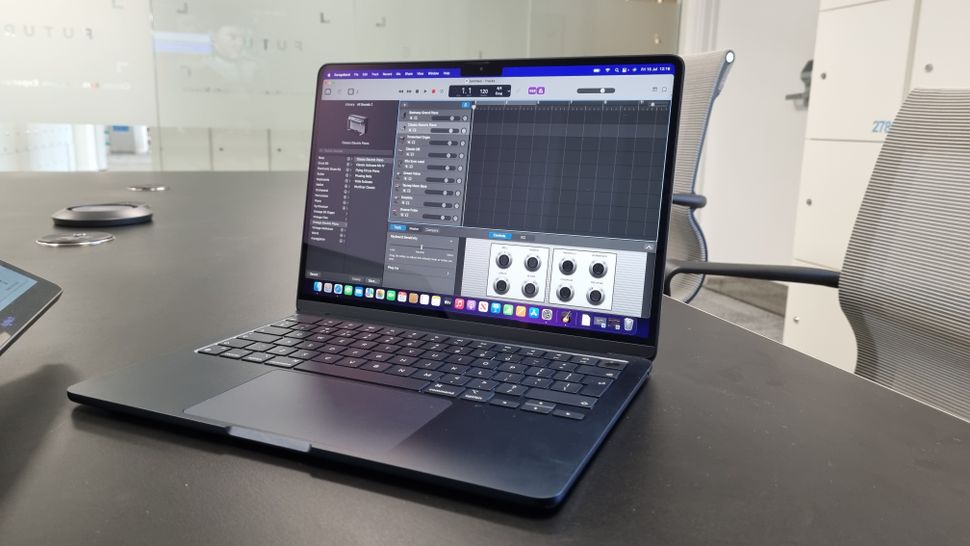 The Apple MacBook Air (M2, 2022) is a fantastic thin and light laptop for programming on. It comes with a range of improvements over the previous model, including a new 1080p webcam and a larger, brighter screen. In fact, the MacBook Air M2 now comes in a 15-inch size, giving you even more space for programming.
It also packs the new M2 chip from Apple, which is a powerful bit of silicon that makes coding on the MacBook Air a real joy. It's powerful enough to compile code in seconds, and you can run simultaneous emulations and tests at the same time.
Best of all, the MacBook Air (M2, 2022)'s battery life is amazing, lasting over 16 hours in our tests. So, you can work on this throughout the day without worrying about being plugged into a power source.
It's not all good news, though, as it is quite a bit more expensive than the previous model, which means it's not quite as good value for money. The 2020 model, with an M1 chip, is still a fine laptop to program on, and is still on sale. It's definitely worth checking out if the M2 model is too pricey for your budget. Find out more in our full MacBook Air (M2, 2022) review.
Best tablet laptop for programming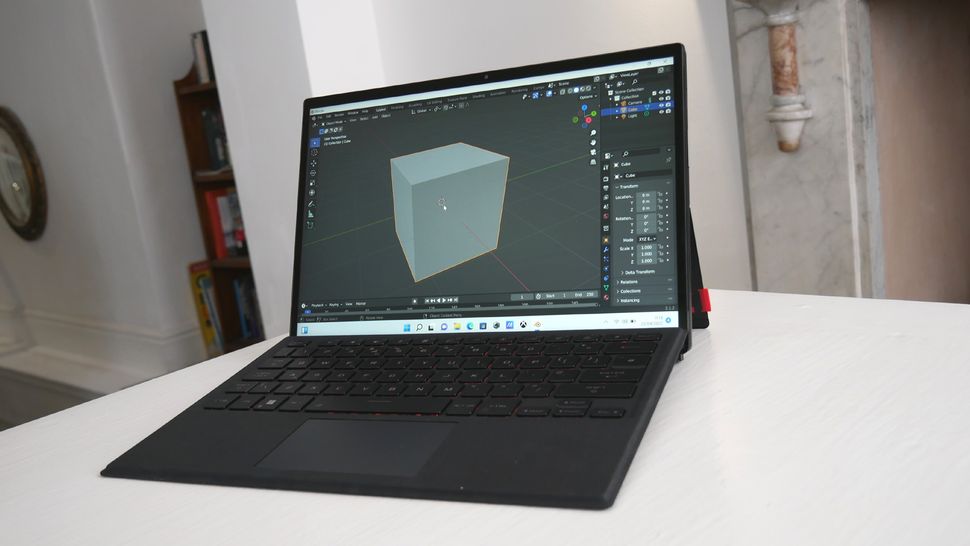 This unique laptop brings incredible power to a supremely thin and light form factor. In fact, it might be the most powerful tablet PC we've ever tried. It features a powerful 12th generation 14-core Intel processor, which will handle all your coding needs with ease.
It also comes with an RTX 3050 Ti graphics card, which is handy for anyone who wants to code - and test - games. The 16GB of DDR5 memory also means this is supremely fast, and is ideal for people who want an easily portable laptop to code on.
It has a thin keyboard, but some people may not find it that comfortable to code on for long periods of time, so a larger keyboard may be necessary - which is easy enough to plug in.
This is pricey, but it's a completely unique laptop that could transform how you code.
Also read: Asus ROG Flow Z13 review
Best value laptop for programming
While some coders may find having a larger 16-inch or 17-inch screen on their laptop makes programming more comfortable, other people may find those laptops too big and bulky to easily carry around. So, the 14-inch MacBook Pro is a great choice for anyone who wants a powerful laptop for programming on that's also more easily portable.
The good news if you're looking for this class of machine on a slightly tighter budget is that Apple has updated the 14th MacBook Pro with the M3 family of Apple silicon. This time, the 14-inch Pro gets the entry level M3 chip and not just the M3 Pro and M3 Max. That's created a new entry-level model that's cheaper than before while offering nearly all of the upsides of the existing 14-inch Pro.
The new M3 chip is still very powerful, while you get the same fabulous build quality, stunning Liquid Retina XDR display capable of up to 1,600 nits of brightness and truly stupendous battery life. In fact, this new entry-level model with its 3nm M3 chip might just offer the best battery life of any MacBook, ever.
You do miss out on a single Thunderbolt port with this cheaper model. But that still leaves you with two Thunderbolt 4 ports, along with HDMI, and SDXC card reader and MagSafe 3.
To find out more about why we rate this laptop so highly, read our review of the original MacBook Pro 14-inch M1 review (or if you want more screen real estate check out its bigger sibling in our MacBook Pro 16-inch review).
FAQs
How to choose a laptop for programming
Why you can trust Creative Bloq Our expert reviewers spend hours testing and comparing products and services so you can choose the best for you. Find out more about how we test.
Programming can be done on many different types of machines but many programmers want something more than just a basic laptop. While you don't necessarily need a powerhouse of a laptop to code on, if you need to compile your code, and test out the games you're working on, for example, then you'll want a laptop with plenty of RAM and a modern multi-core processor. They are able to compile code much more quickly. And, the less time you have to spend waiting for your laptop to complete complex tasks, the more time you have to do other things – such as take on more projects.
Screen size is really important when selecting one of the best laptops for programming. You'll get more on a 15-inch screen than a smaller one, for example, so it's easier to read through code and make GUI adjustments. Of course, with a bigger display you sacrifice portability.
Also consider getting an Intel Core i5 processor as a minimum – that level of power isn't exceptional but it will guarantee you enough performance, especially if you're doing things like working with complex website layouts that have a lot of background code. Large, complex programs compile faster with a faster processor.
Graphics can also be key depending on the development work you're doing. If you're working with game development in an environment such as Unreal Engine or Unity then you need to consider the graphical requirements of those apps. Don't miss our round up of the best graphics cards if this is something you might need.
And remember it's a good idea to use an operating system that's aligned with your goals. Want to develop in Xcode for the iPhone, iPad and Mac? Then you're going to need a Mac.
Plus, the faster your laptop can compile code, the less time you'll be spending waiting around, and that can mean you're more productive, and are able to take on more projects.
The best laptops for programming are essential tools for any developer that wants a powerful machine to work on, while also being portable enough that they can take it out and about with them, and work almost anywhere.
Meanwhile, you may also want to see our guide to the best laptops for Photoshop and best laptops for graphic design.
How much RAM do I need for coding?
If you're looking for a laptop for coding on, then you'll want to make sure it comes with plenty of RAM. The more RAM a laptop has, the better it is at multitasking, so you can have multiple apps running at once.
It'll also help you compile your code quickly, while also letting you test and run your apps and games. The faster you can do this, the more productive you'll be.
So, we recommend at least 8GB of RAM for coding on a laptop, but ideally you should go for 16GB, or if your budget can stretch to it, 32GB. That's only necessary for seriously heavy workloads, however.
How do we test?
Coding presents a quite specific remit for any laptop. High on the list of priorities is a decent screen that redenders nice, crisp text. It's so important for long coding sessions. In particular we consider pixel density and contrast, though support for touch is less of a priority.
Performance wise, you'll want a modern Intel or AMD CPU with at least 16GB of RAM. We test to ensure any laptop we recommend has sufficient performance for serious coding. On the graphics side of the equation, it will depend on the type of applications you're coding. Some are more graphically demanding than others. But in all cases we assess GPU performance to provide that important context.
Plenty of fast storage is also important, so we test both sequential throughput and random access. Keyboard quality is another super vital element for any serious coding session. So, we're looking for feel, comfort and responsiveness.
We also assess ergonomics, build and usability, chassis rigidity, trackpad response and more to build up a practical picture of how well a laptop performs in the real world rather than merely benchmarks.
Finally, battery life is surely critical, especially if you're coding on the move. Battery life is also an area where laptops can diverge dramatically. So, we careful evaluate just how long each model can survive away from mains power.