It's fair to say that 2015 has been an explosive year for infographics. Thanks to viral posts that explore everything from the risks of drinking diet coke, to quick funny hits exploring the creative process, the last twelve months have seen some amazing data visualizations.
Unsuprisingly, some of the most beautiful and educational infographics in 2015 have been all about design, so we've collected 10 of the best below to round off your year and kickstart your creativity for 2016.
01. The psychology of logo designs
We're bombarded by logos every day. They're on our coffee cups, on our shoes, the screen you're reading this from probably has one, too. But what makes a good logo? This invaluable infographic digs deep into the psychology of logos to see why a successful design works.
Exploring everything from colour to shape, scaling to space, this infographic from Inc also dissects iconic logos to show the theory in action.
02. Old graphic design tools pitched against new
Nostalgia's a funny thing. It can cloud your memory and make things seem better than they actually were. In the world of design, it can make creatives look back fondly on crude tools that have been superceded by vastly superior technologies.
So how do graphic design tools really compare? This fun infographic from The New Media Company takes a whimsical look at the tools of yesteryear with some cartoony illustrations, as well as providing some timeless design advice along the way.
03. The art of colour coordination in web design
If you're not careful about your choice of colour, your website might be sending out the wrong signal. In this infographic by web analytics company Kissmetrics, the effects of different colours are broken down and analysed.
So if you want to give your website's conversions a boost (who doesn't?), be sure to check out this list of tips that explains harmonies, colour schemes, layouts and more.
04. 40 ways to stay creative
Creative droughts are the nightmare of artists and designers everywhere. What can you do when the creative reflex is dulled and you just can't seem to produce or think of anything worthwhile? For starters, you could do a lot worse than reading this infographic by Layerform.
Stuffed with tips to get you back into the groove, you'll find plenty of unusual advice to give you a creative kickstart. Who knows, maybe this infographic will lead on to your next big project?
05. Popular designer stereotypes
Even the most free-thinking creatives can settle on reliable trends, as this witty infographic from the New School of Architecture and Design reveals.
Poking fun at different design industries, this graphic offers a controversially stereotypical take on each field's fashion preferences, musical tastes, hairstyles and more. But is it funny because it's true? We'll let you decide.
06. The 10 commandments of logo design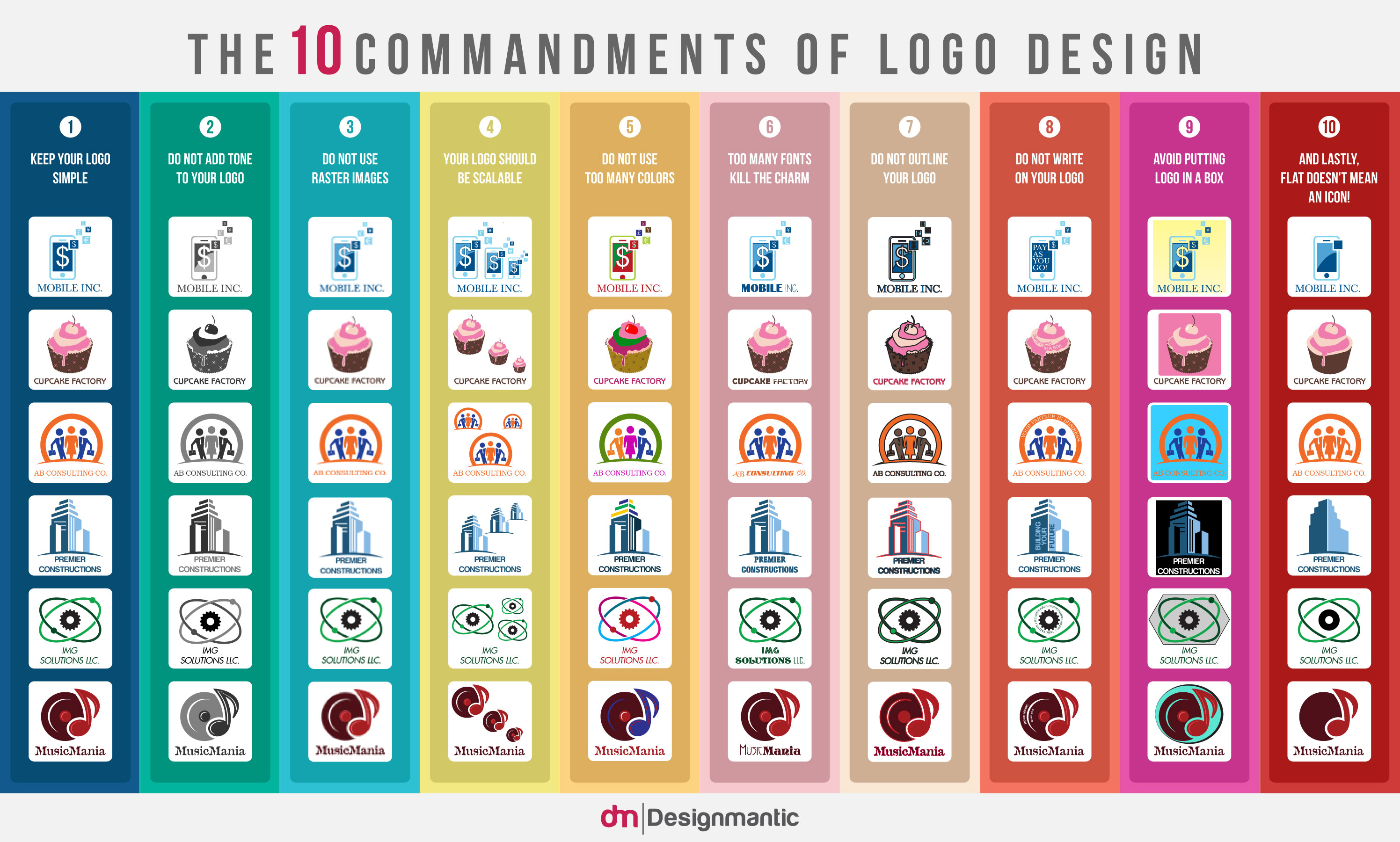 We've already seen the psychology behind logos in action, but this chart from Designmantic.com lays down some hard and fast rules to help you create iconic brand imagery.
With advice covering colours, fonts and scales, we recommend that you bookmark this infographic and use it as a handy logo design cheat sheet.
07. Keeping a healthy posture at work
Sitting slumped at a desk all day doesn't do anyone any good, including designers. To give your body a break, this infographic from Ultimate Mats highlights some important exercises designers should be doing at their desks.
Perhaps trading in your sit-down desk for a standing up model will do you the world of good, or maybe you need to change the positioning of your hands as you type? You'll find these tips and plenty more in this enlightening graphic.
08. 30 years of web design
Seeing as this post is all about looking back, why not take a trip down cyberspace's memory lane with this graphic that charts the history of web design?
Covering all the major milestones, from the creation of the first HTML website in 1991 to modern drag and drop site builders, this timeline from Visually is a stark reminder of how far web design has come in such a short space of time.
09. 26 things to note before creating a website
Whether you're a budding blogger or an expanding startup, creating your own website is an exciting project. But just like any piece of design, a website requires a lot of careful consideration to make it work.
Thankfully, this infographic from Pixaal explains what coders need to be aware of. Touching on site maps, hosting, security, and a whole other range of design details, this methodical chart equips you with the basics to brave website building.
10. How to make a great infographic
Feeling inspired by our list and fancy making an infographic of your own? Get started by clicking on this thumbnail from InfoBrandz that explains how to make the best infographic around.
Even if you're new to infographics, or you're a Photoshop novice, this chart will get you thinking visually in no time. Perhaps your creation will even end up in our list of the best infographics from 2016?
Have we missed an amazing infographic from our list? Let us know in the comments!
Liked this? Read these!