Adobe Creative Cloud is one of the most popular software packages for creatives. For a limited time only, Students and teachers can bag 65% off the Creative Cloud All Apps bundle, featuring 20+ apps, fonts, templates, and more. Did we mention you get a month for free too?
For just £179.94 / €209, you'll have access to a year's worth of an All Apps Creative Cloud subscription, including Photoshop, Illustrator, Acrobat Pro and 20+ apps with Adobe generative AI features. This deal is exclusively for students in the EMEA regions (Europe, the Middle East – excluding Africa). If you're reading this in Africa, or any of the countries outside of the EMEA region, you can still save money with our Adobe Creative Cloud discount guide.
Suppose you happen to be a student enrolled with an accredited education provider, or an eligible homeschooled student. In that case, you can benefit from this epic Adobe discount that will save you £416.39 (€484.05) on the annual subscription which is usually priced at £596.33 (€693.26). After this, your subscription will automatically renew at the Adobe year-two student price, currently at £298.02.
Interested? Be quick. This deal ends on September 19 2023.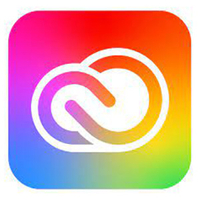 Adobe Creative Cloud: £596 £179/year
Get 1 month free then save 65%: If you're in the UK, Europe, or the Middle East, then you can save big on this yearly subscription to Adobe Creative Cloud.
Deal ends 19 September 2023.
So what's the appeal of Adobe Creative Cloud?
The All Apps suite is used across the industry by artists, designers, photographers, and other creatives to produce amazing results. Things have only gotten easier since Adobe has integrated its Firefly AI into its apps, available across multiple devices including your desktop or mobile.
Photographers can enhance or edit their work with Lightroom and Photoshop (now using AI Generative Fill) and designers can compose elegant creations with InDesign; video editors can create movie masterpieces with Premiere Pro and After Effects; and illustrators can produce works of art with Adobe Fresco and Illustrator.
Adobe Creative Cloud really offers the full package when it comes to top-end digital creative tools, and it's even better value for students and teachers with this great deal on a year's worth of an All Apps Creative Cloud subscription.
We see Adobe deals crop up fairly regularly, but the back-to-school deals are always the most generous. You'll also get access to handy resources like Adobe Fonts, Adobe Portfolio, Adobe Stock, tutorials and 100GB of cloud storage for your creations.
If you take advantage of this great deal and need some tips to start creating with your new tools, take a look at our roundups of the best Photoshop tutorials, InDesign tutorials, After Effects tutorials, and Illustrator tutorials. In these guides, you'll find expert advice whether you're a complete beginner with Creative Cloud or looking to expand your existing skill set.
Not a student or based in the EMEA region? See the best prices and deals below wherever you are on a standard subscription Adobe Creative Cloud software.