It's now easier than ever to get your hands on a PlayStation 5 console, and if you've been patiently waiting, this is the best time ever to buy a PS5. It's been reduced to as low as £399 at Amazon UK, and just $449.99 at Monoprice in the US (this deal is currently out of stock so you'll need to join a waiting list).
I'll be honest, this deal is pretty annoying. I paid £479.99 for my PS5 in December 2022, and this new record-low price will save you £80 on the standard edition. That's a huge saving to put towards any games or accessories to complete your setup. We gave the PS5 console a 5-star review last year, so take a look if you need any further convincing of its glory.
There are plenty of great deals to be had on PS5 accessories too, with the DualSense controller now £59.99 £39.99 on Amazon. See the best deals we've found below, plus essential PS5 accessories including the best PS5 controllers and the best PS5 games to get you started.
Get a Playstation 5 at this lowest ever price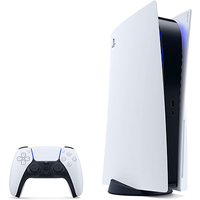 Playstation 5 console Standard edition
Was: £479.99
Now: £399 at Amazon
Save: £80
Overview: The best deal on the best console (sorry Xbox fans). The PlayStation 5 is a god-tier console and this latest price cut won't hang around for long.
Key features: Storage: 825GB SSD | CPU: AMD Ryzen Zen 2 with 8 cores at 3.5GHz| GPU: AMD Radeon RDNA 2-based | RAM: 16GB GDDR6 |Display: Support of 4K 120Hz TVs, 8K TVs |Expandable storage: NVMe SSD slot
Release date: November 2020.
Price history: This is the lowest price ever in the history of the console. It sounds dramatic, but it's true.
Current price: Argos: £399.99 | Very: £399.99
Review Consensus: Reminiscent of a sculpture, a literal work of art, we loved the design of the PS5. But that's not all. It has an exceptional UI and lightning-fast load times, with near-silent running. Don't just take our word for it, our sister sites linked below also gave the PS5 glowing reviews.
The PlayStation 5 is a superb next-gen console, and plenty of gamers are thrilled with not only the specs but the sheer horsepower of this unit. If you've been waiting for the right time to upgrade or take the plunge into Playstation then today is the day – as we don't know how long this deal will last for.