The WordPress community is big. Really big. We're talking thousands of designers and developers, tens of thousands of writers, and millions of users, all contributing to pushing WordPress forward. And one very popular way to do this is designing and developing free WordPress themes.
Free Wordpress themes are a great way to get a blog or website off the ground – and there are countless WordPress tutorials online to help you do just that. You might want to start writing about a topic but don't want to invest the money in a custom site design on top of hosting and a domain. And once your site is up and running, there's nothing to stop you dissecting your theme, building on top of it and learning from it.
Responsive and Retina-ready, Hamilton is a clean portfolio theme with a minimal layout and fine-tuned typography that's designed to draw people's attention to the really important stuff: your content. It has built-in support for the Jetpack Infinite Scroll module, so you can pack it with as much imagery as you can muster, and if you're not keen on the white background you can instantly activate Dark Mode to display your portfolio with white text on a dark background.
Designed with freelancers in mind, Monty is a one-page portfolio theme that's easy to set up and comes with plenty of features that you'd expect to find in a premium theme. These include a one-click demo importer, Visual Composer to make putting your site together a breeze, Slider Revolution and Swiper Slider, as well as flexible colours and typography so you can get exactly the look you need.
Business is serious business and requires a serious theme, but that doesn't mean you have to pay for it. This free WordPress theme offers all the elements you'll need if you're building a site for a more sober, corporate client, with plenty of ready-made sections that'll tick all the business boxes. Responsive and easily customisable, it uses King Composer to ease the building process.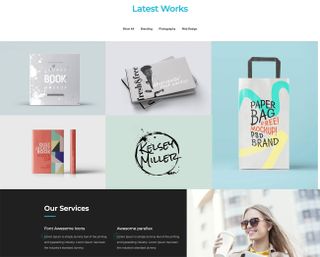 With its drag-and-drop interface, Themx is a creative, fully responsive free WordPress theme that's suitable for almost any kind of website. It's based around Visual Composer to make the business of putting a site together nice and straightforward. If you're aiming for an international audience then you'll find its WPML support invaluable, and it also comes with a variety of custom post types and plenty of customisation options.
Crafted for maximum browser compatibility using HTML5 and CSS3, Brad is a fully responsive, minimalist portfolio theme for showing off your work in the best light. It features three portfolio types with multiple layouts, a 12-column grid system and precise, granular page building using Elementor Page Builder.
Aimed at writers of all kinds, Mallow is a well-balanced and flexible theme designed to be a blank canvas to express what's on your mind. Perfect for blogging and case studies, it's fast and fully responsive with complete browser support and regular updates; upgrade to the Pro version for a live theme customiser and unlimited colour choices.
Featuring responsive layouts and Font Awesome support as well as custom menus, widgetised sidebars, custom background, featured images and more, Bandana is a free, clean and simple WordPress theme that's tested in modern browsers and fully optimised for SEO. And if you don't mind getting handy with code, you can fork it on GitHub to create your own version.
If you're looking to improve your online presence and attract customers or clients, Sydney is an excellent choice. It was built with business owners and freelancers in mind, and provides a wide array of customisation options that will help your website stand out. Sydney is also fully responsive, supports translation, and makes social media integration a cinch.
Built on the Bootstrap framework and fully responsive and mobile-friendly, Illdy is a fantastic-looking multipurpose theme. All the heavy lifting is done via the WordPress Customizer, enabling you to build your site on the fly using preview mode, and it's entirely compatible with popular plugins such as Contact Form 7, Gravity Forms and Yoast SEO, with WooCommerce support coming soon.
Unless you want to change themes every year it's best to pick something that won't look dated as design trends evolve, and Hemingway is a good option in that regard. It's a simple, elegant two-column layout with classic typography and large, readable text. Bloggers will find it ideal. Hemingway is built to be responsive, so will work on desktop and mobile.
If you want to fit a lot of text onto your homepage, Origin does a good job of doing it without looking messy or cluttered. With this theme your articles are arranged in a column that gives each one space for a decent-length intro, and the type looks great. A good choice for a site with a lot of reading.
Upright is a fully responsive, blog-style theme for WordPress that leverages big imagery and portfolio functionality to present content effectively. Featured sliders, sidebar colour pickers, and custom background images allow users to create a unique site without having to code. This theme is search engine optimised from the get-go, to help increase traffic.
Fashionista is another type-driven theme that's ideal for magazine-style blogs. We like the bold headlines and pleasingly busy layout that will look good on both desktop and mobile. This theme is built on Bootstrap, and can be easily customised to suit your needs.
Illustrators, photographers and artists will love this theme. The layout has one large slot for your main image and then a grid of 12 smaller images to instantly gives visitors a sense of what your work is like. It's a great use of space that fits a lot of content into one screen. There's also a lightbox included to showcase work individually.
Lightly is a clean, minimalist blog magazine theme for WordPress that puts your content centre-stage. The theme's refreshing design features a home page slider and a widgetised homepage that allows users to create custom layouts by simply dragging and dropping everything into place.
TA DailyBlog offers a simple and clean design with full optimisation for smartphones, tablets, desktops and any other devices. This free WordPress theme would be ideal for blogging, especially for daily or hobby bloggers who love to share their stuff. It's flexible and fully customisable, with 16 colour schemes and smooth user experience. What's more, the theme is SEO-friendly, with a Schema-compatible structure. It supports most popular plugins, too.
Create and manage your portfolio or blog with ease with this clean and sophisticated InterStellar design. With multiple portfolio page layouts, this theme's options allow you to change the layout, colour scheme, logo and add your Google Analytics code, buttons, Google maps, columns and more.
Create a stand-out website with Arcade, a lightweight and fully responsive HTML5 theme. Customise it to your taste by adding your own header image, page layout, site width and more. Each post can be distinguished with one of the eight supported formats; video, image, aside, status, audio, quote, link and gallery.
Don't want to mess about trying to find beautiful imagery? Looking for free WordPress themes that focus on the text, to make that look beautiful instead? This minimal, text-focused theme is all about seamless reading: no page loads, no interruptions, just a quick and easy way to access content.
Grid gives you the feeling you're on a site that's had a lot of thought put into its design. This free WordPress theme would work really well for a portfolio, artist or event site. It's very graphic or photo-heavy, so make sure you have the content to back it up. One plus is that this theme maintains its responsiveness well.
Architekt's layout and minimalistic approach to design makes content (especially photos) stand out well. This is a really nicely designed and well thought-out responsive theme.
Read more: