Packaging is something we're bombarded with on a daily basis. So creating an eye-catching packaging design that can be reproduced for years is a real challenge, especially with trends in industrial design now demanding biodegradable or renewable packaging.
Now more than ever, packaging design matters. The designs below show the direction in which many different industries are focusing their packaging design for years to come.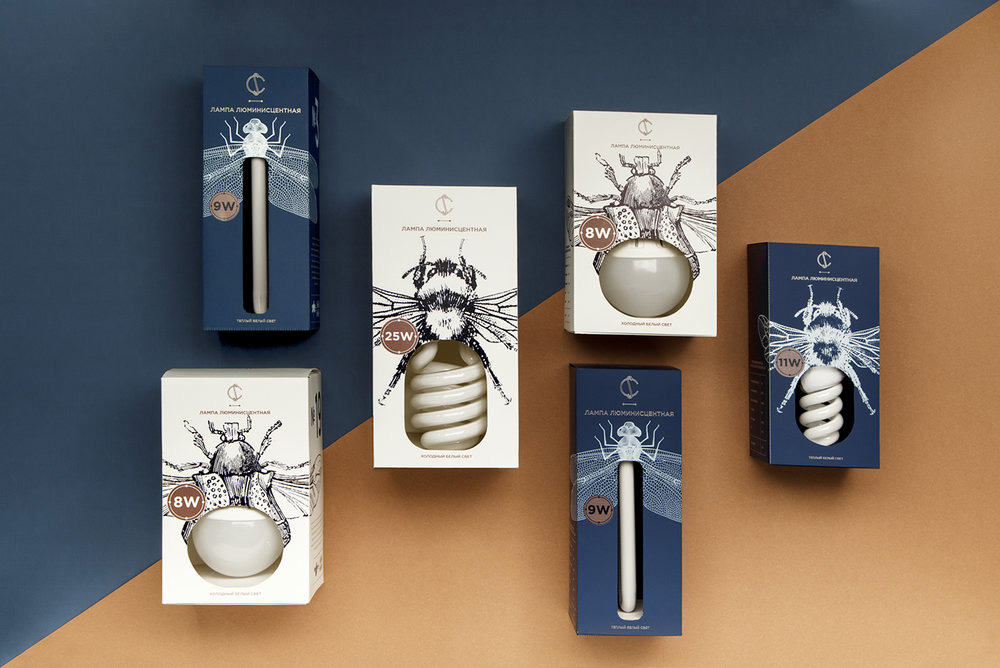 Everyday products such as light bulbs tend to lend themselves to fairly utilitarian packaging, but these, produced by Belarus electrical company CS, boast beautiful boxes that turn the product into an important part of the packaging design.
Designed by Angelina Pischikova, with line illustrations by Anna Orlovskaya, this amazing packaging uses detailed drawings of insects, and the bulbs themselves are paired with certain bugs depending on their shape and size. Long, thin bulbs are stored in dragonfly boxes, while the coiled stripes of an energy saving bulb become the abdomen of a bumble bee.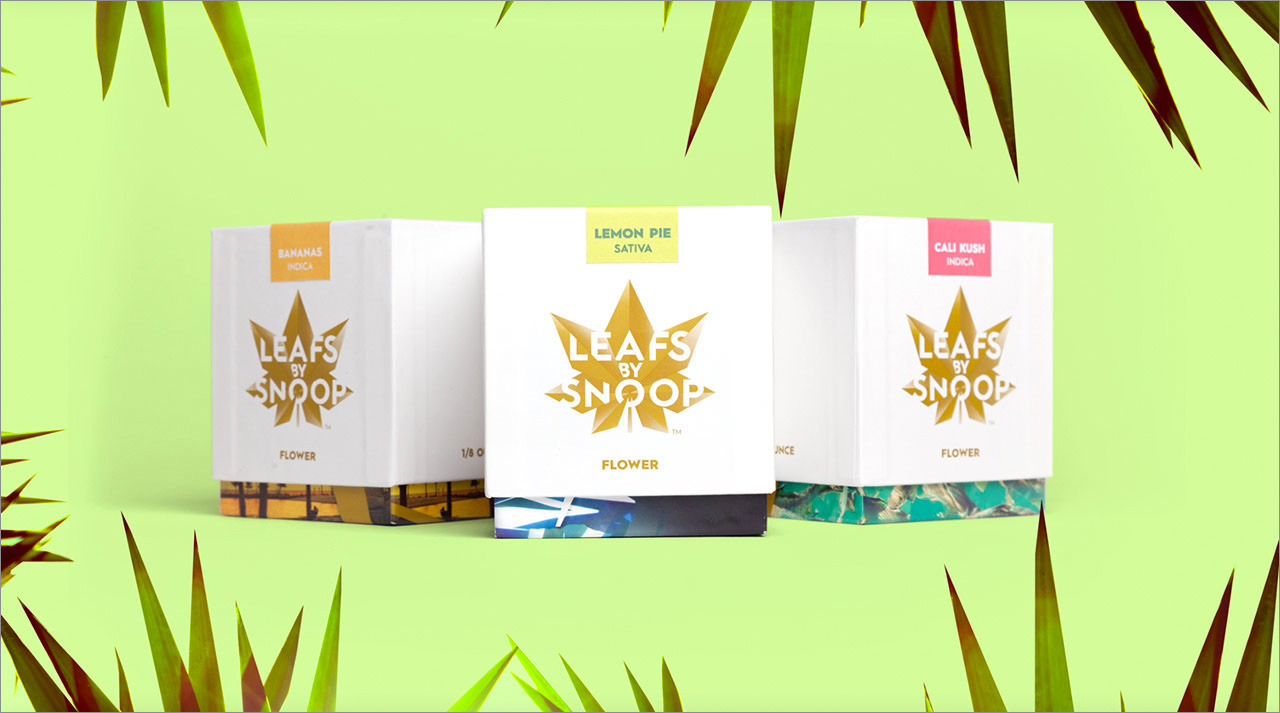 With cannabis slowly becoming less and less illegal in the USA, cannabis branding is increasingly becoming a thing, complete with packaging to match. Snoop Dogg brought in none other than Pentagram to design the brand identity and packaging for his line of cannabis products: Leafs by Snoop.
Stepping far away from the idea of furtively buying a grubby little bag of greenery, Pentagram's designs include a distinctive leaf-based logo (including an animated version), luxurious weed boxes and a range of edibles including six chocolate bars and cannabis sweets called, of course, 'Dogg Treats'.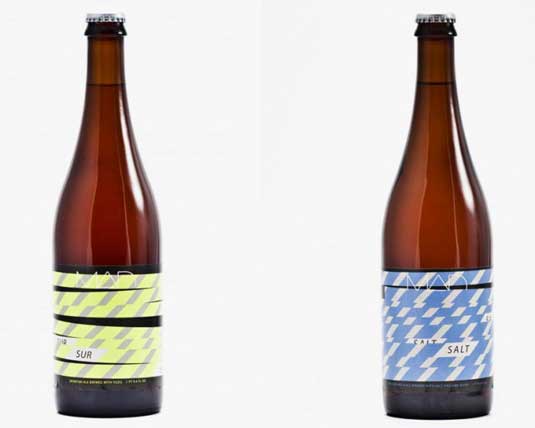 MAD Beer is a collaboration between brewer Mikkeller, and chef Jakob Mielcke, and the beers have been specially designed to be enjoyed with food. Keith Shore of Mikkeller is the man behind the label design, which, while being bold, distinctive and undeniably different, still remains very minimal and tells you only what you need to know.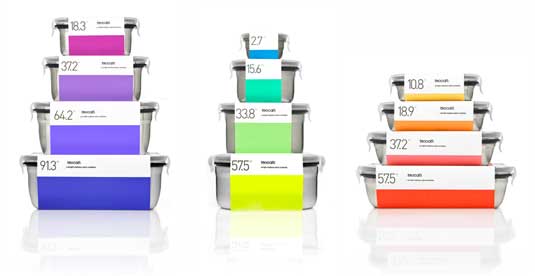 Anagrama came up with a great solution to the problem of presenting the customer with the product's wide range of sizes and capacity characteristics. They kept it clear and straightforward, using an eye-catching Pantone-style colour scheme.
They explain, "we developed a packaging system that would categorise the containers in a practical manner. Each product's capacity specifications come first in the design's hierarchy, and the distinctive colours come second."
05. Maki-san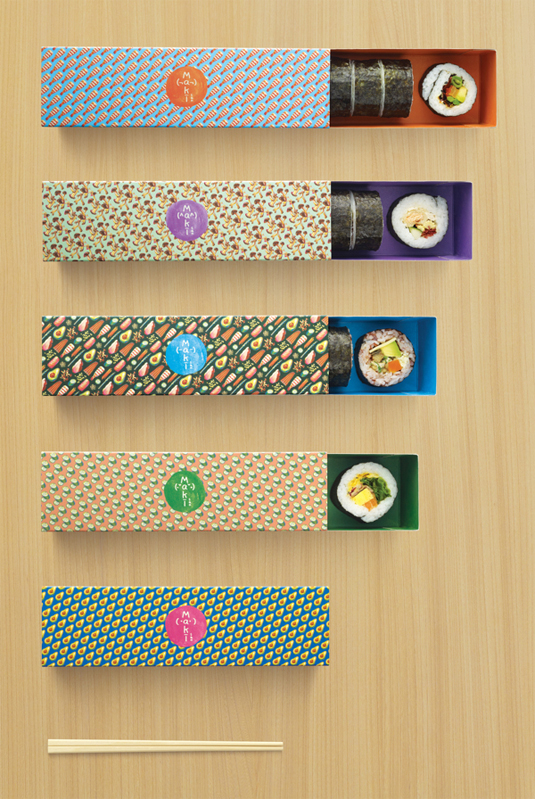 Kinetic Singapore has produced some perfect packaging for new sushi store Maki-San utilising fun, food-inspired repeat surface patterns.
Creative director Pann Lim ran the project, along with art directors Esther Goh, Astri Nursalim, Gian Jonathan, Jack Tan and Pann Lim, copywriter Eugene Tan and Joseph Davies and programmers Noel Chan and Tori Kuncoro.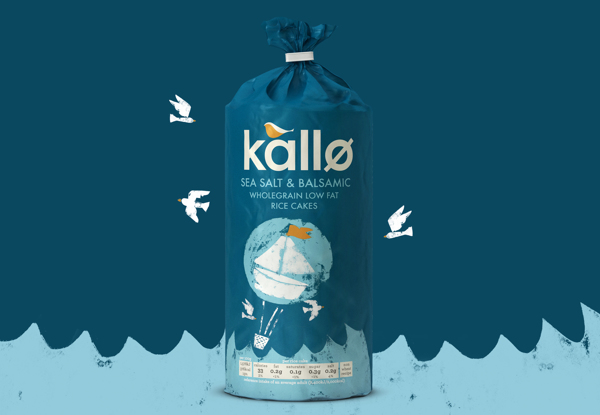 Kallo are an organic foods company offering healthy food that also tastes great. Design and marketing company Big Fish have redesigned Kallo's functional packaging with these new designs full of illustrations, poetry and love.
With a stylish choice of calming colours, the new packaging gives a handmade feel to the products by using traditional techniques such as lino printing. One touch we particularly love is the redesign of Kallo's logo with the addition of a bird perched atop the letter 'a' to give a more personal feel.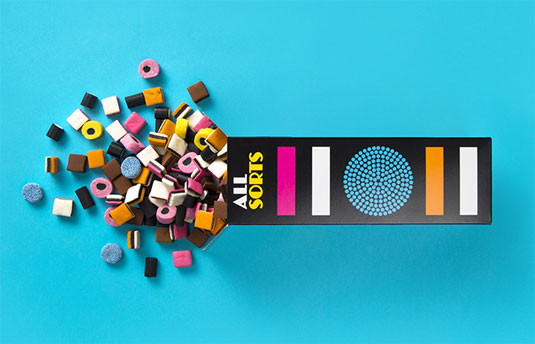 Liquorice Allsorts had a mini facelift from Bond Creative Agency for Cloetta - a leading confectionary company in the Nordic region. "The packaging bought the distinctive shapes and colours of the liquorice into the forefront of the design," they explain.
"The result was a bold and playful packaging design that allows consumers to easily identify the different varieties." We think this redesign is the kind of packaging that sweet lovers will lap up.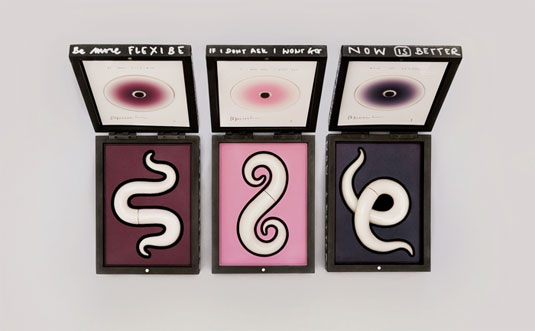 New York based design duo Sagmeister & Walsh are known for their inventive approach to creativity. They recently created a series of typography films to accompany their travelling exhibition 'The Happy Show' but it's not the films themselves that have caught our eye.
Here, art director and designer Santiago Carrasquilla, designers Christian Widlic, Esther Li, and Thorbjørn Gudnason have collaborated with Sagmeister & Walsh to produce some futuristic and almost alien-like packaging to accompany the films.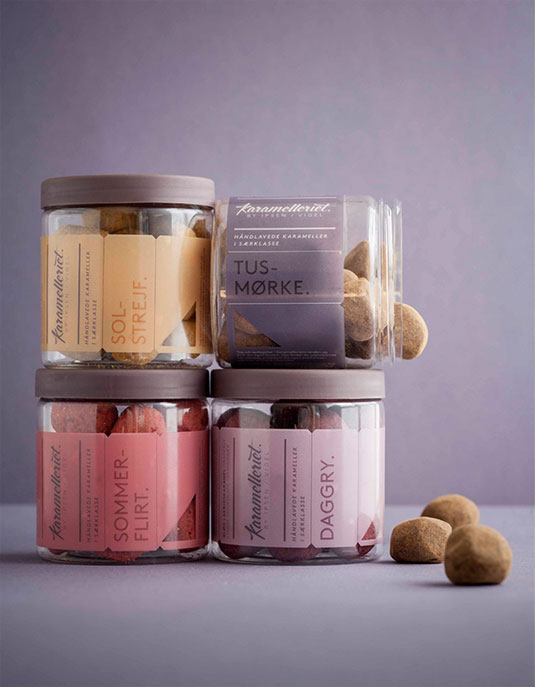 Copenhagen design studio Bessermachen created this frankly beautiful branding and packaging design to reflect the handmade aesthetic of the caramel producing Karamelleriet.
Creating an entirely new visual identity that contains everything from the logo to packaging to display and flyers, Karamelleriet has achieved an expression that is the caramel production worthy.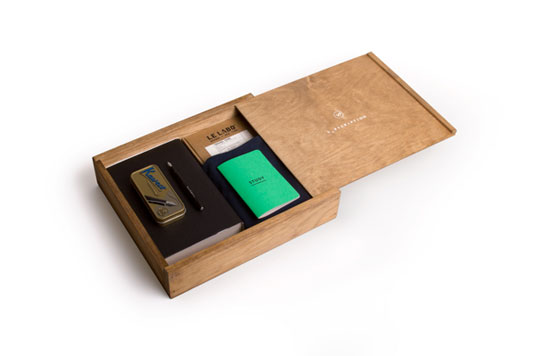 This design comes from New York's RoAndCo Studio - aimed specifically at men. Based on a new theme each quarter, SVBSCRIPTION packages include items geared towards individuals who have an appreciation for design, culture and quality.
RoAndCo explain, "For their debut parcel, SVBSCRIPTION asked for packaging that would be beautiful, practical and iconic. We packaged the items in natural wooden crates, nailed them shut and wrapped them in brown kraft paper for shipping.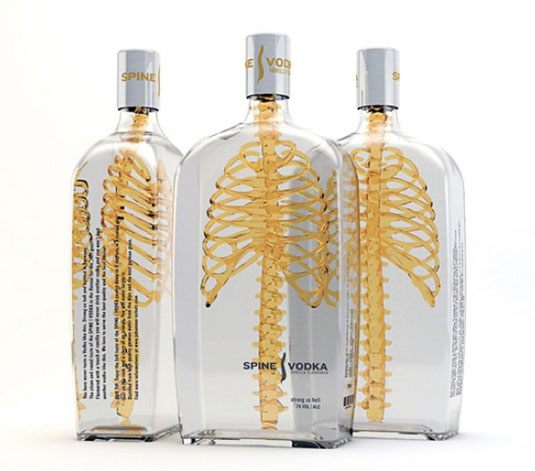 German designer Johannes Schulz created this inspirational packaging for Spine Vodka. "It was a private project I started after my graduation of an international communication design school in Hamburg, Germany," he explains. "Spine is a high quality product just like the design, reduced and simple with a consciously 'twist' in his message and a memorable name fitting to the project."
Integrated the spine with the ribcage to communicate a product with a 'backbone', the uniqe 3D design approach sets it aside from its 2D counterparts. "The transparent glass material stands for a product that don't has to hide something," Schulz concludes.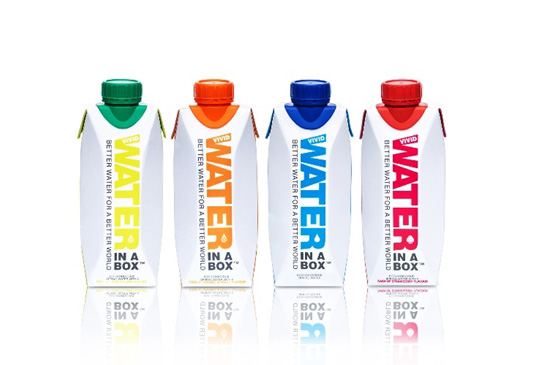 Environmental concerns mean that packaging design is increasingly moving away from plastic - and there can be no better illustration of this trend than Vivid Water's 'Water in a Box' range. It's the UK's first Tetra Pak carton-packaged water product and while this means you can't see the water itself, the branding more than makes up for it.
Brighton-based advertising agency Designate is behind the simple and clean design, which uses a blue and white colour palette for the main product and a water drop icon, aiming to make the packs 'instantly recognisable as a water product'.
"A simple, unfussy design emphasised the purity and cleanliness of the product and the freshness of the taste," explains Daniel Fagg, joint creative director at Designate. "The logo design was created in Swiss Black giving a confident bold look for this new upstart brand."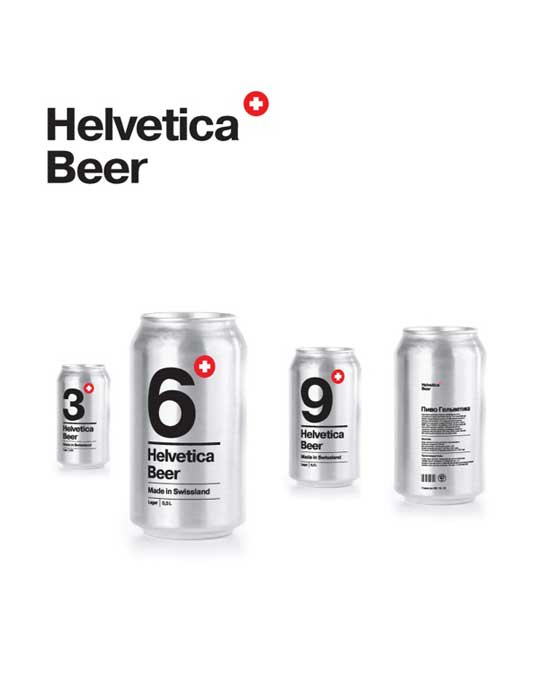 Students are renowned for like a beer or two. So we weren't surprised to learn that this cool new packaging design was a school project, designed by Sasha Kischenko at the British Higher School of Art and Design.
Tasked with creating a package design using type only, Kischenko opted to develop a concept for beer from Switzerland's historical Helvetic republic - so the typeface was an obvious choice.
The sophisticated design centres around a large digit informing you of the alcohol percentage, with a small Swiss Cross logo in the top right. Can colours, silver and black, correspond to lager or stout respectively. A simple but beautiful concept, we could see this product in the hands of many a student if it were ever to become a reality!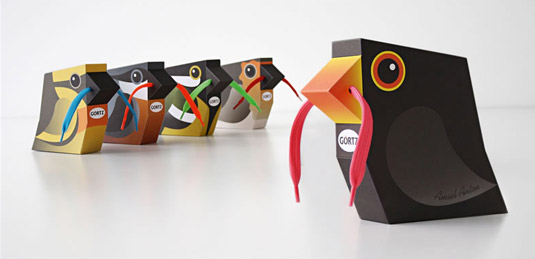 This gorgeous packaging design comes courtesy of design firm Gürtlerbachmann GmbH. Created to promote the kid's shoe section of department store Görtz, the team developed five different paper bird sculptures, each with a shoelace through its beak representing a small, colourful worm.
Each design represents a German native type of bird, including the tit and blackbird, which children can play with and customers encouraged to collect. The aim of the eye-catching design was to increase customer frequency to the sales area for children's shoes, as well as promote the Görtz store card.
These shoelace birds are just brilliant - injecting colour, fun and creativitiy into a customer's shopping experience. We can easily see how adults and kids alike would immediately fall in love with the adorable designs.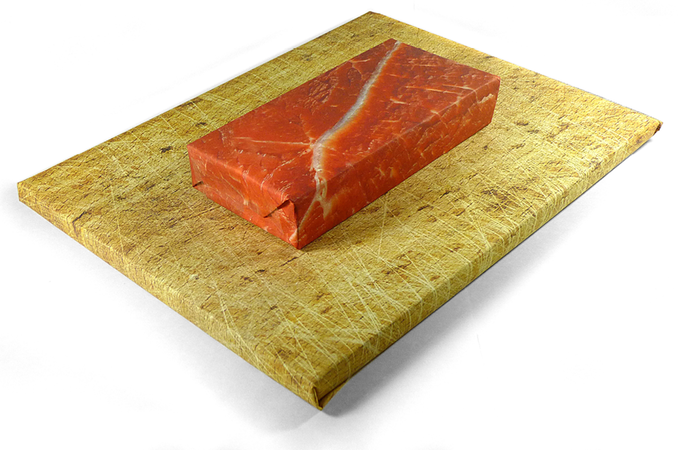 Food lovers and delicious design duo Gift Couture first brought us their brilliant burger wrapping paper and now they're back. This time, they've gone upmarket and are offering some supreme steak gift wrap.
Sarah Fay and Justin Colt started their gift wrapping business from their humble apartment in New York. The cheeseburger offering proved so popular - and has since sold out - that the pair have decided to further their foodie passion with a new Kickstarter project.
Working with D&K Printing, the steak set includes two 25x21in sheets of steak paper, one 25x21in sheet of cutting board paper, one sheet of white butcher paper, twine, one meat tray, and two gift labels.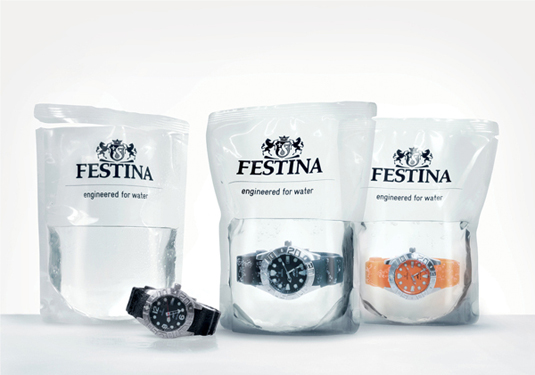 Many products make grand claims but few can demonstrate those abilities before you've even removed them from their packaging. Swimming against this current, if you'll pardon the pun, is Festina Watches, which has sanctioned the placement of its waterproof watches in a bag of water at point of sale.
The transparent packaging is filled with distilled water and the Festina Profundo watch is suspended inside. Dreamt up by Scholz & Friends, it's an ingenious solution that tells you everything you need to know about the watch without extraneous words.
The packaging design and art direction was handled by Ralf Schroder (amongst others) at Scholz & Friends.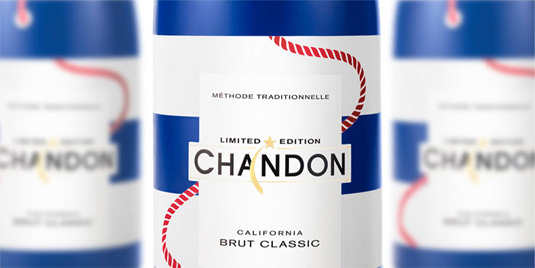 After the huge success of its American Summer limited edition bottles, sparkling wine brand Chandon approached London-based agency Butterfly Canon to create a new series of limited edition branding. The sleek design retains the elegance and playfulness of the original concept whilst replacing the 'Americana' approach with a more globally recognised nautical theme. This way, European and other non-American customers will further relate to the brand.
"Last year's design was so popular, we ran out of stock in a matter of weeks and the feedback from consumers was overwhelming," explains Chandon's brand director Morgan Robbat. "ButterflyCannon have again done a great job and we're confident that this year's design will have an even wider success." The bottles will be available in both 750ml and 187ml formats throughout summer.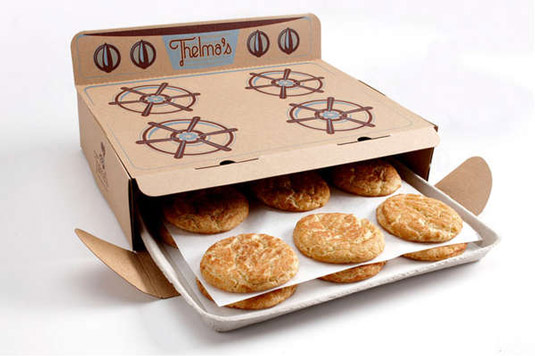 Thelma's is a cookie delivery business run by mother and son, Lana and Dereck Lewis. Each day, they lovingly bake chocolate chip cookies and snickerdoodles, and deliver them by the dozen, warm in this brilliant oven-inspired packaging design.
"Great-Grandma Thelma grew up in Monroe, Iowa, and was famous for her snickerdoodle cookies," the agency explains. "In honor of her 108th birthday this year, our client launched Thelma's - delivering warm cookies to businesses and selling ice cream cookie sandwiches at events. Saturday Mfg helped create the branding from scratch.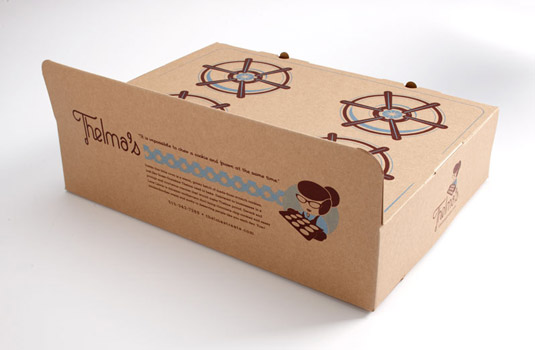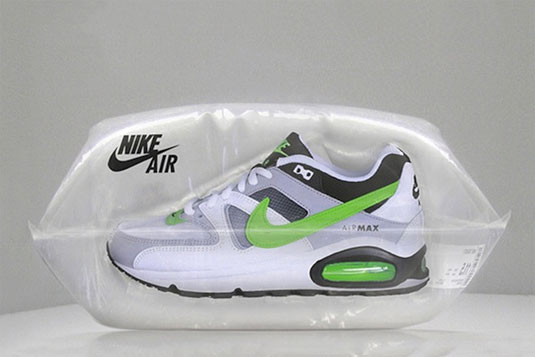 Nike Air is arguably one of the most popular sneaker designs ever released. Not content with a regular old shoebox, Berlin based agency Scholz & Friends came up with a brand new, reimagined packaging design for their favourite trainers.
Very much taking the 'Air' aspect into account, the team placed the sneakers in an air-tight plastic bag to give the illusion of floating trainers. Highlighting the Air cushioning of the brand, this design also reduces the risk of damage when shipping.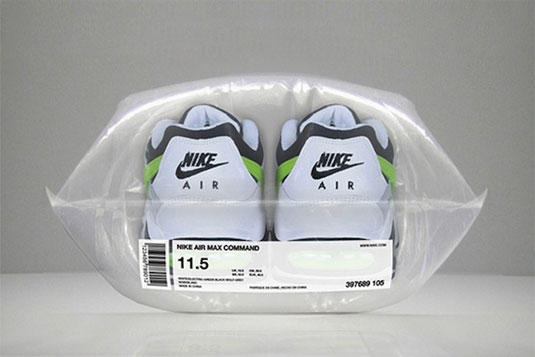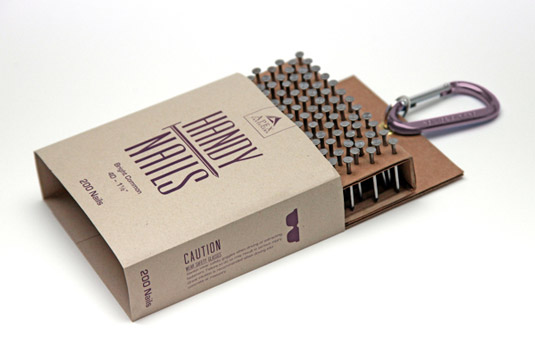 We love this project by art student Melissa Archer - anything that can make a boring set of nails look sexy gets the thumbs up from us. The simple but clever packaging hangs from the user's belt loop, providing easy access without reaching into a box, bag or pocket and being stabbed. The materials and typography used for the design adds a touch of sophistication and desirability to what would usually be thought of as a pretty mundane object.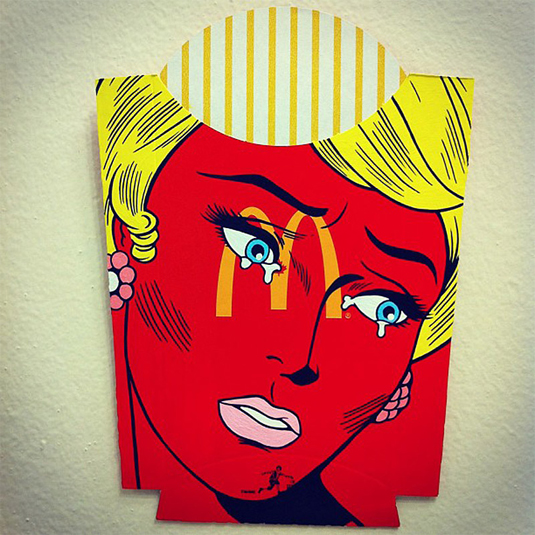 How about a side of art with your burger? McDonald's packaging is as recognisable as packaging comes but artist Ben Frost decided to mix things up by drawing some famous faces as well as some pop-culture icons onto the red and yellow box.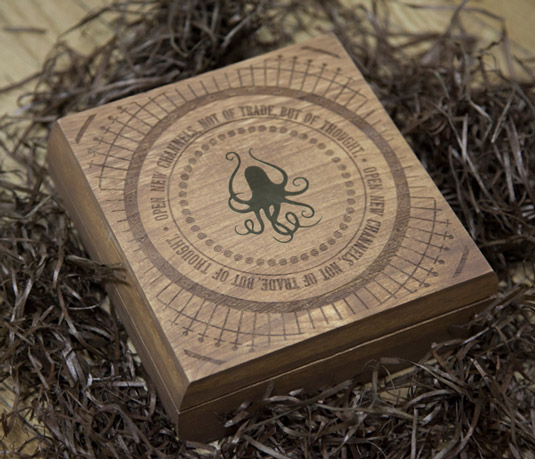 Here, designer Alex Pabian uses old naval symbols and a minimal design to reinvent the packaging for an exclusive brand of cigars. Alex is a Polish/South African graphic designer and art director, currently based in Miami, Florida. Recently, she undertook a project that involved the redesign of the case, labels and tubes. We love the vintage look and feel of this packaging design!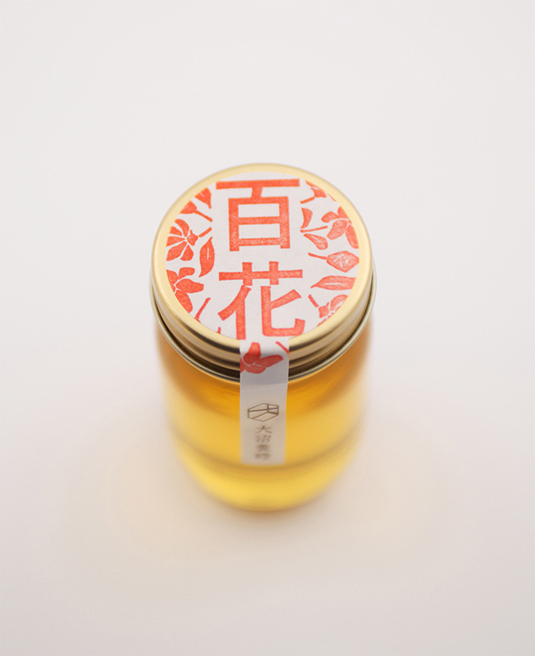 This offering from Japanese studio Akaoni Design is a bee-utiful example of 'less is more' when it comes to packaging. Consisting of a small jar, simple stickers, classic brown paper and an array of sweet coloured stamps to finish it all off. Art direction and design was taken care of by Motoki Koitabashi and it's clear he knows what's he doing when it comes to making a striking impact in the aisle.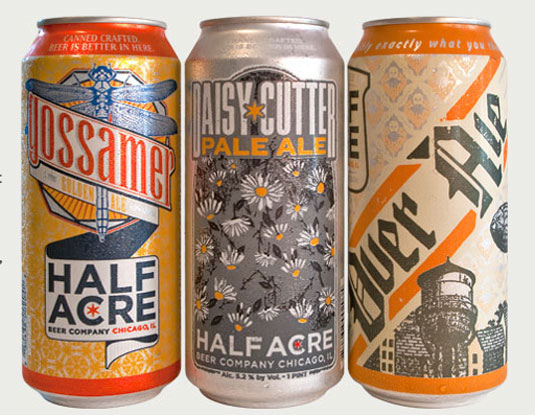 You won't be able to take your eyes off of these label designs created by artist Phineas Jones for speciality Chicago-based brewers Half Acre Beer. After each beer is lovingly crafted, the label is then designed to reflect the inspiration behind the brew. Ranging from cats and robots to donkeys and daisies, the labels are just as delicious as we expect the beer to be.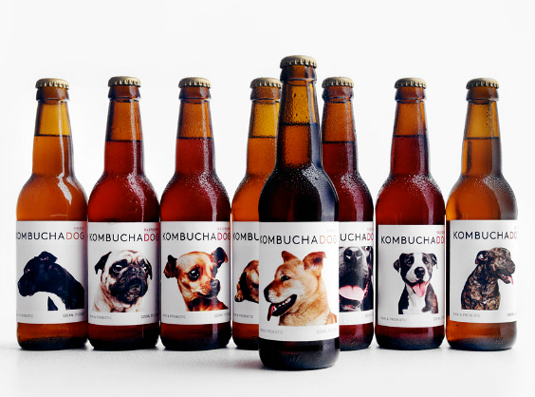 We love it when a good cause and good design collide! The story behind Kombucha Dog is the archetypal shaggy dog story, involving yoga, pet portraiture and Lindsay Lohan's lawyers; you can read it in full here. If one of the handsome mutts on the front takes your fancy, you can head to the website for information on giving them a good home. Be warned - you might fall in love with all of them!
26. Cervecería Sagrada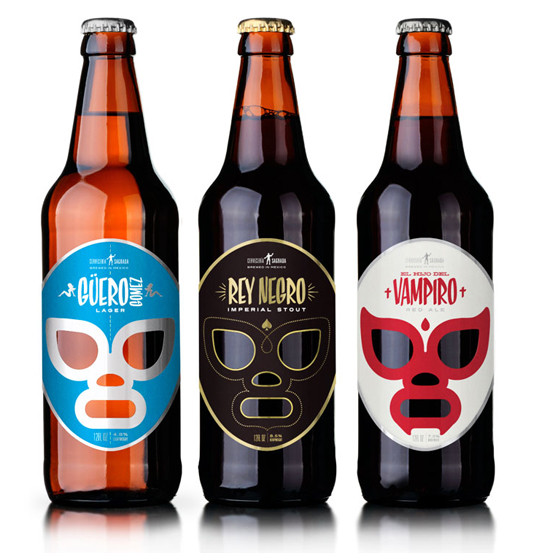 While Corona may be the most recognizable beer exported from Mexico, Cervecería Sagrada is a Mexican craft beer that captures the country's colorful history and spirit in its label. Designer José Guízar was inspired by Lucha Libre wrestlers, who wear colorful masks and have equally colorful personalities.
During the 1950s Lucha Libre were considered folk heroes and starred not only in the wrestling ring, but also in comic books and movies in Mexico. Guízar's labels recreate the masks of some of the most famous and recognisable of them.
27. Gruia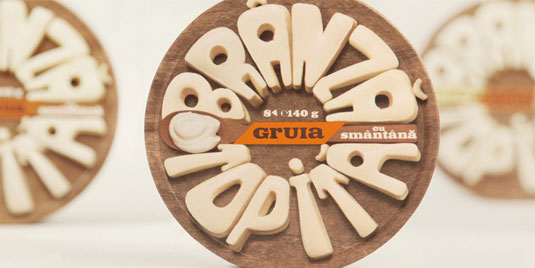 Foodies will love this one, as Romanian cheese company Gruia have used the cheeses themselves as inspiration for the typography on their new batch of packaging.
Created by Romanian agency Gavrila&Asociatii for the leading Romanian frozen and chilled food distributor Macromex, the new dairy brand is set to be a hit with lovers of good branding and packaging. The client requested that the branding use wood textures as a way to inspire 'naturalness' and convey approachability.
28. Forbes & Lewis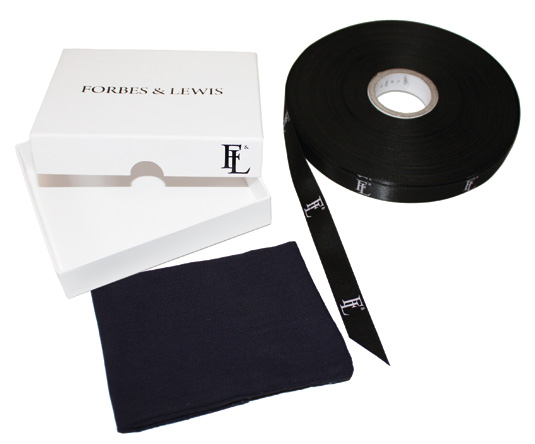 Graphic designer Sam Lewis Windridge launched luxury small leather and canvas goods brand Forbes & Lewis with Katie Forbes, paying homage to world heritage and traditional fashion styles, mixing the founders' love of traditional leather craftsmanship and "all things old and worn" with contemporary ideas.
And from the products themselves through to the branding and identity of the label, all design is kept in-house, affording Windridge and Forbes complete creative control. As well as designing two logos, the website and point-of-sale collateral, the pair paid particular attention to the brand's packaging: as with the products themselves, Forbes & Lewis gift boxes have a classic, timeless feel and come complete with ribbon, swing ticket, and cotton dust bag.
29. Morrisons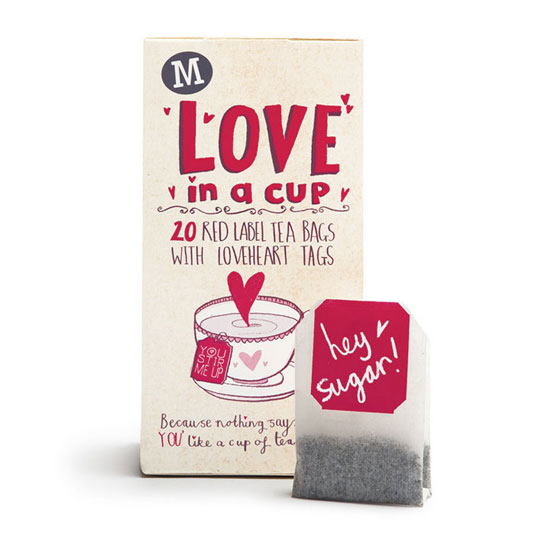 How do you take an essentially low-priced product and transform it into a high-value item? By the power of good packaging design, that's how! And by putting the 'lover' firmly back into 'tea-lover', this inspired packaging design for UK supermarket chain Morrisons does just that.
Created by Leeds based agency Elmwood, the tea bags come with five different romantic messages on the tags, so you can send your loved one a lovely little message with every new brew. We adore the quirky, hand-drawn illustration and handwritten typography that sets this packaging above the rest.
30. Stranger & Stranger Spirit No. 13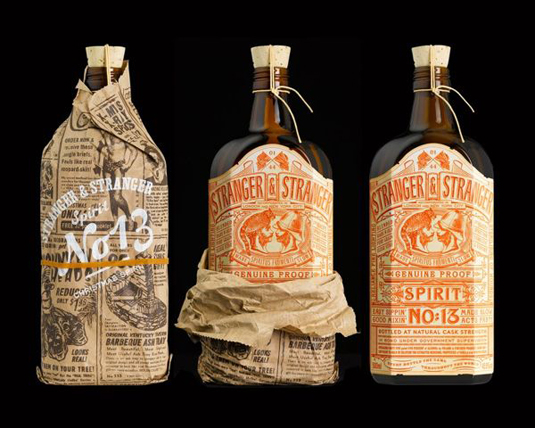 Beverage bottle branding guru Stranger & Stranger designed this limited edition holiday give-away liquor that features one of the most detailed labels you will ever see. The Spirit No 13 label just screams vintage and consists of over 500 words. To top it all off, the bottle is presented wrapped in a specially printed piece of newspaper that gives it what they call a 'moonshine' feel.
31. Face Cups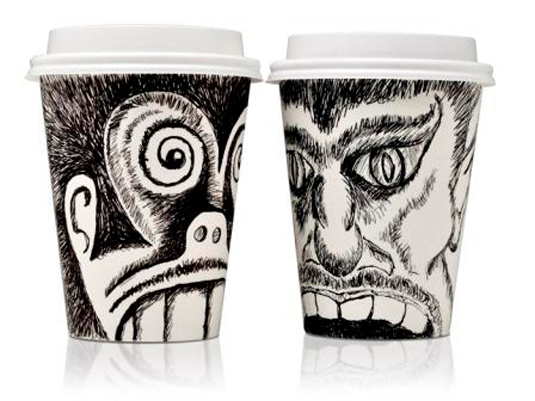 Jess Giambroni created these illustrated cups during afternoon meetings for German design studio Deutsch Design Work. Their quirky style has put them in high demand amongst friends and contacts, and Jess is looking to produce these for a coffee chain. This packaging design proves that doodling can lead to some amazing ideas.
32. Smirnoff Caipiroska peelable bottle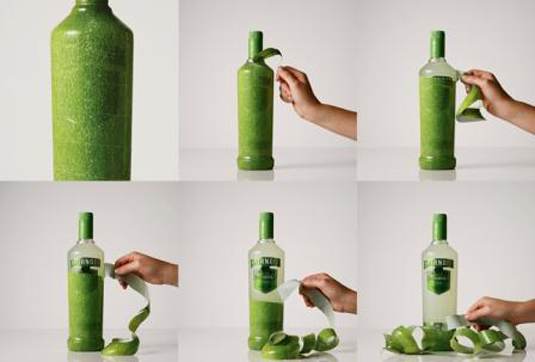 Many alcohol companies incorporate the idea fruit into their packaging design; however few do it as effectively as Smirnoff with this peelable bottle by J Walter Thompson. The packaging tells the consumer exactly what flavour it is and imparts the idea that the packaging was made with natural materials rather than being mass produced.
33. H&M gift package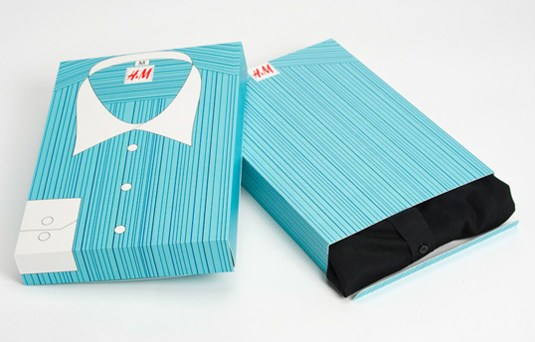 This concept by Linn Gustafson is similar to many gift packages being created currently but it bucks the trend by using bolder colours and the small touch of the H&M tag to make it more eye catching and realistic.
34. Origami Tea bags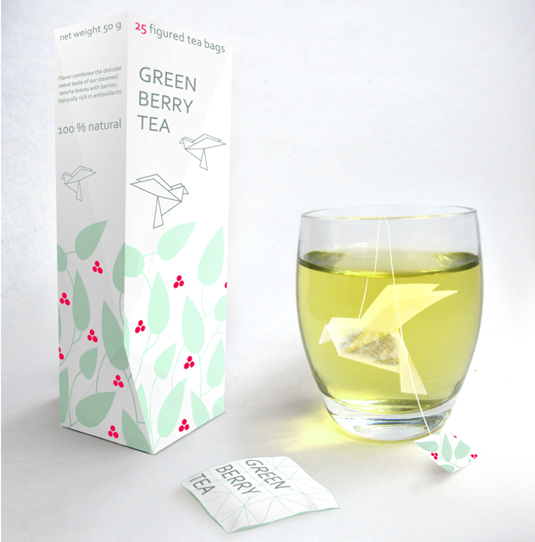 Designed by Nathalia Ponomareva, this packaging design adds a touch of beauty to making tea as well as combining two Japanese traditions: tea and origami. Although currently only a concept, we could easily see this design being mass produced as it requires very little extra money to make.
35. Point G Macaroons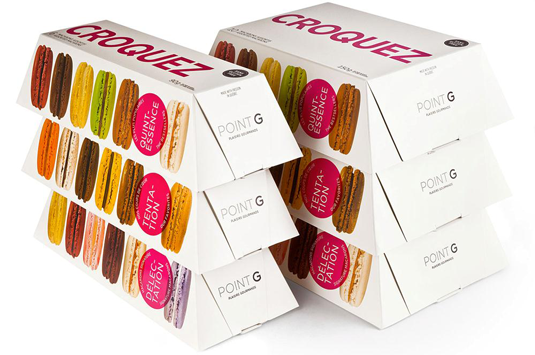 Created by French design agency Chez Valois, this packaging was always going to provoke reaction with a name like Point G ('the G spot' in French). But this simple and clear illustration on top of a solid box which unfolds easily makes it both beautiful and purposeful. This packaging may not be innovative but its form does follow its function which is the first rule of good design.
36. Movie-inspired drinks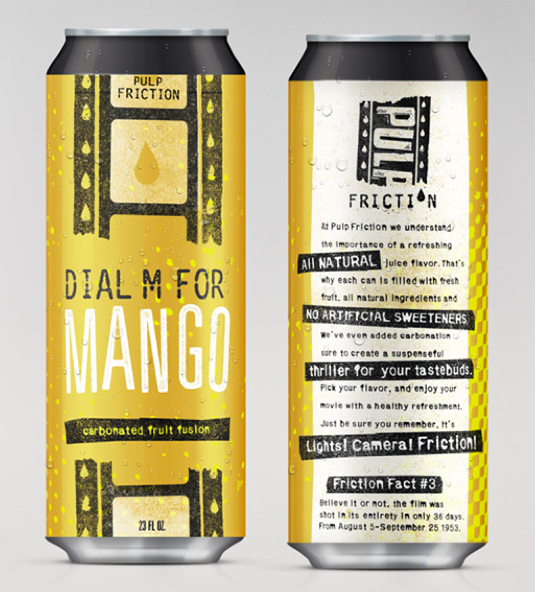 Created by Woody Harrington for fictional drinks company Pulp Friction this fantastic series of movie-inspired carbonated drinks - with titles such as 'Dial M for Mango' and 'Silence of the Limes' - is sure to win over the most hardened movie critic. But the fun and games don't end there, with nifty movie trivia to add to the enjoyment.
37. Flower Garden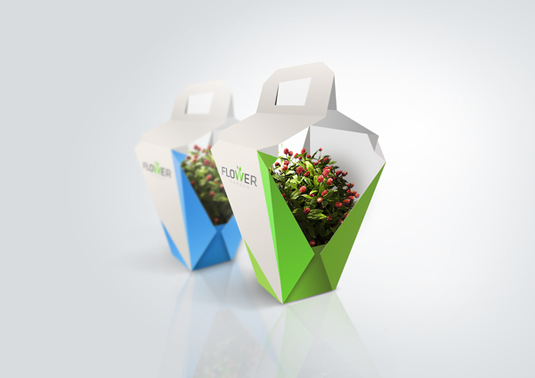 Many garden centres give you a plastic bag, which makes little sense as gardening is meant to help not harm the environment. It also usually ends with half the plant's soil having fallen out. This clever packaging by Milena Włodarczyk is made from a single strip of cardboard allows the viewer to check regularly on their new plant and is biodegradable, making the whole purchase carbon-neutral.
38. Milk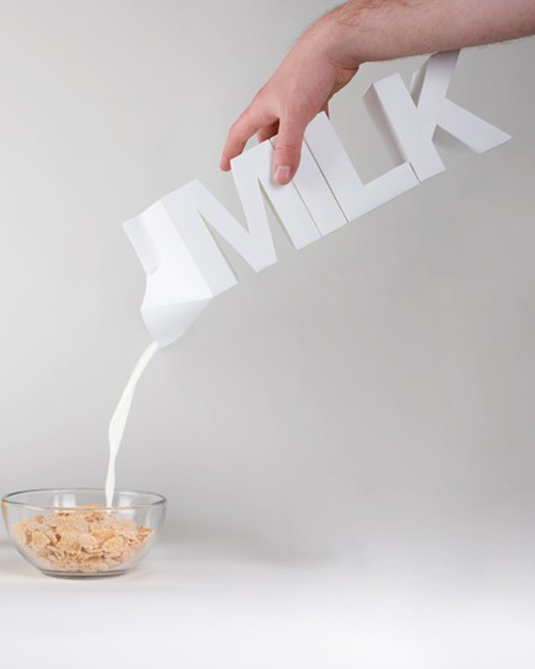 Have you ever seen a milk carton this cool? Not only did design agency Visual Advice create a working model, it also managed to make it the same dimensions as a normal two-litre carton. In a wider context this could also help children learn English if it were to be rolled out across other cartons!
39. Juice Skins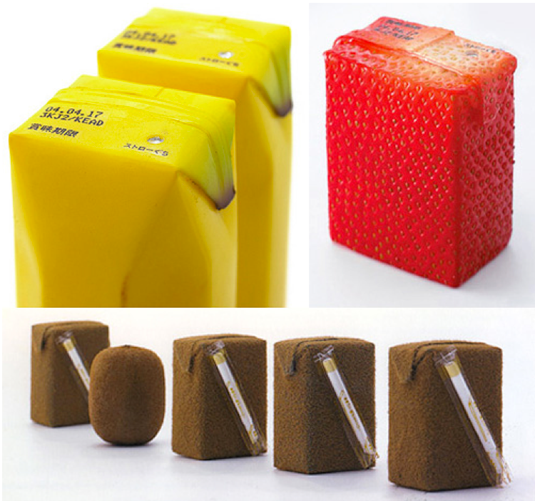 This innovative fruit packaging by Naoto Fukasawa (currently only available in Japan) is the next step in creating that tangible link between fruit and fruit juice. So far it's been developed into three flavours - Kiwi, Strawberry and Banana.
40. Scanwood: When wood is good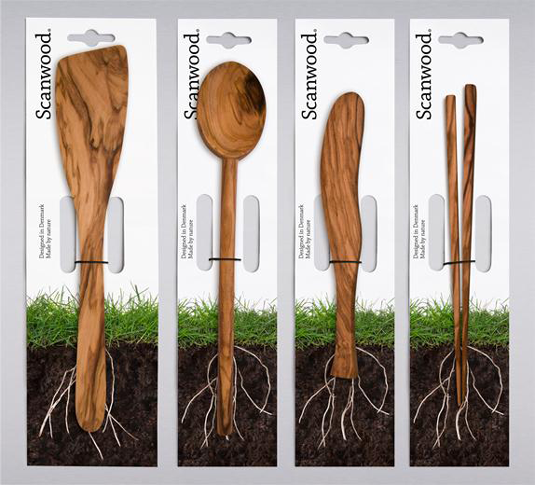 Being Denmark's leading manufacturer of wooden cutlery, Scanwood is constantly looking for new ways to sell its products. Scanwood's process of creating products from sustainable natural materials is explored visually, with the grass and roots bringing it all to life and visually synopsizing the whole story the company wishes to put across.
41. WFP Paints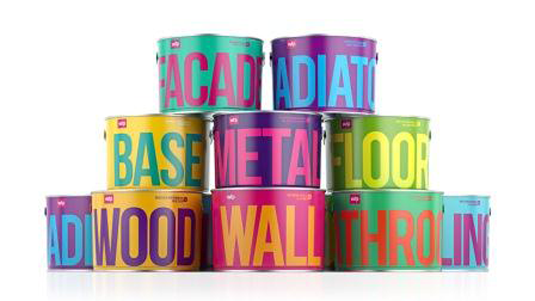 This design by Reynolds and Reyner for a small Finnish company takes the 'does what it says on the tin' concept to its logical conclusion. This effect is useful for the consumer because ultimately it makes it easier to know what material to use the paint for and with the bright and memorable colours it is sure to sell by the tin.
42. Sports Line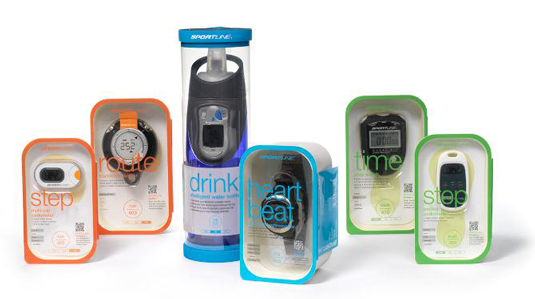 Santi Shiue has created a colour coding system to help the consumer understand what to buy depending on their skill level in the activity. Again the use of environmentally friendly materials is another key selling point in its packaging, and the shape makes it stand out with its vibrant hues and form.
43. NYC Spaghetti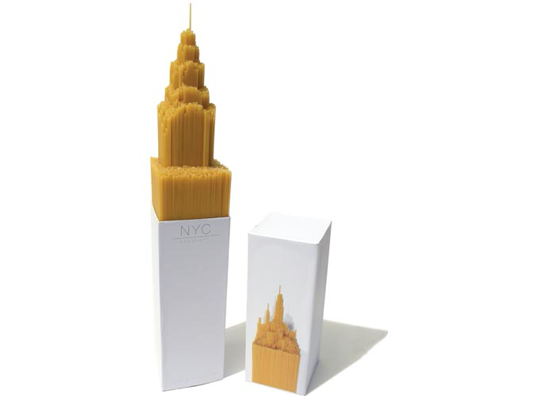 This award winning design from student Alex Creamer takes the simple idea of line creating form in a whole new direction. The bottom of the container contains a replication of the design stemming from the top, which in turn causes the spaghetti lines to be pushed into the shape seen above.
44. Headphone packaging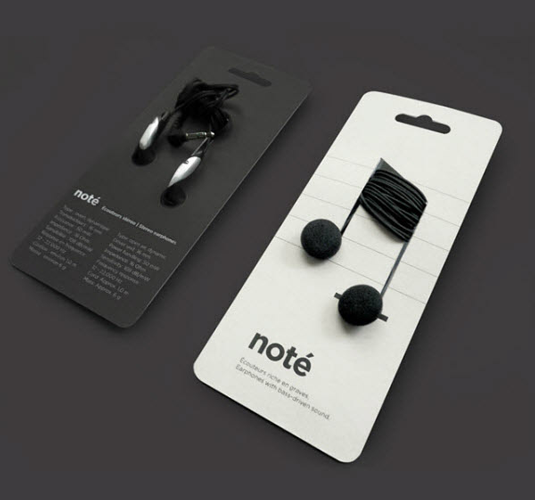 These headphones created by Corrine Pant show how a small modification to packaging design can make a big difference. By using the form of a quaver to alter the packaging the consumer instantly becomes engaged. The choice of black and white aids this, as it makes it bold and therefore more likely to sell.
45. Görtz 17: Shoelace Box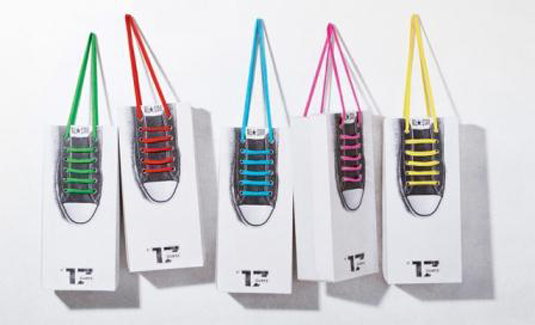 100% biodegradable and the first recyclable shoe bag, this bag from design agency thjink screams ideas. This Görtz bag changes the idea of the shopping bag by getting rid of the awkward plastic handle, introducing tough and stylish shoelaces and replicating the colours of Görtz 17 converse shoes. Best of all, you get a pair of free laces. Neat!
46. Scratch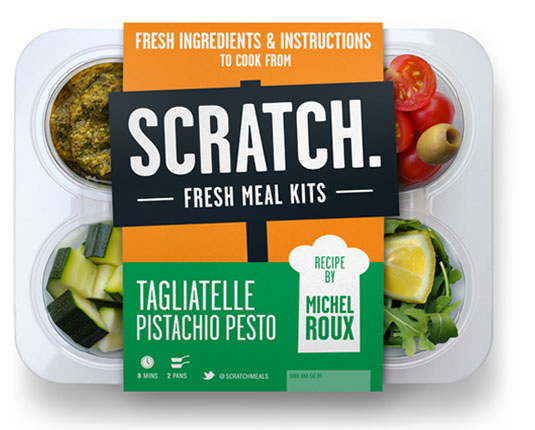 Scratch foods was set up by Phil Pinnell, with an idea of reinventing the ready meal without the stigma. Pairing up with his mate Alex and the Princes Trust and the Foundation for Social Entrepreneurs, Scratch Meals launched at farmers' markets. This stunning packaging design was crafted by Stephen Brennan.
47. Two Hoots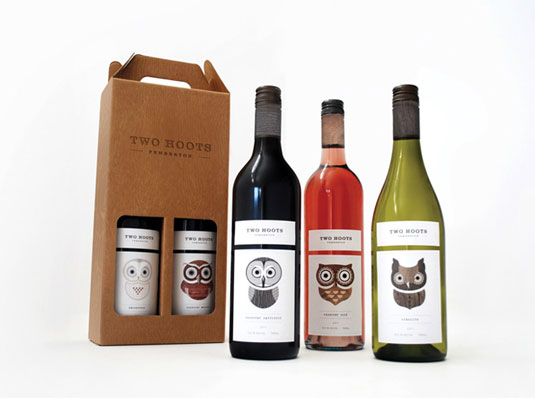 Perth based designer Maegen Brown created this packaging design for wine label Two Hoots. Her brief was 'a new wine collection targeting a young, fun and carefree audience (20-35)'. Each owl character has been designed to match the characteristics of the wine, with their textures and colours lifted from a variety of different trees.
48. Topography of America State Magnets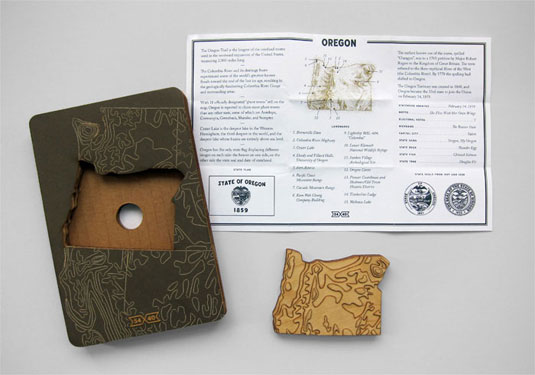 This stunning example of packaging design was created through a collaboration between Mette Hornung of Bureau of Betterment and Greg Jones Fifty-Four Forty. The packaging design was inspired by the jigsaw used to assemble each state, with a piece of charcoal coloured chipboard sandwiched between layers of thick cardboard.
To highlight each state's unique attributes, a small pamphlet with state facts was created with images and notable geographic landmarks.
49. Fox & Rabbit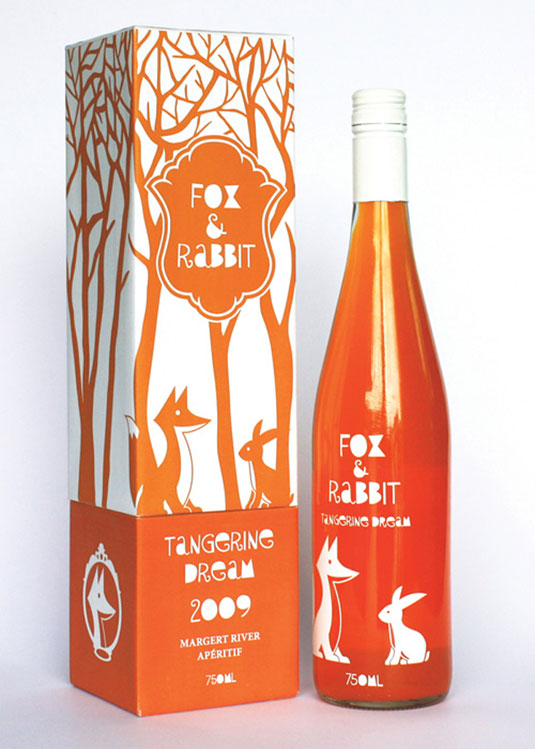 Graduate Ting Sia is responsible for this cute and quirky example of packaging design. Marketed for young professional couples and their sophisticated get-togethers, the inspiration behind the brand focuses on the relationship between the mischievous and cunning fox and the innocent and lively rabbit. We love the bold colour choice!
50. Pasta La Vista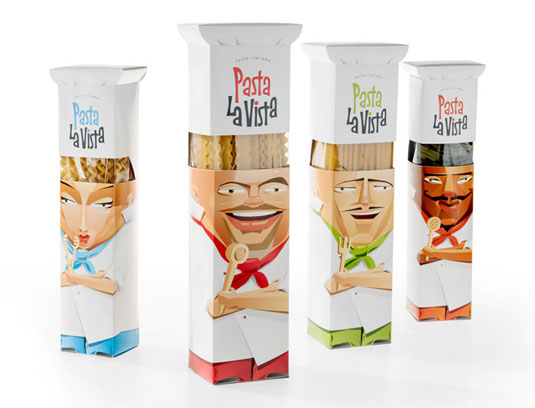 Created by Andrew Gorkovenko, this packaging design was created for a batch of homemade pastas represented by various illustrators. We love the illustrated chefs as well as the clever opening, showcasing the pasta as hair. Definitely a fun way to brighten up any cooking day.
51. Poilu paintbrushes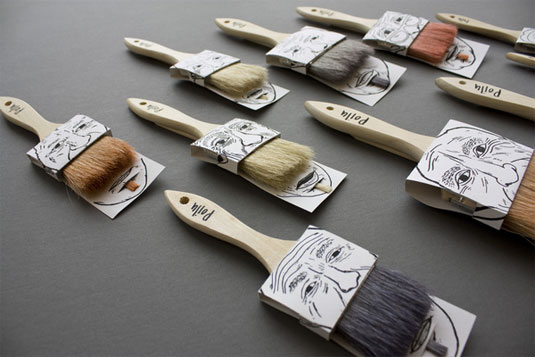 This excellent example of packaging design comes from Poilu and offers the function of assembling two paintbrushes together with only one cardboard piece which is printed on both sides.
The natural hairs of some paintbrush have been dyed to give the illusion of the moustache and beard combos. Not only do we love that but check out the awesome font at the top of the handle!
52. Minus The Bear: Steel and Blood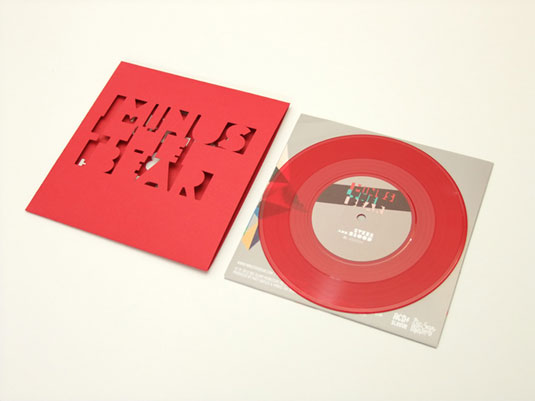 ACDSleeve are known on the indie music circuit as one of the best packaging design agencies out there. From CDs to vinyl, these guys cater to each band with impeccable design feats that'll have you buying the record even if you don't like the band.
This first cut cover 7in vinyl sleeve for Minus The Bear was made using thicker card than the cut cover CD Slipcase, with the cut cover sleeve designed around a printed inner sleeve from DMS. It was machine cut then handscored, folded, and assembled.
53. Flash Fiction Matchbooks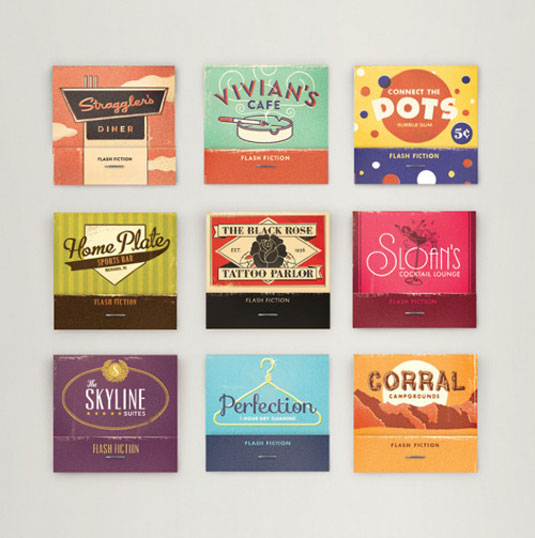 This series of matches packaging design was crafted by graphic designer Woody Harrington. For this project, he was asked to design a publishing piece for a series of flash fiction stories. Woody selected nine stories from Lou Beach's '420 Characters' series, and turned them into tiny matchbooks. Each matchbook's title, copywriting, colour palette, and illustrations refer to specific details in each particular story.
54. TeaPee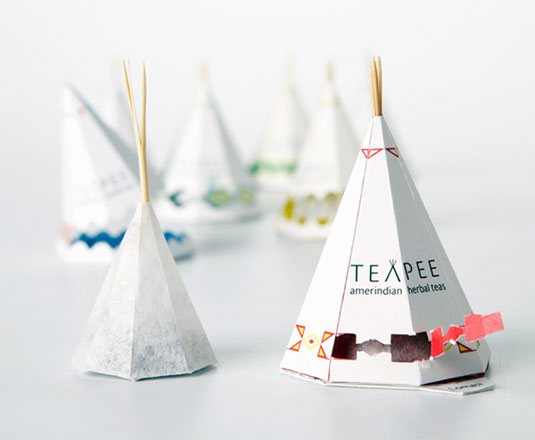 Canadian design student, Sophie Pépin, drew inspiration from the roots of the Native American nomadic lifestyle for this tea packaging design she calls North American Teapee. The Native American patterns that are placed around the packaging are cleverly torn away to reveal the teabags themselves.
55. Parmesan Pencils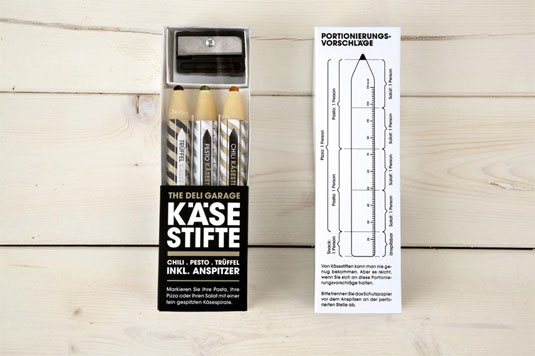 Take the Parmesan Pencil, sharpen it using the enclosed sharpener, and you have delicious, fresh Parmesan cheese on your meal. Designed by German based agency Kolle Rebbe, the company pride themselves on supporting small manufacturers of delicacies with lovely packaging design ideas. It won the silver Epica award last year too!
56. Portfolio package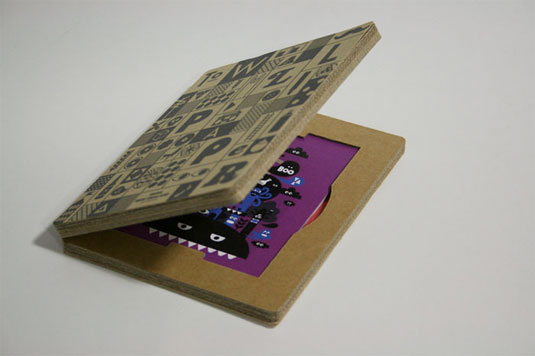 Wallpaper Mag* receives hundreds of portfolios every week; filling up the teams inboxes and often going unread. So, Greg Straight and THINK Packaging came up with this incredible packaging design with the aim of catching their receiver's attention. We think it works wonders - who wouldn't want to open this?!
57. Mighty Nuts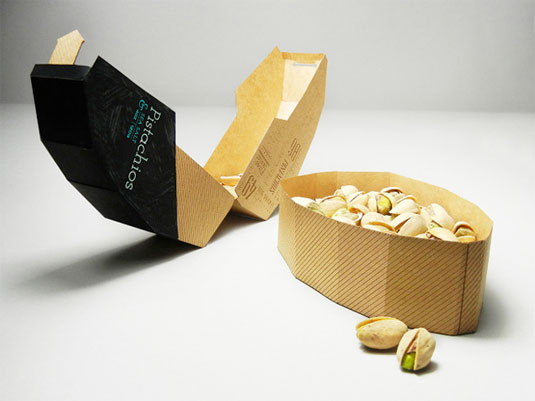 This incredible pistachio packaging design was created by student Maija Rozenfelde, who is still completing her degree in packaging design at Pratt Institute. We think she's certainly heading in the right direction with this offering!
She says of the design: "A crucial part of the thought process was to focus on user experience and second function of the package. The main intention was to create graphics that depict the crunchiness of pistachios, that's where the hand-made type treatment comes in."
58. Safari Friends Collection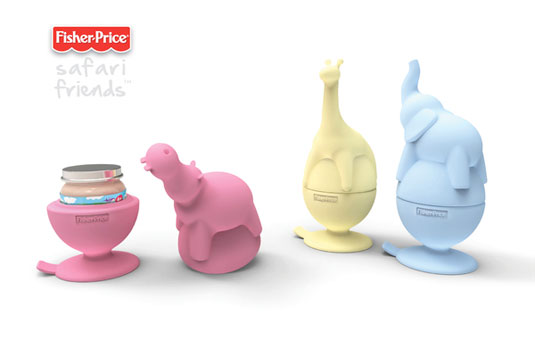 When Fischer Price wanted to released a series of baby food containers, they spared no talent with this gorgeous packaging design. Crafted by American designer Dave Pickett, the simple graphics and materials showcase the products sustainability. We also love the simple colour tones and cute selection of animal types.
59. Nuts.com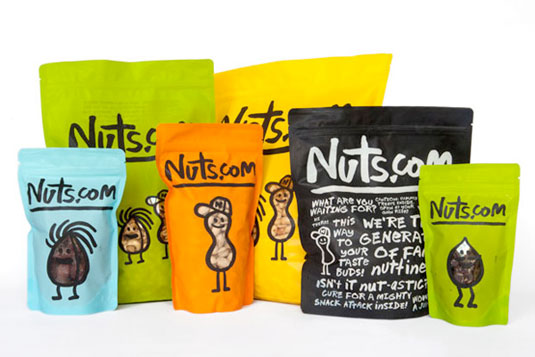 Nuts.com is exactly what it sounds like: an online retailer of every kind of nut, from peanuts, pistachios, pecans and pine nuts, to cashews, almonds and filberts, in salted, unsalted and organic varieties. The company finally secured the nuts.com URL and asked Pentagram's Michael Bierut to create a new identity and packaging design that would help establish Nuts.com as a distinctive brand.
60. Fruita Blanch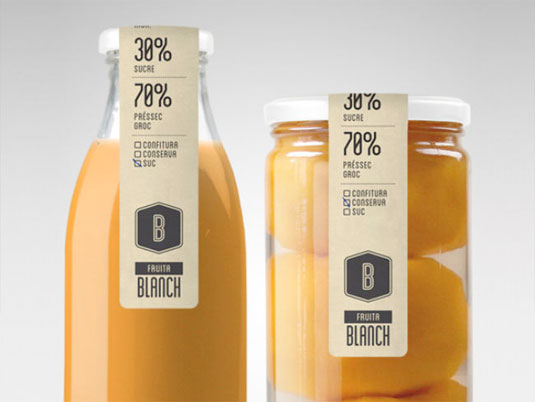 We love it when packaging design goes back to its roots; sometimes less is more and that's definitely the case with Spain's Fruita Blanch. Design agency Atipus developed a versatile set of multi-sized labels to fit every jar, with each label designed to reveal as much of the jar product as well as to emphasise its artisanal nature.
Additional words: Jim McCauley