Your next-gen Sony console deserves one of the best monitors for PS5. This highly in-demand gaming console, after all, is arguably the best yet, and not just among Sony's releases.
The PlayStation 5 is essentially a powerful gaming PC in console form, delivering impressive gaming performance in 4K at a blazing fast 120Hz refresh rate and with HDR support. And, not all gaming monitors can keep up with it. You need something that can run UHD graphics at 120Hz and has at least one HDMI 2.1 port. Otherwise, you'll only enjoy either that high resolution or the fast refresh rate, but not both.
Since we've tested, used, and reviewed many gaming and PC monitors, including some of the best 4K monitors on the market, we're here to help you find the best gaming monitor for that ultimate PS5 gaming experience. Noting features, value, and quality, we've included some excellent choices that we've thoroughly tested and reviewed (see our how we test page for more info). The rest, we're recommending based on our knowledge and expertise, as well as reviews from real-world users.
Remember that some of our picks below do not have that 4K at 120Hz gaming capability, but were chosen specifically with budget-minded PS5 gamers in mind, especially those who are less particular about getting the full experience. The rest, however, will let you live your best PS5 life.
Pair your next-gen Sony console with one of the best monitors for PS5, whether you're seeking a fantastic 1080p budget model or you want the ultimate display for PS5 gaming. We've even included some of the best curved monitors for complete immersion. Here are the best monitors you can buy today to pair with your PS5.
If you prefer something a bit bigger, you'll find similarly fantastic picks for the best TVs for PS5. And, if haven't quite snagged one of these elusive consoles, check out our PS5 restock first. Still rounding out your rig? Maybe add one of the best PS5 controllers will help you complete your setup.
The best monitors for PS5 available now
The MSI Optix MPG321UR-QD proves that you need not spend a lot of money to tick all the things on your PS5 list. While not cheap, its sub-$1,000/£1,000 price does make it appealing to many gamers. That's especially when you take a closer look at its features.
Beyond delivering sharp visuals in vibrant colours, this 4K display comes with that coveted HDMI 2.1 ports, which means it's more than capable of running your PS5 games at that 4K at 120Hz level and accommodating your Xbox Series X at the same time. It's also Nvidia G-Sync compatible and comes with DisplayHDR 600, which is excellently executed. Since it's got a 32-inch panel, it's also the perfect size for PS5 desktop gaming.
Those who really want to get their money's worth will also be overjoyed to know that it boasts excellent colour accuracy and coverage – 99% Adobe RGB, 97% DCI-P3, and 143% SRGB, to be exact. Those, alongside its USB-C port and KVM features, make it a boon for content creators who might not have money to splurge on a high-end, pro-level monitor just yet.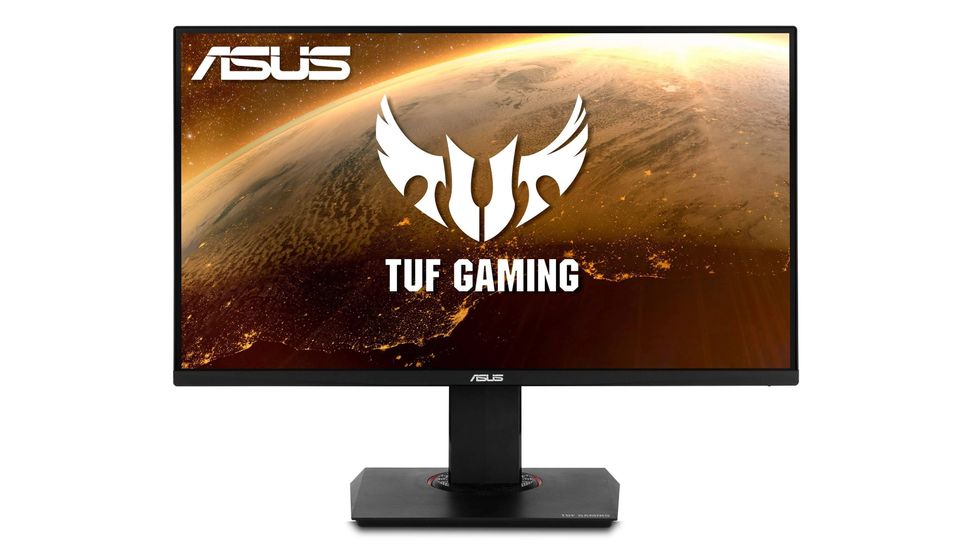 Finding the best monitor for PS5 that can do 4K gaming at a budget-friendly price is fairly tricky. But, that doesn't mean they don't exist. Take the Asus TUF Gaming VG289Q, for instance. You won't have to break the bank to gain access to a stunning 4K resolution here.
You also get an IPS panel that can handle light creative work thanks to its 100% sRGB and 90% DCI-P3 colour gamuts and 350 nits of brightness. The build quality on the monitor is just as impressive. And, at 28-inches, the Asus is just big enough for comfort and small enough to fit into smaller or cramped spaces.
Of course, Asus did cut some corners to keep that attractively low price. There's no HDMI 2.1 port here, so you won't be getting that 4K resolution at 120Hz refresh rate. The refresh rate is limited to 60hz no matter what port or device you're using. However, you can still take advantage of that 4K resolution. Considering the price, that's more than a fair trade-off.
Look no further than the Gigabyte AORUS FV43U if you're in search of the best monitor for PS5 that's the whole package. At 43 inches, this massive display is not for the faint of heart. But, it's perfect if you're looking for an overwhelming visual experience. Not only does it come with two HDMI 2.1 ports (that way, you can also add an Xbox Series X to your gaming setup) for that UHD at 120Hz gaming goodness, but it also has VESA-certified DisplayHDR 1000 for a rich, vibrant image. You'll be hard-pressed to find a smoother, more detailed, or more dynamic display to pair with a PlayStation 5.
The AORUS offers more than just a stellar panel. LED backlighting for additional immersion, two 12 watt speakers utilising Space Audio for truly impressive sound, and KVM for easy switching between devices are all on offer.
Of course, that all comes at a price. This monitor is not for the budget-conscious. And, its size is not ideal for smaller setups. But, if you're ok dropping more than $1,000/£1,000 and can make space for it, you'll be in gaming heaven.
If the Gigabyte AORUS FV43U sounds like the best monitor for PS5 if it were just a bit smaller, then the Samsung Odyssey G7 is for you. This stellar display packs most of the same features that make the AORUS so great into a 27-inch form factor. That includes the all-important HDMI 2.1 connectivity for UHD at 120Hz gaming as well as HDR support. So, not only do you get all that performance in a more manageable package but at a much more reasonable price.
Of course, its 300-nit brightness is nothing to write home about, and the display's HDR 400 won't hold a candle to the FV43U's HDR 1000. But, that's more than enough dynamic range for the average gamer. It still is one of the best displays out there for PS5 and PC gaming. And, you'll save enough money getting one of these that you can grab a few extra games or a pair of headphones that can take advantage of the PS5's 3D audio support.
The MSI Oculux NXG253R is an excellent gaming monitor that straddles both the next-generation console gaming world and the PC gaming universe. A 1080p monitor with no HDMI 2.1 port, it doesn't completely commit to being a PS5 monitor. However, its mid-range price does make it a compelling option. Meanwhile, it's got that whopping 360Hz refresh rate, 1ms response time, and 400 nits of brightness, which also makes it ideal for PC gaming.
So while it is one of the best monitors of PS5, this MSI offering is ideal for gamers who split their time between their PC and their PS5, especially if they want just want one gaming setup to rule them all. Getting the MSI Oculux NXG253R means that they're not only saving money, but also saving space – especially since it is a 24.5-inch panel that doesn't take up much desk area either. Other things to love here are the Nvidia G-Sync and Reflex Latency Analyzer, both of which improve your gaming experience, and a highly ergonomic design so you can be comfortable no matter what platform you're on.
The BenQ EX3410R monitor boasts a fast refresh rate, Adaptive-Sync, and excellent blur reduction and overdrive features, making it ideal for gaming. That's on top of its curved design that offers an immersive field of view, gorgeously saturated colours, and a high contrast ratio of 3,000:1. When we did our BenQ EX3410R review and testing, we were particularly blown away by the screen's impressive set of built-in speakers, which delivers powerful bass and a lot of volume to fill a small- to medium-sized room.
The only downside is that with this being a 1440p panel, PS5 gaming will default at 1080p because the console doesn't yet support the higher resolution. It also means that you wouldn't be able to take advantage of that coveted 4K at 120Hz gaming experience. Still, the BenQ EX3410R deserves a place on this list because Sony has said that support for 1440p output resolution will soon be added to the PS5's list of capabilities. And, even if that doesn't happen anytime soon, this monitor still makes for an excellent PC gaming and media consumption display.
When it comes to getting a great price to performance ratio, it's hard to beat the Gigabyte M32U. Especially because it delivers that 4K at 120Hz gaming experience, which is the dream when it comes to PS5 gaming, without burning a massive hole in your bank account. This relatively affordable entry also boasts two HDMI 2.1 ports, 350 nits of brightness, and 90% DCI-P3 and 123% sRGB colour support in its 31.5-inch panel that's the perfect size for both up-close and sit far back gaming – certainly more than enough for the average PS5 gamer.
It offers VESA DisplayHDR 400 as well. While that might not be enough for the more discerning gamers, it's certainly enough for getting back some of the lost details, helping you to see enemies better in dark and bright scenes. Can you get these features on a cheaper display? Sure, if you're willing to sacrifice that sharp ultra HD resolution. If not, this is one of the best monitors for PS5 out there that won't break the bank. With the current supply chain shortage, the Gigabyte M32U is a little harder to find in many countries at the moment, including the UK. However, like most peripherals, more stock should become available soon, so keep an eye out.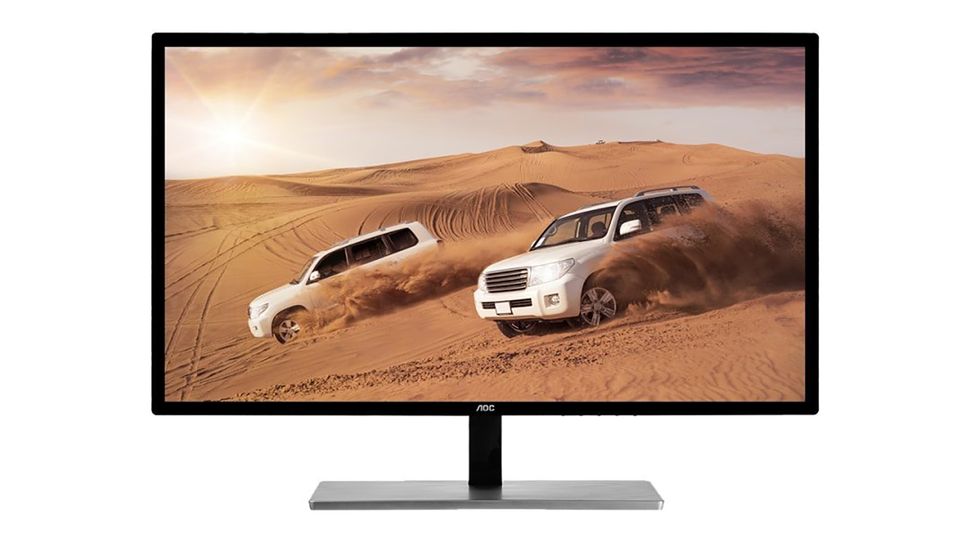 We've already highlighted the Asus TUF Gaming VG289Q as the best monitor for PS5 for economizing users. But if you're on a still tighter budget, the AOC U2879VF is worth considering. It's the cheapest monitor on this list, but that doesn't mean it skimps on features. There's no 120Hz gameplay, but a 1ms response time and 60Hz refresh rate should still offer smooth play even during intense action scenes. The image quality is certainly not the best, but it's very respectable for the price, making this a sound choice for anyone looking for a cheaper monitor for the PS5.
Much like the BenQ EX3410R, the MSI MPG Artymis 273CQRX-QD is banking on the fact that Sony shall be offering support for 1440p output resolution on the PS5 soon. But, unlike BenQ's 1440p gaming display, this one comes with a list of advantages that makes it a better PS5 monitor proposition.
First, it comes with MSI's 'Console Mode,' which allows it to accept a 4K signal from the next-generation console even if its maximum display resolution is 1440p. Second, it's also one of MSI's gaming monitors that work with your PS5 to take advantage of that butter-smooth 120Hz gaming (this monitor boasts a refresh rate of up to 240Hz). So, even if it isn't the 4K, 120Hz, HDMI 2.1-touting ideal match for the PS5, it's still very much a terrific monitor for it.
We've also found, which you can read more about in our MSI MPG Artymis 273CQRX-QD review, that it delivers great colour accuracy and a wide colour gamut on top of its seriously impressive gaming credentials.
If the Gigabyte M32UC sounds familiar, that's because it's the darker, curvier version of another entry on this list, the Gigabyte M32U. While the latter delivers better ergonomics and a more accessible price tag, this mid-range version comes with better specs including a higher overclocked refresh rate of 160Hz that should serve your fast-paced PC games well. Meanwhile, its fine selection of ports makes it a versatile monitor that should see you through most of your PC viewing needs.
As a PS5 gamer, you'll max out at 120Hz. However, you'll still enjoy that deep immersion upgrade it offers, thanks to its 1500R curvature, 3000:1 contrast ratio, and 123% sRGB colour gamut. And, that's for not much more than the M32U.
That's not to mention its terrific gaming performance and excellent picture quality. The Gigabyte M32UC might not be the cheapest option out there, but it's one of the most affordable ways to get that 4K at 120Hz gaming, which makes it among the best value choices for PS5 gaming.
How to choose the best monitor for PS5
Choosing the best monitor for PS5 isn't so straightforward, especially if you're still unfamiliar with your console's next-generation features. While you can use any monitor with an HDMI port in conjunction with the PS5, you need one with the newest standard, HDMI 2.1, to achieve that UHD resolution at a 120Hz refresh rate. Since that 2.1 standard is new, models sporting it are few and far between. They're also typically on the pricier side.
However, if you're ok compromising on the resolution and refresh rate, you can still get great visuals at a more affordable price. A lot of PS5 users are happy with their lower-resolution (1440p or 1080p) monitors, and are still getting great visuals without the speedy 120Hz refresh rate. PS5 doesn't support 1440p, but it'll still run games on them at 1080p.
PS5 consoles also come with HDR (High Dynamic Range) capabilities, so getting a monitor that delivers proper HDR will certainly improve not just your gaming experience, but also your chances for seeing enemies. A monitor with a wider dynamic range will deliver more details in bright highlights and dark shadows, which means you'll be able to see your enemies better, especially in dark areas.
Many inexpensive monitors with HDR support come with VESA certified Display HDR 400, which delivers a peak brightness of 400 nits, while others offer HDR10, which supports 10-bit color. However, if you want a more elevated HDR experience, the best monitors for PS5 would have at least 600 nits of brightness and full-array local dimming. Just be mindful of the price tag, as such monitors tend to be pricier.
What kind of monitor is best for PS5?
The best monitor for PS5 should take advantage of its one HDMI 2.1 port. Unfortunately, the HDMI 2.1 standard is very new so you won't find many displays with it. But, the ones that do will let you achieve a blazing fast 120Hz refresh rate at a stunning 4K resolution.
Since the PS5 also comes with HDR support, you'll want to get a monitor that can give you those deep contrasts as well. The best ones currently out there offer an immersive VESA DisplayHDR 1000. But, of course, this all comes at a price, and the best monitor for you is the one that can hit that sweet spot between performance and budget.
Do you need an HDMI 2.1 monitor for PS5?
While you can get the most out of your next-generation console with an HDMI 2.1 connection, it's not necessary. As long as your monitor has an HDMI port, you can connect them. You'll just be limited in the resolutions and refresh rates you can achieve. An HDMI 2.0 port, which you'll find on most gaming monitors, will still allow for that crisp UHD resolution. You'll just be limited to a 60Hz refresh rate.
Is it better to play PS5 on a TV or monitor?
You can find both monitors and TVs sporting that HDMI 2.1 connection. That means that you'll achieve the same 4K resolution at 120Hz no matter which one you choose. The main differences between the two then come down to price and size. Of course, gaming TVs capable of that high-end performance will be much bigger, so if you plan on sitting back on the couch while playing, they're the better choice. But, of course, if you're trying to fit something on a gaming desk, even the largest monitor will be the better option.
Gaming TVs sporting an HDMI 2.1 connection are also much more expensive. Unfortunately, unlike some HDMI 2.1 capable monitors, you won't find a mid-range or budget alternative.
What other specs should I look for in the best monitor for PS5?
There are a few keys specs to look for when choosing the best monitor for PS5. We've mentioned HDMI 2.1 above. After that the big spec to consider is aspect ratio and resolution. High resolution means more pixels on screen, so finer, smoother detail. The PS5 can output at both Standard HD resolution (1920 x 1080 pixels) and higher 4K resolution (3840 x 2160 pixels). 4K monitors are more powerful, but you pay for that. And 8K? Sony does say that the PS5 is capable of running games at 8K, but the firmware doesn't currently support it and there are no games that support it, so save your money.
As for aspect ratio, we'd recommending sticking to the standard widescreen aspect ratio of 16:9 "widescreen". That will a maximum resolution of 1080p or 4K should be perfect for enjoying gaming on the console.
Finally, as well as resolution, you'll want to look at a monitor's refresh rate, response time, and input lag. Measured in hertz, refresh rate refers to the highest framerate a game supports – or how many time a second a monitor can impress an image. The higher the rate, the more frames of animation the PS5 will be able to animate in each second and the smoother the animation will be. While we would use the PS4 with rates of between 30fps and 60fps, the PS5 has taken that up to between 60 and 120fps, so you really want a monitor with a max refresh rate of at least 120Hz.
PS5 games also support high dynamic range (HDR), which offers a wider range of darkness and light. HDR monitors are brighter and have more accurate colours in shadows and bright patches, but be aware that HDR is not always done well. Some monitors support is but don't have the maximum brightness level needed for true HDR, for which a monitor needs at least 500 nits of brightness.
Related articles: