The release of Apple's M2 MacBook Pro 14 and 16 three months ago gave us hope that we'd start to see big deals on the previous generations of its most powerful laptops. Finally, we've found the deal we were waiting for, with a massive $800 off the MacBook Pro 14 M1 Max.
Amazon has the 32GB RAM, 1TB SSD MacBook Pro 14 M1 Max for $3,499 $2,699. That's the cheapest price on record for this mighty configuration, beating the best price we had seen so far by $150. And if you don't need quite so much power, Amazon also has the MacBook 14 M1 Pro now at $2,499 $1,998.99.
These laptops were released in 2021 and have since been surpassed by this year's M2 Pro and Max-chipped devices. But we think most people will struggle to find anything to complain about with the performance of the M1 Max, which was designed with demanding media work in mind. When we balance performance and price, the M1 laptops still top our pick of the best laptops for video editing.
For more on this deal, and why we think it's worth it, scroll down for the full details. If you're looking for a different configuration or a 2023 M2 MacBook (or if you're not in the US), see the other options at the bottom of this page or check our roundup of the best MacBook Pro deals overall.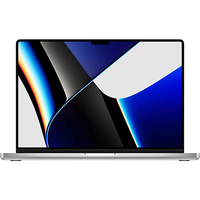 MacBook Pro 14 M1 Max (2021)
Was: $3,499
Now: $2,699 at Amazon
Save: $800
Overview: The 14-inch MacBook Pro M1 Max was the top of the range of the 2021 MacBook 14 configurations, with a powerful chip designed to provide improved performance and efficiency for video work. The switch to Apple's own silicon provided a massive upgrade on the previous MacBook 14, resulting in a laptop that's still among the best on the market.
Key features: This M1 Max-chipped MacBook has a 10-core CPU and 32-core GPU, proving an impressive amount of power for a 14-inch laptop. This configuration has 32GB RAM and a 1TB SSD, so you should have plenty of capacity for running demanding programs without getting slowed down, and plenty of storage space (though if you're doing video work, you'll inevitably need external storage or cloud storage as well, at least in time.
Price history: We saw this model fall as low as $2,750 back in early April, but the current price of $2,699 is the cheapest we've seen, beating sale prices from last year. With the M2 MacBook 14 now on the market, there's a chance the price may fall further during big sale events like Black Friday, but to be honest, $800 is about the biggest saving you can hope for on an unused MacBook, even the more expensive configurations. For comparison, the 2023 M2 Max MacBook 14 will cost you $3,399.
Price comparison: Adorama: $2,999 | Best Buy: $3,099
Reviews: We've yet to read a negative review of the MacBook Pro 14 M1 Max. Many have commended the amount of power provided for a relatively small and portable laptop and its handling of graphics and video work. See our own MacBook Pro 14 (2021) review for more details.
Looking for a different configuration or not in the US? Here's a range of the best prices on other MacBook Pro models in your region.