Cyber Monday is finally here! Now is a great time to bag a new screen for your creative work. Retailers are busy slashing prices all over the place, which can mean getting the best Cyber Monday monitor deals can be a bit overwhelming.
So, let us help take the stress out of finding the best Cyber Monday monitor deals by giving you practical buying advice and tips, as well as looking at what deals previous Cyber Mondays have brought. We're adding all the best deals as they appear, so make sure to bookmark this best Cyber Monday monitor deals page. 
Cyber Monday: Quick links
US: Best Cyber Monday monitor deals
UK: Cyber Monday monitor deals
The best Black Friday and Cyber Monday monitor deals: our predictions 
Previous Black Friday and Cyber Monday events have proved to be a great time to pick up a new monitor, with some of the biggest brands in the industry having the prices of their screens cut.
So, we'd expect to see some great Black Friday and Cyber Monday monitor deals from the likes of Samsung, LG, Dell, Asus and BenQ.
For example, Dell often has a big Black Friday sale in the run up to – and during – Black Friday, with a number of 'door buster' deals on its products, including Dell monitors, which are designed to tempt you to to head over to its website and spend your cash there.
We also have a feeling we'll see more Black Friday 4K monitor deals this year as well. This is because 4K (or UHD – Ultra High Definition) monitors are becoming increasingly popular, and as the technology matures, and the price of manufacturing goes down, the more likely we are to see sales on Black Friday and Cyber Monday.
Make sure you check out our best 4K monitors for designers guide for more buying advice.
If incredibly high resolutions aren't much use to you, we also expect to see Black Friday monitor deals on screens with 1080p and 1440p resolutions as well.
The best US Black Friday and Cyber Monday monitor deals in 2017
Let's take a look at what monitor deals Black Friday and Cyber Monday offered in 2017 in the US (skip to UK deals below)
The best UK Black Friday and Cyber Monday monitor deals in 2017
In the UK, there were some great monitor deals on Black Friday and Cyber Monday 2017, and these can help us compare with the deals we're seeing this year.
How to get the best monitor deals on Black Friday and Cyber Monday
So, now we've got an idea of what sort of monitor deals we are likely to see on Black Friday and Cyber Monday, let's look at some tips for making sure you get the best monitor deals.
1. It's never too early to look
While the names Black Friday and Cyber Monday suggest the deals happen over single days, an increasing number of retailers start their Black Friday deals earlier every year. In particular, Dell is known for its Early Black Friday Deals, which have already kicked off in the US.
So, it's never too early to start looking out for Black Friday deals.
02. Think about what you need
Before shopping for the best Black Friday and Cyber Monday monitor deals, you should take some time thinking about what you need out of a new monitor. What kind of screen size are you after? Would a 32-inch monitor fit your desk? Would a 22-inch monitor be too cramped? 
By having a clear idea of what sort of monitor you need, you can focus your attention to ensure you get the best Black Friday and Cyber Monday deals.
03. Set a budget
Setting a budget – and sticking to it – can really help bag a bargain on Black Friday. Again, it helps you narrow down your choices, which can sometimes be overwhelming on the day, and ensures you're not paying more than you can afford.
04. Check reviews
Once you've found a Black Friday monitor deal that looks really good, it's worth taking a look at reviews before you make the purchase, to ensure you're getting a good deal.
We have plenty of monitor reviews – as does our sister site TechRadar – which give unbiased opinions on which monitors are worth your money. Many online stores such as Amazon also display reviews from people who have bought the products, and this can be a useful way of gauging how good the monitor is before you buy.
05. Visit Creative Bloq to ensure you don't miss out on any deals
One of the easiest ways of making sure you get the best Black Friday and Cyber Monday monitor deals is to keep this website/page bookmarked and return here regularly in the run up to Black Friday and Cyber Monday, as well as on the days themselves.
We'll be keeping a keen eye out for any brilliant deals and will be highlighting them here, so you don't need to check anywhere else. Also, we'll be using our expert knowledge to make sure that only the very best Black Friday monitor deals are included, so you don't have to worry about being let down.
What monitor features creatives should look out for
If you're looking for a monitor for your creative work, then there are certain features that you should look out for when browsing Black Friday monitor deals.
Colour management
For creatives looking for a monitor to work on, the way the monitor handles colour is essential. You'll want to make sure it has a wide colour gamut that is capable of displaying colours accurately, and the best monitors for creatives will have profiles that match certain display standards such as sRGB, Adobe RGB and Rec. 709.
HDR
HDR stands for high dynamic range, and it is a feature that is increasingly being included in modern monitors. It allows for a greater dynamic range of luminosity and higher contrasts between light and dark, and can make a huge difference to the image quality of the monitor.
Wide viewing angles
Another important feature to look out for in a monitor is wide viewing angles. This means you can view the images on the screen from various angles without the image displaying incorrectly. This is important when working with large monitors, or if you often have other people crowding around the monitor to look at your work.
What specifications creatives should look for
When browsing monitor deals on Black Friday and Cyber Monday, you may see lots of numbers and specifications bandied about. But what are the important specifications to bear in mind?
Resolution
Resolution is probably the most important specification when it comes to image quality, as the higher the resolution, the sharper and more detailed the image. However, high resolution monitors are more expensive, and need more powerful hardware. Most monitors come in 1080p/Full High Definition (1920 x 1080), 1440p/QHD (2560 x 1440) or 4K/UHD (3840 x 2160) resolutions.
Screen size
A monitor's screen size is another important specification to consider. Smaller screens, 19-inch to 24-inch in size, are usually more affordable and are better suited to desks where there's not much room. 
Medium-sized monitors of 26-inch to 27-inch in size are a good middle ground if you want extra space to work on. 
Large monitors that are 30-inch, 32-inch and 40-inch are great for presenting on and working on big images, but can be expensive and, of course, need more room on a desk. The larger a monitor, the further back you'll need to sit to work on them comfortably.
The size of a monitor can also dictate what resolution is best. Smaller monitors don't need very high resolutions, and too high resolutions on small monitors will make them uncomfortable to use. Meanwhile, large monitors with low resolutions will result in poor image quality, as fewer pixels are enlarged to cover more space.
Aspect ratio
The aspect ratio of the monitor is another important specification for creatives to consider. This determines how high and wide the monitor is. Most modern monitors are 16:9 aspect ratio, which is standard widescreen. Some are a more square 4:3 aspect ratio. There are also ultra-wide monitors with 21:9 aspect ratios. These give you a huge amount of space to work on, but for most photographers and creative professionals, 16:9 is the aspect ratio to go for.
Three monitors for creatives to look out for on Black Friday and Cyber Monday
We absolutely love the BenQ PD3200U. This is a Ultra HD monitor with a large 32-inch size which makes brilliant use of the high resolution. It's part of BenQ's Designer Monitor range, and comes with some great features for creatives and professionals, with a CAD/CAM mode, along with factory-calibrated colour accuracy and Rec. 709 support. If you see any Black Friday or Cyber Monday deals for the BenQ PD3200U, then you should seriously consider buying it.
If you don't have the room for a huge monitor, and you don't need incredibly high resolutions, then the AOC PDS241 is definitely a monitor to look out for on Black Friday or Cyber Monday. It's beautifully designed, and it provides very good image quality considering its low price. It does lack some of the features of more expensive monitors, but if you're shopping on a budget and see a deal that knocks even more money off its asking price, it's a great bargain.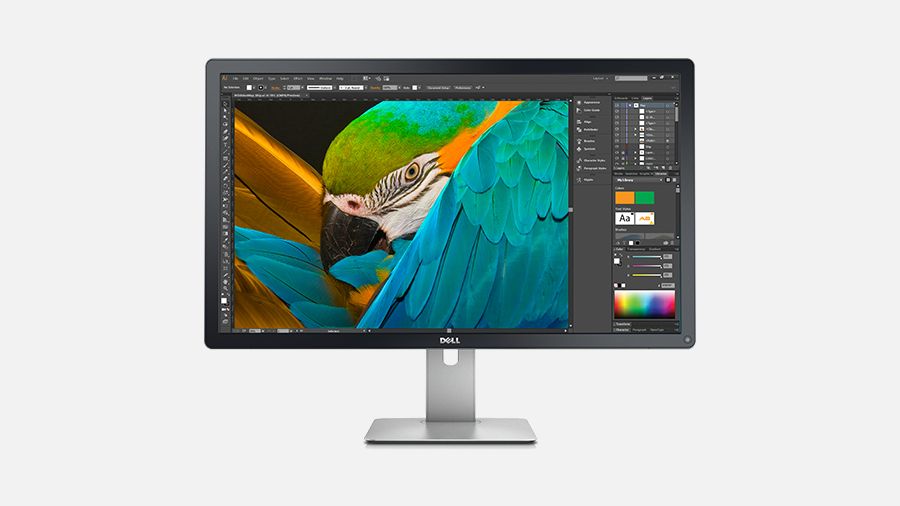 Dell's top-end 31.5-inch 4K display packs in a lot of professional-grade features for superb color accuracy. It supports the DCI-P3 color spectrum and manages 99% Adobe RGB coverage and 87% DCI-P3. This makes it a great monitor for people who really depend on color accuracy for their creative work. However, there is a catch, as this is a pricey monitor. That does make it a great monitor to keep an eye out for on Black Friday and Cyber Monday, however, as it could see some hefty price cuts. Also Dell is well known for offing great Black Friday deals on its monitors.
Today's best Cyber Monday monitor deals
Here's some more of the best Cyber Monday monitor deals.
Read more: