It's May the 4th, so Lego Star Wars Day is here, which means treats for fans of the saga. The Lego online store is offering freebies and running giveaways, and there are discounts around at other retailers too.
But our pick of the best Lego Star Wars set we've seen this year has to be the calssic Darth Vader helmet. It's a perfect addition to any space fans' set up, and the best part is it's currently on sale at Amazon, down from the original retail price of $79.99 to just $63.99. For more building fun, check out our guide to the best Lego sets for adults.
Measuring just over 20cm tall, you're not going to be able to get this on your head, but it looks to be an impressively accurate recreation and will no doubt be handy for guarding other knickknacks. Designed for adult Lego builders aged 18 and over, this set is made up of 834 total pieces so is sure to keep you busy for a while.
See below for more Lego May the 4th Star Wars deals, or visit the Lego Star Wars Day site for special VIP offers, including exclusive gifts and sweepstakes.
The best May the 4th Lego Star Wars Day deal in the US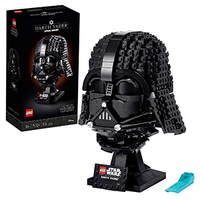 Darth Vader display helmet: $79.99 $63.99 at Amazon
Save 20%: If you belong to the Dark Side, show your allegiance with this glorious LEGO Darth Vader helmet recreated in full menacing detail. With a display stand and nameplate included, it's the perfect decoration for a desk or shelf.
The best May the 4th Lego Star Wars Day deal in the UK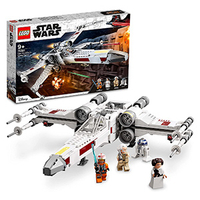 Luke Skywalker's X-Wing: £44.99 £34.99 at Amazon
Save £10: Recreate scenes from the classic Star Wars trilogy with this replica X-Wing with opening cockpit and space for R2-D2 (included!) The wings can be switched to attack position with a button and there's retractable landing gear and two spring-loaded shooters.
Why is it Lego Star Wars day?
So it's not quite Christmas, but Star Wars day is important for fans of the saga. And it all came about due to a terrible pun – May the 4th sounds very similar to 'May the force', as in "May the force be with you."
When does Lego Star Wars day start?
Star Wars Day is May 4th ('May the fourth be with you', if you follow), but Lego's event runs all week from May 1 right though until midnight Sunday, May 7, wherever you are.
What are the Lego Star Wars Day free gifts?
Free gifts up for grabs this year include a miniature Death Star II, a VIP exclusive collectable coin and a micro-scale X-Wing Starfighter, free when you spent a certain amount. VIP members can also take part in giveaways and earn $5 in points for every $100 spent. It's free to become a member.