Oculus Quest 3 is believed to be on the way, which is great news for fans of VR gaming. Even if things may have gone a bit quiet of late, Meta has confirmed that it's working on the next generation – or generations – of its VR headset. They just won't be called Oculus Quest 3 since the company seems determined to stick to its Meta Quest rebrand despite fans' horror. (It's been confirmed that the device will launch under the Meta branding: see our guide to the Meta Quest 3 for all the latest details).
But before Oculus Quest 3 (sorry, we're going to continue calling it that for now), we're expected to see another, more advanced device hit the market – let's call it Oculus Quest Pro (or Meta Quest Pro). Also dubbed Meta Cambria, the enhanced version of the VR headset may be part of the reason that the Oculus Quest 3 is apparently delayed. It's expected to introduce the VR technology expected to power Meta's ambitious metaverse project, and, according to Mark Zuckerberg, will eventually replace laptops (we'll wait and see about that).
The Oculus Quest 2 VR headset has done better than many people expected, demonstrating the potential for an increase in mainstream interest in VR. Will Oculus Quest 3 and this new 'pro' device offer something better? Below we round up all the latest Oculus Quest 3 leaks and rumours. If you've yet to experience the existing headset, see our round-up of the best Oculus Quest 2 deals to find the best price. Also see our guide to the best VR headsets for other options.
Oculus Quest 3: everything we know so far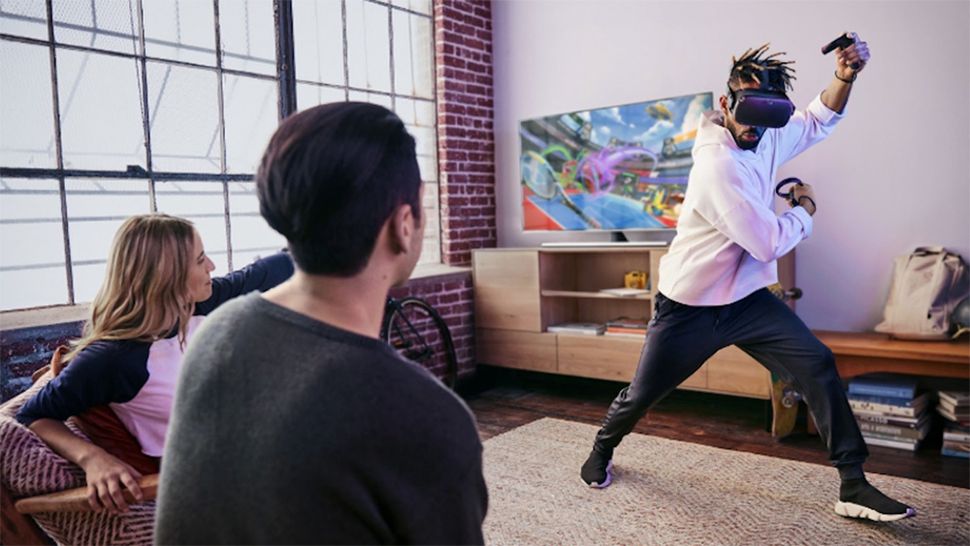 With two years almost past since the launch of the Oculus Quest 2, we expected that by now we would have more information about the current device's successor. It appears that the project has been delayed but is still very much alive. It's widely believed that the device will be called the Meta Quest 3, but before it's released, we'll see another, more high-end device that may or may not be called Oculus Quest Pro / Meta Quest Pro but which is also being dubbed Meta Cambria and SeaCliff. Confused? Here's everything we know so far.
What is Oculus Quest 3?
The Oculus Quest 3, or Meta Quest 3, is expected to be the next generation of Meta's line of virtual reality (VR) headsets, developed by the company's Reality Labs business. The Oculus Quest 2, Meta's current VR headset, was released in October 2020, back when Meta was called Facebook. It can be used as a standalone headset with an internal, Android-based operating system and can also be connected to a desktop computer via USB or Wi-Fi when using Oculus-compatible VR software.
The existing Oculus Quest 2 has been rebranded as Meta Quest 2, and Meta seems determined to stick to that change despite a lot of unhappy users. We're not convinced by the new name either considering the familiarity with the Oculus brand among gamers, but the idea seems to be intended to connect more closely with Meta's gamble on its ambitious metaverse project, which, after all, is the reason the company rebranded from Facebook.
So far, we don't know much about what the metaverse will be like – although we do know that you'll be able to buy virtual designer clothes. What is clear at least is that Meta thinks its VR headsets are going to be an important entry point.
Will there be an Oculus Quest Pro?
The theory is that before the Oculus Quest 3 (Meta Quest 3), there will be an Oculus Quest Pro – or Meta Quest Pro. CEO Mark Zuckerberg told investors on an earnings call in late 2021 that Meta had been working for some time on "new hardware [that] will fit the same platform" as the Quest. Meta is calling this Project Cambria, and we've even seen an official glimpse of it in action (albeit with the Project Cambria headset heavily censored).
Many observers are taking this to be a 'pro' version of the Quest, but what name it will eventually go under is still anyone's guess at the moment – the device itself is also being referred to as SeaCliff (yes, Meta really likes its codenames). However, according to Meta it will be a high-end (read more expensive) virtual reality and augmented reality hybrid headset targetted more at pros and serious mixed-reality enthusiasts. It's expected to go beyond VR and gaming to offer more augmented reality experiences and productivity tools.
Zuckerberg wrote on his Facebook page in April: "Later this year, we'll release a higher-end headset, codenamed Project Cambria, which will be more focused on work use cases and eventually replacing your laptop or work setup. This premium device will have improved ergonomics and full color passthrough mixed reality to seamlessly blend virtual reality with the physical world." He added: "...our hardware will provide the best metaverse experience -- whether you're playing a game or meeting with co-workers in Horizon Workrooms."
Oculus Quest 3 specs and Oculus Quest Pro specs
The Oculus Quest 2 offered a relatively incremental upgrade on the original Oculus Quest. The design is similar, although it's lighter weight, the internal specs were updated and the display was given a higher refresh rate and per-eye resolution.
There is no definite information on what either the Oculus Quest 3 / Meta Quest 3 or the Oculus Quest Pro / Meta Cambria will offer in terms of specs, but there have been some consistent rumours. Extended reality (XR) analyst and YouTuber Brad Lynch claimed in a tweet back in January (see the tweet below) that the Oculus Quest 3 / Meta Quest 3 will feature an uOLED display to be produced by Changxin Technology. This should offer a significant upgrade over the Quest 2's LCD screen.
Lynch also said that Meta is working on a proprietary chipset for the device instead of Qualcomm's Snapdragon XR3 processor. This custom SoC would focus on a GPU better designed for VR loads.
The Quest Pro / Meta Cambria is where things might get really exciting, though. Lynch says that this will feature MiniLED screens – an even more advanced display tech that's used in new TVs and the likes of the 2021 iPad Pro. The tech analyst Ming-Chi Kuo has since sugged that these will have a resolution of 2160 x 2160 pixels per eye (a notable upgrade from the Quest 2's dual 1832 x 1920 pixel LCD displays. With super high contrast and brightness, this could be a game-changer for VR, making it sharper and more immersive than ever before.
In Meta's Connect 2021 livestream, Zuckerberg suggested the new VR device will use "pancake optics" to "fold light several times over". These would have a thinner, lighter profile. Combined with the miniLED, that should give the Quest Pro a major step up in visual quality. It also means that the Cambria device, which has also been referred to as Seacliff, will look quite different from the Quest we know (see the renders in tweet below). Lynch has also since shared what appear to be CAD files of the device on his Patreon page (see the image above).
Meta Cambria (SeaCliff) will release later this yearGot confirmation from the supply chain and sourced who've tried the device that this is exactly what the final PVT model looks like pic.twitter.com/FQnKDyyjDAApril 13, 2022
The rumours suggest that while the likes of the PS5 and Nintendo Switch still dominate the gaming world, the Oculus Quest Pro could give Meta a real shot at joining the top dogs. That said, as we noted above, Zuckerberg has said that the Cambria device would focus more on productivity than gaming, with his aim being to eventually replace laptop setups.
Oculus Quest 3 and Oculus Quest Pro price
We can predict that the Oculus Quest 3 (Meta Quest 3) or Quest Pro is likely to be priced at least somewhat in line with the Quest 2: $299 / £299.99. Zuckerberg has suggested that the other VR headset – the one variously dubbed Quest Pro, Cambria and SeaCliff, will cost significantly more. A leaked internal road map published by The Information suggests that it will cost $799 (around £640).
As for release date, there is no official word from Meta about exactly when either of the two devices is likely to hit the streets. The original Oculus Quest was released in May 2019 and the follow-up came just 18 months later in October 2020. Lynch in his tweet in January suggested that the Oculus Quest Pro could drop as soon as Q2 2022 – that is between April and June 2022. That clearly didn't happen, but Zuckerberg said in April that the new high-end device would be coming "later this year", and Ming-Chi Kuo has predicted an H2 2022 launch - so perhaps we'll hear something at Meta Connect 2022.
Meanwhile, Lynch has suggested that the Oculus Quest 3 / Meta Quest 3 would be released in 2023. Specifically, he believes it could get its big reveal at Meta Connect 2023 with a release following shortly after that. The Connect events in recent years took place in September or October, with the Quest 2 unveiled on September 16, 2020, at Facebook Connect 7, so his suggestion is fairly logical. This would suggest we're looking at a late 2023 release date. If you don't want to wait that long to discover the thrill of VR gaming, see the best current prices on the Quest 2 below.
Read more: