We first reported on this deal five days ago, and we're stunned that it's still live! Although only released in February, we've found an incredible deal that includes the Samsung Galaxy S23 Ultra (512GB, Lavender) alongside a Chromebook Go for just £1,249 from Amazon. Yep, that does mean the laptop is free!

But what makes this deal so great? Well, you're not only getting a free Chromebook Go alongside the phone, you're also saving £150 off the phone itself. The larger 512GB storage configuration usually retails for £1,399 alone, so priced at just £1,249 you're getting it for the same cost as the smallest 256GB model. What a steal! Considering the deal has been going for nearly a week now, we're not sure how much longer it will last...
Samsung Galaxy S23 Ultra + Chromebook Go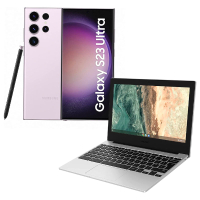 Samsung Galaxy S23 Ultra + Chromebook Go: £1,698 £1,249 at Amazon
Save £449: UK shoppers can pick up the shiny new powerhouse that is the Samsung Galaxy S23 Ultra right now for a discounted price that also includes a free Chromebook Go. A perfect bundle for creatives looking for a new set up!
This deal is UK only, but you can check out the below live widgets for links to the best Samsung S23 Ultra and Chromebook Go deals – wherever you're based!
Want to know why we love the S23 so much? Check out our hands-on Samsung S23 Ultra review. If you fancy picking up a slightly cheaper phone alternative, we also have a guide to the best Samsung Galaxy S22 prices available right now.