Rumours about the successor to the Nintendo Switch (be it the Switch Pro, Switch 2 or something else entirely) have been pretty quiet of late. For a while last year the souped-up Switch sequel was constantly said to be on the brink of announcement, but it never happened. That might soon be about to change – and a bunch of new leaks about the display just dropped.
According to new reports, the Switch 2 (let's call it that for now) will launch with a bigger screen than its predecessor, coming in at 8 inches (as opposed to the current Switch's 6.2-inch display). But the good news ends there, as the same reports suggest the Switch 2 won't feature an OLED display. Don't fancy waiting? Check out the best Nintendo Switch deals available now.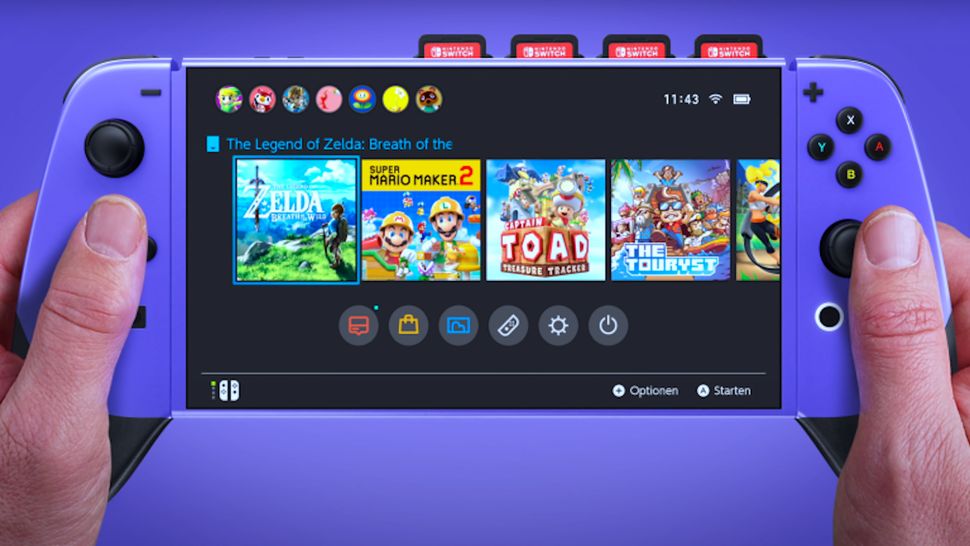 Noted Nintendo tipster Nate the Hate claims that while the Switch 2 will feature a larger display, it'll be less advanced than that of the current OLED model, sticking instead to LCD technology. The leaker also claims that the base level storage of the console is set to massively increase, with 512GB instead of the current, paltry, 32GB.
While bigger storage and a bigger display are obviously good news, the lack of OLED is a little baffling. If it turns out to be true, gamers could end up facing a difficult decision when the Switch 2 finally drops – do they opt for the bigger display but make do with the less bright, lower contrast LCD technology, or stick with the smaller but brighter OLED model, released in 2021?
Both could offer advantages in terms of immersion, but it'll be odd after years of rumours about a Switch Pro for Nintendo to release a model that's more 'Pro' than the 2021 version in some ways, and less so in others.
Still, the most notable advancements could be being saved for docked mode. We've heard that the machine will be capable of 4K output when connected to a TV, something that gamers have been begging for – and many were disappointed not to see arrive with the Switch OLED. Indeed, exploring Tears of the Kingdom's Hyrule or zooming around Bowser's castle in Mario Kart would be infinitely more immersive in crisp 4K.
As for when it'll arrive, leakers are increasingly putting their money on the second half of 2024. If you don't fancy waiting until then, check out today's best Nintendo Switch deals below.