Free brush fonts are a guaranteed way to ensure that your creative projects, whether printed or digital, look unique, playful and professional without breaking the bank. We know that there are plenty of brush fonts to choose from out there, but not all of them are up to scratch. So to save you some time we have compiled a list of the best free brush fonts we could find. While all of these brushes are free for personal use, only some are free for commercial use too, so make sure you check the terms before you use them.
We have found an eclectic range of the best free brush fonts that will appeal to everyone, but if you can't find what you are looking for on this list, here's our roundup of brilliant free fonts. And if we still aren't checking your boxes, then take a look at our best free handwriting fonts.
Stay tuned for our list of best free brush fonts.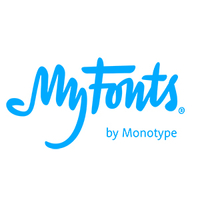 Buy fonts from myfonts.com
Get inspiration for your own project or browse fonts to download at myfonts.com by Monotype. There are over 130,000 fonts to choose from ranging from brush fonts to display fonts, and over 900 of them are totally free.

The best free brush fonts in 2021
01. Zallord
Zallord, a hand-drawn brush font, features strong upper and lower case lettering as well as numbers and punctuation (the whole package). The striking font with an authentic brush feel was created by artist Alice Whales and is available to download for personal and commercial use from Graphic Design Freebies.
02. Hackney Hand-Painted Typeface
Bold and eye-catching, Hackney Typeface looks the real deal with its intricate paintbrush-style detailing. With a rustic feel and strong lettering, this font is perfect for taking your projects to the next level. You can download this font for personal use from Dropbox.
03. Bathi font
Bathi is an gentle hand lettering font, created using a brush pen by Twinletter. This font is perfect for giving your project a calming and unobtrusive typeface. Free for personal use (and a mere $4.99 for a commercial license), this is casual yet soothing font has unusual flourishes that create a feeling of movement.
04. The Cat Has a Hat
Taking the popular stories of Dr Seuss as its jumping off point, creator Lukee Thornhill has made The Cat Has a Hat playful and humorous. Thornhill has condensed over 1500 letters, numbers and symbols designed over the space of a weekend into this merry set that's full of character.
Whilst this typeface is fun and lively, Thornhill has made sure that this isn't a childish font meaning that it's available to download to help you with a variety of branding and marketing purposes. Some users have even pointed out that it bares a resemblance to the Nando's typography.
05. Odachi
The beautiful Japanese-inspired design Odachi was created by UI and type designer Mehmet Reha Tugcu. With an organic and archaic feel to it, we think this font would not look out of place in a Zelda game. There are many stunning typefaces created by Tugcu but this has got to be our favourite of his brush fonts designs, not least because he's made it available for others to use in any project, even commercial endeavours.
06. Takhie
Simple, delicate and soft, Takhie was made by designer and illustrator, Nantia for personal and commercial use. Nantia has created many more beautiful fonts to help you with your projects, just check them out on her Behance Page. Furthermore, if you'd like even more of Takhie then you can purchase the pro version on Nantia's website for just $15.
07. Leafy
Leafy is a handwritten brush font with an endearingly warm feel designed by Latvian artist, Krisijanis Mezulis. It includes 95 quirky characters, including all-caps lettering, each of which are individual with a naive, neat feel. This gentle font will suit a range of projects, whether they be personal or commercial.
08. Banaue
Hand brushed by Ieva Mezule, Banaue is a serene handwritten free brush font with a rustic look and Filipino influence. The name Banaue is derived from the Philippines – Banaue being a place in the north where rice terraces stretch around mountains. Banaue features 104 beautifully tranquil characters and is free for personal or commercial use.
09. Kust
Kust is another font created by fashion designer and painter Ieva Mezule (she designed Benaue seen previously). These thick letters were drawn with a brush using black ink on hard paper, giving the glyphs a very authentic look. Featuring 80 characters, every letter has a unique structure, with an unpolished and distorted feel. This font is available for both personal and commercial use.
10. True Lies
Jonathan Harris' chilling True Lies font is free to download for personal use. This spooky typeface wouldn't look out of place on a horror poster and with it covering the alphabet, numbers, symbols and punctuation marks you won't want to miss out on this gritty font ready to give your projects that rough look.
11. Levi Brush
Romanian designer Levi Szekeres designed this free quirky brush font. With people drawing comparisons to the fonts on David Guetta's 'One Love' to Coldplay's 'Viva la Vida' cover, you're onto a winner. Szekeres captioned his font with 'A very personal one' meaning that it's sure to give your work an authentic and meaningful touch. You can also download Levi ReBrushed which includes variations on the paint splatter.
Related posts: