September 2023 saw the introduction of the Apple Watch Ultra 2, just a year after the original Apple Watch Ultra made its debut. That means that if you're in the market for a high-end smartwatch, you're faced with a tough choice. And with Black Friday coming on 24 November, you may have to act on that choice sooner rather than later.
Both of these devices are great for creatives, as they integrate perfectly within the Apple ecosystem, and send you notifications and alerts so you never miss important work emails and messages. They're also packed with health features and boast extensive battery life, making them perfect for anything outside your creative work. Yet the fact that they're both so good makes it hard to decide between them.
Fortunately, our guide is here to help. We've compared the two flagship Apple Watch editions to see which is the better buy, turning our eye to the design, performance, value for money, and more.
Apple Watch Ultra vs Apple Watch Ultra 2: Design and display
Why you can trust Creative Bloq Our expert reviewers spend hours testing and comparing products and services so you can choose the best for you. Find out more about how we test.
Put these two watches side-by-side and you probably wouldn't be able to tell the difference since their designs are so similar. Both are made from what Apple describes as 'aerospace grade titanium', both come in the Natural Titanium colour that you see in the latest iPhone 15 Pro phones, and both come in the same dimensions. Practically the only difference is the weight, where the Ultra 2 is a mere 0.1g heavier. They're like two peas in a pod.
However, there is one way to pick their designs apart. This year, Apple says the Apple Watch Ultra 2 is carbon neutral if you pair it with either the Alpine Loop band or the Trail Loop strap (the Ocean Band is not carbon neutral). You can't say the same for the original Apple Watch Ultra.
Apple's smartwatches are known for their bright, clear displays, and the screens in both Apple Watch Ultra models are some of the best you'll find in a smartwatch. Part of the reason for that is their large 49mm cases, which give these devices the largest faces of any Apple Watch model.
While both versions are the same in that regard, they diverge in another important way: brightness. One of the new features in the Apple Watch Ultra 2 is a maximum brightness rating of 3,000 nits. That's 50% brighter than the 2,000-nit screen in the first Apple Watch Ultra, and could make a big difference outside on bright days.
Apple Watch Ultra vs Apple Watch Ultra 2: Battery life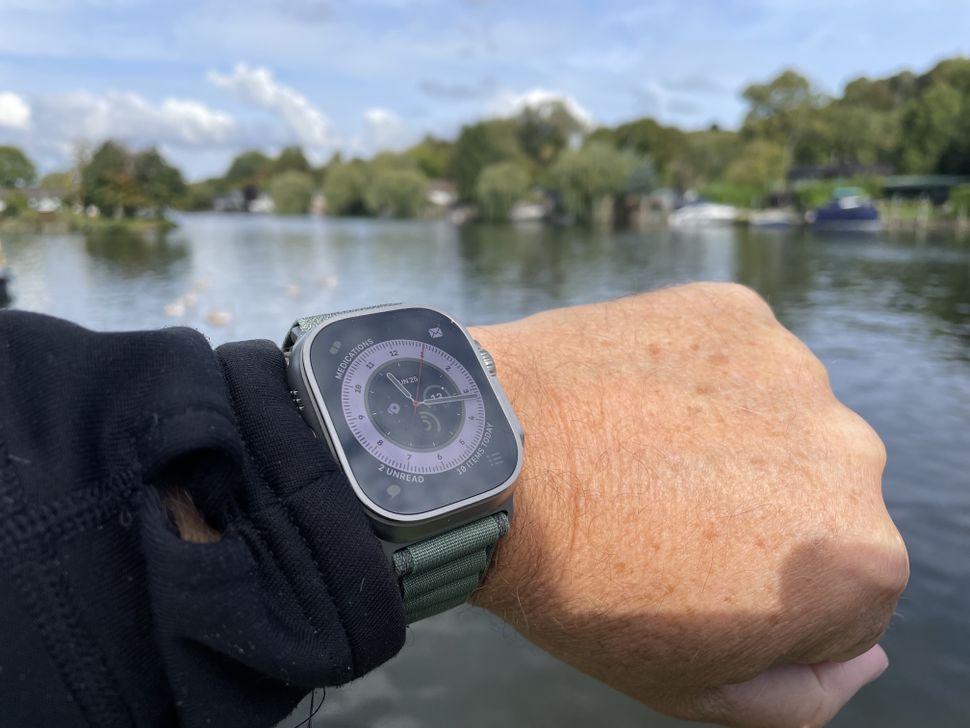 One of the most important considerations when it comes to buying a smartwatch is battery life, and you'll be pleased to see that both Apple Watch Ultra models excel here. Regardless of which you pick, you'll get up to 36 hours of battery life, which is the longest of any Apple smartwatch. Considering all the other high-powered things these devices can do, that's impressive.
As with its display, the Ultra 2 has received an upgrade when it comes to battery life. While the original Ultra lasts up to 60 hours in low power mode, the Ultra 2 can go for 72 hours, which should help you out when you start to run out of juice.
Speaking of which, you'll get fast charging in both Apple Watch Ultra editions. This takes the battery level from 0% to 80% in about an hour, Apple says.
Apple Watch Ultra vs Apple Watch Ultra 2: Features
Both the Apple Watch Ultra and the Apple Watch Ultra 2 are packed with features, but we'll start by covering what was introduced in the Ultra 2. Firstly, there's Apple's double tap gesture, which lets you perform actions like opening a Smart Stack of widgets without touching the device's display.
Apple has also improved Siri to be faster and perform certain tasks entirely on-device, which Apple says is "quicker and more reliable", as well as better for your privacy. The Apple Watch Ultra 2 also offers more precise finding for when you've lost your iPhone.
Elsewhere, these two devices come with a lot of the same features. You'll get things like blood oxygen measurement, irregular heartbeat rhythm warnings, temperature sensing and more. Both also come with the Emergency SOS, Fall Detection and Crash Detection features.
Apple Watch Ultra vs Apple Watch Ultra 2: Performance
While the Apple Watch Ultra is powered by the Apple S8 system-on-a-chip (SoC), the Ultra 2 has an upgraded Apple S9 SoC on the inside. This features a second-generation Ultra Wideband chip, but is very similar otherwise.
Apple says the S9 enables certain features, including the double tap gesture and on-device Siri functionality, but hasn't said much about any raw performance increases. The exception is a new four-core Neural Engine, which Apple says can perform machine learning tasks twice as fast as the original Apple Watch Ultra.
Apple Watch Ultra vs Apple Watch Ultra 2: Price
Both models launched with a price tag of $799/£799. Nowadays Apple doesn't sell the original Apple Watch Ultra, but you can find some deals and discounts at third-party retailers. If you're interested in this model, be sure you don't pay the launch price for it.
Apple Watch Ultra vs Apple Watch Ultra 2: Which should you choose?
When it comes down to the Apple Wach Ultra vs Ultra 2, the model you go for depends on what you're looking for and the price you're willing to pay.
Considering there is not a huge difference between these Apple Watch versions, the Apple Watch Ultra is still a good option if you can get it for a discount. Its expansive display, long battery life and impressive features for outdoor activities make it a strong candidate for anyone who wants to spend time adventuring or who just wants a larger, more long-lived Apple Watch.
That said, the Apple Watch Ultra 2 comes with a raft of new features, including a brighter display and a new double tap gesture, as well as the promise of carbon neutrality. It's more expensive, but should last for years to come. It's a great choice if you want the best smartwatch you can possibly buy.