Looking for the best iPad for graphic design? Apple's popular tablets are excellent, highly portable alternatives to laptops and PCs when you're starting or finishing a project on the go. Several iPads now have more than enough power to cover all graphic design workloads, while the touchscreen can be a great addition to a workflow.
We've reviewed almost every iPad that Apple has produced over the years. As part of our tests, we use them for vector illustration, page layout and image editing using a range of iPadOS apps. Based on those experiences, we've drawn up this pick of the best iPads for graphic design work. We compare the pros and cons of each and link to our full reviews where you can find out more. To see where the options below fit into Apple's full range of tablets, see our guide to the iPad generations.
The best iPad for graphic design
Why you can trust Creative Bloq Our expert reviewers spend hours testing and comparing products and services so you can choose the best for you. Find out more about how we test.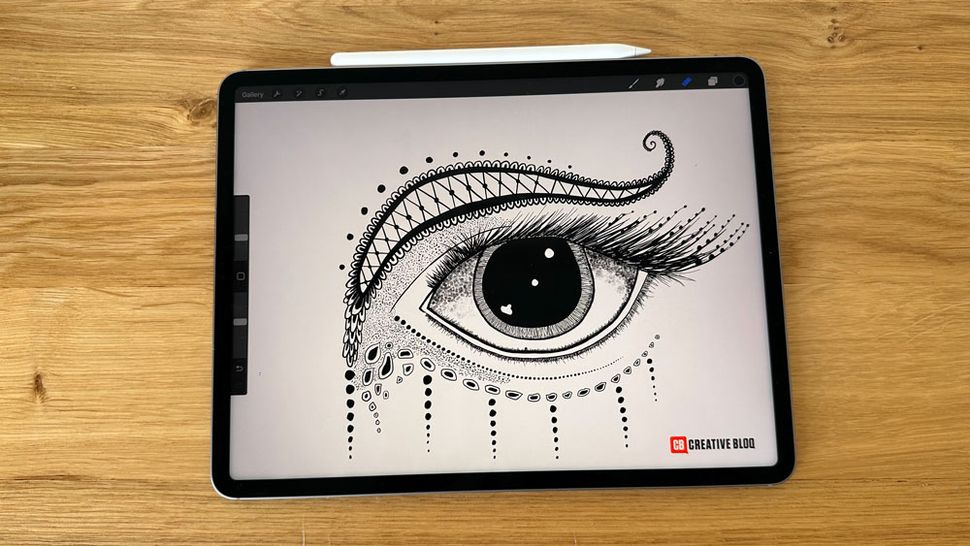 The iPad Pro 12.9 is the best iPad for graphic designers overall. Along with its smaller 11-inch sibling, this packs Apple's M2 chip and can handle graphically demanding workloads with ease. In terms of capability, we've found that the 11-inch and 12.9 inch models are level with each other. The reason we pick the larger 12.9-incher as the best iPad for graphic design is the size of the screen, providing more space to work with, but also the tech in the screen.
Only the larger tablet has a Liquid Retina XDR display, which uses smaller mini-LEDs for a brighter image and broader dynamic range. We were immediately impressed when we wrote our full iPad Pro 2022 review, and we found colour coverage to be excellent for creative work. In both cases, the touchscreen is responsive and provides a canvas that's optimised to work seamlessly with Apple Pencil 2 (as with all iPads, you'll have to buy the Pencil separately). The downside is the price, and while we rate this as the best iPad for graphic design, you probably won't actually need such powerful specs unless you're also doing video work.
The original iPad has just received a massive and well-deserved upgrade this year, with Apple giving it a more powerful chip inside as well as a bigger and brighter display. It's powered by the same A14 chipset that allowed the 4th-generation iPad Air to tackle demanding tasks such as video editing and, naturally, graphic design. So, of course, this new iPad proves powerful enough to do the same, as we found in our iPad (2022) review.
Budget-minded graphic designers will also appreciate its True Tone display that boasts 500 nits of brightness, which helps a lot when you're designing all day, and its 264ppi pixel density means you're getting a lot of image detail and sharpness. Meanwhile, like the iPad Pro 2021, you're getting up to 10 hours of battery life so it'll see you through an entire workday as well. Keep in mind, however, that the storage options might not be enough for large files, so you'll want to make sure you're saving on your cloud storage.
Unfortunately, that price hike makes this almost as pricey as the iPad Air, if just a little cheaper. So, if you're looking for something even less, you'll want to continue to our fourth pick. Just bear in mind that you aren't getting as much power.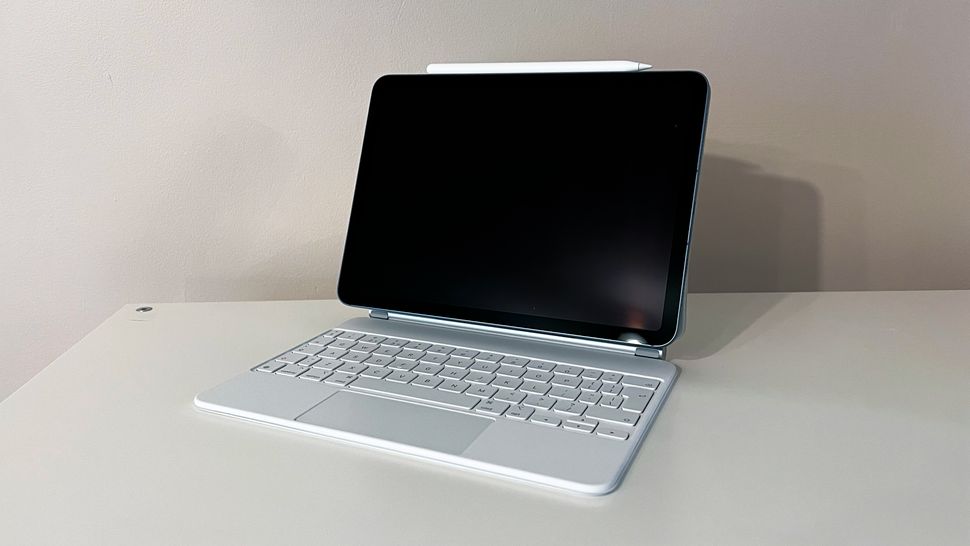 We're massive fans of the iPad Air line as they straddle that line between luxury and affordability. This iPad is not only favoured by many because it's lightweight and attractive, but also because it's powerful yet affordable for many people. This 2022 model is more powerful than ever, upgrading from the impressive A14 Bionic chip to the even more impressive M1 with an 8-core CPU and an 8-core GPU. That makes this Air about on par with 2021's Pros, although it's still limited to 8GB memory and middling storage.
In our iPad Air (2022) review, we said that it delivers "a notepad-sized package with the power of a MacBook Pro." So pretty much anything you can do on your MacBook Pro 13-inch, you can do on this – assuming you've got the right mobile app for it. That very much includes demanding graphic design projects. And, it's got Apple Pencil and Magic Keyboard compatibility to help simplify your workflow.
The best part, however, is that you're paying about half the price you'd pay for the iPad Pro models, which might make this a better value, especially if you don't need a bigger screen.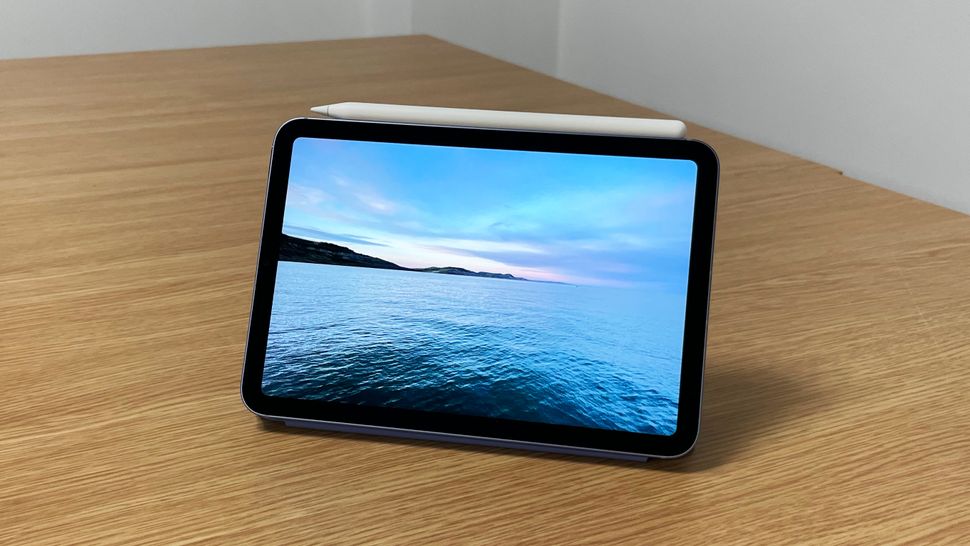 The 2021 iPad mini is worth considering if portability is your main priority. If you're planning to work on the train, for example, even the iPad Air and the 2022 iPad 10.9 are a little on the large size. But with its 8-inch screen, the iPad mini is a very handy device for working in small spaces. This isn't the most powerful iPad, but it is powerful enough to run Adobe Illustrator for iPad for example, and unlike the standard iPad, it supports Apple Pencil 2, which offers several benefits over the first-gen stylus. See our full iPad mini review for more details.
Budding graphic designers who are just starting out and perhaps not making money yet from commissions will be happy to know that the cheapest iPad, the 2021 iPad 10.2, can be used for graphic design on the go. Note that it only has 3GB of RAM, so it's not going to give you great performance on some graphic design software (Adobe Illustrator for iPad requires 4GB). That may make it frustrating to use for any project of size).
That said, if you're just starting out and using lighter design apps, the iPad 10.2 has a decent, albeit smaller, display with responsive touchscreen capabilities and Apple Pencil support that allow it to be a great budget drawing tablet, as we found in our iPad 10.2 (2021) review. The main selling point here is the price since it's by far the cheapest iPad available.
Once you've picked the best iPad for you make sure you see our guides to the best iPad cases and the best iPad keyboard.
How should I choose the best iPad for graphic design
Graphic design has become quite a broad area, and different graphic designers use different software. This means that there's no one answer to the question. If you're working on an iPad, you'll be using slimmed-down iOS apps rather than desktop versions of graphic design software, and most of these will run OK on most iPads.
However, Adobe Illustrator for iPad requires 4GB of RAM, and the entry-level 2021 iPad 10.2 only has 3GB of RAM, so if you're planning to use this industry-standard tool you'll want to choose at least the 2022 iPad 10.9, if not an iPad Air or iPad Pro. All in all, we consider the iPad Pro 12.9 to be the best iPad for graphic design for most people if budget permits, not only because of its power (which is enough to even handle more demanding tasks such as video editing or 3D work) but also because the size and quality of the screen.
How we chose the best iPads for graphic design for our list
We've reviewed most iPads that have been released, testing them against benchmarks but also using them for day-to-day work, including graphic design, photo editing and video editing. We've chosen the iPads for graphic design above based on our reviews as well as feedback from graphic designers who contribute to the site. We've also taken into consideration price and different needs.