Why buy the best Rotring pens? They're quite simply some of the best tools out there for drawing and writing with perfect precision. Equipped with ultra-fine nibs and engineered for optimal ink flow, they allow you to get the exact line you want with every stroke.
The first Rotring fountain pen was unveiled in Germany in 1928, combining an ink flow regulator with a fine nib and regulator wire. While the pens these days are manufactured in Japan, the brand remains steeped in its German heritage – the name Rotring literally translates to "red ring", which you'll see around the barrel of the manufacturer's pens and pencils today. Just like the Leica red dot in the world of cameras (another German firm), it's an iconic symbol that instantly denotes quality.
Rotring pens are a little more expensive than standard pens, and they naturally won't be suitable for all budgets. But if you've got the cash to spend, we reckon that Rotring pens are absolutely worth the price tag – if you'd like to learn more, jump to our section on why Rotring pens are worth the money.
Rotring has come a long way from its initial single fountain pen, which was named
"Tintenkuli" (literally meaning "ink worker") and affectionately nicknamed "Tuli". These days, the firm offers ballpoints, mechanical pencils, fineliner pens and more. So, if you're looking for the best ballpoints, the best mechanical pencils, the best pencils or best markers in general, you're sure to find what you need among the Rotring range.
The best Rotring pens in 2021
Why you can trust Creative Bloq Our expert reviewers spend hours testing and comparing products and services so you can choose the best for you. Find out more about how we test.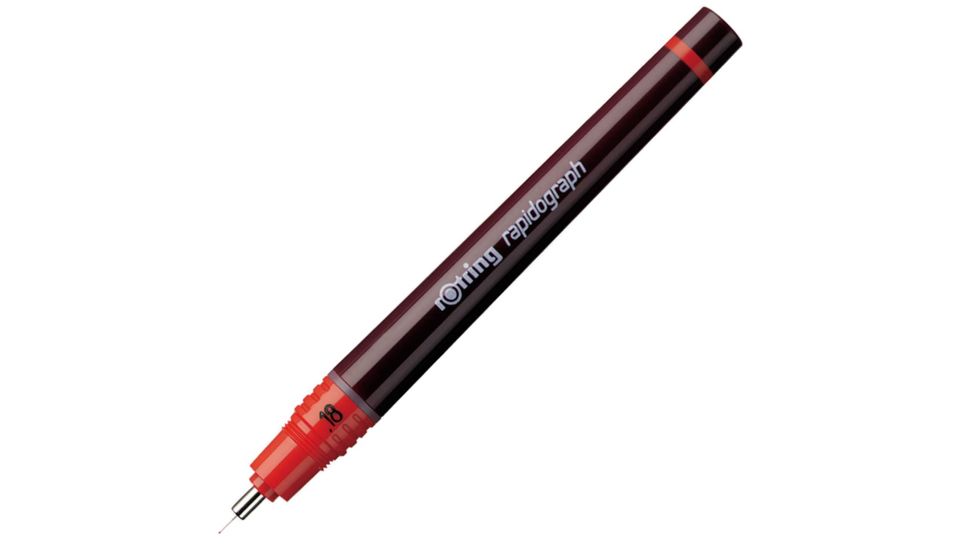 We love the flow of this fine-lined pen, which is precisely regulated to be ideal for the exacting demands of technical drawing. The Rotring Radiograph Technical Drawing Pen offers tips ranging from 1mm to 0.1mm thick, so you can get truly granular with your line thickness. If you need to get extremely thin lines with accuracy and consistency, this is the pen that'll do it.
The fine nibs of this pen are delicate tools, so handle them with care and look after them! The innovative capillary cartridge system keeps the experience clog free, and there's a pressure-equalisation system that keeps the ink flowing cleanly and consistently with every cartridge change.
Cartridges are long-lasting and easy to install, with less mess than many refillable pens; just bear in mind that you'll need to buy the cartridges separately, which does add to the cost.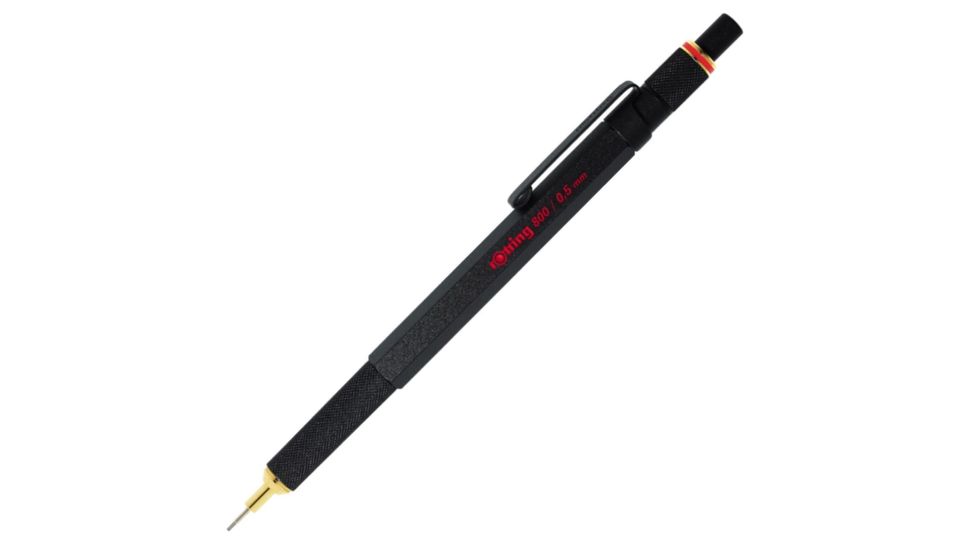 If you prefer graphite to ink, then we'd definitely recommend the Rotring 800 mechanical pencil. This sharp little number sports a twist-and-click retractable mechanism that is perfectly engineered. Like a well-oiled machine, it performs its function time and again. The 800 also comes with a fixed lead guidance sleeve to reduce the chance of breakage.
Full metal all over and ergonomically designed, the Rotring 800 feels terrific in the hand, with a pleasing weight and non-slip grip. It's available in black or silver finishes for the aesthetically minded, and it still feels great to use after a long working day. What's also great is the hexagonal shape, which makes the pencil less like to slide or roll off a table, although it it does break, it comes with a two-year limited warranty.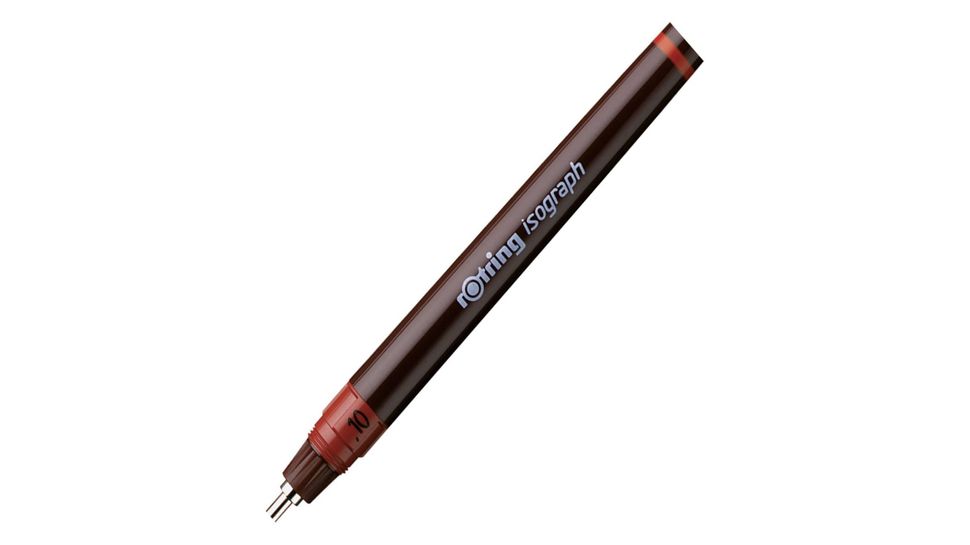 With a chrome-plated thin tip, ergonomic sleeve, and premium-feeling weight balance, the Rotring Isograph is perfect for detail work in drawing, drafting, and technical writing.
In that, it has similar appeal to the Rotring Rapidograph (number one on our list), but while the Rotring Rapidograph uses disposable ink cartridges, the Rotring Isograph is based around a refillable ink reservoir, making it a great choice for frequent drawers. Note, however, that the pen comes without any ink inside, and ink must be purchased separately.
Rotring isograph technical pens are available in in 13 line widths, and have a colour-coded barrel that indicates line width. This is a clever approach that will appeal to anyone with multiple pens, as it helps to find the correct one quickly and avoid breaking your creative flow.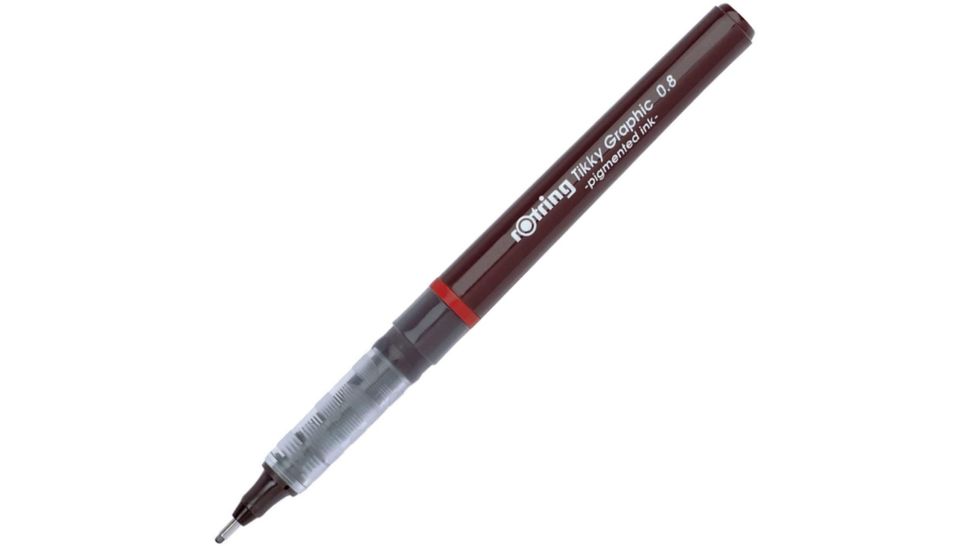 Not all Rotring pens come at premium prices, and the Rotring Tikky Graphic Fineliner is a strong budget option. It can be picked up as a pack of three for less than many Rotring pens and pencils cost by themselves. It comes with a broad range of nib sizes, from 0.1mm to 0.8mm, so you can get precisely the thickness of line you want, and the ink is waterproof once it's dry. The clear plastic near the bottom of the pen makes it visually obvious when the ink is nearly out, which is a handy little timesaver. It's a disposable pen as opposed to a refillable one, which is a shame given that it's a somewhat wasteful use of plastic. Still, while this pen may not have the fancy features of pricier Rotring pens like the pressure-equalisation system, it's a good take-everywhere budget option.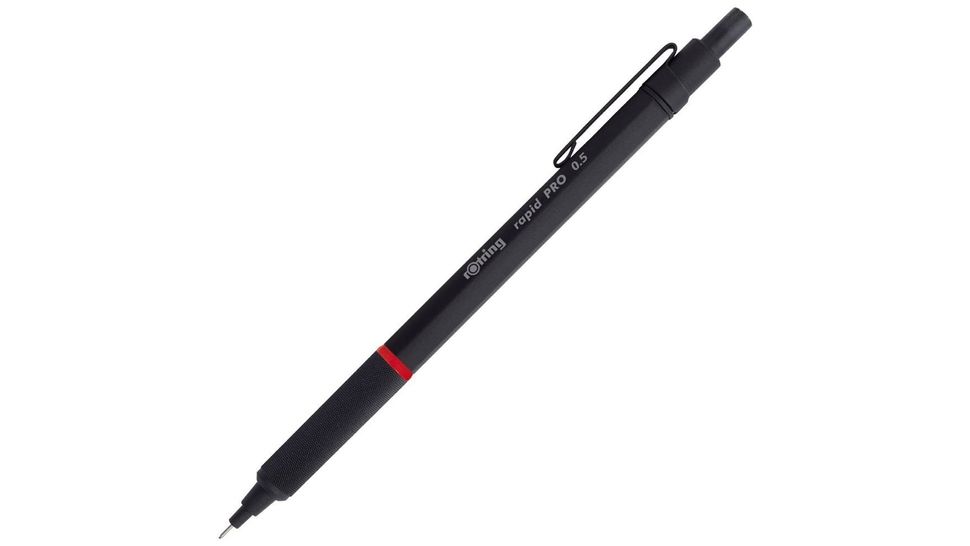 The Rapid Pro line is one of the Rotring's most popular, and for good reason. A cushion point (aka cushion tip) mechanism isn't commonly found in mechanical pencils these days. But you'll find one here, along with a solid metal design, hexagonal barrel shape and non-slip knurled grip that makes using this pencil a joy. The pocket clip is nice and strong, too.
A great choice for professional sketching and drawing, the sliding sleeve and cushioned lead of the Rapid Pro 1904258 makes for superior break resistance and a comfortable experience in use. There's also built-in sharpener under the push-button cap, and a two-year limited warranty.
Also be aware that at 40g, this is a pretty heavy pen, which may be a good or bad thing depending on your preferences.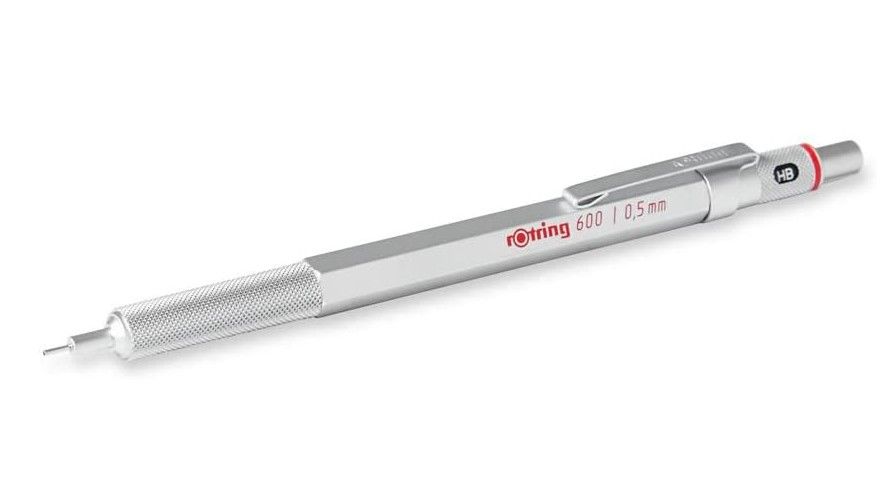 The mid-priced Rotring 600 is one of the brand's most iconic and popular mechanical pencils. This all-metal, silver pencil offers the benefits of precision lead advancement and an adjustable lead hardness grade indicator, which helps for easy identification when working.
Like all the best Rotring pens, its premium construction means it's designed for a lifetime of use, and breakages are minimal. This makes it a great option for anyone needing a precision instrument for frequent writing, drawing and/or sketching. The knurled grip is comfortable over long hours, and it comes with a built-in eraser too.
Read more:
Why the best Rotring pens are worth the money
The high quality of the best Rotring pens makes them particularly popular amongst professional drafters, students and others involved in technical drawing. But they're also good for outlining, shading, sketching, artwork and calligraphy, making them a good choice for both professional artists and anyone learning how to draw.
In this article, we bring you the best Rotring pens available today, across a range of pen types, so you're sure to find what you're looking for.
These aren't the cheapest pens, but they are sure to last longer than most. And given that their superior construction and quality will give your work a more refined and elegant look, can you really afford not to have one?