The graphic design landscape has evolved to accommodate more players than ever. Thanks to intuitive digital tools, it's now possible for those with little knowledge of the industry to use graphic design for different purposes. This has helped to pave the way for more intuitive website development in the world of e-commerce design.
Where designers and artists would formerly lead the way in graphic design, business owners and marketing teams alike can now turn their visions into a reality with relative ease. In fact, it may only be a matter of taking an introductory course in the field to create fully functional websites or collaborate in a more meaningful way with designers.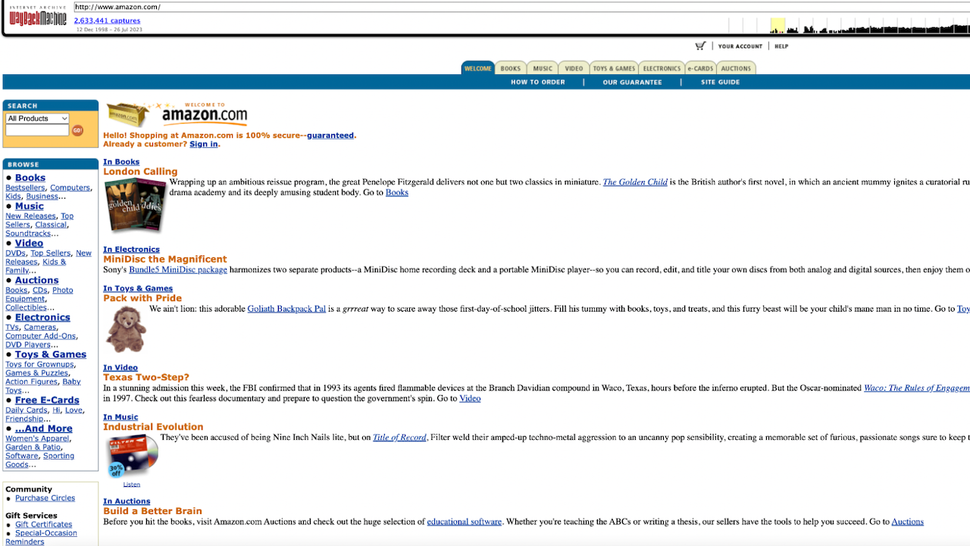 But when seeking to incorporate graphic design into your eCommerce business, it's essential to obey the key principles and design rules when developing your website. These graphic design rules have evolved and matured over years of web development, trial and error and the emergence of sophisticated technologies.
As we can see from old examples of websites from the late 1990s provided by Wayback Machine, the earlier incarnation of the internet was hindered by the sluggish pace of dial-up connections, which forced designers to abandon high-quality images in order to ensure that all browsers could load pages without taking too long.
This helped to foster some of the biggest website design principles, such as the visual hierarchy in which the most important content appears 'above the fold', which was essential in appealing to users with all kinds of screen pixelation and various loading times. The limitations of the early internet also saw simplicity take hold.
Despite Google's growth into one of the most technologically advanced firms in the world, its home page remains extremely simplified, owing to the necessity of functionality for users all around the world experiencing different internet connections and computer performance.
Other aspects of early web development, such as pop-ups and cluttered widgets, and page functions have become more scarce as the internet has matured. Meanwhile, as new technological developments helped to speed up the World Wide Web, the potential for eCommerce stores to sell their products in more immersive ways grew.
These evolutions have paved the way for three actionable golden graphic design rules for building a website for an eCommerce business.
01. Make website design your priority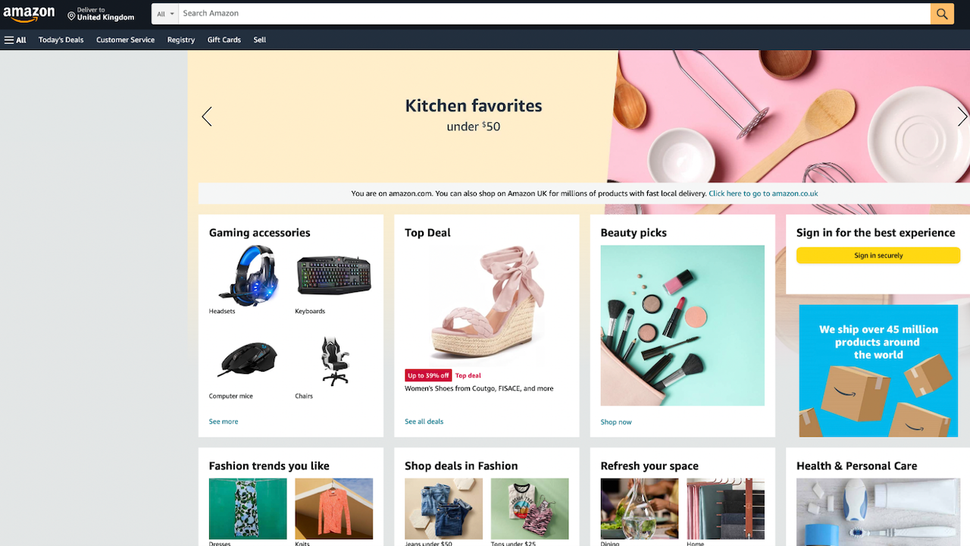 While it's not unusual to see businesses utilise professional graphic design tools for marketing, promotion, or product images, many eCommerce stores undervalue the importance of graphic design for their websites. Landing pages and home pages are where your organic traffic is most likely to arrive, and an estimated 75% of a website's credibility stems from its design. This means that it's a crucial trust-building tool that can be neglected by rivals.
Because many modern consumers are wary of scam websites, this can play a significant role in keeping them wary of sites that appear cobbled together with poor functionality. If your pages don't feel visually trustworthy for your leads, it risks undermining your marketing efforts entirely–even if you're amassing positive customer reviews and healthy clickthrough rates from advertising campaigns.
As we took a look at Amazon's homepage from 1999 as an example of the lack of graphic design prevalent in early web pages, it's only fair that we explore the website's latest iteration as an example of the potential of incorporating graphic design elements. Here, we can see that simplicity still reigns supreme, but Amazon uses its products to offer graphic design appeal to visitors.
Now, the use of cookies can help to track the customer's journey, helping eCommerce websites to offer visual recommendations to returning visitors. This means that customers can see what they may be looking for immediately, while the store's menu system has more reason to become discreet and less attention-grabbing.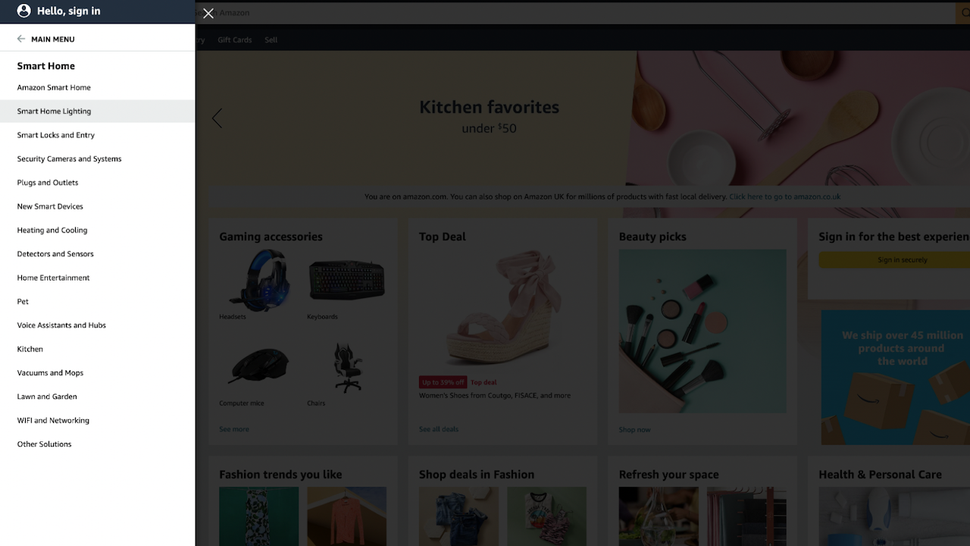 We can see that Amazon's also worked to simplify its primary menu, keeping it from fully obstructing the page that the visitor's on but by darkening the background in order to command sufficient attention. This means that a fully adaptive homepage can stay in shot for longer, helping to showcase your best products and graphics for longer.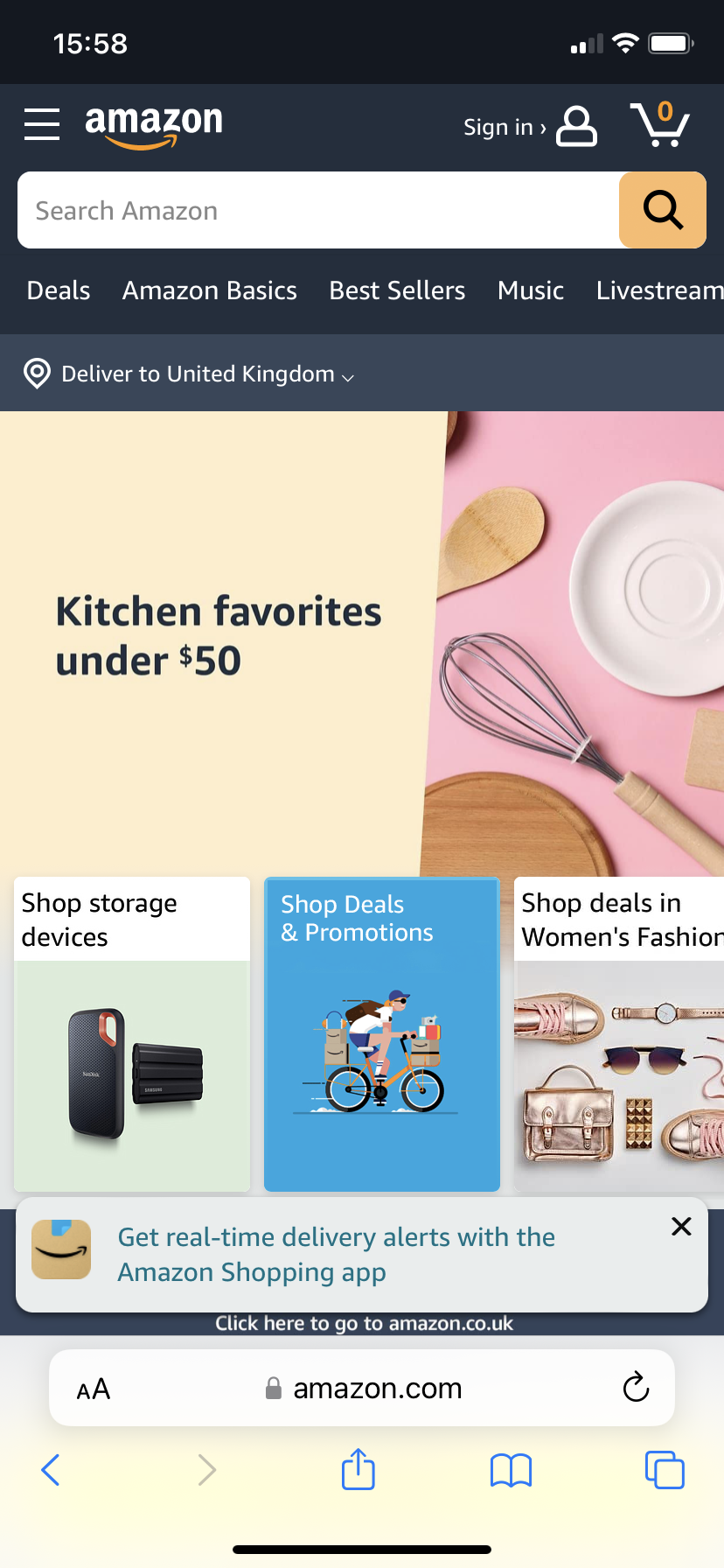 We can also see that Amazon's product graphics have been optimised for mobile browsers, which are well-complemented by subtle pastel-coloured backgrounds to further draw attention to the merchandise.
Building or adapting your ecommerce website to accommodate more engaging graphic design surrounding products or services is made easy even for those without a rich background in web development. Nowadays, you can create an online store in minutes using no-code ecommerce solutions with automatic and responsive web designs. Some options are Hostinger, Shopify, Squarespace and Wix.
Furthermore, the process of upholding your products and services as slick homepage features can be enhanced with graphic design tools like Canva, VistaCreate, and Adobe CCE. It's also possible to enroll in UX design courses including with Creative Bloq's design experts to bolster your user interface design credentials.
02. Forge instant brand recognition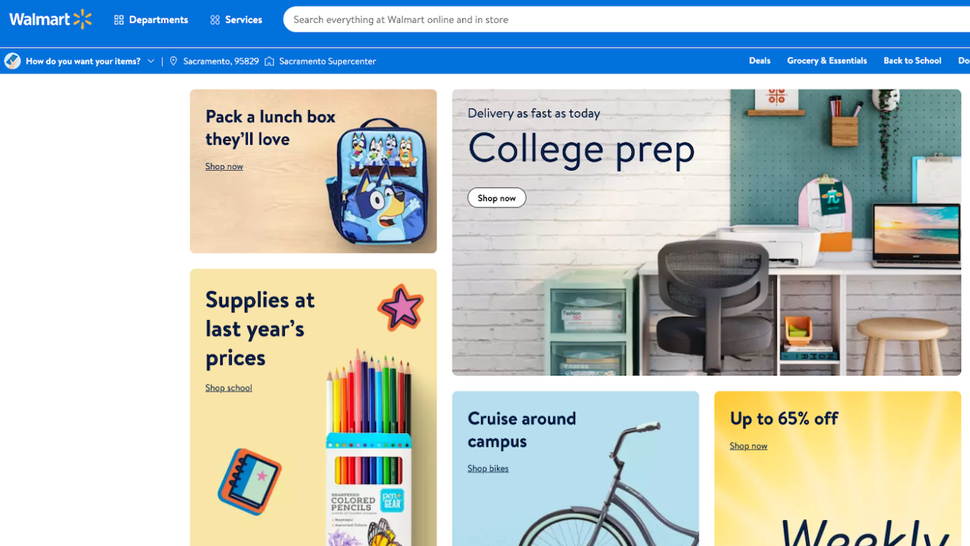 Designing a brand identity can be easier said than done. You may already have a few ideas in mind for your ecommerce store's logo, or its name, but it's essential that you bring your vision to life in a way that suits the expectations of your target audience.
Elements like your brand's colours, logo palettes, typography, icons, images, and style guide can all be key to forging brand recognition among your leads. Adding more consistency and coherence to your ideas can help to make it easier for visitors to identify your logo and understand what your brand represents.
Ultimately, your logo will be seen across your website, social media, marketing materials, ads, and packaging. If nobody really understands what it represents, it can be far more difficult to become an instantly recognisable ecommerce brand.
While some leading ecommerce stores like Walmart opt for largely simplified, text-based logos, others, like Target, have attempted to create a level of brand recognition that transcends the need for the actual brand name.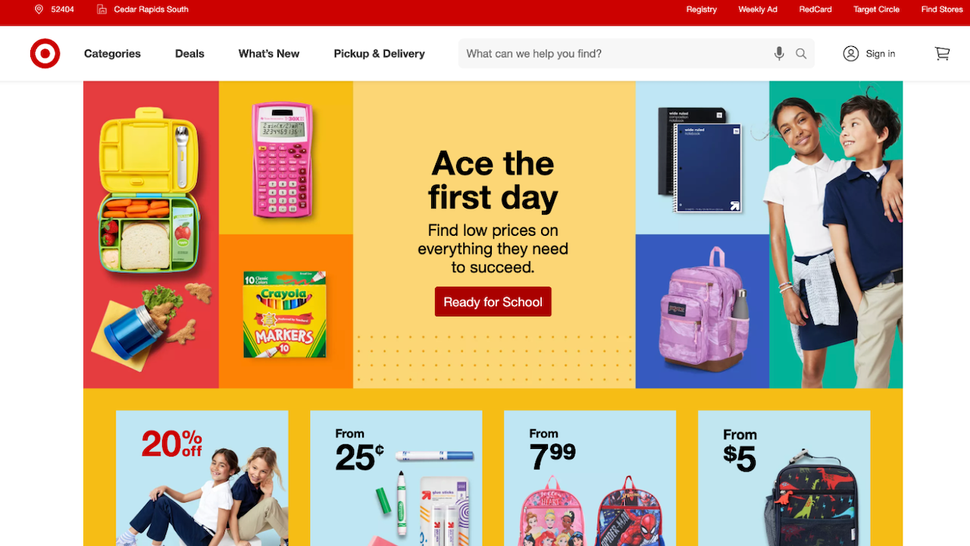 Although this would be ill-advised for a small ecommerce store to replicate because of difficulties in recognition and association, it shows that a well-designed and relevant logo can generate a strong brand identity without the need for words. When seeking to design your brand's logo, it's worth considering a number of different factors, such as:
Physicality: specifically the design itself, the iconography of your chosen logos and how it enhances the identity of your brand
Perception: this refers to how you would like your brand to be perceived by those that interact with the logo
Company culture: how your brand behaves in terms of both internal and external actions and policy
Relationship management: what the logo can do to uphold the values of your customers and what they can do for your brand
Here, it's important to recognise that your business logo is not your brand, and is more of a representation of your brand, its personality, its core values, ambitions, and idiosyncrasies.
This means that you should deeply consider the factors that you wish to add to your business logo such as your chosen font, if any, colour, graphic elements, shapes, and other iconography to incorporate.
Fundamentally, a well-measured and skillfully designed logo can help your ecommerce business to communicate more directly with your customers without the need for messaging and extensive marketing campaigns. Effective logos can help leads to remember your brand even if they're unable to recall your business name.
There are plenty of excellent graphic design tools that are optimised for the creation of engaging business logos, including Photoshop, Sketch, Illustrator, InDesign, and AfterEffects.
While these tools can certainly help you to recognise your graphic design ambitions, a simple pen and paper can also be all you need to bring your initial inspirations, ideas, and visions to life.
03. Add value to your marketing campaigns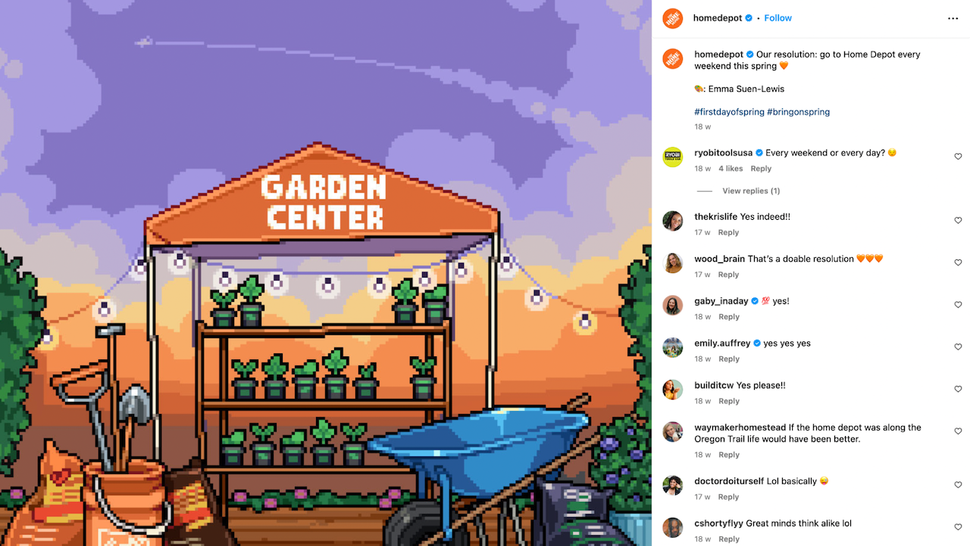 In addition to increasing awareness surrounding your brand, it's also possible to generate more leads for your business, leverage more conversions, and forge better customer loyalty through effective marketing campaigns that incorporate graphic design. Whether you're looking to launch signage, posters, manuals, social media campaigns, eBooks, or just about anything else that's promotional, it's key to use the right graphics to inspire intrigue and engagement among your target audience.
As we can see from Home Depot's Instagram campaigns, ecommerce graphic design doesn't have to be about cutting-edge, awe-inspiring product images. It can also involve bringing in skilled artists to promote seasonal products in an unconventional way that helps your brand to stand out from the crowd.
Branding can incorporate specific colour palettes, helping to deliver consistency and develop your persona in the market. The colours can bring added relevance to your logo or featured products, which can be shared throughout marketing campaigns–whether they're on social media, on billboards or in email inboxes.
In the example above, Home Depot has collaborated with pixel artist Emma Suen-Lewis to create seasonal campaigns that have covered both spring and summer events–helping to offer more consistency and striking visual branding.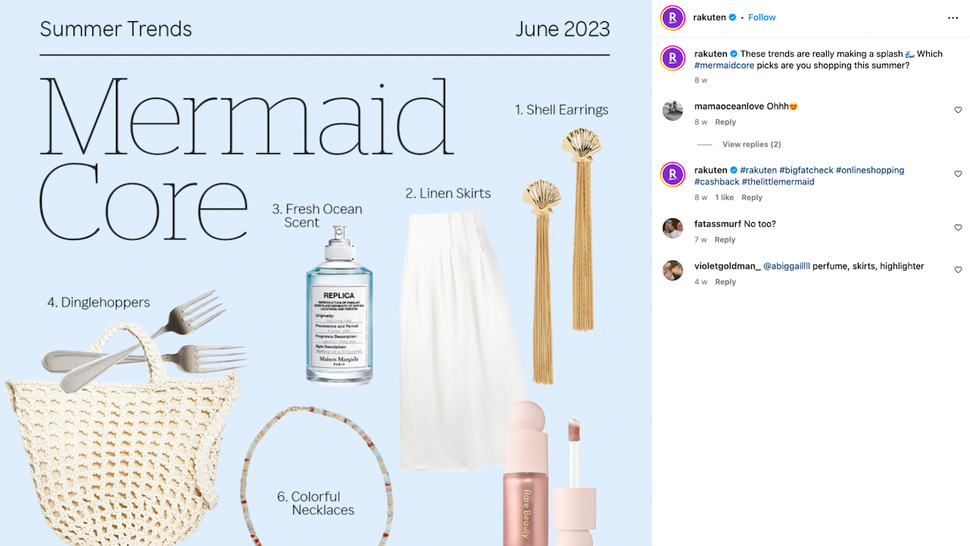 Above, we can see that the Japanese eCommerce giant Rakuten has used products to create content that mimics light-hearted style guides for its customers. This approach can be used to great effect in boosting impressions and customer engagement among certain styles regardless of how edgy they may be perceived to be.
Building Sustainable Branding
Whether you're ready to do your own design work with the best graphic design software or to promote your products or brand identity by enlisting the help of design professionals, there are plenty of ways in which you can better understand your business objectives, values, and personality. This can help you to create designs that resonate better with your target audience.
If you believe that your branding, website design, or marketing is failing your ecommerce business, it's worth exploring your KPIs and underlying metrics to see where you're losing out on engagement.
As technology continues to evolve, impactful graphic design is becoming increasingly accessible. With the potential for greater recognition and customer loyalty, there's never been a better time to step up your graphic design game within your ecommerce store today.