Create reality and bring your ideas to life (now for a more affordable price) with this latest $200 discount on the popular Creality Halot-Lite resin 3D printer, now just $379 down from $579.99 over at B&H Photo. This model is suitable for both beginners as well as more experienced users, with precision lighting and auto-levelling to help you achieve the best possible print quality.
Ironically, despite being named the "lite" model in the Halot series, this printer is larger than its siblings in all dimensions, but especially height, and includes a high-resolution 4K LCD display for improved control. It also boasts useful features like air filtration and cooling, Wi-Fi connectivity, and a print size of 192x120x200 mm.
For a bit of price context, the Creality Halot-Lite generally retails for $579/£300 and is priced quite a bit higher than its similar sibling, the Creality Halot-One Plus. So this printer is only really worth purchasing as an upgrade if you're looking to produce larger prints or frequently build multiple parts at the same time.
Keep an eye on our guide to the best Black Friday 3D printer deals for the best savings and regular updates on live deals as we find them. Not sure how to begin your 3D printing journey? See 3D printing for creatives, and understand how much a 3D printer costs.
The best Creality Halot-Lite Resin 3D Printer deal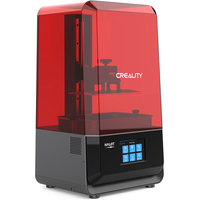 Creality Halot-Lite Resin 3D Printer
Was: $579.99
Now: $379 at B&H Photo
Save: $200.99
Overview: The large-format Creality Halot-Lite Resin 3D Printer is a great choice for those who want to create bigger builds while still retaining the quality produced by resin printing methods using the enclosed print chamber.
Key features: Dimensions: 330x301x572mm | Weight: 11.1Kg |Display: 5-inch LCD 4K colour touchscreen| Processor: 64-bit, 4-core ARM Cortex-A53 |Build volume: 7.5 x 7.9 x 4.7"| Light source: integral 405nm LED | Layer Resolution: 50 Micron| XY Axis resolution: 3840 x 2400 |Material: 405nm UV resin| Print Speed: 1-4s p/layer.
Release date: September 2021.
Price history: The Creality Halot-Lite generally retails for $579, so this saving is a big deal and one we don't see often.
Current price: Creality: $579 | B&H: $379
Review consensus: We have yet to review this large-format 3D printer for ourselves, but we have reviewed the similar Creality Halot-One Plus 3D printer, and were impressed by the Halot Box slicer software (also compatible with the lite) and excellent build quality and overall user experience.
Below you'll find the best deals and lowest prices on the Creality 3D printers in your region and worldwide using our clever deals widget. See our picks of the best 3D printers for even more options.