Another day, another M&M's controversy. Where to start with this one? Well, the headline news is that Mars Wrigley released its much-anticipated M&M's advert at the Super Bowl. This advert was supposed to clear up the confusion after M&M's rebranded to Ma&Ya's, a take on new spokesperson Maya Rudolph's name, as well as reinstate the 'spokescandies' and return the characters to the heart of the brand.
But the advert (see below) is more than a bit weird. It shows the comic Maya Rudolph advertising new Ma&Ya's, which are apparently candy coated clam bites. There are people trying the clam candies and looking disgusted (not surprising) there are other people who seem to be dressed up as the spokescandies, except for some reason they're wearing white trousers and waistcoats over their coloured outfits. And if you look closely, you can spot the yellow M&M in the background, as well as the red M&M, who's holding up a 'Help' sign.
Overall, the whole thing looks like it was born out of a slightly deranged creative meeting where the team had been watching too much Willy Wonka & the Chocolate Factory, and perhaps were on a sugar high from too many M&M's, or were recovering from food poisoning after eating the clam candy equivalents.
For those viewers who'd been following this M&M's / Ma&Ya's branding campaign, perhaps this Super Bowl advert made a bit of sense. I've been following it and I can say that it kind of does, but I still have many, many questions.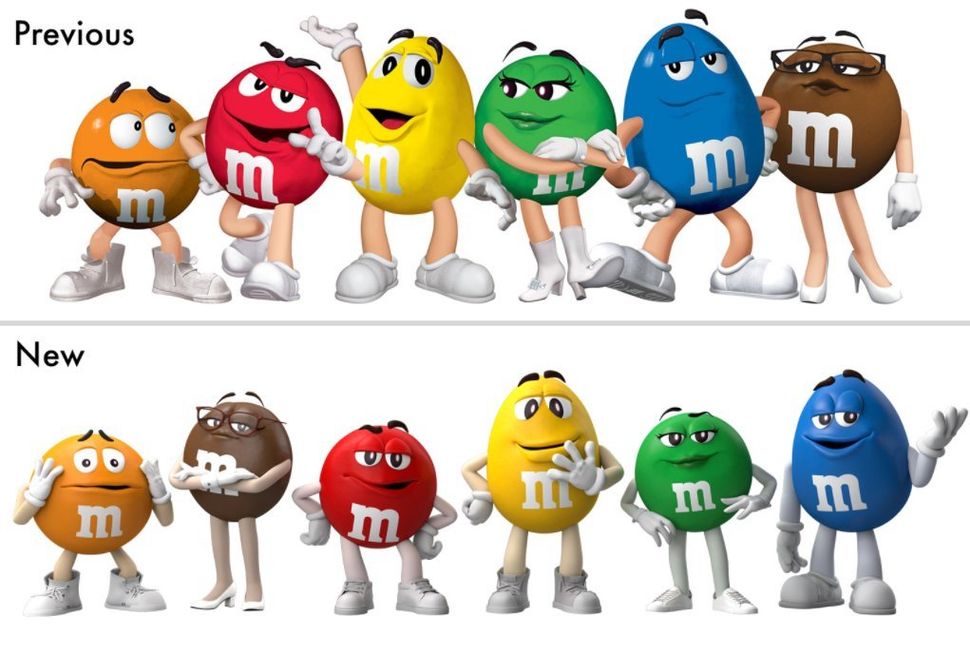 For anyone who hasn't kept up with the every move of the chocolate candies, this advert must seem even more bizarre. Here's a quick recap for the uninitiated: the original green M&M controversy came about when the public got upset when the M&M 'spokescandies' were given a 'woke makeover'. People seemed to be particularly annoyed about the green M&M being made less 'sexy', as she had switched her high-heeled boots to trainers. The woke characters were then derided by American TV host Tucker Carlson, leading to yet more furore, and eventually Mars Wrigely announced that it had dropped the spokescandies for Maya Rudolph earlier this year, and rebranded to Ma&Ya's.
Back to the advert, which just gets weirder the more you watch it. Shortly after the spot, Ma&Ya's changed its name back to M&M's and released a 'press conference' of the spokescandies announcing they were back (see below). Note that the green M&M didn't have any lines here, and the video itself is kind of dull. I think it might be supposed to be funny, with the purple M&M lamenting their lack of job options, but it's overall a rather uninspiring end to what's been a fun branding ride.
So, where are we after this huge marketing stunt? On the M&M's website (opens in new tab), there is a bit more about the campaign:
"Over the past year, the conversation around our iconic spokescandies reached new heights but at times got a bit 'lively'.
"We wanted to positively redirect the passion of that conversation to bring the fun back into it, and help people laugh and move on together with our latest Super Bowl campaign. Now, we can get on with what we are here to do: create a world where everyone feels they belong."
The website then talks about campaigns that M&M's is supporting, which is all well and good. But we're not sure that anyone has really noticed this part of the campaign, and from a branding point of view, it feels like M&M's had a good idea but then failed to execute it properly. A bigger statement would've been to double down on the 'wokeness' or go back the other way, though that would inevitably invoke more culture wars.
Did it get us all talking about M&M's? Sure. Am I still convinced it's branding genius? Unfortunately, by failing to say much at all in what was supposed to be the campaign's climax, I think it's fallen at the last hurdle.
Read more: