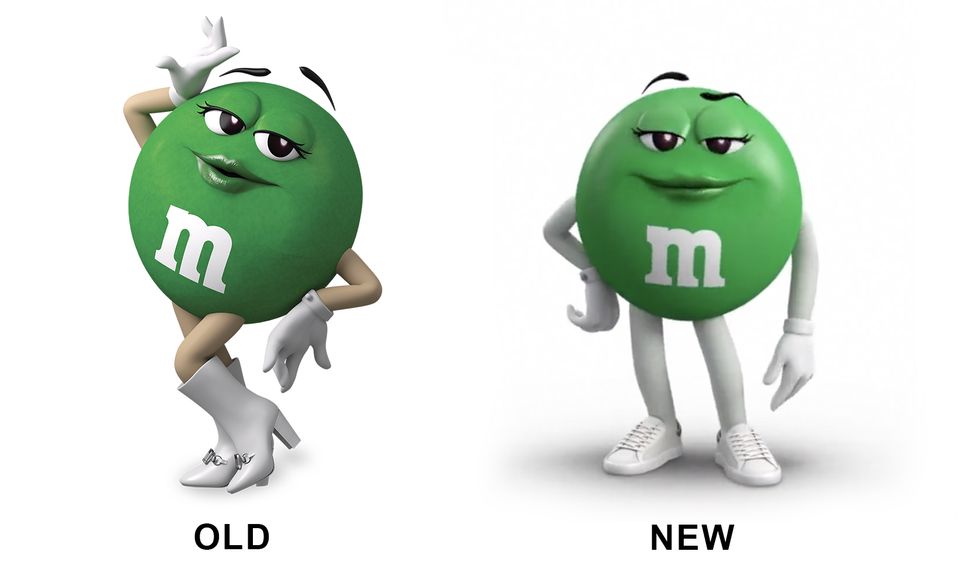 Who would have thought that a makeover of the M&M's characters would cause such Earth-shattering controversy and reach such a tragic end (we use the word 'tragic' loosely)? Around a year ago, we reported with some amusement on the fury that greeted the confectionery brand's decision to make a few tweaks to its character designs. We thought the anger would last a few days. But it didn't.
At the centre of the controversy is the green M&M. Previously partial to wearing 'sexy' knee-high boots, she was given a more relaxed sporty look. That caused dismay among those who apparently liked finding a chocolate sexy, including American TV host Tucker Carlson (see below).
And the de-sexification of the Green M&M is still causing such a fuss that one year on, Mars Wrigley has announced an "indefinite pause" on its famous spokescandies (apparently that's what they're called) until further notice.
Mars Wrigley says it hadn't been sure anyone would even notice the change and "definitely didn't think it would break the internet". The characters will be replaced by the comic Maya Rudolph. For pointers on creating your own personalities, see our character design tips.
It said: "We are confident Ms. Rudolph will champion the power of fun to create a world where everyone feels they belong." Rudolph's first appearance is expected to be in the brand's Super Bowl LVII campaign. For now, it appears that the move applies only to the US market.
But in a bid to end one of the most absurd design controversies ever, the brand has inevitably caused yet more controversy, leaving a bitter taste for many judging from the reaction on Twitter. Some have criticised the brand for being weak and bowing to pressure while others who were apparently boycotting the brand say they'll continue their boycotts anyway... just because.
"Congratulations on finding the weakest possible response to the dumbest manufactured outrage campaign. Maya Rudolph is lovely, but let's be honest: What you're announcing here is that your real spokesperson is Tucker Carlson," one person wrote. "A woman attempted to wear flats on the job and was bullied out of her career," the writer Justin Kirkland tweeted. "We are here because Tucker can't control himself around the green M&M," Alejandra Caraballo added.
In the corner of the green M&M fanciers, Jason Rantz tweeted: "You mean, your sales dipped after going woke and you don't want to admit it outright?" "First you politicized a "beloved" character, then you eliminated a beloved character and substituted a political hack as a replacement. You have ruined your brand," someone else reckons.
It seems M&M's just can't get it right, and it might discover that trying to please everyone ends up pleasing nobody. It might have been better to ride out the storm on this occasion – surely Carlson would find another candy to drool over soon enough. Or maybe the whole thing is an elaborate joke aimed to rile him even more; we don't imagine he's a fan of Rudolph. While we wait to find out, there's always our pick of the best graphic design books for guidance and inspiration on brand design.
Read more: