Did you know that Best Buy has a Deal of the Day? And this one is a winner! For the next 13 hours only, you can grab the 75-inch Samsung Frame TV for just $1,999.99 from Best Buy, down from the original $2,999.99 price. That's an instant $1,000 saving, and the lowest price we've seen on the 75-inch model.
The Samsung Frame TV is hugely popular among creatives, and usually there's no better time to buy one of these art TVs than during the Discover Samsung Event – which coincidentally is happening right now. Up until 17 September, you can save big on a range of Samsung products including every other size of the Samsung Frame TV, plus the Samsung S95B OLED TV too. We're big fans of art TVs and their elegant aesthetic, and now there's even a Disney version too which can showcase amazing Pixar, Marvel, and Star Wars visuals.
There are only a few real art TVs on the market, and this is arguably the best-known. Want to look at the competition? We've got a page dedicated to the best LG G1 prices and LG G2 prices out there (that's LG's Gallery TV range).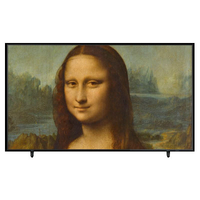 Samsung Frame 4K QLED TV (75-inch, 2022)
Was: $2,999.99
Now: $1,999.99 at Best Buy
Save: $1,000
Overview: The Samsung Frame TV is for lovers of both TV and works of art. When you're not binging your favourite Netflix shows, the TV will transform your living space into an art gallery on the matt display like a classy screensaver. You can get a subscription to all the world's finest art for $7 a month, or display your own collection (or both).
Key features: | Size: 75-inches | Resolution: 4K (3,840 x 2,160) | LED panel type: QLED |Backlight type: Edge lit |Refresh rate: 120Hz
Release date: August 2022
Price history: This Discover Samsung Event limited-time deal is the best price we've seen yet for the 75-inch model of The Frame, which usually retails at $2,999.99.
Current Price: Samsung: $2,199.99 | Best Buy: $1,999.99
Review Consensus: Although there are OLED TVs that offer better contrast, colour and brightness, none of them have the unique aesthetic or catalogue that the Samsung Frame TV offers. While we love the idea behind this art TV, we're yet to give it a go. But our sister sites shared some very mixed opinions in their own reviews. See below.
Don't want the 75-inch model? Here are a range of the best prices on various sizes of the Samsung Frame TV...