I review office chairs as part of my job - I've been doing it for years. I particularly look for great ergonomic chairs – ones that help out your posture and support your lower back. And right now, my favourite budget ergonomic office chair – the Sihoo M90D - has had $130 whipped off its price for Black Friday. It's down from $299.99 to £169.99 over at Sihoo. If you're looking for a cheap-yet-quality-chair, you should definitely check it out.
When I reviewed the Sihoo M90D, I tested it for a period of several weeks. That's why I selected it as the second best office chair for back pain that you can buy right now. It is a perfect combination of solid ergonomics and low price tag. Lower that already low price to $169.99, and you've got an almighty Black Friday deal.
Speaking of which, bookmark my hub of the best Black Friday office chair deals, as I'll be reporting on all the best deals this month.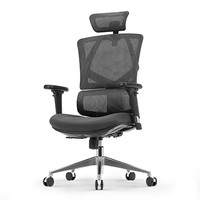 Sihoo M90D: $299.99 $169.99 at Sihoo
Save $130: This is my second pick of the best ergonomic office chairs out there right now. Yes, it's a little fiddly to assemble (there are quite a few pieces to position and screw), but the final chair you get represents an absolute steal, when you consider the ergonomics and comfort for the price.
The style is simple, but if you're not looking for a aesthetic centrepiece to your home office, but instead want a quality ergo chair for a very low (comparative) price, this Sihoo M90D deal is one to get.
If you're not in the US – or you just want some more deal options – below are a few more ideas in the Sihoo range of chairs. Rest assured, I've tried a few of these, and all of them are good quality for a competitive price.