Quick link menu
1. Quick links
2. Best US deals
3. Best UK deals
4. All you need to know
I have high hopes for this Black Friday and Surface Pro deals. With the Microsoft Surface Pro 9 out, I think we're going to see some record lows on the Surface Pro 8, and some eye-catching deals on the 9. And this is the week where all those deals will start coming in.
The Surface Pro runs Windows, so it has the advantage of being able to run fully-fledged desktop software, and so it's ideal for creatives. If you're looking to do more demanding work, such as editing high-resolution RAW images or video editing, we recommend going for the Intel Core i7 configuration of the Surface Pro 9 with at least 16GB RAM (which is the device I'm writing on now - it's pretty nice!).
But if you want a device for basic browsing and office work, a Surface Pro 8 or 9 with Intel Core i5 and 8GB RAM is all you need (remember you'll also want to buy a Type Cover). Not wedded to a Microsoft tablet? We've been tracking and comparing the best Apple Black Friday deals as they happen.
Quick links
Quick links: US
Quick links: UK
Best US deals in detail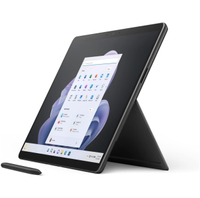 Surface Pro 9 (i7, 16GB RAM, 256GB SSD): $1,599 $1,097.99 at Amazon
Save $501: I'm a big fan of the Surface Pro 9, and I'm writing this article on this very device that currently has $501 off at Amazon. Teh current best Surface Pro deal this Black Friday so far. It's a great Windows-running touchscreen tablet that turns into a laptop if you buy the Type Cover, and I find this configuration has the power I need for photo editing and light video editing. Stock seems to be low right now.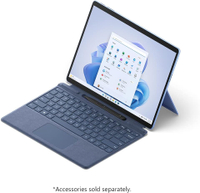 Surface Pro 9 Intel i5: $1,099.99 $799.99 at Microsoft
Save $300: This is the second best deal on the Surface Pro 9 right now. It's a huge $300 discount, on the less powerful i5 core, with 8GB of RAM and 256GB of SSD storage. It's perfect if you're doing lots of browsing, streaming, mobile games and some photo editing.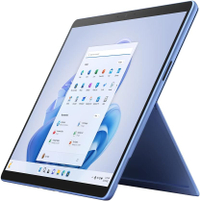 Surface Pro 9 Intel i7 32GB RAM, 1TB SSD: $2,599.99 $1,799.99 at Microsoft
Save $800: This best-ever deal for the top-spec Surface Pro 9 gives you an Intel Core i7 processor, 32GB of RAM and 1TB SSD storage. This is all you'll need for most creative work (although as Surface Pro don't come with dedicated graphics cards, this won't be a gaming machine) so should set you up nicely for the next few years. The offer is being matched by Best Buy and Target (in case you get the dreaded out-of-stock message before we notice...)
Best UK deals in detail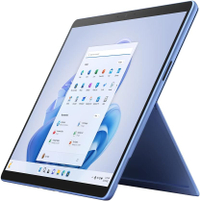 Surface Pro 9 (Intel i5, 16GB RAM, 256GB): £1,399 £965 at Amazon
Save £434: This is a great price for the Surface Pro 9 with an Intel Core i5 processor, 16GB of RAM and 256GB SSD. This low price is only for the Black colour model, but play around with the different configurations on Amazon for savings on the exact colour and processor combo you want.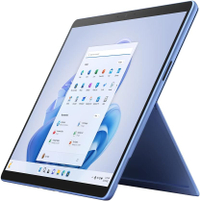 Surface Pro 9 (Intel i7, 16GB RAM, 256GB): £1,599 £999 at Amazon
Save £140: Amazon also has a discount on the Intel Core i7 model. The other specs remain the same, but this is the device I use and I appreciate the extra capability for more graphically demanding tasks.
The prices of all configurations are bouncing up and down a little on Amazon, so play around with the configuration options to find the option that suits you best.
Black Friday Surface Pro: All you need to know
For a full breakdown of all Black Friday 2023 event details, see our dedicated guide which has everything you need to know and answers to commonly asked questions. For surface-specific questions, keep reading below.
Does Microsoft offer discounts on Black Friday?
Yes, Microsoft does have Black Friday discounts – and good ones, too. In fact, Microsoft has previously offered up some of the biggest discounts on Surface Pro models – beating third-party retailers like Amazon or Best Buy.
Be sure to price-check across retailers if you find a Surface Pro deal you think is worth grabbing, but remember that we're here to help too. Our clever deals widgets compare live prices across hundreds of retailers around the world to ensure that you're always getting the best deal for your region.
How to get the best Surface Pro Black Friday deals
Getting the best Surface Pro Black Friday deals requires a bit of preparation because they tend to go fast. It can pay off to do some research ahead of time so that you already know which device you're interested in buying, and how much you can expect to pay.
Whether you're in the US or the UK, and whether you have your eye on the Surface Pro 8, the Surface Pro 7, the Surface Pro 6, or the Surface Pro X, the best bet is to bookmark this page and check back regularly because we'll be updating the deals below with the best prices across the Surface Pro range both before and during Black Friday 2022.
Our price-tracking tool alerts us to the best discounts as they go live, so that we can let you know about them immediately, saving you from having to do the legwork.