11. B&W Effects
Turn coloured images into beautiful monochrome photographs.
Publisher: TopazLabs | Price: $59.99 | Best for: Photographers
Focus on tone and texture
Gives B&W images that pop
More or less any of Topaz Labs' products would happily make it into this list; its Photoshop plugins are almost a must-have for any serious digital photographer. Whether it's providing texture effects, making masking easy, or turning your photographs into impressionist paintings, there's not much you can imagine that Topaz hasn't developed a tool to create.
That said, this black and white effects plugin is especially good. Using a unique B&W conversion engine that emphasises tone and texture to help you get B&W images that pop, this should be an essential part of your photo-editing toolset.
12. Texture Tools Industrial
50 metal textures to enhance your photos.
Publisher: Kubota | Price: $69 | Best for: Artists and designers
Try the textures before you buy
Manipulate the textures to fit
Kubota describes itself as the 'Mecca' of photo-enhancing tools, and the Texture Tools Industrial pack accompanies its extensive range of textures, borders and templates. As usual with Kubota plugins, you can try these metallic filters before you buy. With this pack you can give your images a manmade finish thanks to a selection of 50 metal themed textures. You'll be able to manipulate the filters to fit your images, giving them an edgy final touch that will make them stand out from the crowd.
13. PageCurl 2
Create convincing page turn and fold effects.
Publisher: AV Bros | Price: £20.95 | Best for: Graphic designers
Use on usually shaped objects
Great for promoting ebooks
Website is outdated
Its website looks like something out of the 1990s, but AV Bros' Page Curl plugin is a cost-effective solution for creating convincing page turn and fold effects on both regular and arbitrary-shaped objects (such as non-rectangular objects, or areas with full or partial transparency). Ideal for ebook promotional work, this simple but powerful Photoshop plugin is straightforward to use and refreshingly limited in its functionality. It's designed to do one thing, and do it well.
14. PSD Cleaner
This plugin makes layer management less painful.
Publisher: Source | Price: $19.99 | Best for: Artists, designers, photographers
Identify unnamed layers
Recreate PS effects in CSS
Delete empty layers
Sorting through layers and layers of design work is a tedious, laborious task that can be the bane of the lives of graphic designers and web designers everywhere. PSD Cleaner aims to take away the pain of this essential housekeeping process, making it a whole lot easier. From one simple panel, users can identify unnamed layers, recreate Photoshop effects in CSS, delete empty layers, convert point text to paragraph text, find out if layers are beyond the canvas bounds and much more.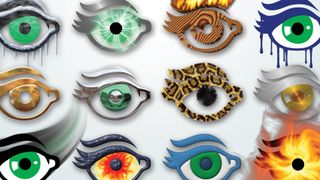 15. Eye Candy
Choose from a wide range of photo effects in this well-known plugin.
Publisher: Alien Skin | Price: $129 | Best for: Designers
Great for time-pressured designers
Can tone down default settings
Some effects are cheesy
Alien Skin's Eye Candy is one of Photoshop's most recognisable plugins, and has been around for well over a decade. Version 7 provides a huge range of effects ranging from fire to chrome, glass to extrusions. While many seem initially to be useful only for creating cheesy effects, it's surprising how many scenarios you'll find them useful in. This is particularly true for freelance designers working to tight deadlines, and when the effects are dialled down from the default settings, they become less cheesy and more useable.
16. Luminar 2018
A focused photo editor for use within Photoshop.
Publisher: SkyLum | Price: £64 | Best for: Photographers
Simplifies many editing tasks
Useful for working with raw photos
Luminar is a little bit like having a photo editor inside your photo editing software. As odd as that sounds, it's a focused tool that excels at making the most of your images without any of the non-photography stuff that Photoshop is full of. Using an AI routine alongside some 50 preset effects, this plugin simplifies masking, sky replacement, object removal and more. Available for both Photoshop and Lightroom, it's well worth a look if you find yourself editing raw photographs frequently.
17. Nik Collection
A range of powerful photographic plugins available for free.
Publisher: Google/DxO | Price: Free | Best for: Photographers
Originally $95
Top quality plugins
High-impact photographic effects
We've long valued the many photographic plugins featured in the Nik Collection, but since Google bought it there's been no need to agonise over a $95 purchase, as it decided to offer the entire collection for free. Interestingly, the search giant has now agreed to hand over the collection to DxO, in order to ensure continued development. The new download URL will be nikcollection.dxo.com but it's still possible to grab these at google.com/nikcollection at the moment.
Equip yourself with top quality plugins such as Silver EFEX Pro and Viveza that provide a huge range of high-impact photographic effects. This is literally a no-brainer.
18. virtualPhotographer
Get sophisticated looks in a hurry.
Publisher: OptikVerve | Price: Free | Best for: Designers
Simple click-and-go options
Aimed at PS beginners
Not so useful for PS pros
If you're a designer in a hurry, or you're not yet confident using Photoshop to create stylised images, virtualPhotographer is a quick and effective way to get some sophisticated looks in a hurry. Simple click-and-go options means you'll quickly transform your source artwork, although this is definitely more useful for Photoshop novices than seasoned users.
19. WebZap
This plugin makes Photoshop more suitable for web design.
Publisher: Cazoobi Creative Solutions | Price: $19 | Best for: Web designers
Create layouts based of 960 grid
Easily add UI elements
Although web designers often advocate designing in the browser, many designers remain wedded to Photoshop when creating interfaces. The problem is, Photoshop was initially designed as a retouching tool, and although it's taken on features for working with layout, it's still typically rather clunky for dealing with web design.
Aimed specifically at web designers, WebZap enables you to create layouts based on a 960 grid system, with a web page broken up into three areas: navigation, feature and fold. In addition, this Photoshop plugin provides the means to quickly add form buttons, create text, and style text across an entire layout.
20. Subtle Patterns
A library of quality, tileable textured patterns.
Publisher: Source | Price: $17.99 | Best for: Designers
A great time-saver
Easy to work with
Subtle Patterns is a high quality library of free, tileable textured patterns. The Subtle Patterns plugin feeds all this textured goodness directly into your Photoshop panel. You just click the pattern thumbnail and the texture is applied as a layer style to your current layer – a great time-saver and well worth the asking price.
Next page: More of the best Photoshop plugins